Outdoor activities are available year-round in Plumas, in northern California. This pristine wilderness covers a wide range. There are lakes where you may swim and fish. There are several hiking and off-roading paths. Snow brings out cross-country skiers and snowmobilers, so the fun doesn't end in the winter. Whatever your preferred outdoor activity, this park has plenty to offer you.

The main gathering place for those who adore the water is Bucks Lake. Bring your own boat if you want to spend the day on the water. Until dusk, you may waterski, fish, or swim. There are more than 100 miles of snowmobile routes around Bucks Lake in the winter. You'll be having so much fun that you won't even notice that night is falling. There are 19 more lakes in this forest if Bucks Lake isn't your thing. You may discover secluded parts of the forest on the Backcountry Discovery Trail. On these gravel roads, SUVs, high-clearance vehicles, and ATVs may go 30 to 50 miles each day. Continue to read this article on Feather River camping, where we share all important details that you need to be aware of it.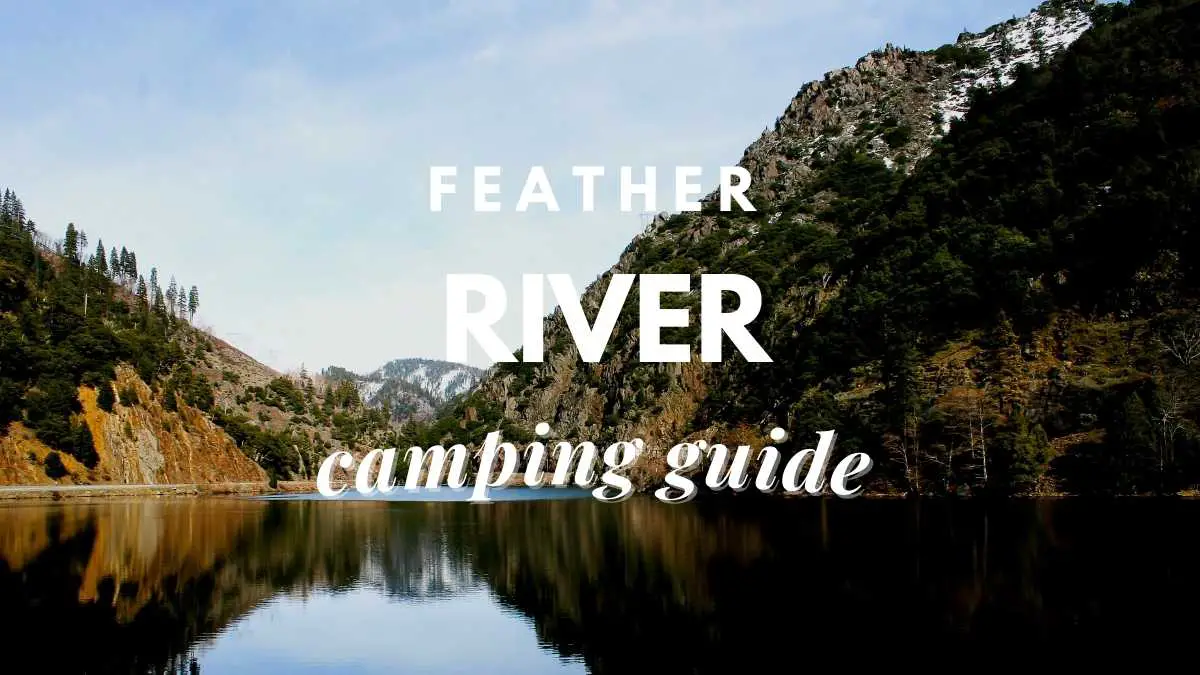 1. Queen Lily Camping Area
In the Plumas National Forest, there is a peaceful campsite called Queen Lily Campground. Make careful to properly store food since you are in bear territory; there is a bear box on the property. If you like rock climbing, spend the day at Grizzly Dome. The Pacific Crest Trail and Yellow Creek Trail are just a few of the fantastic hiking options in the area.
Read: Is Traveling A Hobby? The Ultimate Guide To An Exciting Way Of Life Learn about the Downsides Of Traveling As A Hobby

2. Campsite near the trailhead of Feather Falls
One of Northern California's most breathtaking waterfalls, Feather River Falls is located just outside of Oroville. Although the trek is challenging, the breathtaking vistas are well worth it. It is best to get a head start and reserve one of the first-come, first-served campsites at Feather Falls Trailhead Campground.
3. Campground at Haven Lake
If you stay at Haven Lake Campground, you may access over 20 little lakes and stunning landscapes. There are several routes in the region that may be used by horseback riders, cyclists, hikers, and in the winter, snowshoers, snowmobilers, and cross-country skiers. "Where the great outdoors meets superb rural charm and friendliness" is how the adjacent village of Graeagle bills itself ". The Brewing Lair of the Lost Sierra, the sole brewery in Plumas County, is located in the old timber town, which also features a disc golf facility.
4. Campground Black Rock
Although Black Rock Campground Walk-in Tent Campground is not quite Black Rock City, the sights more than make up for it! Outside of La Porte, campgrounds are tucked up against the lovely Grass Valley Reservoir. It will resemble Burning Man exactly, without the crowds. The installations for the art will come from nature.
5. Camping area at Gansner Bar
The peaceful and serene Gansner Bar Campground is located on the north branch of the Feather River. Enjoy river tubing, fishing, late-summer berry harvesting, and fishing. You can buy basic necessities at a little shop in Caribou. To this pub, be sure to BYOB!
6. Forest Campground
Although black bears are seen in the region often, this spacious, family-friendly campsite is really secure; just use care. A little more than a mile from Lake Davis, the Grizzly Campground is situated in a gorgeously wooded location. Got adventure? Not to worry! What were we talking about when we said hiking, boating, fishing, swimming, and biking? Yes, there are loads of things to do here.
7. Campground at Goose Lake
When C+C Music Factory sang about "something that makes you go hmmm," they meant Goose Lake Campground. Despite the hard height of 6,700 feet, there are an absurd number of recreational possibilities available, and you won't likely notice since the landscape will keep you from thinking about the exercise you're getting. Simply be ready to provide your own water. You are still susceptible to dehydration even while you are having the time of your life.
8. Frenchman Camping Area
Frenchman Campground, so called because of the lake it is situated on, is the best camping spot in the region. There is no need to worry about privacy since campgrounds are set up with plenty of room. Explore the whole 21 miles of beachfront by bringing your bikes, water shoes, and a boat, if that's your thing.
9. Campground at Gold Lake
The little hamlet of Graeagle, sometimes known as "the gift of a lifetime," is just 9 miles southwest of Gold Lake Campground, which has a name befitting the surroundings." That may seem a bit arrogant, but the location is really rather lovely. Graeagle Meadows Golf Course is highly praised by golfers. It was also named one of the top locations to play by Golf Digest because to its stunning mountain vistas and towering trees.
10. Campground at Grizzly Creek
Grizzly Stream Campground is a well-liked hunting season camping location that is located in a forested region close to the creek. Two kilometres will get you to the lovely Bucks Lake. Spend the day boating and fishing after stopping at Bucks Lake Marina for groceries and boat rentals.
11. Campground at Mill Creek
On the northern tip of Bucks Lake, next to Mill Creek, is where you'll find Mill Creek Campground. You may spend the day tubing and building castles on the sandy beach. Explore the forest and return to camp for some freshly caught fish in the evening. There is also excellent hiking nearby.
12. Sundew Camping Area
On the shores of gorgeous Bucks Lake, the Sundew Campground is located. Swim or windsurf in the lake to work up an appetite, grill your catch of the day, and then lay out a blanket on the lakeside beach to take in the surrounding forest and mountains.
13. Campground North Fork
The open region with little shade is where North Fork Campground is located. In the summer, you may gather berries and enjoy excellent fishing nearby. Something missing? No issue; communities like Belden, Twain, and Quincy are nearby where you can fill up on necessities.
14. Brady's Camp Recreation Area
Deer hunters often stay at Brady's Camp Campground during the hunting season. Pine Creek is close by and there is excellent fishing in the adjacent rivers and streams. This campsite is surrounded by trees. Bring your tent since the gravel road is hilly and not advised for RVs or trailers.
15. Campground at Rock Creek
East Branch Rock Creek is close to Rock Creek Campground, which is located in a wooded environment. During hunting season, deer hunters often visit this campsite. like traversing a rough terrain quickly? Yes, you should go. This campsite is close to excellent off-road vehicle and mountain biking routes.
16. Horse camping area
Horse Camp is exactly what it says it is: an equestrian camp. Horse Camp is a charming small place for family camping, horseback riding, hiking, swimming, and just plain old nature loving. Horse Camp is located in the Northern Sierra Nevada Mountains and on the eastern bank of the Little Grass Valley Reservoir.
Final words
As you can see, there are multiple options available for someone who is interested in Feather River camping. It is up to you to take a look at these options and find the best place to enjoy camping.