We spent a pleasant month in Arizona, where we were enamored with the cactus. A visit to Saguaro National Park in Arizona is the best way to see the towering saguaro cactus. The walks in Saguaro National Area are kilometers long and provide the greatest view of the park.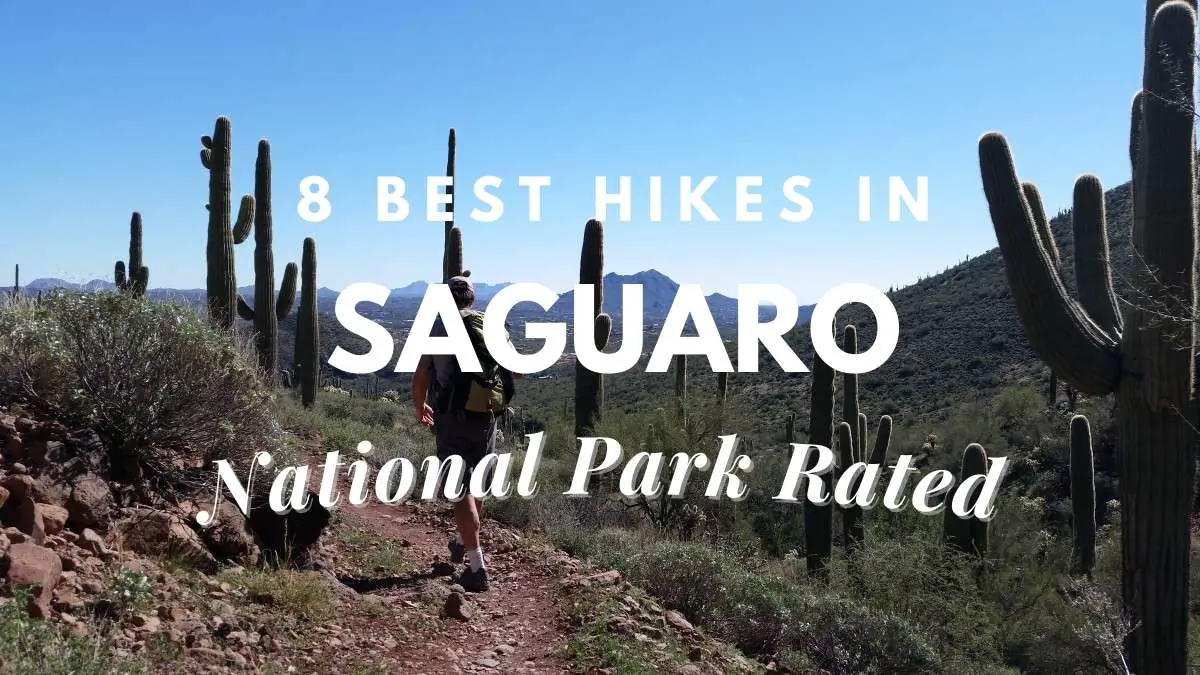 What Is the History of Saguaro National Park?
The saguaro, the country's biggest cactus, may be seen at Saguaro National Park. The saguaro cactus is an emblem of the west that can only be found in a tiny portion of the United States.
Saguaro National Park is home to over 1,1600 plant species, including the tall Saguaro cactus. Saguaro cactus, as well as ocotillo and creosote, may be found at lower altitudes. Ponderosa pine, oak, and Douglas fir trees grow at higher altitudes in the Rincon Mountains.
Saguaro National Park is home to a variety of birds, reptiles, amphibians, and mammals, in addition to the arid flora. The Sonoran Desert Museum is a fantastic spot to observe Saguaro National Park's unique wildlife.
Read: Is Traveling A Hobby? The Ultimate Guide To An Exciting Way Of Life Learn about the Downsides Of Traveling As A Hobby

Hiking opportunities abound in Saguaro National Park.
Combining a visit to Saguaro National Park with time in neighboring Tucson or Phoenix is a great idea. Saguaro National Park is around 1.75 hours away from Phoenix. One of the exciting things to do in Phoenix is take a day trip to Saguaro National Park. Sedona, Arizona is just 3.5 hours away from the park.
The weather will play a big role in deciding whether to visit Saguaro National Park. Summers in Arizona are very hot, and hiking in such conditions may be perilous. Consider the picturesque drives and short hikes if you're coming during the summer. Winter is the ideal season to hike in Saguaro National Park, particularly between October and April.
You may buy a weekly pass for $25 per car, much like most other national parks. A motorbike weekly pass costs $20. There is a $15 fee per person whether you arrive on foot or by bike, however children under the age of 15 are free.
Read: Best Time To Visit Saguaro National ParkLearn about the Climate & Seasons
Directions to the Saguaro National Park
Tucson International Airport is the nearest airport to Saguaro National Park. It takes roughly 2 hours to get to Phoenix International Airport. Because mobile navigation programs sometimes mistake the two areas of the park, it is essential to enter in the exact address of where you wish to go while navigating to the park.
Read: Saguaro National Park East VS West: Which Side Is Better?On which side of Saguaro do you find the most cactus?
Is it possible to hike in Saguaro National Park?
Yes, hiking is permitted in Saguaro National Park. In Saguaro National Park, there are a variety of hiking routes to choose from, ranging from easy nature walks to challenging overnight backpacking hikes. Whatever kind of hiking experience you want, you will find it at the Saguaro National Parks.
Where can you hike in the Saguaro National Park?
Both the West and East sides of Saguaro National Park provide hiking opportunities. The Saguaro National Park East has the longer, overnight backpacking paths. The western part of the park has the bulk of the shorter and informative pathways.
1. Valley View Overlook Trail
The Valley View Overlook Walk in Saguaro National Park, Arizona, is a popular trail that allows you to get up and personal with the park's wildflowers and cactus. On the path, we observed a variety of species and had a great time walking around the park.
Along the trail, there are some excellent seats and explanatory plaques, but there is minimal shade, so bring drink and sunscreen. This is an excellent trek for first-time hikers, youngsters, and anyone looking for a fast way to see the area. This is a historical path in Saguaro National Park. Your journey will take you past a historic stone structure from the 1930s, as well as petroglyphs dating from 300 to 1450 AD.
The trailhead is located on Kinney Road, and it follows an old, closed-to-traffic road. Beautiful views of the desert floor, a picnic place, and historical buildings may all be found along the way. Keep an eye out for the petroglyphs since there are no signs pointing them out.
In Saguaro National Park, this was one of my children's favorite hiking spots. Along the trip, there were many gorgeous flora and interesting historical relics to view.
Read: [10 Best] Hikes In Pinnacles National ParkLearn about the Best moderate hikes at the park
2. Gould Mine
This hike in Saguaro National Park will lead you along a ravine to the Gould Mine ruins. Around 1900, the mine was used to extract copper. Wooden artefacts of the mine's former work may be found all over the place.
Parts of the Sendero Esparanza and King Canyon trails create a loop with the Gould Mine route. If you want a shorter trek, use the Gould Mine Trail in and out, which is approximately a half mile shorter. Our family found this to be a simple trek with some intriguing petroglyphs at the finish. It was a lot of fun explaining what petroglyphs were and showing them the marks on the rocks to Rowen and Raven. On the rocks, there are a few petroglyphs that are clearly visible. One of our favorite sights in Saguaro National Park was this.
Read: [9 Best] Hikes In Everglades National ParkLearn about Pa-hay-okee Overlook
3. Desert Discovery Nature Trail
This is an excellent trek to do if you want to see more of Saguaro National Park. We took this road at sunset, and it was very gorgeous. Arizona knows how to put on a show. The informative signage, vegetation, and animals were all enjoyable.
Your dog is welcome to accompany you on the route, but it must be kept on a leash. Because the path is paved, it is accessible to wheelchairs and strollers. There are also some shaded seats where you may sit and enjoy the sunset.
Read: 12 Best Washington Spring Hikes To Try Out In 2023Learn about Hoh Rain Forest Loop trail
4. Bajada Wash
The Bajada Wash Trail leads hikers through a dry creek bed and begins near the Sus picnic spot. There are plenty of chances to see the cactus along this walk, but since it runs through a valley, there aren't many far vistas. This hike in Saguaro National Park will take you to the summit of Wasson Peak via a narrow but steep canyon. There are rock stairs every two to three feet for the first mile or so. Beautiful views of the desert bottom and adjacent mountains may be seen from the summit.
The walk is well-marked, with plenty of wildflowers along the way. There is no shade on this path, like on others in Saguaro National Park. Bring plenty of water and plenty of sun protection.
5. Mica View Loop Trail
By the north end of the Cactus Forest Loop, the Mica View Loop begins at the Mica View Picnic Area. Many saguaros, chollas, and other cacti may be seen along the walk. In Saguaro East, this is a fantastic hiking spot.
From the Mica View Trail, take the Shantz Trail to the right, then the Cactus Forest Trail to the south, where it rejoins the Mica View Trail. If you're searching for a shorter trek, just avoid the Shantz Trail's right turn. Simply return to the trailhead by turning around. The Mica View Trail has a 1-mile shorter variation.
Read: 10 Best Dog-friendly Hikes In Acadia National ParkLearn about Wonderland Trail – 1.6 mile distance
6. Garwood Trail
This trek consists of a combination of rock and sand. Although there are some somewhat challenging sections, Saguaro East is a rather simple trek. Saguaros of all forms and sizes may be seen along this walk. The Douglas Spring Trail leads to wooded region over 6,000 feet, which is much different from the lower levels' environment. Several minor streams including Bridal Wreath Falls may be seen along the walk.
Wildflowers and cacti such as yucca, ocotillo, and sotol may also be found in abundance. Oak woods may be found until you reach a height of roughly 5,000 feet. This is one of Saguaro National Park's many interesting walks. Cowhead Saddle is located at the summit of the Douglas Spring Trail. It's a lovely finish to the trek, but it's a long one. If you don't feel like hiking the whole 17.6 miles, you may trek only a portion of it. Instead, go trekking to Bridal Wreath Falls and back.
Read: [9 Best] Stroller Friendly Hikes Sedona In (2023))Learn about Devil's Bridge Trail
7. Douglas Spring Trail
The route to Bridal Wreath Falls begins from the Douglas Spring Trailhead as well. It's a seasonal waterfall that rises over a forested canyon for a short distance. It's usually only a trickle, but it may become a big waterfall at times.
At the Javelina picnic area, the Tanque Verd Ridge Trail begins. In Saguaro East, it is the major road into the Rincon Mountain District and a lovely spot to climb.
The walk follows the ridgeline for most of the journey, providing stunning views of Saguaro National Park and Tucson. The first peak is roughly a mile into the trek and is a fantastic spot to climb if you don't want to do the whole 20-mile hike. Juniper Basin is the trail's first campground, located roughly 7 miles in.
Read: Mt. Moosilauke Winter Hike (What to expect)Learn about the Mount Jim Ridge trail
8. Bridal Wreath Falls
This is a flat, simple track that the whole family can enjoy. This trek isn't very interesting, but it will provide you with a decent understanding of the area ecosystem. The route is lined by identified plants and a variety of magnificent saguaros. This is an excellent route to explore if your kids are working on the junior ranger package in Saguaro National Park, Arizona.
Where in saguaro national park is the best?
I would prefer Saguaro West unless you want to camp in the park – particularly if you just have one day to tour the area. The park's centerpiece is Saguaro West, which contains the largest population of
Read: 14 Best Hikes In Denali National Park To Try Out 2023Learn about The Gorge Creek Trail
Saguaro national park's best attractions
There are many exciting things to do at Saguaro National Park, in addition to hiking. Here are some suggestions for things to do if the weather is too hot to go hiking.
Visitor center of saguaro national park
As you approach the park, the Saguaro National Park Visitor Center is an excellent site to stop. You may get a map, go to the bookshop, and learn more about the region by looking at the information displays. A few small paths, as well as a picturesque auto/bike trip around the Cactus Forest Loop Drive, begin near the visitor center.
Read: [9 Best] Kid Friendly Hikes At Mount HoodLearn about Laurance Lake trail
Other things you can explore in the park
One of the wonderful Saguaro National Park attractions is the Arizona-Sonora Desert Museum. The museum has its own admission cost, but it is definitely worth seeing. It includes a zoo, aquarium, botanical garden, and natural history museum on a 98-acre site. We enjoyed seeing a mountain lion, mule deer, wolves, javelinas, lizards, bobcats, snakes, and other species endemic to the region.
There are further seminars scheduled throughout the day. We saw and learned about a variety of endangered raptors during a raptor presentation. Rowen and Raven took advantage of the museum's many teaching booths, where they learned about various skull shapes.
Saguaro national park scenic drives
The Bajada Loop Drive is a 5.2-mile road that runs through Arizona's Saguaro National Park. If you don't want to do a lot of trekking in the park, this is a terrific way to take in the view. The road is a graded dirt road that is ideal for cars with low clearance.
At Hohokam Road, 1.5 miles from the Red Hills Visitor Center, we began our journey. Make a point of stopping at the Valley View Overlook Trail and Signal Hill along the way. The Cactus Forest Drive is a one-way circle that leads you into the saguaro forest's center. Although it is a paved road, vehicles greater than 35 feet are not allowed. There are various trailheads and picturesque vistas around the loop.
Read: 10 Kid Friendly Hikes In The Red River Gorge ReviewedLearn about Tom McCall Preserve trail
Final words
Because the sun never sets at Saguaro National Park, the first thing you can expect is heat and sun, particularly if you come during the summer. Then you can go ahead with the hiking trails we mentioned above and get the best experiences offered by them. You will fall in love with the results coming on your way as well.