We have some of the greatest terrain to observe Maine's State Animal, our magnificent moose, thanks to the rich ecology and natural topography of the Maine Highland area. Because there are so many of them in the region and they are so readily seen, the moose has become a state emblem since it was included to the state seal in 1820.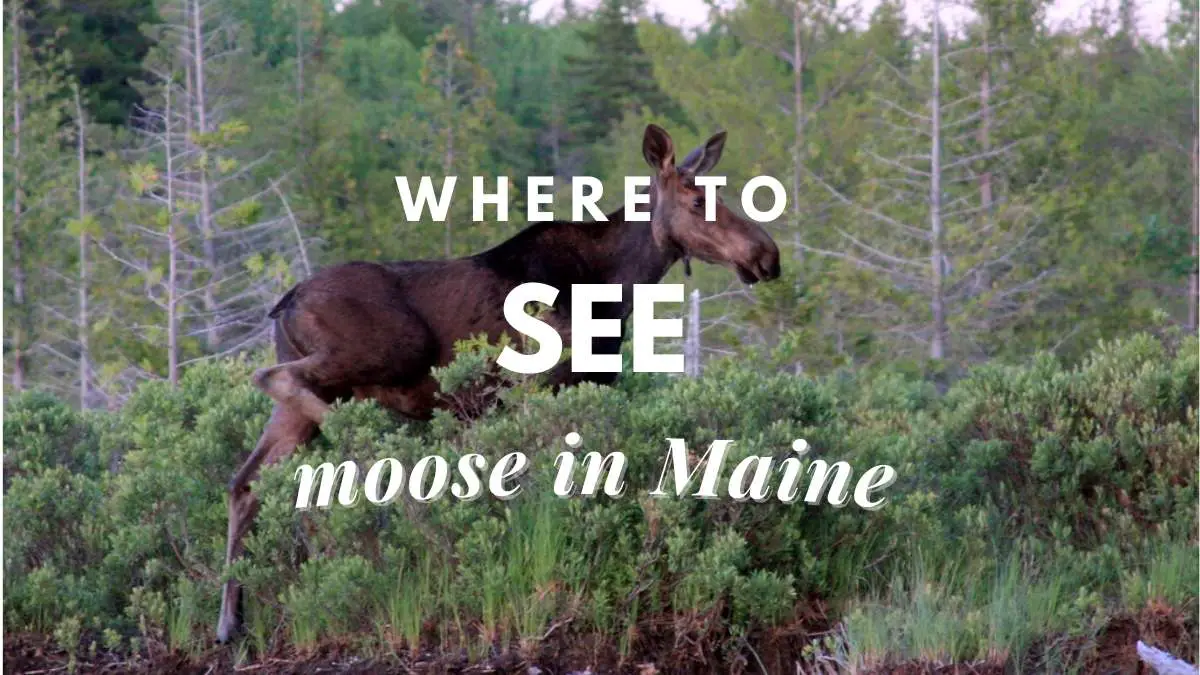 Exploring moose in Maine
Going on a quest for them has turned into a fun family activity.
While finding a moose is not hard if you know where to look, the region also provides guided excursions and "Moose Safaris" where you are nearly certain to encounter one of these magnificent beasts.
Whether you're looking for moose on the water or on land, having a well-trained, certified Maine guide may be a huge help.
A riverbank boat trip may be used to locate the moose in one of its favourite areas, such as grazing on plants or drinking from a pond.
A guided tour may further add to the magic of your vacation by allowing you to get as close to a moose as possible, allowing you to snap the ideal photo.
The guided trip on foot will allow you to observe moose the way they were supposed to be seen.
While on the search for moose, you may relax and take in the surroundings with the assistance and expertise of your guide.
Moosehead Lake and Baxter State Park, both in the Maine Highlands area, are two of the greatest moose-watching places in the state.
Moose outnumber humans three to one in and around Moosehead, so it's no surprise that the lake is named for them.
Moose hunting is prohibited at Baxter State Park, and they are free to wander, making them easier to see.
While these lovely and state-loved animals might be difficult to detect at times, that does not imply they avoid highways.
When travelling inside the zone, particularly any location marked as a moose crossing, drive cautiously and carefully.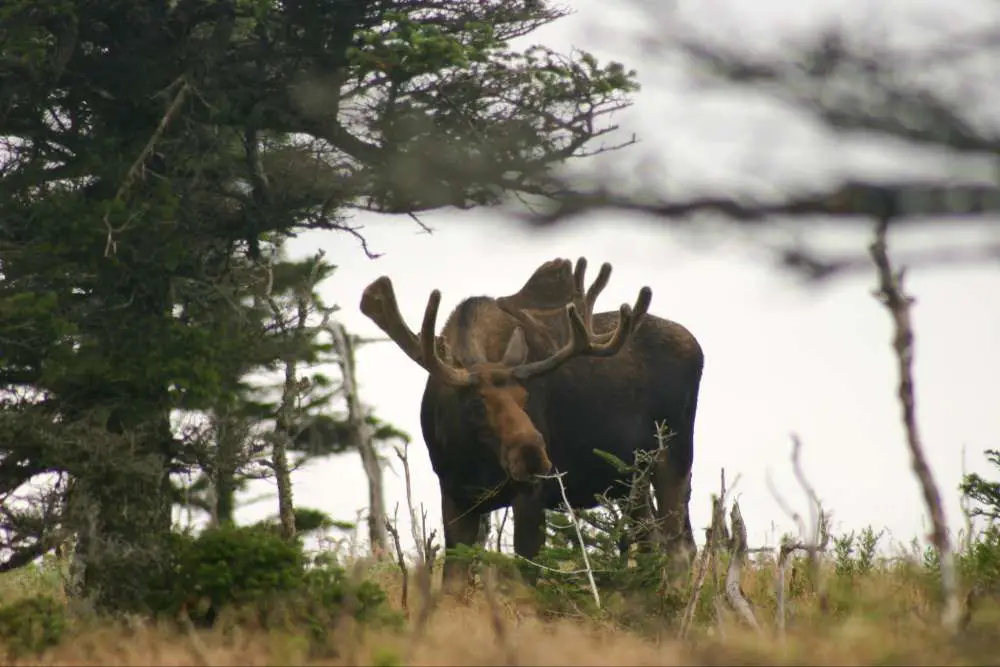 Read: Is Traveling A Hobby? The Ultimate Guide To An Exciting Way Of Life Learn about the Downsides Of Traveling As A Hobby

Can you really find moose in Maine?
They are most active at dawn and dusk, so go early or late in the day to have the best chance of spotting one.
You'll most often see them between May and July, as well as in the autumn when they mate.
They are excellent swimmers and like to hang out in marshy, muddy places, but during the winter, you could see a moose licking the salt off the roadways!
Drive with utmost caution, particularly at night.
Moose are enormous animals, and because of their height, the reflection of headlights in their eyes is not as visible at night as it is with deer.
They also tend to meander slowly over roadways, so don't expect them to avoid your car!
There are moose sightings all around the state, however particular regions, such as Acadia National Park, are less likely to encounter one.
Here are a few things you can do to improve your odds of spotting a moose in Maine: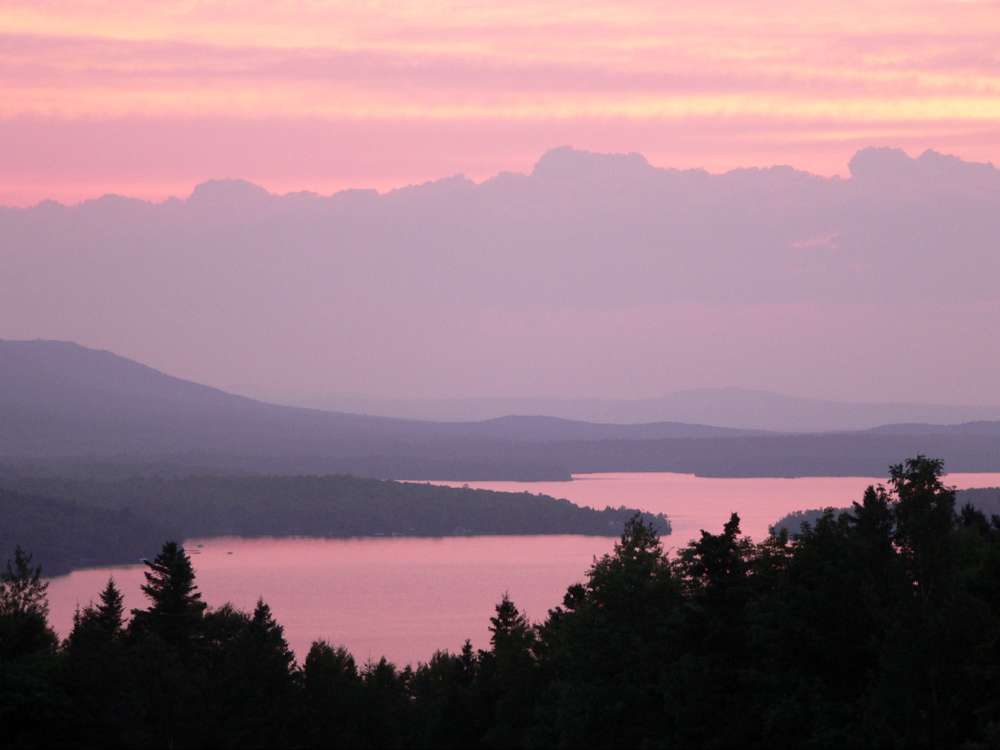 Read: 10 Romantic Things To Do In Bar Harbor, Maine In 2023Learn about the
Maine's Best Moose Tours
Several outdoor groups provide moose safaris with an expert guide who will tour you around locations where moose are regularly seen in a safe manner.
The main benefit of a moose safari is that someone will guide you to the best spots to see moose and will educate you how to do it safely.
Remember, these are wild creatures with antlers that can grow up to 6-feet broad and weigh between 800-1100 pounds; you don't want to approach too near!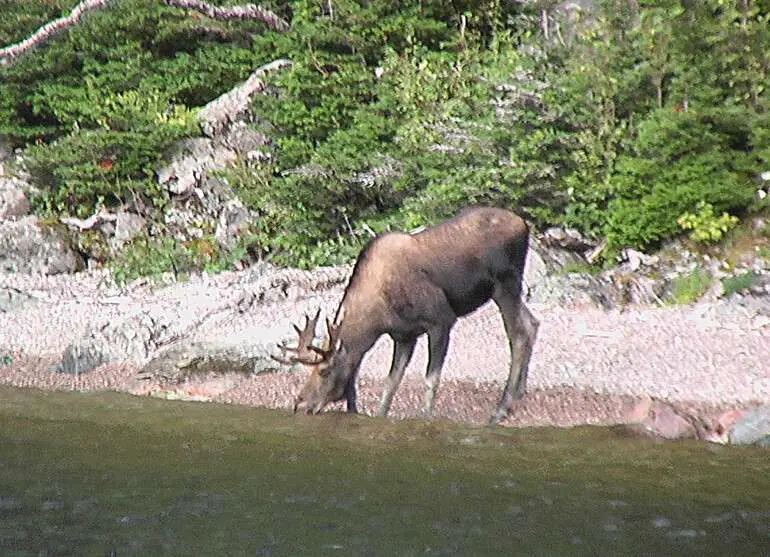 Northwoods Outfitters is a company that specializes in hunting and fishing in
Northwoods Outfitters in Greenville provides highly rated moose safaris on both land and water, with trained guides who know how to bring you near enough for an amazing photo while keeping you safe.
You may join a group trip or book a private safari, but Northwoods Outfitters' guides are skilled in customizing each safari to ensure that you have an unforgettable moose excursion.
Northwoods Outfitters provides a variety of outdoor activities in addition to moose safaris, so you can go outdoors and have a chance meeting with a moose.
Northwoods Outfitters rents ATVs, motorcycles, canoes, kayaks, snowmobiles, and snowshoes, so there are many of ways to enjoy Maine's natural beauty and animals.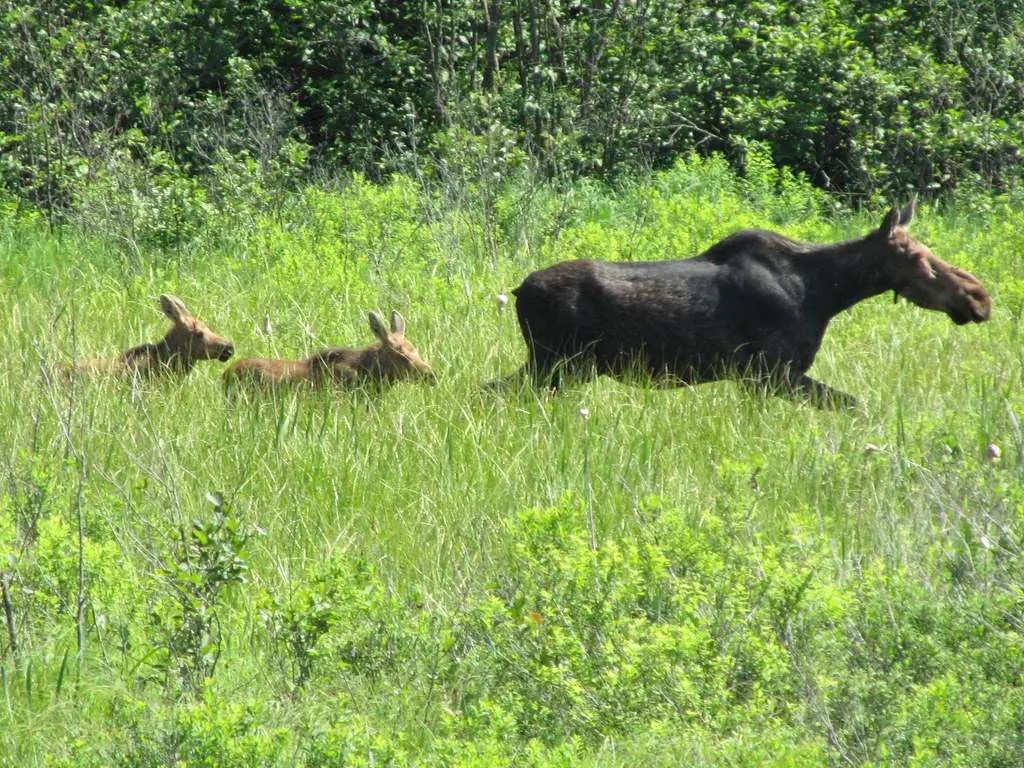 Whitewater in the Northeast
One of the most popular outdoor recreation one-stop businesses in the region is Northeast Whitewater in Shirley Mills! Moose trips are offered both on the water and on land, and since seats fill up rapidly, bookings must be made 30 days in advance.
Whitewater rafting, ice cave tours, stand up paddle boarding, bird viewing, and even a guided visit to the B52 crash site on Elephant Mountain are just a few of the outdoor activities available at Northeast Whitewater.
Getting outdoors and active in the Maine Highlands is a great way to increase your chances of seeing a moose.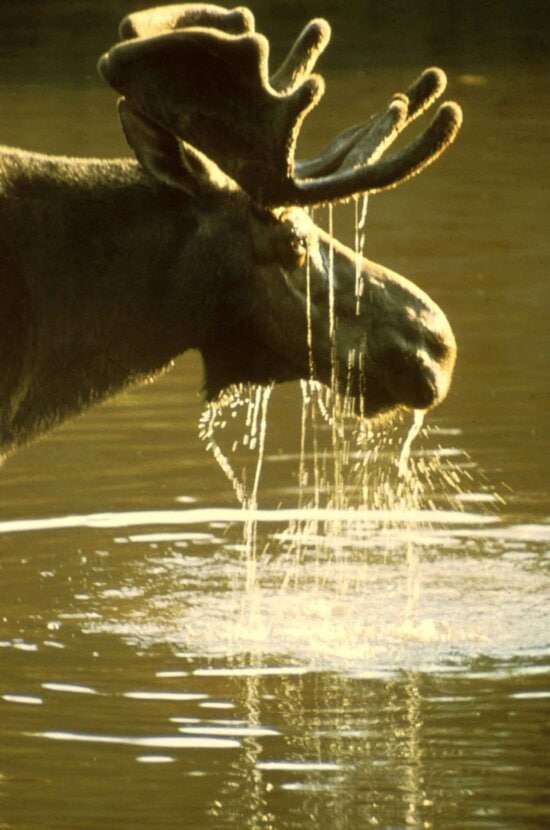 Get Outside and Take a Hike!
Without a doubt, the Pine Tree State boasts some of the most magnificent hiking paths in North America, and they all have a chance of seeing moose.
Because moose can't see very far, but they can hear quite well, the calmer, less busy pathways are more likely to have moose encounters.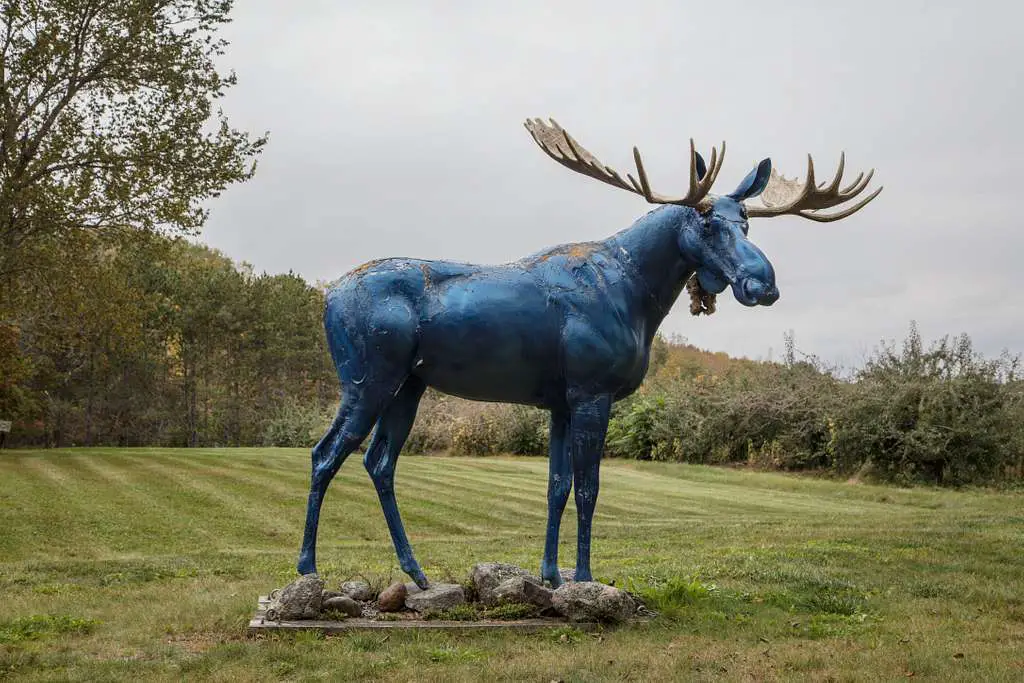 State Park of Baxter
There are 215 miles of trails to select from in Baxter State Park near Millinocket, including routes that lead to Mount Katahdin, the state's highest peak.
As beautiful as the reward for reaching the top is, it is a highly challenging and demanding trek that takes between 8 and 12 hours to complete, depending on which path you choose.
Don't worry if this doesn't seem like anything you'd be interested in.
Officials from Baxter State Park give a list of intermediate-easy hikes as well as "Moose Passes" (a 3-hour parking permit, since the parking lot fills up VERY quickly) for Sandy Stream Pond, where moose sightings are common as long as you approach softly and don't frighten them away.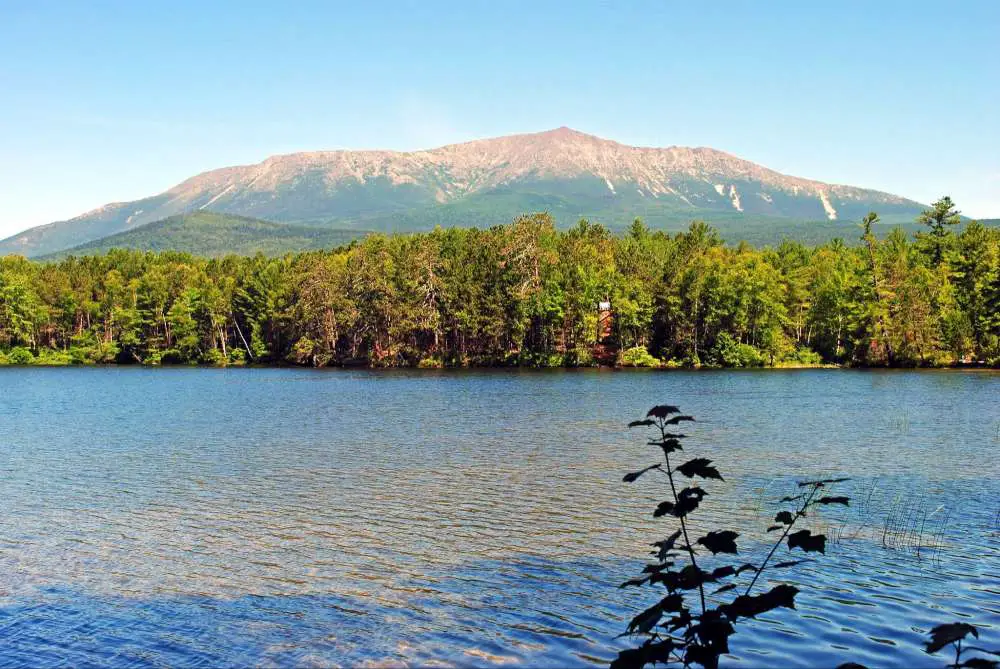 Trail of Scopan Mountain
Scopan Mountain Trail is an intermediate walk that is situated near Presque Isle in Aroostook County.
The trip is just 3.5 miles long, but it delivers a punch with a marshy wetland section where moose and other species congregate to feast on the aquatic vegetation.
The walk also offers views of Alder Lake, where you could possibly see a moose swimming!
If you can go silently and lightly, you will have a far greater chance of observing moose in the wild, as with all moose sightings.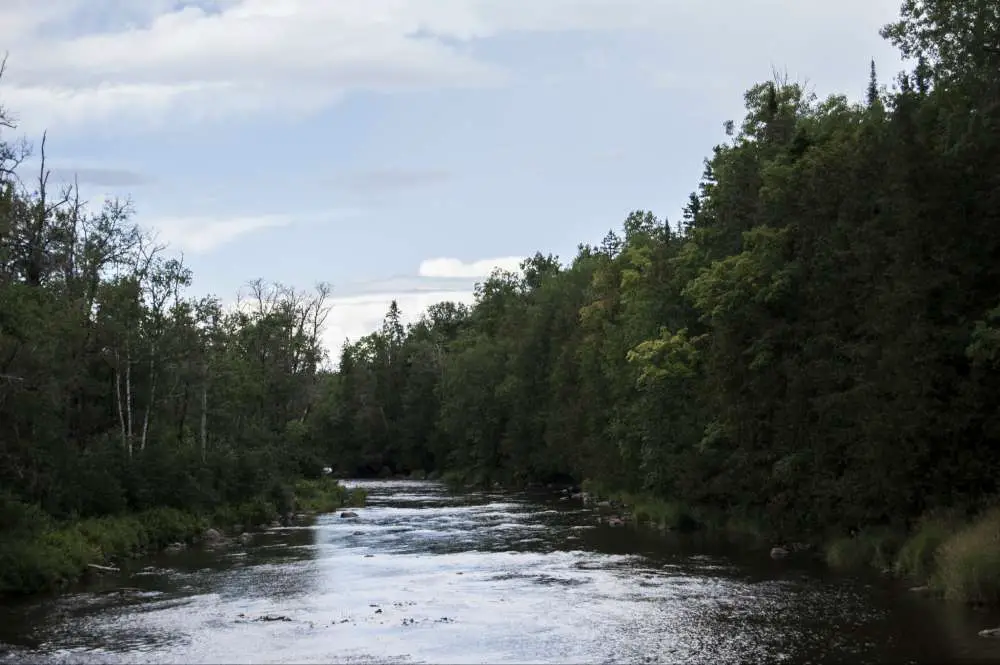 The Maine Wildlife Park is worth a visit.
The Maine Animals Park in Gray is home to approximately 30 different kinds of Maine wildlife that have been wounded, orphaned, or otherwise unable to return to the wild.
This is the only method to view a moose in Maine that is 100 percent guaranteed (or a black bear, a cougar, a coyote, a bald eagle, and many more).
Throughout the week, the park has public talks and demonstrations, so be sure to check out what's going on during your visit.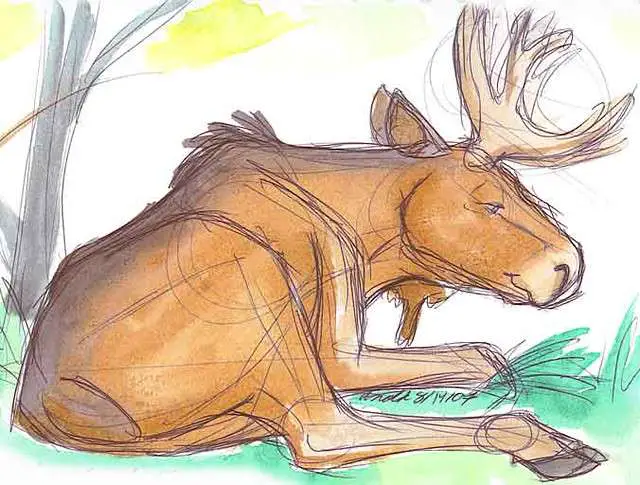 Take a Drive
Always drive with care in Maine and keep an eye out for moose and other animals.
Anywhere in the state, there's a chance you'll encounter a moose out in the distance or even crossing the road in front of you, but you're more likely to see one when travelling through one of these places below!
Kennebec and Moose River Valley US Route 201 is known as "Moose Alley" or "Old Canada Road Scenic Byway," and is bordered by lakes, rivers, ponds, and marshes, making it ideal moose habitat.
Keep a watch out for the stunning surroundings as well as the odd moose feeding on the side of the road!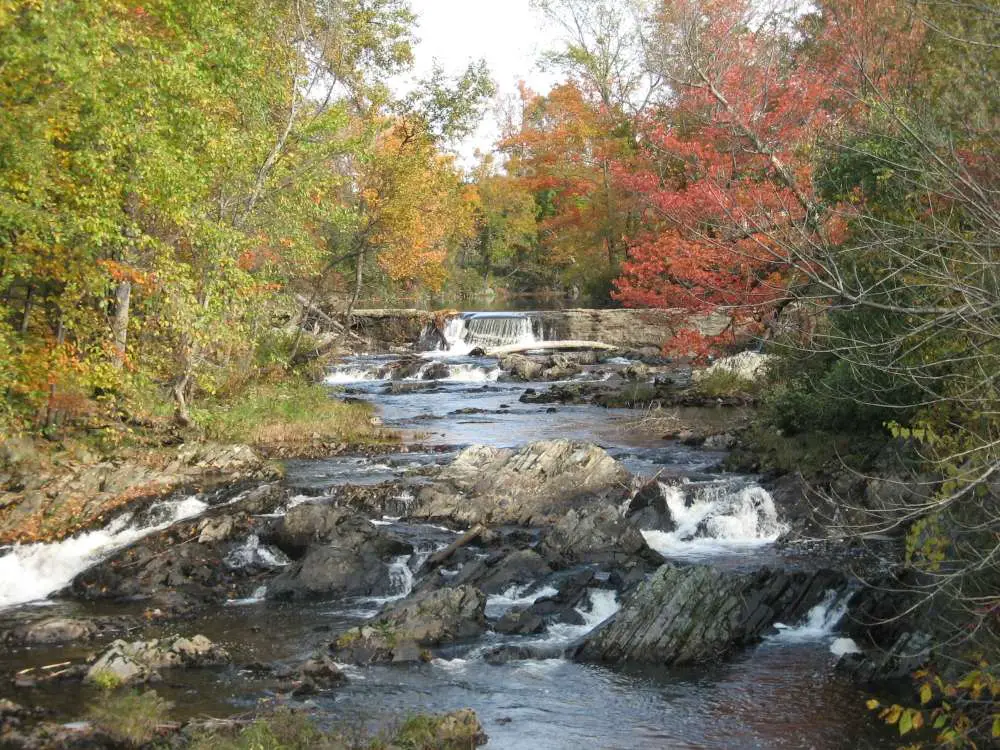 Aroostook County
Aroostook County is one of Maine's greatest places to see moose.
Between Ashland and Patten, US Route 11 is recognised for both its stunning vistas of Mount Katahdin and the chance of seeing at least one moose besides the road.
US Route 161 Caribou to Fort Kent and US Route 1 Caribou to Van Buren are two more Aroostook County trips noted for moose sightings, where it is stated that you will not only see a moose, but at least two!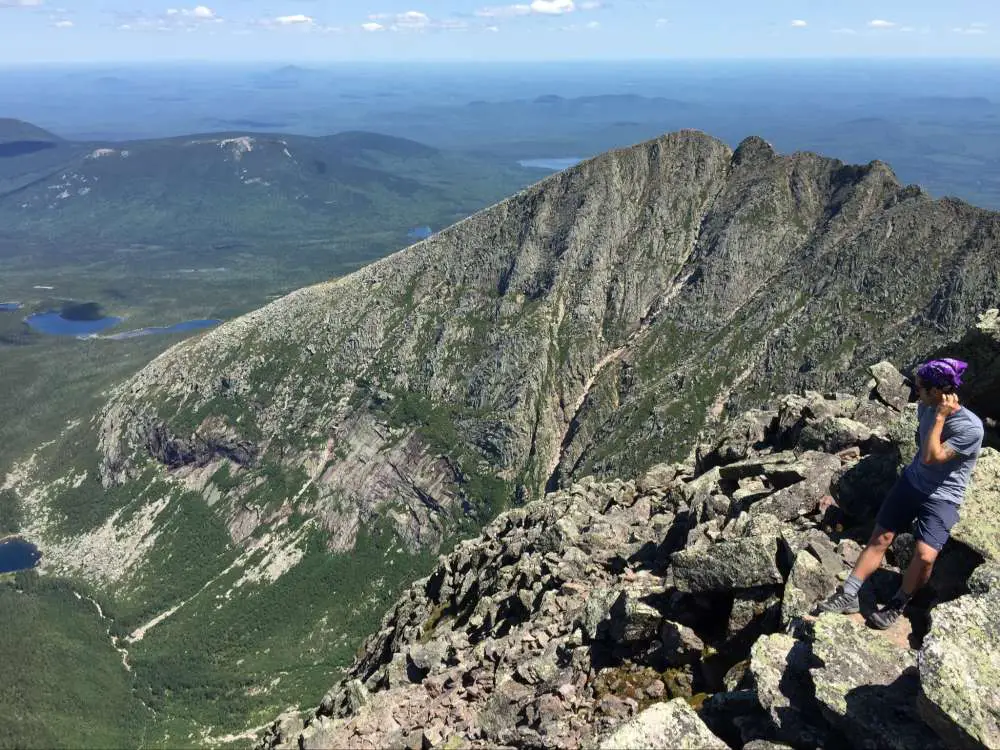 Rangeley Lakes
There are 6 huge lakes in the Rangeley Lakes Region, so there is plenty of moose activity!
Route 4 between Phillips and Rangeley and Route 16 between Rangeley and Stratton are two of the most often reported routes for seeing moose, but there is a whole list of Rangeley Lakes Region routes that are recognised for their moose sightings if you'd like some additional possibilities.
In Maine, there are many possibilities to spot moose; wherever you go, have fun on your moose hunt!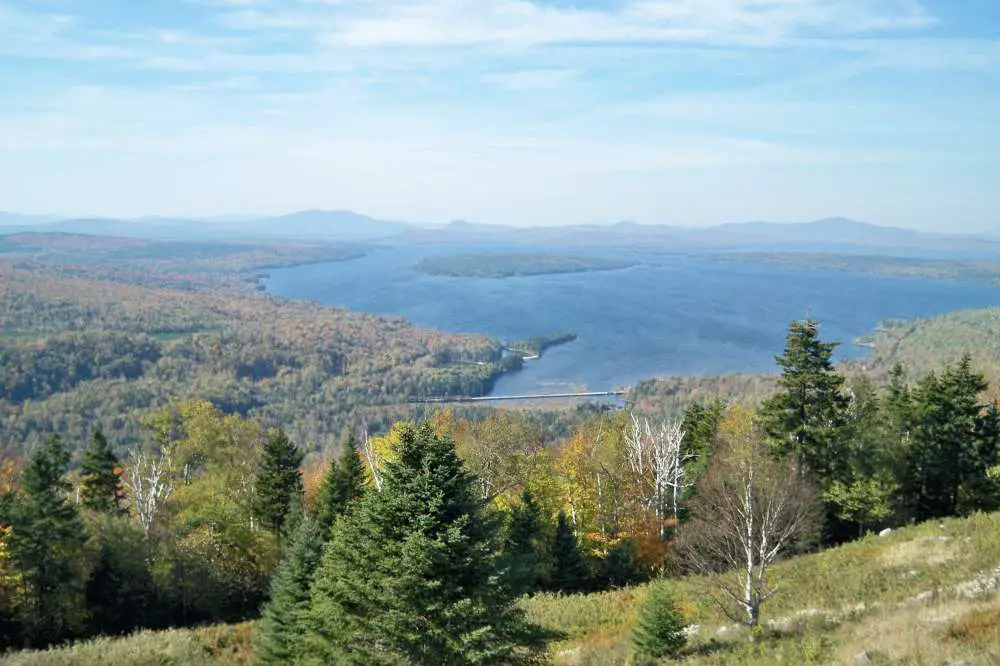 Where in Maine Can You See Moose?
So, you've decided to visit Vacationland, and your next question is: Where in Maine can you view the most moose?
Of course, there's no way of knowing where you'll find one.
Wildlife is unpredictably unexpected. The good news is that you'll have a high chance of sighting a moose while you're here. Why?
Maine's moose population is believed to be approximately 76,000, making it the state with the biggest moose population outside of Alaska.
Even better, Northern Outdoors is located in great moose hunting country.
The moose population in western and northern Maine is higher than on the coast or in the southern areas.
You'll be off to a good start whether you visit the adventure resort at The Forks or the appropriately titled Big Moose Inn just outside of Baxter State Park.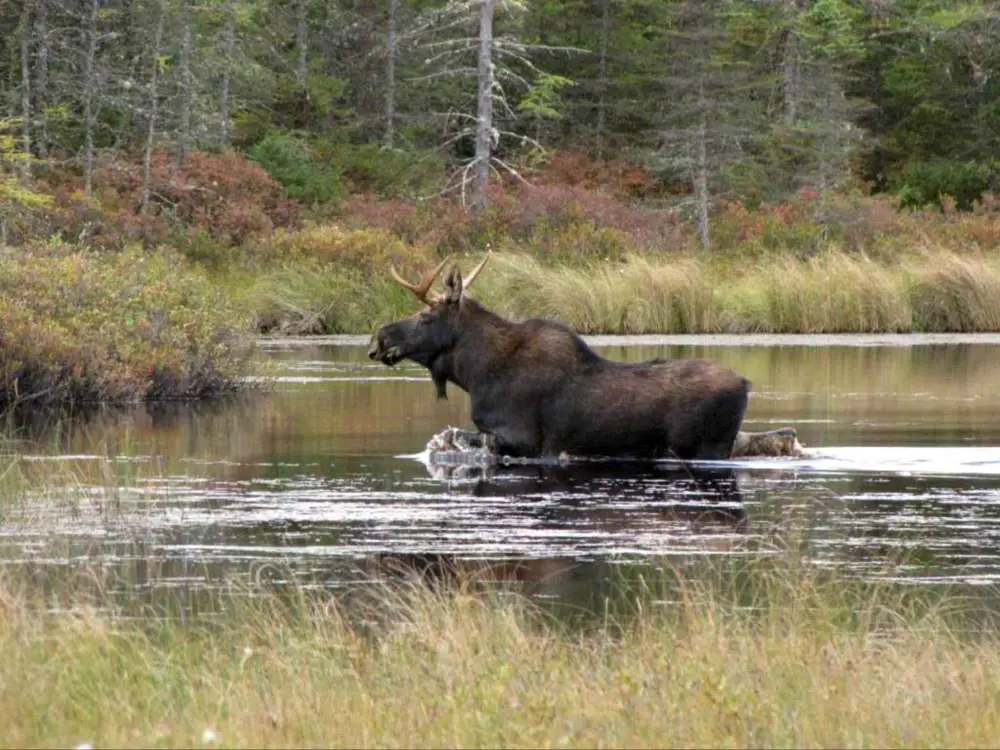 Moose in a Maine swamp
They like marshy, muddy locations to hang out in, although they may be found almost anyplace.
You could see them rolling about in the mud, which helps to form a barrier against mosquitoes and black flies.
They're excellent swimmers, so if you're fortunate, you could see one in or near a body of water.
Because moose need sodium in their diets and natural salt licks are scarce in Maine, you may witness them licking the salt runoff along highways.
Here are a few spots in western Maine where you may see moose: Route 201 from The Forks to the Canadian border (it's not called "Moose Alley" for nothing! ), Route 27 between Carrabassett and Eustis, Route 6 from Dover-Foxcroft to Greenville, the Golden Road, and Baxter State Park, all surrounding Moosehead Lake (like Lazy Tom Bog) and Greenville.
Amid the Maine woods, a bull moose rests in the shrubs. 
If you're going whitewater rafting on the Kennebec River, you could see a moose along the route!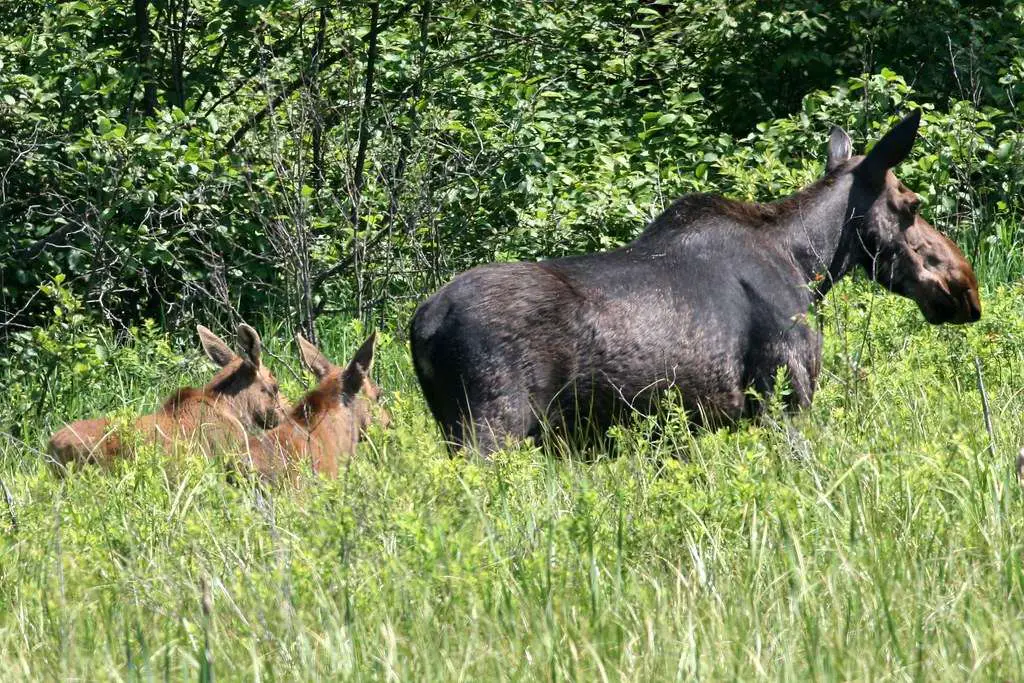 Where to Look for Moose in Maine
Here are some pointers on where to look for moose and when to look for them, as well as some safety considerations:
When do moose emerge from their dens? They're not particularly active in the middle of the day, so the best times to see them are around twilight and dawn.
Which months are the busiest for them? The greatest time to view moose is from mid-May to July, and then again in the autumn (mating season).
Driving should be done with extreme caution at all times, but particularly at night.
Most Mainers I know have either run across a moose or know someone who has, and my mother still tells me to "keep an eye out for moose" anytime I'm out in the woods.
There are a few things to bear in mind: Because moose are so tall, you may not be able to notice the reflections in their eyes as easily as you would with deer.
And, unlike deer, they don't dart, preferring instead to meander along–sometimes sprinting, sometimes simply standing in the center of the road.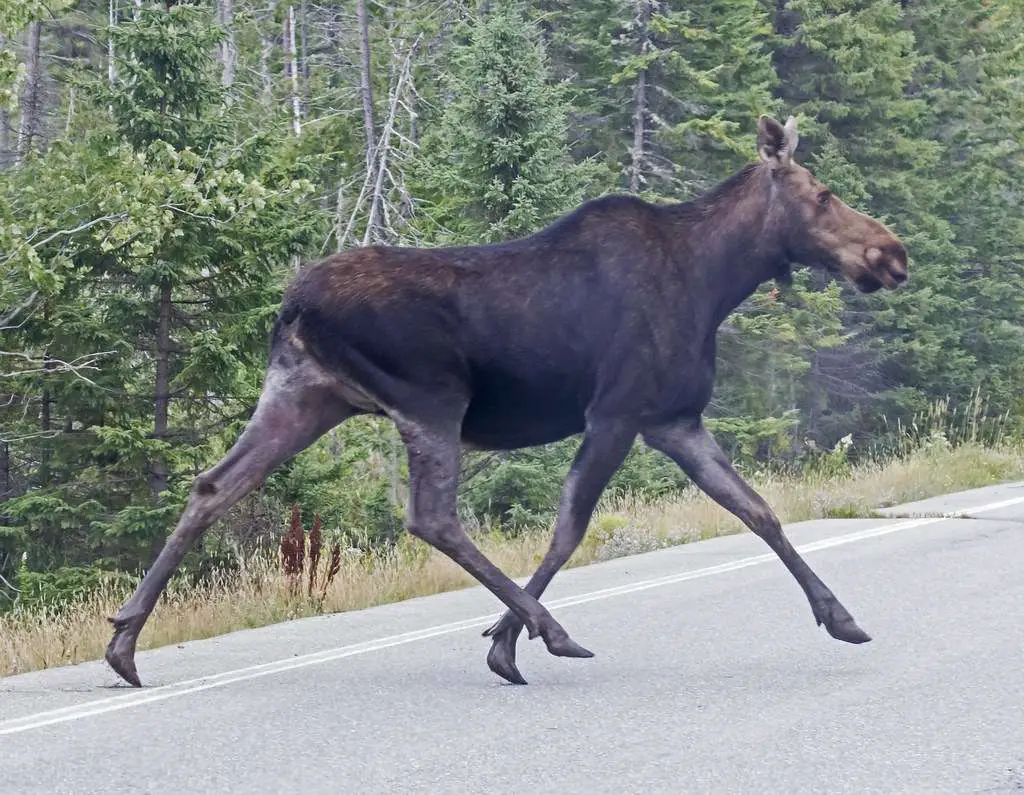 Final words
Never approach or attempt to pursue moose. While moose are not carnivores, their great size makes them very strong and they may attack if threatened. Males (bulls) are 1,100 pounds and may be more violent during the autumn mating season, while females (cows) are 800 pounds and protective of their offspring.