With miles and miles of unspoilt beaches and sand dunes, quaint waterfront cottages and B&Bs, lighthouses, art galleries, and museums, the crescent-shaped peninsula known as Cape Cod is a popular destination in Massachusetts for outdoor lovers. If you're planning a trip, have a look at our detailed list of what we consider to be the greatest things to do in Cape Cod for couples.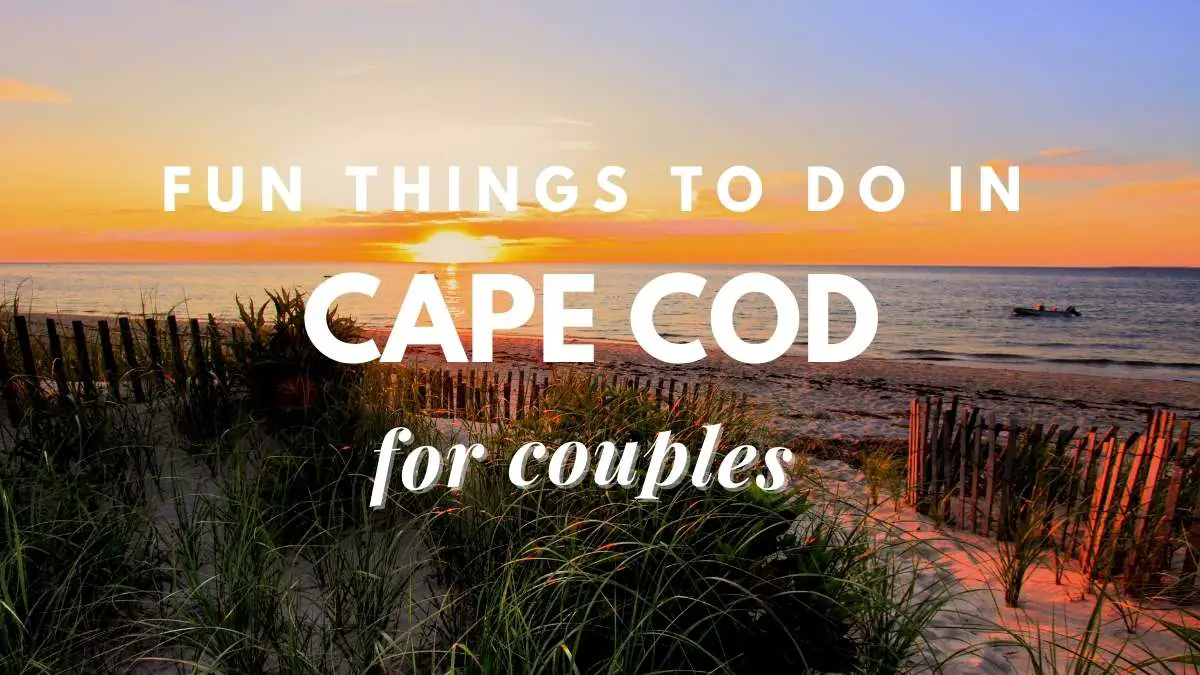 1. Visit Cape Cod National Seashore
At Cape Cod National Seashore, take a walk among the dunes. The Cape Cod National Seashore, which stretches for miles along the north end of the Cape, is a popular wildlife attraction in Massachusetts.
It's a must-see for nature lovers, with opportunities to walk over the sand via towering cliff dunes, crossing tidal flats, salt marshes, ponds, and vernal pools. Bike on one of the several self-guided paths available. There are a variety of additional activities available, including kayak tours, surfing lessons, and yoga classes, as well as ranger-led programs such as guided walks, lectures, performance and music-based programs, campfires, open houses at historic sites, canoe excursions, and more.
Read: Is Traveling A Hobby? The Ultimate Guide To An Exciting Way Of Life Learn about the Downsides Of Traveling As A Hobby

2. Explore eastern side of Cape Cod
It has tiny cobblestone alleyways dotted with restaurants, cafés, bars, and one-of-a-kind businesses, as well as excellent people-watching opportunities. It's always intriguing to meet new people here, and it's been that way for decades. It established an artist colony more than a century ago, in 1914, when artists and businesspeople organized the Provincetown Art Association and Museum to exhibit and collect works by local artists.
Gays and lesbians, as well as socialists, revolutionaries, artists, authors, playwrights, and poets, were attracted here in the 1920s and 1930s for the freedom of exploration, the ability to let loose without fear of censure, and to appreciate the area's particular scenic splendor. Its upbeat, open-minded mentality has persisted, resulting in bustling streets and lots of energy.
3. Cape Cod Light
The Highland Light, often known as Cape Cod Light, is the oldest and highest lighthouse on the Cape. It was built out of wood in 1797 to warn mariners of the treacherous shoreline between Cape Ann and Nantucket, which was often the first sighting for ships arriving from Europe. The lighthouse was considered hazardous and dismantled in 1857, prompting the construction of the modern 66-foot brick tower. The grounds are accessible year-round in North Truro, and the lighthouse is open to the public from May to late October, with guided tours available.
4. Heritage Museum and Gardens
Heritage Plantation, originally known as Heritage Museum and Gardens, is a 100-acre public garden in Sandwich. It is the biggest public garden in Southern New England, with an exceptional collection of Cape Cod native plants, shrubs, and trees, as well as an excellent Norman Rockwell collection in the museum. It includes 150 of his most well-known paintings, as well as an in-depth look at the photos that inspired his work and the technique, he used to make it.
The museum's historic motor collection, which includes classics like a 1909 Steam Car and a 1919 Ford Model T, is also a must-see.
5. Take 6A for a scenic drive.
 If you want to avoid the often-congested Road 6, choose 6A instead. It's a far more peaceful, tree-shaded route that passes lovely historic mansions and stretches with blue inlets on one side and white picket-fenced residences on the other. The Smithsonian's Jonathan Kandell described it as the "most charming section of America I know."
It also travels through of of America's oldest settlements, including Sandwich, Barnstable, Yarmouth, Dennis, Brewster, and Orleans, with many of the mansions and churches on the National Register of Historic Places.
It overlooks the dunes on Cahoon Hollow Beach, affording a panoramic view of the Atlantic, and is often included on lists of the greatest spots to enjoy a drink on the Cape. It's one of the few "grandfathered" homes inside the protected Cape Cod National Seashore, and many beach bums flock here in the summer to enjoy the sun, sand, and beverages like the house specialty, Goombay Smash.
If you want to feel the sea breeze, drink a cool beer, or sip a cocktail while eating littlenecks, cherrystones, Nauset steamers, and delicious Wellfleet oysters, here is the place to go. Great live music is added to the mix on weekends.
6. Playhouse on the Cape
At the Cape Playhouse, you may see a play. Through serious performances, joyful musicals, and humor, summer theater allows audiences to be transported to various cultures and places throughout the globe.
The Actors' Equity Association named the Cape Playhouse, which is housed in a 19th-century meeting house in Dennis, the "Oldest Professional Summer Theatre" in America. In 1927, it premiered a play starring Basil Rathbone. Former Playhouse usher Bette Davis had her acting start here, Humphrey Bogart acted here before earning Oscars, and theatergoers may still attend shows there today, complete with the original pews serving as the venue's seats. Ticket costs vary by performance kind, showtime, and seat section throughout the summer season, which runs from June to September.
7. Beach at Race Point
Race Point Beach offers breathtaking views of nature. Race Point Beach in Provincetown offers breathtaking views of the Atlantic Ocean and Cape Cod Bay, as well as kilometers of sandy beach.
The beach features a large stretch of sand that offers a variety of activities once the sun rises, including beautiful dunes, passing yachts, and even surfing. Depending on the season, you could even see a whale in the distance. If you wish to go for a bike ride, the Province Lands Bike Trail connects to Herring Cove, a neighboring beach.
8. Vineyards in Truro
Truro Vineyards offers a picnic and wine tasting.  For wine lovers, Cape Cod even has a vineyard. Truro Vineyards offers tours and tastings, as well as the option of picnicking on its well-kept grounds. A "lobstah" truck waits out front if you want to have some lobster. The gift store sells anything from wine and accessories to gourmet cuisine, and there is live music on occasion. Cabernet Franc, Cabernet Sauvignon, Cayuga, Chardonnay, Merlot, Sauvignon Blanc, Vignoles, and Zinfandel grapes, as well as Cape Cod cranberries, are used to make the vineyards' wines.
You may also visit the mansion at Truro Vineyards, which is a beautiful Federal-style house erected in 1813 as John and Hannah Hughes' farmhouse. It used to be a farm where a variety of fruits and vegetables were sold; now it grows grapes.
9. Take a Dip in One of the Many Ponds
There are several ponds throughout the coast for a solitary swim if you want to get away from the throng and enjoy a tranquil summer swim.
 There are over 300 in Cape Cod but finding them might be difficult. Many of the greatest freshwater swimming holes are actually "hidden treasures," unlike the bay and ocean beaches, where signage will send you in the correct path. Gull Pond, with its extraordinarily pure, silky waters, is one of the secret springs left over from the Ice Age, buried deep in the Wellfleet and Truro woodlands. Jenkins Pond in Falmouth is one of the cleanest ponds in the region, and it also has excellent fishing for smallmouth and largemouth bass, catfish, white and yellow perch, and trout on occasion.
10. Sandwich Museum of Glass
The Sandwich Glass Museum is a must-see. Sandwich is the oldest hamlet on Cape Cod, and it is also noted for its long history of glassmaking. The Sandwich Glass Museum, housed in a red brick structure on Main Street, is primarily dedicated to the works of the Boston Sandwich Glass Company, which operated from 1825 until 1888. This hidden treasure is rich in history and unique exhibitions such as glassblowing demonstrations. Nearly 6,000 glass pieces, including perfume bottles, vases, lamps, candlesticks, and dinnerware, are part of the museum's collection.
A store on the premises offers both current and replica glassware. The Sandwich Antiques Center is a great place to go shopping for antiques. The Sandwich Antiques Center is often cited as the greatest spot on the Cape to shop for antiques. This is a place where you may find both deals and high-priced, unusual finds. Some consider it to be one of the top antique malls in the nation.
The enormous area has everything from Peter Hunt-painted furniture to antique weaponry and even a one-of-a-kind rocking pig — after all, why needs a rocking horse when you can have a pig?
Final words
You may engage with these things when you are exploring Cape Cod along with your partner. All these activities are enjoyable and meaningful. You just need to go through them and pick the best activities that you can try with your loved one without having to worry about anything. No matter what, you will surely love what Cape Cod would offer.