Everyone enjoys traveling and adventuring with their four-legged companions, but you never know if you'll be able to have a good time with Fido on your vacation. Zion National Park is without a doubt one of the most beautiful sites on Earth, and it deserves to be explored; nevertheless, bringing a friend along for the journey might be difficult. You're in luck today because I'm going to tell you about some of the finest things to do with your dog in Zion.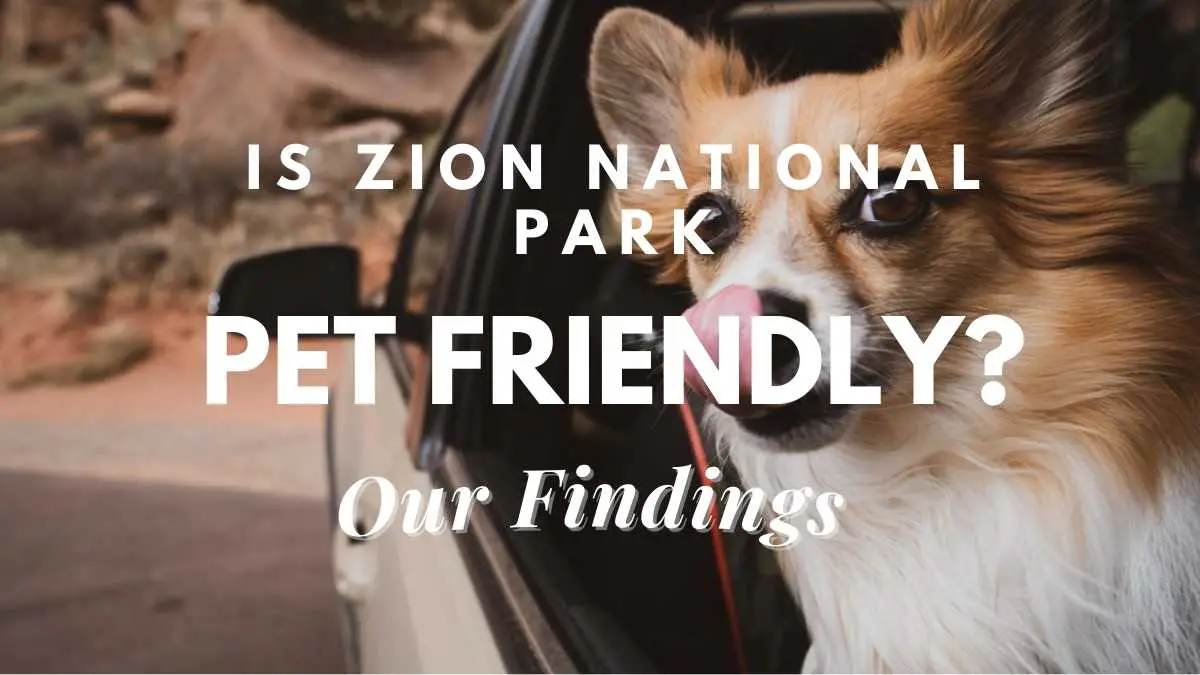 Visiting Zion National Park with your pet
First and foremost, what are the drawbacks to keeping a dog in Zion? For most dogs, the weather is a major obstacle. While the evenings here are usually cold and pleasant, the days may be quite scorching! It's not an option to leave your dog in the car with the window cracked while you go on a park outing. Even if your van or camper is adequately insulated, the temperature inside might climb to levels that are harmful to your pet.
However, there are several solutions available to you, friends. Pet Dude Ranch is a doggy day care facility in Springdale. When booking a reservation at the Doggy Dude Ranch, make sure to plan ahead. They are open from 9 a.m. to 5 p.m. Tuesday through Saturday, but they may welcome pets at practically any time with advance notification. The second alternative is to spend the day roaming around town with Fido, stopping in at many of the stores and tour businesses. Most store owners are kind and enjoy dogs, and if you can strike up a conversation with them, they may volunteer to doggie sit for the day. McKenna, a local dog walker, may be found at Zion Cycles or Deep Creek Coffee Co.
Read: Is Traveling A Hobby? The Ultimate Guide To An Exciting Way Of Life Learn about the Downsides Of Traveling As A Hobby

Are pets allowed within the Zion National Park?
Zion National Park, near Springdale, Utah, is 4,000 miles above sea level and offers various paths among its red cliffs and along the boiling Virgin River. Up to 4.5 million visitors come to experience the park's waterfalls, cliffs, woods, and hanging gardens each year.
Dogs are not permitted on many of Zion's trails, as they are in several other national parks. Some areas of Zion are dog-friendly, however your options for activities may be restricted.
This does not, however, imply that you must leave your dog at home. One of Zion National Park's pathways, the Pa'rus Trail, does accept dogs. If you're willing to drive, there are plenty of additional dog-friendly paths around Zion National Park. You may camp with your dog and stroll around most public locations in Zion as long as he is on a leash.
If you're planning a trek to Angels Landing, Observation Point, or the Emerald Pools, keep reading to learn about nearby dog boarding choices.
Rules to adhere when you are taking your pets to the Zion National Park
The National Park Service (NPS) has established pet policies in its parks. You might face a fine of up to $100 if you don't follow these rules. The following are the rules:
Only the Pa'rus Trail is open to dogs, and they must be kept on a 6-foot leash at all times.
Dogs are allowed on public roads, parking lots, approved campgrounds, picnic spots, and outside the Zion Lodge as long as they are on a leash.
Unless they are licensed assistance animals, dogs and other pets are not permitted in public buildings or on shuttle buses.
All rubbish must be collected and deposited in trash cans.
Don't leave your dog in the car since the heat is dangerous.
Dogs are allowed to be left at campgrounds if they are securely confined, the weather is moderate, and the dog will not make too much noise.
Dog friendly hikes in the Zion National Park
In Zion, the Pa'rus Route is the sole dog-friendly trail. This 3.5-mile out-and-back hiking path is suitable for hikers of all abilities. The trail is well-traveled, according to those who have visited it.
You'll likely encounter large meadows, lovely wildflowers, shaded groves of trees, footbridges, and vistas of the rocky summits on the route, which is a paved walkway that follows along the Virgin River.
Hikers should be aware that Zion National Park costs up to $35 per car to enter the park when planning a journey to the Pa'rus Trail. This route should be very near to the visitor's center after you arrive in Zion and is best accessed from the overflow parking area behind the Zion Nature Center.
What should you do when you are not capable of bringing in the pet to Zion National Park?
Unfortunately, many trails in Zion do not accept dogs, but there are other walks nearby that you may enjoy with your pet. If you're determined to trek the trails in Zion but don't have a family member or friend to stay at the campground with your dog, there are various local dog boarding choices.
While the canyon and emerald waters of Zion National Park are stunning, there are other dog-friendly paths in the area. For example, in Moab, you might climb to the Corona Arch, which is a one-of-a-kind structure, or in Kanab, you could explore one of the numerous dog-friendly paths.
Dog boarding in the Zion National Park area
Rockville, Hurricane, St. George, Kanab, and Cedar City are all neighboring cities with plenty of dog boarding alternatives. Here are some possibilities to consider:
Things to bring with you when coming to the Zion National Park
Finally, don't forget to bring the appropriate hiking equipment. Whether or not you plan to bring your dog, having the proper gear is essential for both safety and enjoyment. Here are the items that you need to bring along with you to the park.
Topo Designs Mountain Pack or Osprey 36L Sirrus Pack with rain cover (similar here)
Corklite Trekking Poles by Leki (optional but good if you have bad knees for descending down elevation)
Hoka One One shoes: Those who follow me on social media know that I stopped wearing hiking boots a few years ago. Shoes are quite personal, and you should wear what feels best to you, however I like a lighter shoe with a cushioned bottom to keep my feet from hurting. The Hoka One Ones are ideal!
Dromlite 2L by MSR: My favorite drom bag; I've had it for almost eight years and it's still going strong.
Icebreaker Merino Merino Merino Merino Merino Merino Merino Merin When it turns windy and chilly in the fall and winter, this is a perfect mid-layer!
Smartwool Short Sleeve Tshirt: This is a terrific t-shirt for the summer. It aids in the wicking of perspiration to keep you cool.
Nike Running Shorts: The hiking community has traditionally pushed for costly, hiking-specific trousers, but I'll wear Nike running shorts 90% of the time if I'm not trekking through the woods, scaling rocks, or concerned about poison oak. Mine have lasted for nearly a decade!
Did you know that it's believed that more than half, if not almost two-thirds of American travelers who own a pet travel with their pet? When traveling on vacation, pet owners, especially those with dogs, find it difficult to leave their furry companions at home. Because Zion National Park is Utah's second most visited tourist destination (after Temple Square in Salt Lake City), animal lovers will be interested to see how pet friendly the park is…or isn't.
Is Zion National Park pet-friendly?
The fact is that the answer isn't particularly. In truth, national parks have never been very pet-friendly. That isn't to say that personal pets are entirely barred, but in Zion, there are only a few spots within the park limits where they are permitted, and even then, they must be kept on a leash at all times. So, after reading this, you must determine for yourself whether or not taking your pet to Zion is still something you want to do.
The most comprehensive pet law in Zion is that no pets of any kind are permitted on the trails, with the exception of the Pa'rus Trail. The Pa'rus is a near level, paved route with beautiful landscape all around it, and leashed dogs are permitted. It's the only route in the park that allows pets. The only other areas in the park where pets are permitted (on a leash, of course) are approved campgrounds and inside your car when traveling on park roads. Your pet can exit the car with you and stroll about if you stop at one of the many observation sites along the road, as long as they're on a leash. Only service animals are permitted on shuttle buses. Make sure you have the correct identification with you.
You must never leave your pet unattended (even at campgrounds) or allow them off the leash. They are not permitted to enter any of the structures or buildings. This should go without saying, but you should never leave kids in a closed car. Depending on the season, temperatures in southern Utah can reach over 110 degrees on a regular basis. Please be aware that fines can range from $100 to $1,000 or more in some situations, so please adhere to the regulations.
Finally, as you can probably see, taking pets to Zion National Park isn't the best idea because the park isn't particularly pet-friendly. It will almost certainly be more of a bother than anything else. If you can't leave your pet at home, try boarding them at Doggy Dude Ranch in Rockville, which is only a few miles from Zion National Park.
On your journey to Springdale, you'll pass right by it on UT-9. The adjacent cities of Cedar City, Kanab, St. George, and Hurricane also provide animal boarding facilities. If you do decide to bring Fido into Zion National Park, make sure you have a leash, a portable water dish, water, doggy bags, and vaccination documents on hand. It's also a good idea to have tick and flea repellent just in case. Last but not least, there are several trails close to Zion National Park, as well as nearby Bryce Canyon National Park, that are completely pet-friendly, allowing you to take your dog's off the leash and trek with them to your heart's delight. The US Bureau of Land Management and the US Forest Service are in charge of these lands.
Rules that you should never break while you are at the Zion National Park
Put your pet's excrement in a bag.
Pet excrement must be removed from all sections of the park, including campgrounds, picnic areas, parking lots, roadways, pet-friendly pathways, and other constructed areas, by their owners.
Always keep a leash on your dog.
Pets must be kept on a leash that is no longer than 6 feet long.
Wildlife must be respected.
By generating noise or frightening animals away, pets can annoy or damage wildlife.
You should be aware of your options.
The Pa'rus Path, which begins at the Zion Canyon Visitor Center, is the only trail that permits dogs.
In Zion National Park, pets are not permitted on any other trails, wilderness areas, shuttle buses, or public facilities.
Pets are also permitted on public roads and parking lots, in constructed campgrounds and picnic areas, and on the grounds of the Zion Lodge when properly confined.
Pets should never be left alone. Zion is scorching! During most months of the year, the inside temperature of a car may quickly rise to unsafe levels. It is against the law to leave a pet unattended in a vehicle when the environment poses a health danger to the animal. Only when environmental circumstances are safe for the animal and the animal is not generating excessive noise may properly tethered dogs be left unattended in established campgrounds (barking, etc.).
If you can adhere to these tips, you can secure an enjoyable stay at the Zion National Park with your dog.