Rockland County is situated in New York on the west bank of the Hudson River, only 45 minutes from New York City. When most people think of New York, the city is the first thing that springs to mind. Rockland County, on the other hand, has a lot to offer, from excellent restaurants to unique stores to breathtaking natural scenery. Everyone's playground may be Rockland! Make sure you get some rest the night before since the following 24 hours are going to be exciting. Here are the best fun things to do in Rockland County as of now.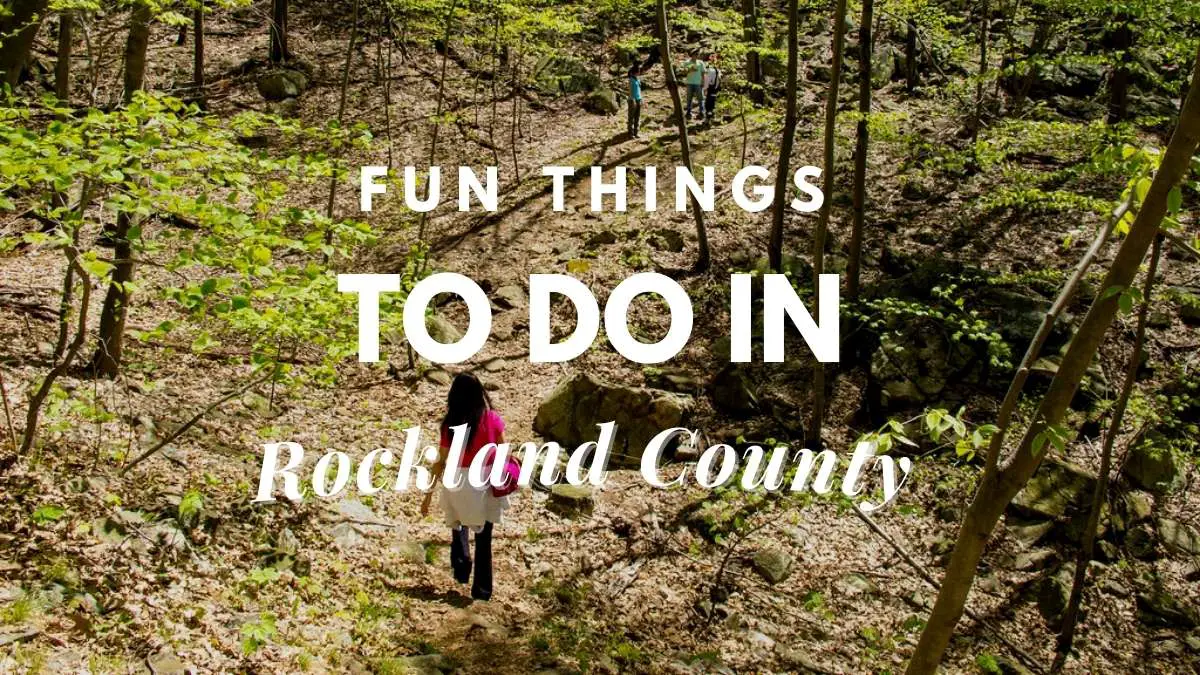 1. Enjoy sunrise at the Harriman State Park
Harriman State Park is New York's second-largest state park, with 47,527 acres. This is the park for you if you like hiking. There are almost 200 miles of hiking trails in the park, as well as campsites, Lake Welch Beach, and rental cabins. Choose any path and trek to the summit to see the magnificent dawn. Take some Instagram-worthy photographs to add some variety to your account.
Read: Is Traveling A Hobby? The Ultimate Guide To An Exciting Way Of Life Learn about the Downsides Of Traveling As A Hobby

2. Recharge with Coffee
Most people consider 7 a.m. to be an unusually early hour to get out of bed. A good cup of coffee will help. Organic coffee is available at the Art Café in downtown Nyack. "The café is adorable." "The feelings are absolutely incredible," remarked Rockland resident Michael Crowe. The hand-poured lattes are beautiful, and the café itself has a soothing atmosphere. Whatever coffee you choose, it will provide you with the energy you need to go through the day.
3. Bear Mountain Hike
After all that food, go for a walk to burn off those calories! One of the most well-known peaks in the Hudson Highlands is Bear Mountain. A huge playing field, a swimming pool, covered picnic spaces, and river fishing are all available in the park. From late October through mid-March, an outdoor ice rink is open. Weekends may also be spent at the park at the Bear Mountain Inn with family or friends.
4. Shop at a Farmers Market
It's time to unwind after your trek by going shopping. Why should you visit a farmer's market? It is more environmentally friendly and supports local farmers. The Pearl River Farm Market, located in the Towne Plaza on N. Middletown Road, features very good vegetables at reasonable pricing. "Compared to a conventional grocery shop, I appreciate obtaining my food here since it is so fresh," said Hao Jiang, a former Rockland resident. After a trek, a snack of juicy berries or a sweet pastry is ideal.
5. Celebrate Greek culture
If you happen to be in Rockland County in early June, you must attend the Saints Constantine and Helen Greek Orthodox Church's annual Greek Festival. Traditional Greek cuisine, music, dancing, crafts, wine, and beer are all included during the event. At the Greek Festival, the atmosphere is always vibrant as everyone comes together to enjoy this beautiful culture.
6. Splurge at the Palisades Mall
The Palisades Mall is still open for business. This retail center is one of the biggest in the United States. The mall is a one-stop shop for almost everything, with infinite shopping, eating, and entertainment possibilities. The Yard House, an all-American sports pub that offers traditional American meals, is a local favorite. "Everyone should go to Yard House." "The nicest part of the mall is happy hour food and beverages, coupled with 100+ beers on tap," stated Alexis Pinela, a Palisades Mall employee. There are four floors to the mall, which contains a bowling alley, ice rink, comedy club, and the world's highest indoor ropes course.
7. Grab a Dawg at The Dawghouse
If the Yard House didn't pique your curiosity, this next establishment would. The Dawghouse, voted Rockland County's greatest hotdogs, is a must-try for any comfort food item. The restaurant has been offering great meals to Rockland County locals for as long as anybody can remember. The Dawghouse offers a colorful 1980s ambience in addition to great cuisine. Customers may enjoy concerts, Jeep displays, or just relax on the terrace. "Our cuisine is one-of-a-kind. While our hotdogs are our specialty, our ribs and wings are certainly worth trying," remarked current owner James Barracato. "You are seated at an extension of our family dinner table when you dine with us." The restaurant also offers a selection of cool beers on tap as well as alcoholic beverages. So, grab a cool drink and a hotdog and relax on the terrace since the day is still young!
8. Visit the Battlefield of Stony Point State Historic Site
It's time for some history now that our tummies are full. The Battle of Stony Point took place on this site in 1779 during the American Revolutionary War. The location is now a national historic monument, a museum, and an ideal destination for history buffs. The location hosts interpretative events such as 18th-century military life, cannon and musket firings, cookery demonstrations, and battlefield excursions.
9. Letchworth Village
Letchworth Village is steeped in the history of Rockland County. The whole site was previously a residential institution for the physically and mentally ill of all ages in the hamlet of Thiells. Letchworth Village, which opened in 1911, finally closed due to the inhumane treatment patients received throughout their stay. The village is said to be haunted nowadays. "I went late one night and was very terrified." "I believe folks who aren't easily intimidated should go," said Melanie Balaj, a Rockland resident. You can really go along certain paths and view preserved dormitories and office buildings.
10. Play Mini Golf
Mini golf is a fun pastime to enjoy with family and friends. All things mini golf can be found at Germonds Park Miniature Golf. The course is surrounded by woods, and you may bring your children to the neighboring playground. "Mini-golf was always a nice choice throughout the summer if I simply wanted to enjoy a relaxed night with friends," said Rockland resident Humza Chaudry. Admission is likewise inexpensive, costing $4 in cash and $5 with a credit card.
11. Baseball Game
Support the Rockland Boulders, a professional baseball club in the Canadian-American League. Support the squad during one of their home games at Provident Bank Park in Pomona. After the game, kids may really go on the field and run bases. The majority of the games are followed by a stunning fireworks display reminiscent of the Fourth of July.
12. Shakespeare
There are just a couple more stops till supper! The Hudson Valley Shakespeare Festival was created in 1987, and The New York Times, The New Yorker, and The Wall Street Journal have all praised it since then. The non-profit theater group offers a unique experience as well as an open-air Theater Tent with views of the Hudson River.
13. Refuel at Deli Central
Deli Central is popular among Rockland County residents for its large, iced teas and tasty breakfast and lunch offerings. Deli Central is a Stony Point establishment that opens at 4:30 a.m. Try an iced tea with lemonade if you decide to stop here. Combine it with the Joan Special, which contains a jalapeño wrap with Cajun turkey and crumbled Doritos wrapped inside! The iced drink and wrap will get you through till dinnertime.
14. Make yourself at home at Hudson Social
Hit out the Hudson Social for a pleasant and inviting eating experience while admiring the Dobbs Ferry riverfront. The cuisine at the café includes American bistro fare, baked pastries, and freshly squeezed juices. The fire pit and sofas outdoors add to the uniqueness of this eating experience. Order a spiked apple cider and sit by the fire pit till dinnertime arrives.
15. Go to Nyack's downtown area
Locals in Rockland adore Nyack, and with good reason. "I would suggest Nyack to any traveler," said Christine Ro, a Rockland native. This Rockland County hamlet boasts such a diverse range of restaurants and cafés that it will certainly fulfill any appetites you may have. Turiello's Pizza serves supper. They justifiably name themselves the "King of Pizza." Even Justin and Hailey Bieber came over for a slice of pizza.
16. Listen to Jazz music
With some good old jazz, keep the music flowing and the celebration going. Rockland County is home to almost everything. Maureen's Jazz Cellar offers an intimate musical experience that includes jazz, classical, cabaret, and comedy. Drinking a bottle of wine while listening to live music is the ideal night for almost everyone. Just remember to book a reservation ahead of time.
17. Take a scenic drive in early morning
Drive around Rockland to cap off this long day. At night, everything is incredibly gorgeous, particularly if you travel to the appropriate areas. Make a point of driving via 7 Lakes Drive. The views are wonderful all year, but the foliage and lake at night seem especially stunning during the autumn season.
Final words
Now you are aware about the best fun things to do in Rockland County. You can take a look at these activities and plan your tour accordingly.