If you're searching for a fun family vacation this season, Fort Lauderdale, Florida is the place to go! You and your group will be able to experience untouched beaches as well as a dynamic city san the crowds. You'll be glad you avoided Miami's overcrowded beaches! For anyone contemplating a family vacation in Fort Lauderdale vs. Miami, we've assembled all of the pertinent facts below. If you wonder Fort Lauderdale or Miami for family vacation, continue to read, and we will share the best option available out there for you to select.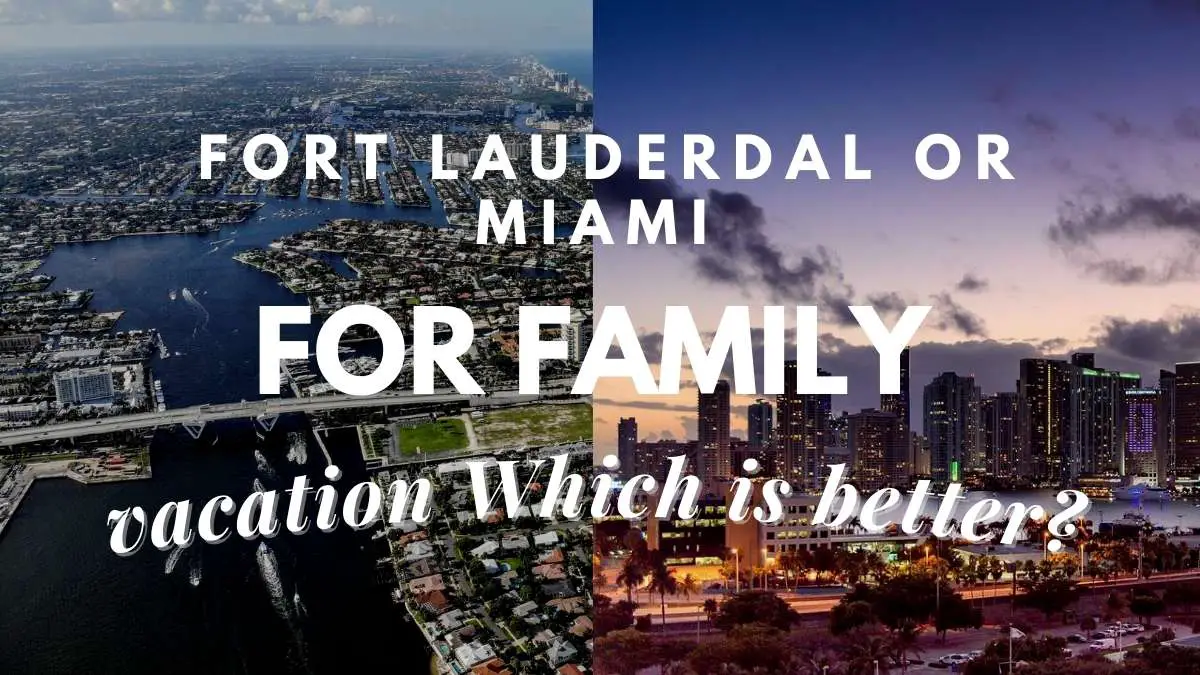 What You Should Know About Family Vacations in Fort Lauderdale vs. Miami
Whether you want to take the kids to the beach or participate in some thrilling urban activities, "America's Venice" is ideal for a memorable family holiday. Fort Lauderdale, 30 minutes north of Miami, has some of the top family activities and attractions. It also has a number of family-friendly communities where you and your family may unwind in a lovely vacation rental. Here are a few reasons why Fort Lauderdale is a great family vacation spot!
For Family Vacations, Why Is Fort Lauderdale Better Than Miami?
Read: Is Traveling A Hobby? The Ultimate Guide To An Exciting Way Of Life Learn about the Downsides Of Traveling As A Hobby

1. The Airport in Fort Lauderdale is More Convenient
You'll be glad to find that Fort Lauderdale-Hollywood International Airport is handier than Miami International Airport if you're seeking for flights to South Florida. Fly straight into Fort Lauderdale and avoid the rush and bustle of Miami! This airport offers a large number of direct flights, including international flights, at reasonable pricing.
2. It's Easier to Get Around
Another advantage of picking Fort Lauderdale over Miami for your family vacation is the ease with which you can navigate the city. In Fort Lauderdale, you need to go from point A to point B. It's as simple as hailing a cab, calling an Uber, going on a bike trip, or taking the water taxi! The Intracoastal Waterway runs through "America's Venice," with miles of meandering channels and bike lanes that make getting around the city a breeze. Spending less time stalled in traffic means more time with the kids!
3. Fort Lauderdale is less expensive.
Fort Lauderdale is a terrific location for the thrifty, whether you're looking for a tasty dinner at an award-winning restaurant or economical housing without compromising quality. Feel free to compare and contrast some of Fort Lauderdale's beachfront eateries to those in Miami! There are also several free activities in Fort Lauderdale.
4. There are several family-friendly attractions.
The days of spring break parties in Fort Lauderdale are long gone. Unlike Miami, "The Venice of America" has magnificent beaches and photo-worthy sights without being entirely geared at spring breakers. For a reason, Fort Lauderdale is Miami's more refined sister city! Many more family-friendly activities may be found here, and you won't have to wade through shady areas to discover them. Here are just a handful of the family-friendly activities in Fort Lauderdale!
5. Indoor Playground and Café at Funderdome
At the Funderdome Indoor Playground and Café, let the youngsters loose! From the comfort of the café, watch your children complete a ropes course, have a fun in the blaster arena, race up the climbing wall, and meet new friends. Adults may even participate in the excitement for just $5! The Funderdome is sure to bring out the child in you.
6. Broward College Observatory and Buehler Planetarium
Tired of the city lights interfering with your stargazing? Visit the Buehler Planetarium in Fort Lauderdale instead of the busy Miami tourist sites! Adults and children alike will be taken aback as they gaze up at the night sky from this stunning 40-foot dome structure. Planets move across the sky as seen through big telescopes on the patio. On Wednesday evenings between 7 and 10 p.m., bring the entire family.
7. Holiday Resort
Want to get some sun but don't want to go to the beach? Enjoy nearly 90 acres of fun for guests of all ages at Holiday Park! Explore fascinating on-site workshops, challenge your friends to a sport, or learn something new. Holiday Park has something for everyone!
8. Pirate Adventures with Bluefoot
Greetings, mateys! Bluefoot Pirate Adventures is a fantastic pastime for the whole family. Before traveling on a real ship to begin a treasure hunt, kids may practice their pirate jargon. It's a thrilling adventure for people of all ages. Kids and adults will never forget fighting other pirate ships and uncovering secret treasure in the waterways of Fort Lauderdale!
The Best Beaches in Fort Lauderdale vs. Miami Beach
Most people associate Miami Beach with spring breakers, parties, and nightlife that extends into daylight hours. We're not going to skirt around the truth—a there's lot of it.
However, this isn't to imply that Fort Lauderdale's beaches are completely family-friendly; you may need to keep your children away from beach parties. In general, though, you'll see more families bringing their children to the beach in Fort Lauderdale than in Miami Beach.
The boardwalk between The Palms housing complex and Fort Lauderdale Beach Park is a great place to start your beach excursion. Earl Lifshey Ocean Park is another great option for families since it has a more relaxed and (mainly) party-free atmosphere. Miami Beach, on the other hand, isn't completely off the table for families. Arrive early in the morning if you intend to visit Miami Beach with your children.
Then, once the grownups have recovered from their hangovers, you may leave the beach and participate in one of the family-friendly activities we'll discuss soon. As an added plus, this is a fantastic time to keep your kids out of the hot Florida heat during the daytime hours, avoiding sunburn concerns.
Ability to swim
The type of big waves that surfers adore are uncommon in Fort Lauderdale and Miami Beach. You may or may not want your kid to swim at Fort Lauderdale or Miami Beach, depending on their age and swimming abilities.
The majority of public beaches in Fort Lauderdale and Miami Beach have flags indicating whether the water is safe to swim on that day. If the flag is green, for example, it implies the sea is calm and rip tide danger is minimal.
Yellow flags, on the other hand, suggest that only experienced swimmers should enter the water, while a red flag advises that you should not enter at all. Your youngsters will most likely be able to swim under supervision at both Fort Lauderdale and Miami Beach beaches. However, if you know your children like swimming, consider staying somewhere with a pool.
City Feelings
Despite the fact that both Miami Beach and Fort Lauderdale are huge cities, Miami Beach has a more metropolitan, nonstop feel to it than Fort Lauderdale. In Miami Beach, restaurants and stores are open at all hours of the day and night. Given its iconic Art Deco architecture, the city's art and culture life is especially outstanding for those who value these features of a city.
Fort Lauderdale, on the other hand, has a more laid-back attitude that revolves almost exclusively on the sea. It has a significant boat culture, with elegant restaurants and bars bordering several docks, compared to Miami Beach.
Given its enormous canal system on the Intracoastal waterway, many people affectionately refer to Fort Lauderdale as "America's Venice." Walking down the docks with your kids and having everyone in your family select their favorite boat name may be a wonderful experience!