If you are into bass fishing, Texas offers some outstanding opportunities. You just need to take a look at the best bass fishing lakes in Texas and proceed with your bass fishing adventures. You will fall in love with the bass fishing experiences that you can secure to get while you are at one of the lakes in Texas. In this article, we will share details with related to 20 of the most prominent bass fishing lakes that you can find in Texas. It is up to you to go through the list of bass fishing lakes and figure out the best bass fishing lake out of them. Then you can go ahead with your bass fishing adventures and enjoy the greatness of bass fishing.

You may think about following this article as a comprehensive guide to bass fishing within the state of Texas. Since we provide numerous options, you can make sure that you will never get bored with the choices that you have. It is possible to keep on exploring the different fishing destinations and see what kind of fishing experiences they are capable of delivering to you. Then you can get a rich fishing experience in Texas.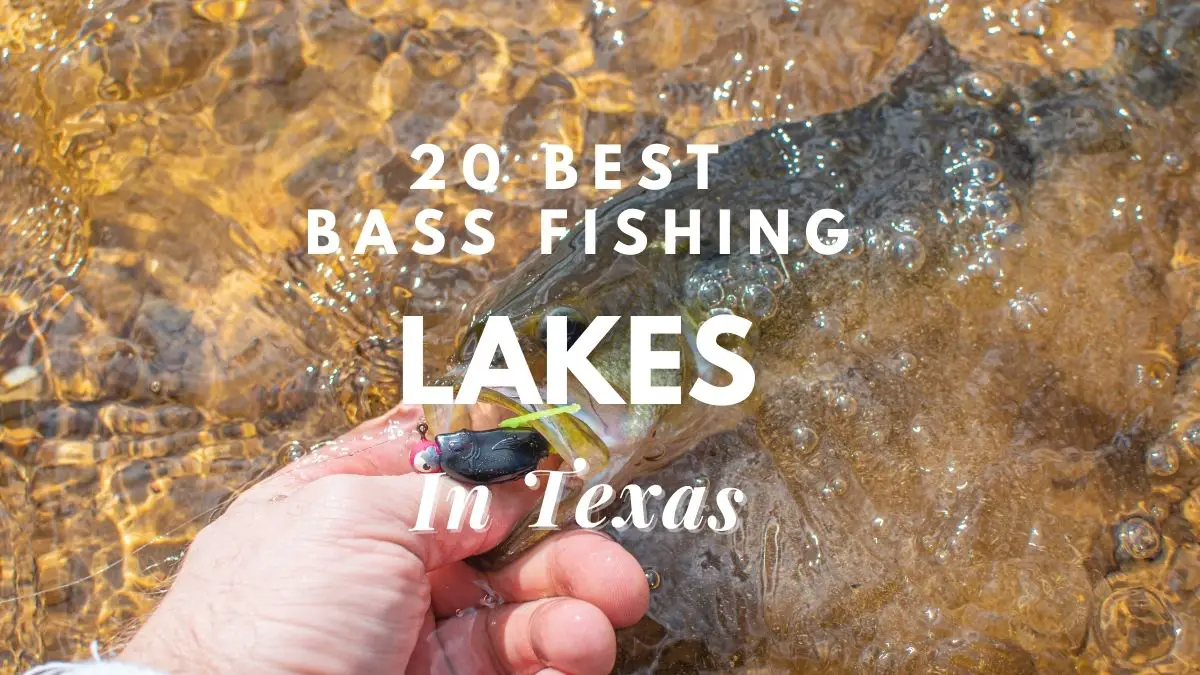 1. Lake Palestine
Lake Palestine is an excellent location to start if you're wondering how to catch bass in Texas.
It's a popular spot for bass fishing contests since it produces a lot of largemouth bass.
Striped bass, both white and hybrid, are plentiful, with spotted and largemouth bass following closely behind.
Highway 155 runs through the heart of Lake Palestine, assisting fisherman in locating the greatest bass fishing sites.
The northern side of the bridge is home to the majority of the lake's bass species. When learning how to catch bass in Texas, this well-stocked lake is a fantastic location to start.
Most vegetation and flooded wood are situated above the Texas Highway 155 bridge in the main lake, High saw and Ledbetter arms, in Kickapoo and Neches River arms and in Flat Creek.
Anglers have constructed brush piles at numerous spots between the dam and the bridge; they may be discovered with graph recorders.
The bridge itself provides good structural on the principal crossing between Dogwood and Coffee Cities and over High saw/Ledbetter creeks.
Hybrid stripers and white bass are most active from the dam to Highway 155 during winter months and into spring. Largemouth bass fishermen report most success at the upper part of the lake (above the pipeline), in Cobb and Stone Chimney creeks, and Saline Bay.
Catfish fishermen typically drift fish with worms or chicken livers between Hawn point (at the entrance of Flat Creek) and the Highway 155 bridges and will catch more legal sized fish if they target blue catfish using live fish or cut fish as bait.
Crappie fishermen perform well near 155 throughout the spring with tiny jigs or minnows.
Read: Is Traveling A Hobby? The Ultimate Guide To An Exciting Way Of Life Learn about the Downsides Of Traveling As A Hobby

2. Ray Roberts Lake
Come to Lake Ray Roberts on the Trinity River, just north of Dallas, if you're looking for largemouth bass.
In the late winter and early spring, trophy bass are abundant, including a largemouth bass record of 15.18 pounds.
White bass are very common in this area, especially during the spring and summer months.
Lake Ray Roberts is one of the most popular local bass fishing places for Texans due to its closeness to major cities and a variety of other recreational opportunities.
Approximately 2,000 acres of standing forest, Lake Ray Roberts has two major arms, both near bridge crossings, dams and give tones of Rip-rap for fishermen.
Shorelines are scarce with aquatic plants, although some can be found.
Lake Ray Roberts angling structures to bass include flooded main points; Additional system is given by stream channels, inundated brush piles, pond dams, saturated rocks, or stumps.
Many contemporary GPS maps now show structure in these places, making it easily available to fishermen.
Read: Texas [5 Free] Beach Camping SpotsLearn about the North Beach Campground
3. Lake O' The Pines
Lake O' the Pines, located on Big Cypress Creek in the Cypress River Basin, is one of the top bass lakes in east Texas.
It's about a 20-minute drive northeast of Longview and has just under 20,000 acres of beautiful fishing grounds.
Anglers will find plenty of white, yellow, spotted, and striped bass in addition to largemouth bass. While most of these fish have catch limitations, the yellow bass has none.
This lake and adjacent park, nestled among a grove of pine trees, is a beautiful site for fishing, camping, and boating.
Lake O' The Pines, recognized as a varied fish community with a range of angling possibilities.
Yes, fantastic largemouth bass fishing not only bass but its sister the smallmouth bass. Because of the northeast Texas location, the water colder, you'll find vegetation and generally excellent quality bass, especially in the autumn and spring as stated with all the others.
Lake O' The Pines helps in separating the fish, so you have fewer local honey holes and fewer boat docks. It does have a large diversity of water depths.
Provides adequate shallow water fishing and provides shelter for fish down deep.
If panfish is one of the things you prefer to capture, then sunfish and crappie are quite numerous.
Why stop there? Blue catfish, Channel and flathead catfish are also easily accessible to capture.
A highlight is an exceptional summer fishery for fishermen, as well-spring and fall, which makes it perfect for family trips.
Read: Texas Outdoor Family Camping Workshops [Top 5 Ultimate List]Learn about the Texas Outdoor Family Leadership Training at the Bastrop State Park
4. Lyndon B. Johnson's Lake
Lake Lyndon B. Johnson, or Lake LBJ for short, is a little lake tucked along the Colorado River that should not be overlooked due to its size.
Anglers can catch a significant number of largemouth and white bass approximately 20 miles northwest of Austin.
Because of its proximity to the city, it's ideal for a weekend lake house getaway, albeit when the weather is nice, the coastline is clogged with tourists and boats abound.
Toledo Bend Reservoir is a reservoir in Toledo, Ohio.
Placed northwest of Austin in Central Texas, lies Lake Lyndon B Johnson in Llano County.
It comprises of 6,500 acres of monster bass fishing prime waters and is the most reliable fisheries throughout the whole year.
Lake Lyndon B Johnson retains a steady level and is not influenced during further droughts.
Most fishermen focus their efforts on underwater structures, either on boat docks or brush piles, which together offer great habitat for large bass to reside all year long!
Consistent with the others, Fall and Spring are considered by most fishermen as the ideal seasons to be on the lake for largemouth bass on Lake Lyndon B.
The diversity of strategies to capture largemouth bass constantly relies on water levels, the time of year, weather, bait, water temperature, etc.
Read: Texas Beach Camping Laws [Answered]Learn about Can I do beach camping in texas?
5. Toledo Bend Reservoir
The Toledo Bend Reservoir spans a large portion of the Texas-Louisiana border.
It covers 181,600 acres and is ideal for capturing a variety of bass species in Texas. Largemouth bass are the most popular, but white bass are also plentiful. This lake also has some of the best striped bass fishing in Texas;
look for them congregating where the rivers enter the lake in the summer and fall.
Toledo Bend has significantly expanded the number of buoy markings in recent years, so it's important to brush up on your boat lanes and marker systems before heading out.
Because of the abundance of trees and stumps on this lake, carry a shallow boat and stick to the approved channels.
If you follow these basic guidelines, you'll have a great day on one of Texas' top bass lakes.
Inhibiting east Texas and Louisiana, Toledo Bend Reservoir is so vast there are numerous locations to start.
The reputation for producing excellent black bass has made Toledo Bend's renowned with recreational and professional tournament fisherman alike as one of the greatest bass lakes.
Toledo Bend is in Lake Country; the region is rich in angling but also in history.
It contains a state historic site, a championship golf course, two state parks, and over 35 resorts and accommodations—so many rewarding experiences to offer you a wonderful vacation to east Texas.
Read: Texas Outdoor Family Camping Workshops [Top 5 Ultimate List]If you are looking for such family camping workshops in Texas, here are 5 of the best options
6. Lake Conroe
Lake Conroe, located about an hour north of Houston, is a fantastic place to go bass fishing in Texas.
Largemouth bass abound here, with the largest ever captured weighing in at 15.93 pounds.
Hybrid striped bass were introduced into the lake in 1995 and give fisherman with plenty of action throughout the year.
The majority of the boating and fishing piers are located in the lower half of the lake, leaving the upper part of the lake more secluded. Four man-made reefs have been built in Lake Conroe to help attract fish to specific areas.
It's no wonder that fishermen flock to Lake Conroe because of its proximity to the city and world-class bass fishing.
However, like with most lakes, the closer one gets to a big city, the more expensive bass fishing trips become – and Lake Conroe is no different.
Positioned north of Houston, in South-Central Texas.
One of the most popular and finest bass lakes for fishermen to capture largemouth bass in Lake Conroe.
Why Lake Conroe features a high largemouth bass population, it has several species common in Texas freshwater fisheries.
While lake Conroe doesn't produce the prize bass of other bass lakes in Texas, the lake emphasizes quantity of quality, which show up in numbers we capture.
Like in Texas, Florida, and much of the south's greatest bass lakes, the spring season is when the bass are spawning.
Consistent again, a huge shift in temperature and the big fish start to get active.
Lake Conroe features submerged trees in the southern portion; here is the location to start your largemouth bass fishing adventure.
Lake Conroe contains species attractors across the reservoir.
You'll locate the bass near the coast in the cooler months, but when the temperatures warm up, they travel to the deeper waters.
When you're done targeting bass, try for the rich population of catfish present on Lake Conroe as well.
Read: Biggest Lakes In Texas [Top 20]

Learn about the largest natural lake in Texas
7. Amistad Lake
Lake Amistad is located on the US-Mexico border, three hours west of San Antonio.
It holds largemouth, smallmouth, striped, and white bass and is one of the top bass lakes in the state's eastern region. Smallmouth bass are often taken around Devils River, with the largest weighing 45 pounds and measuring 44 inches in length.
As they migrate upriver to spawn, white bass are quite active in the spring.
While you're out enjoying some of the best bass fishing on Lake Amistad, take in some of the stunning rock art or participate in the Toyota Series FLW Fishing Tournament.
Lake Amistad was formed after the Rio Grande was dammed in 1969. It is located near the border town of Del Rio in Central Texas.
Its distant setting is one of the only reasons it was rated number 10. Part of its uniqueness is the vast clean seas.
Lake Amistad encircles 70,000 acres, which are partially in the United States and Mexico.
Amistad is noted for huge bass but is highly picturesque, paired with one of the greatest bass lakes to catch a trophy largemouth bass.
Why it's regarded as a bass factory and one of the greatest bass lakes in Texas, it also includes white bass, catfish, and striped bass.
Read: [Top 10] Rated Hotels In Texas You Need To VisitLearn about the Four Seasons Resort and Club Dallas
8. Texoma Lake
Lake Texoma features a diverse fish population, making it one of Texas' best bass fishing lakes.
It is located 90 minutes north of Dallas and boasts over 70,000 acres of fantastic fishing.
Unlike most of Texas' top bass lakes, the most common bass species here are smallmouth and striped bass. Fishing for largemouth, spotted, and white bass is also good.
The Fisherman's Choice Championship and Bass Champs North are two of the many events held on Lake Texoma throughout the year.
However, because of the high volume of traffic, the invasive zebra mussel has made its way into the lake, so use caution when bringing a boat here.
When we're considering fishing excursions, you can't leave out Lake Texoma.
Every angler that loves to catch fish should experience Lake Texoma at least once. Located on the other side of the state compared to most, it falls on Texas and Oklahoma's boundary.
A human-made reservoir with deeper water at the confluence of the Washita River and Red River and Lake Texoma is one of the largest in the World.
The Lake Texoma reservoir offers good access in Texas and Oklahoma, with numerous spectacular choices to enjoy pleasure boating.
The unexpected flow of boats' traffic and fishing pressure never seems overpowering due of its vastness and the variety of kinds of fish fishermen seek on Lake Texoma.
It simple to be fishing next to another boat and be fishing for something entirely different.
This fishery is lush with everything from Texas bass, smallmouth bass, white bass, gigantic catfish, huge crappie, and the most popular striped bass, also known as a rockfish to locals!
Out of all of the species we described, without a question, the fish that maintains Lake Texoma so popular among fishermen is the striped bass.
Funny fact, the striped bass in the 1960s was native to saltwater and introduced in freshwater and made a wonderful complement to Lake Texoma's ecosystem.
The striper is popular to capture on Lake Texoma, since it's accessible year-round and ideal species for families with kids, beginner anglers who want to make sure the day finishes with many thrilling, enjoyable activities for all!
Read: [5 Best] Fishing Getaways For Couples In TexasLearn about outdoor fishing adventures by the ocean, Galveston is the best option available out there to consider.
9. Lake Buchanan
Lake Buchanan, located little over 60 miles northwest of Austin on the Lower Colorado River, boasts some of the best striped bass fishing in the area.
In February, they spawn where the Colorado River meets the lake, making for some fantastic fishing.
White bass is also very popular, and largemouth and Guadalupe bass are plentiful but not overfished.
The Sam Rayburn Reservoir is located on the Angelina River in East Texas. It's one of Texas' greatest bass fishing lakes for catching largemouth bass.
The biggest one collected weighed 16.8 pounds and measured 28.75 inches in length.
Anglers will not be confined to this species; it also has a good supply of white bass.
In the 1960s, a dam created this 114,500-acre lake.
It is open year-round for fishing, though bass levels decrease throughout the summer.
It's worth noting that the Sam Rayburn Reservoir is also home to catfish, crappie, and sunfish.
Lake Sam Rayburn Reservoir, Texas bass anglers favorite.
Better known as Big Sam to professional local Texas bass anglers and pro fisherman that make a regular trip here each year.
It's the largest reservoir in Texas, and that's entirely in Texas.
Whether you are a tournament angler, touring pro, local black bass angler, or homeowner weekend fishermen, a trip to Lake Sam Rayburn always offers the chance of landing the largest bass of a lifetime.
And this is what keeps them coming back, again and again!
Lake Sam Rayburn boasts approximately 740 miles of coastline for the Texas bass factory to explore, crappie, catfish, hybrid stripers, white bass, gar, bowfin, and many species of sunfish.
Lake Sam Rayburn is nearly encircled by parks and campsites, most of which provide access to the shoreline for fishing from the bank.
Big and small boats are welcome here. Lake Sam Rayburn boat launching facility is lively, users of pleasure boats, anything from sailboats, ski boats, jet skis, pontoons, what else they can find.
But with more than twenty boat launch ramps strewn throughout that Texas parks and wildlife have constructed that helps!
Read: [Top 10] Texas Beaches That Are So Gross You Could get SickLearn about the Pleasure Pier bacteria concentration is over 104cfu per 100ml
10. Choke Canyon Reservoir
The Choke Canyon Reservoir is located midway between Corpus Christi and San Antonio. This is a true angler's paradise, surrounded by unspoiled state territory.
Largemouth bass are plentiful here, with the majority weighing between five and ten pounds, however the largest weighed nearly 15 pounds.
White bass fishing is also popular, though not as much as largemouth bass fishing.
They are frequently seen in the Frio River channel in the winter before swimming upwards to spawn.
White bass can be found closer to the north shore in deeper water in the spring and summer.
Overall, the Choke Canyon Reservoir is a beautiful, quiet location with some of the best bass fishing in the area. Considerably smaller, but don't be misled by its size.
Lake Alan Henry, when it comes to capturing double-digit trophy bass, this reservoir has shown that it can compete with the biggest names in the United States.
Still, Choke Canyon the only Texas reservoir ever to generate more than on ShareLunker entries in a single season, other than Lake Fork.
In Lubbock, West-Central Texas, about 45 miles south of the Brazos River.
Choke Canyon is regarded a pure water canyon reservoir that's long, narrow, and deep with steep banks along rocky cliffs. Horizontally aligns west to east and derives its water supplies from many streams.
These also provide excellent habitat for migrating large bass, white bass, yellow bass due of all the undergrowth and floating wood.
Alan Henry is one of the Texas fisheries that got a significant amount of fishing pressure, especially during the spawning months when the monster bass migrate shallow.
If you like fishing for bass or catfish, add Choke Canyon Reservoir on your bucket list.
It is a 26,000-acre reservoir located just south of San Antonio in the Central portion of the state, near Three Rivers, TX.
The Choke Canyon Reservoir also sustains populations of crappie, sunfish, gar, and white bass. Two boat ramps and many surrounding campsites ease camping and fishing and a fantastic spot to bring the family.
Fishing possibilities cover the 130 kilometers of shoreline, including deep and shallow bushes and trees, rocky points and humps, and aquatic vegetation.
Options on Choke Canyon's Bank fishing on Choke Canyon Reservoir is an option at different spots throughout the reservoir, while boats of all types give access to some of the less-accessible shoreline sections.
Canoes, kayaks, fishing boats, and pleasure boats are all accepted here. During spring, fishermen have the chance to capture
Read: Bucket List [50 Things] To Do In Texas(Ultimate Guide)Learn about Things to do in Texas during summer
11. Lake Fork
Lake Fork will be at the top of everyone's list when it comes to the best bass lakes in Texas.
Lake Fork is a popular fishing site little over an hour east of Dallas, but it has plenty of protection to keep it from becoming overfished.
Largemouth bass are the most common fish found here, yet due to an abundance of prey, the white bass are larger than most.
Anglers have caught excellent yellow bass throughout the winter months, despite the fact that they are very little here.
Lake Fork is home to some of the largest bass in the world. On the 27,000-acre lake, the 2020 Bass Pro Tour spent five days fishing, with Mark Daniels Jr. catching over 84 pounds of bass on his first day on the water.
With numbers like these, Lake Fork is definitely one of Texas' best bass lakes, and it was an easy choice for our top ten list of the best bass fishing lakes in the country.
Anglers all around the globe are familiar with a few well-known lakes, such as Lake Okeechobee and, shortly after, Lake Fork, making it the most well-known in Texas.
It invites fishermen from all over the world to try their luck and angling abilities for the monster bass that Lake Fork routinely provides.
According to records, Lake Fork produces the majority of the top 50 largest Texas bass, but let's keep it real.
That's because Lake Fork is the most popular; it's where the majority of people fish, and it's where they report the most data.
Lake Fork is a wonderful reservoir that, in most situations, is well-reviewed, but it's important to know the facts.
In anglers' terminology, that implies you have a high chance of catching a lunker on Lake Fork!
Read: Can You Fish In A Texas State Park Without A License? [Answered]Learn about who needs a license to catch fish in Texas?
12. Falcon Lake
The Falcon International Reservoir, often known as Falcon Lake, is tucked into the Rio Grande near the tip of Texas.
Anglers will locate both largemouth and white bass on the lake's 83,654 acres, though the latter is sparse.
Summer temperatures in one of the southernmost lakes might be oppressive for some.
As a result, most anglers spend their winter bass fishing season here.
Falcon Lake shares a border with both the United States and Mexico, so familiarize yourself with the rules before going.
Falcon Lake, another famous Texas is noted for producing "big fish." Like its cousin, Lake Amistad is located off the Rio Grande along the border in Zapata, Texas, half in Texas and the other half across the Mexico border.
Now that water control is back to normal, the lake has an inflow of water and a revival in the trophy Texas bass population.
When Falcon Lake is on, it rapidly established itself as one greatest bass lakes in Texas and maybe the US.
Consistency has been a concern, but Falcon Lake is moving in the right direction for some time now, producing superb prize Texas bass.
Read: [5 Best] RV Beach Camping Sites TexasLearn about the Jamaica Beach RV Park
13. Lake Alan Henry
Lake Alan Henry is a small lake for Texas bass fishing, with only 2,880 acres and located 60 miles southeast of Lubbock.
There are several types of bass fishing lakes in Texas, and this is easily one of the greatest.
Largemouth bass are the most prevalent, however spotted bass and a limited number of smallmouth bass can also be found in the lake.
Typically, spotted bass can be found around the dam.
This small lake should not be overlooked; in 2019, Smith Swinburn set the Alabama state record for a freshwater bass captured while fly fishing.
So, if you're looking for the biggest bass in the state, head to Lake Alan Henry.
Read: [5 Longest] Texas Water Park Slides You need To RideWet 'n' Wild SplashTown in El Paso
14. Granger Lake
Fifty miles northeast of Austin, Granger Lake is one of the popular local fishing sites.
With just 4000 acres and a depth of 50 feet, the lake is among the smallest lakes on our list.
But it provides angler's a constant opportunity of capturing white bass.
There are a few largemouth bass as well, although they are considerably fewer.
There are four parks surrounding Granger Lake, however cleaning stations and courtesy docks are only provided at the Wilson Fox Park.
But, if you're able to trade a few stories with the locals, you are likely to acquire some good Texas bass fishing advice here.
Read: [20 Best] Texas State Parks For Camping Ultimate Listlearn about Dinosaur Valley an interesting state park
15. Caddo Lake
Anglers will find Caddo Lake stretched over the Texas-Louisiana border.
The approximately 27,000 acres of lake is home to abundance of award-winning Texas largemouth fish.
There is also a strong population of white bass; some spotted bass can be caught here as well.
Caddo Lake originated as a natural lake, but a dam was installed in the beginning of the 1900s for flood control.
The profusion of cypress trees in this small lake make up the great fishing habitat, and any Texas fishing guide will tell you that Caddo Lake is high on their favorites list.
Read: How To Surf Fish In Texas [5 Things] You Need To KnowLearn about the Tenkara fishing technique
16. Ray Hubbard Lake
Dallas is also home to a number of lakes. Lake Ray Hubbard is the largest of these bodies of water.
The counties of Dallas, Rockwall, Collin, and Kaufman all border this lake.
The lake was built in conjunction with the construction of the Rockwall Forney Dam.
This lake encompasses a total area of 22,745 acres, or 90 square kilometers.
The lake has a total capacity of 600 million cubic meters of storage.
Forney Lake was the lake's original name. Because the lake was close to Forney, this was the case. Dallas, on the other hand, eventually incorporated the lake and sought to rename it.
In honor of Ray Hubbard, who worked for Dallas and Recreation Park, the lake's name was changed to Lake Ray Hubbard.
One of the most popular sports available on this lake is fishing. In this lake, you'll discover a diverse range of fish species.
White bass, striped bass hybrids, channel catfish, largemouth bass, white crappie, blue catfish, and alligator gar are among them.
If you're searching for a great fishing place near Dallas, you can't go wrong by visiting Lake Ray Hubbard.
Read: [Top 5] Best Private Golf Courses In Texas To VisitLearn about the Butterfield Trail Golf Club is one of the largest private golf clubs that you can find in Texas as of now.
17. Lake Possum Kingdom
Possum Kingdom Lake (PK) is a well-known name.
The fact that Possum Kingdom Lake is home to Hell's Gate Cliffs is the major reason for its appeal.
Possum Kingdom Lake is a must-see destination for everyone interested in discovering the beauties of natural beauty.
Possum Kingdom Lake, on the other side, is also close to Possum Kingdom State Park.
As a result, visitors to Possum Kingdom Lake come to participate in watersports like fishing and boating. In a northerly direction, the lake is about a 40-minute drive from Fort Worth.
The lake has a total size of more than 8,000 hectares.
It is a lake that is located at a height of almost 400 meters above sea level.
You can also see how a distinct ecology has developed around this lake for the same reason.
Possum Kingdom Lake is also a beautiful lake. This is mostly due to the cliffs that run alongside it.
The surrounding rolling hills and beautiful water, on the other hand, contribute significantly to Possum Kingdom Lake's natural beauty.
There are also a lot of nice-looking houses built surrounding the lake.
If you're planning a trip to Possum Kingdom Lake, consider staying at the Cliffs Resort & Spa.
During your visit, you may enjoy breathtaking views of the lake.
Read: [20 Best] Beach Towns In TexasLearn why Galveston is one of the best beach towns in texas
18. Austin's Lake
Lake Austin is one of the most well-known highland lakes in the state of Texas.
This lake has a total surface area of 647 hectares.
In 1939, the lake was created in conjunction with the construction of Tom Miller Dam.
This lake is part of the Colorado River system. The spilling water from Lake Travis, on the other hand, feeds it.
Another famous tourist destination in the area is Lake Austin.
You may learn about how people travel to Lake Austin with the intention of fishing and boating.
Fishing on Lake Austin is an experience you will never forget. This is due to a large population of bass in Lake Austin.
The majority of the fish you can capture will weigh more than 10 pounds.
Canoeing, water skiing, and wakeboarding are some of the other popular recreational activities available in Lake Austin.
The majority of visitors from Lake Austin camp in Emma Long Park as well. This is where they will be able to reap the greatest rewards from their visit to Lake Austin.
This is due to the fact that individuals may enjoy the sun while remaining at the beach and playing activities.
Read: Your Pet Lonely? [5 Best] Texas Vacation Pet Friendly B&BsLearn about The Crystal River Inn
19. Lake Travis
Lake Travis is situated on the Colorado River's crest.
In actuality, this lake is located in the state's centre area.
This is yet another man-made lake in the state. It was founded in conjunction with the construction of the Mansfield Dam.
The shoreline of Lake Travis stretches about 400 kilometers.
Furthermore, it has a total area of 7,660 acres.
The name Lake Travis may also be found among the most popular lakes in the state of Texas.
This is due to the fact that there are various leisure activities available for visitors to enjoy while at Lake Travis.
Thousands of tourists, for example, visit Lake Travis every year to participate in leisure activities.
Scuba diving, boating, and swimming are among the most popular leisure activities available at the lake.
On the other hand, numerous fish species, such as sunfish, catfish, and bass, make Lake Travis home.
Picnicking and camping are popular activities along Lake Travis' long shoreline. Lake Travis, on the other hand, is the most prominent lake in Hippie Hollow Park.
This is one of the most popular nudist locations. On the other hand, we can observe how the gay and lesbian community organizes a variety of activities throughout the year surrounding Lake Travis.
Splash Day is a good example of this type of event.
Read: [Top 20] What Should I Know Before Going To Travel Texas?get ready to experience southern hospitality
20. Granbury Lake
Lake Granbury may be reached after a half-hour journey from Forth. The construction of this man-made lake began in 1969.
In actuality, the lake was formed as a result of the construction of a dam over the Brazos River. The Lake Granbury has an area of 3,350 hectares.
Furthermore, it has a huge beachfront that stretches for 221 kilometers.
Lake Granbury does not resemble a typical lake in appearance.
This is due to its long and thin form. Waterskiing, boating, waterboarding, fishing, and water skiing are all popular activities on the lake. This is also a rather deep lake.
In actuality, the lake's average depth is about 23 meters.
The lake is home to a variety of fish species, including catfish and bass, due to the same cause. In addition, there are longnose gars and sunfish can be found.
There are five separate leisure zones around Lake Granbury. These leisure spaces provide all of the amenities that tourists will want for a pleasant stay.
Playgrounds, picnic spaces, walking routes, toilets, and camping grounds, for example, are all available.
This is also one of the most beautiful lakes in the state of Texas.
As a result, anyone searching for Texas' largest lake, which is rich in natural beauty, should consider travelling all the way to Lake Granbury.
Read: Biggest Lakes In California [Top 20]Learn about the largest natural lake in California
Final words
Now you are aware about 20 of the best lakes in Texas for you to engage with fishing and get a unique experience. Make sure that you pick the right season to visit any of these lakes for fishing. Then you will be able to end up with getting an unforgettable experience with fishing what you want. If you want to get an unforgettable experience with bass fishing, you will also need to be well prepared. This is why you will need to take a look at some of the bass fishing guides and proceed with visiting any of the lakes. No matter what, we guarantee that you can end up with receiving a perfect bass fishing experience at any of these lakes located within the state of Texas.