You have begun to consider the specific items you will need to carry to keep your show on the road as the time for your road trip is quickly approaching. We've put together the Ultimate Road Trip Packing List to walk you through the various road trip essentials PLUS a ton of road trip tips that will keep the car – and you – running smoothly throughout the trip. Whether you're doing a cross-country road trip and driving Coast to Coast across the USA, road tripping South Africa's incredible Garden Route, or just taking a few days to explore your own back yard. This road trip packing list will help you to get the most out of your road tripping experiences.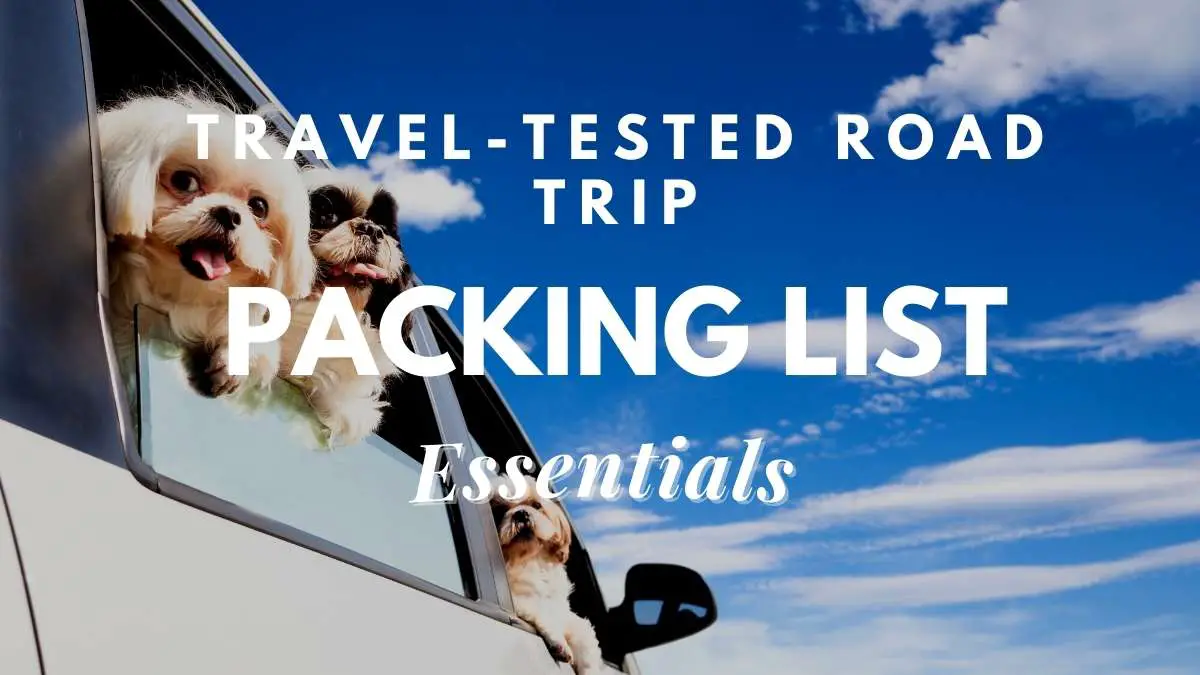 1. USB Car Adapter for Car Chargers
Nowadays, a dead phone means a dead road trip, so bringing a vehicle charger (or six) is a top road trip must. You will probably have a USB or even USB-C outlet built in if you have a fancy newer model vehicle or a rental car. Otherwise, you'll need a USB car adaptor, like this one, for your vehicle.
Read: Is Traveling A Hobby? The Ultimate Guide To An Exciting Way Of Life Learn about the Downsides Of Traveling As A Hobby

2. Snacks
If there is one thing more than anything else you want to avoid on a road trip, it is hanger. Forget about flat tires or automotive difficulties when it comes to the necessities. The basics can be purchased at most grocery shops, but I'm fortunate enough to live close to a Trader Joe's where I get almost all of my road trip snacks. I personally lean toward being healthy, but I do have my vices.
Different Nuts
Dry Fruits
Fresh Veggies (carrots, radishes)
Fresh Fruit (apples, bananas, avocados, and oranges)
fried potatoes
Pretzels
Cheese (individually packed is excellent)
3. Chapstick
I'm not sure what exactly about road trips brings on this dreadful phenomena, but it always results in crusty, dry lips. Don't always drive recklessly when you go on a great, lengthy journey like I do. Take Chapstick with you! I don't have a lot of preferences, but if you want to choose something environmentally responsible, this is a fantastic option.
4. Physical Map
An real map that you can hold in your hands and scribble on with a sharpie is one of my all-time favorite road trip necessities, so feel free to call me old-fashioned about it. I almost always carry a physical map with me when I go on a road trip, whether it's simply a fast one I printed myself or a fancy waterproof one like the NatGeo series or anything else.
There's something about carrying an actual map that completes the road trip aesthetic, plus you never know when your phone could malfunction, etc.
5. Cozy Blanket
An inviting blanket is a need for every genuine road trip. A blanket is a lovely addition that takes your house into the vehicle, whether it's those in the rear enjoying some rest or the co-pilot. If you're going trekking, there are two options: either something robust and outdoor-capable (like this), OR something soft and cuddly that remains in the vehicle (like this).
6. Soft Cooler
I definitely suggest a cooler as a road necessity if you're seeking to truly spruce up your trips and go the additional mile to make it more fun (and healthy). The table suddenly has cold beverages, sliced fruit, cheese, vegetables, sandwich meats, spreads like hummus, and more.
I like a soft cooler since I can more quickly tuck it away in a handy crevice and squash it when not in use. A hard cooler is especially preferable if you have a large enough car for your road trip and additional room since it keeps stuff safer and colder for longer.
7. Battery clamps and the A/C Inverter
While on a road trip, I constantly need to plug in a laptop, charge my camera batteries, or do anything else that needs (or works best) with a standard A/C power outlet. Maybe my tactics are a little outdated, but I always carry one of them in the trunk of my vehicle, just in case.
8. Jumper cables
One of those things you hope you never need but can't go on a road trip without is a nice pair of jumper wires. These days, you may locate them in a variety of locations, including online or at your neighborhood auto parts shop. Before doing anything for the first time, be sure to view a video or read the instructions.
9. A tire air pump (for Flat Tires)
I wish I had thought of this much before I did while making my own list of must-have items for road trips. It has proven to be a pretty useful piece in my arsenal that has come in helpful several times and helped me out when I needed it most.
Whether you're in the middle of nowhere with no choices or on the side of the road, flat tire inflators may save your life. These days, they are affordable, simple to use, and powered by the battery in your automobile. I've had to replace my fair number of tires on the road, so it's also a good idea to know how to do it.
10. Vehicle Jump Starter
Many a road trip has been prevented from ending in tragedy thanks to the invention of a vehicle battery jump starter. To be prepared, just make sure it is charged before departing on your vacation. Nothing is worse than finishing a long trek and realizing you forgot to turn on your lights, leaving you with a dead vehicle battery. Jump starters eliminate any concerns and are a practical road trip need.
11. Google Maps offline
As part of my profession, I often travel to areas with spotty cell coverage. Before each road trip, I download offline Google Maps to ensure that I have access to navigation even if my phone loses service. Google's free offline maps tool should be used via Wi-Fi so that it doesn't take all day. You may download a map of a particular location if you're heading there, or if you're traveling through numerous low-service zones, you can download a map for each one.
12. Road Trip First Aid Kit
When leaving on a road trip, it's usually a good idea to pack some bandages and antibiotic cream. Online retailers provide a ton of wonderful kits, or you may make a list of your at-home first aid supplies and take what you need.
Medications / Gauze
Band-Aids
antibiotic cream (cuts & scrapes)
Tourniquet (severe injuries)
Ibuprofen (inflammation)
Acetemetophin (headaches)
Moleskin (blisters)
Scissors
Tweezers
Alcohol swabs
13. Flashlight or headlamp
I prefer to have a torch and a headlight in the vehicle at all times, whether or not I'm going to be driving after dark. The possibilities on the road are endless! In the early morning or late at night, headlamps are very useful for trekking and other outdoor activities like putting up camp sites. Always fantastic, flashlights are usually more potent and directed than headlamps.
14. Water Bottle
As a frequent hiker, I've developed the habit of always having a portable water bottle with me. I think it's a terrific space (and planet) saver and a must-have for road trips. There are several excellent and affordable water bottle brands available today, both online and in physical places.
15. Drinks / Water
An important need for a road trip is water or any other type of hydration (but watch your intake!). You need to remain hydrated whether you're going to be driving, trekking, or cooking at a campground. Usually, I bring a few large jugs of water, which I use to cook with, fill up my water bottle, etc. The campsite in Theodore Roosevelt National Park is called Cottonwood.
16. Cash
I think it's sort of fascinating that certain locations in America still only accept cash, and it adds to the thrill of the road trip. It's essential to have some on hand since outdoor recreation locations like campers often only accept cash. I advise at least $100, with half of the amount coming in smaller, simple-to-change denominations. I would at least double that amount if you were going to be gone for a week or more.
17. Comfortable Pillows
A comfortable cushion is a crucial travel need that I virtually never fail to bring. If you want to get some good rest while traveling, your pillows will make or break your trip (or just about anywhere). You may choose a full-size bed pillow or a smaller travel-sized cushion depending on how much room you have.
18. Headphones
Bringing headphones on a road trip is a great idea if you're traveling with more than two individuals. Whether you like the DJ's playlist or not is up to you. Having alternatives is usually a good thing while driving.
19. Road Trip Playlist
Everyone has a different preference for the music they listen to while driving, whether it be timeless songs like "Going Up the Country" or more modern songs like "Ends of the Earth." For a road trip, it's a terrific idea to create and download your favorite music for offline usage if you have the time.
My favorite XM radio station for long drives is "The Bridge," which also has a Spotify playlist and plays 70s soft rock and oldies.
20. Podcasts and audio books
I love listening to audio books, but while I'm traveling, I usually prefer podcasts. Maybe it's the podcast's more episodic structure, which allows you to listen to more informational tidbits. "Stuff You Should Know" is my favorite podcast for car trips since it includes a ton of excellent information and is wonderful for generating discussion.
21. Hiking boots
Despite being a more apparent thing to prepare for a road trip, I often forget to bring the right shoes, which may really ruin plans. In one particular incident, I remember getting to Mount Rainier in the winter and realized that I was still wearing flip-flops and hadn't brought any hiking boots. Avoid making the same mistake I did and bring the appropriate footwear, whether it's sandals for the beach, winter boots for the mountains, or anything in between.
22. Portable USB Battery
A portable USB battery is a game-changer for road trips since it enables you to bring multiple phone chargers with you everywhere you go. Over the years, the price of these batteries has dropped dramatically for what they are.
Every time I travel, I take these items with me, and I also regularly take them into restaurants, on hikes, and other locations where I could run out of power. They can also recharge a variety of other USB-connected devices.
23. Sunglasses
Sunglasses are obviously necessary for a road journey, but it appears that no number of reminders is sufficient for them. The sun always seems to find your eyes while you're on the road, particularly if you're driving, in the most obtrusive and unpleasant manner.
24. Paper towels, tissues, and wipes
Achoo! The likelihood is that one of you will need a tissue during your road journey (within the first hour) if you're driving with at least two other individuals. You can never have too many napkins, particularly if you're serving salty snacks or other food items like sandwich fixings.
The inclusion of wipes is a terrific way to keep the automobile and its passengers clean. The best option here is to use sanitizing wipes.
25. Hand Sanitizer
Hand sanitizer is our small, always-present companion in these times. It is an indispensable need for road trips that you will undoubtedly use often. Use it for your benefit and the benefit of others.
26. Waze
Waze ranked well in our post on the 15 Best Road Trip Planning Tools & Apps. Waze not only has an excellent navigation system (provided by Google), but it also has practical features that let you alert others and get notifications when there is anything in the road, traffic, police activity, and more.
27. Clothing
One of those things that seems obvious until you discover you're in the mountains without a jacket. Even the finest of us experience it. Be careful to check the weather where you're going and prepare appropriately!
28. Jetboil
These days, I mostly use the Jetboil to make great coffee when there isn't any around. Over the years, I've developed into a bit of a (big) coffee snob and don't really like settling for that cup of gas station brew that is three days old.
I bring a Jetboil as an alternative to the beers at the petrol station. If I want coffee but don't like the selections, I'll pull over and stop for five minutes to make a better cup for myself. It's also excellent for using to boil water when camping. Put it on your list of items to bring for a road trip!
29. Dry Shampoo
You almost certainly never leave the home without dry shampoo if you're anything like me. Therefore, without this helpful friend, no list of needs for a road trip would be complete. Here is the brand of dry shampoo I've been using for the last six or more years if you're new to it. It is cheap and efficient, so using it on a road trip is a no-brainer!
Final words
These are the best travel tested road trip packing essentials. Take them along with you and you will be able to enjoy your road trips like never before.