Toddlers may be a difficult bunch at times. It may be difficult to get out of the home with them at times, particularly in Connecticut with its distinct seasons. In Connecticut, there are plenty of enjoyable activities to do with toddlers. Here's a list of activities to keep your child occupied and entertained. You can go through the list and get to know about the most fun things to do in CT with toddlers and enjoy your stay.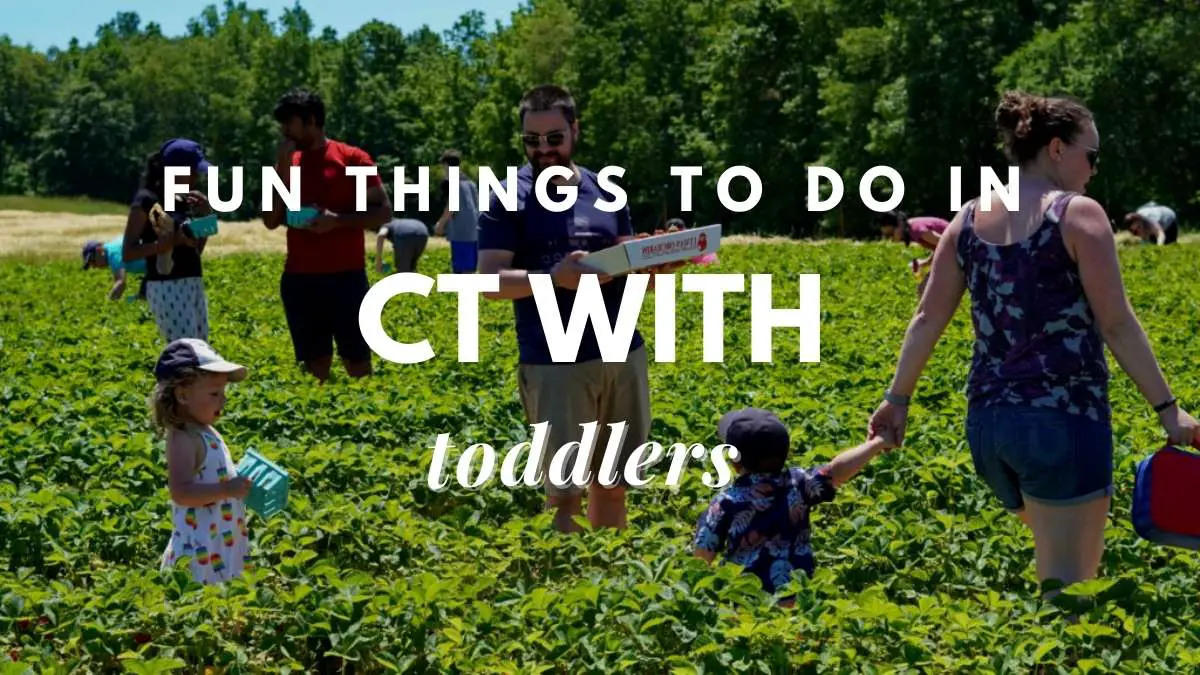 1. Dinosaur State Park
One of Connecticut's most popular activities for young children! You won't see any live dinosaurs here, but their 200-million-year-old footprints were discovered in the park in 1966 and are on display today. Learn everything about the dinosaurs that roamed the region many years ago on this fun day trip with the kids. There are tracks to seek for on the trails, as well as a great interior interactive display.
Read: Is Traveling A Hobby? The Ultimate Guide To An Exciting Way Of Life Learn about the Downsides Of Traveling As A Hobby

2. Lyman Orchards
Lyman Orchards in Middlefield is a well-known Connecticut orchard. Since 1741, this family farm has been in business! During the autumn harvest season, there are apples to pick, pumpkins to select from, corn mazes to solve, and festivals to attend. Spend a half-day frolicking in the orchards and wandering through the labyrinth with your kids. Visit their market for some fresh food, then come back in late July for their annual sunflower labyrinth. Over 300,000 sunflowers are cultivated in a one-of-a-kind pattern that will wow the entire family and delight your child.
3. Compounce Lake
Lake Compounce is America's oldest amusement park and home to the state's biggest outdoor water park, which offers a variety of water play activities for kids of all ages. Children under the age of five have their own section inside the water park, and make sure to bring your camera for all the shots of your little one riding the carousel for children under the age of ten!
4. Aquarium Mystic
The Mystic Aquarium, which houses sharks, eels, and other marine life in tanks, provides a glimpse into the aquatic world as well as a sensory experience for children. Visit penguins, view beluga whales, and engage with sea animals and marine life in touch pools. With lots of room to explore, you may saunter, walk, and run among the aquatic life while taking in the many colors and textures. Seals swimming at Mystic Aquarium, one of the great things to do in Connecticut with children.
5. Beardsley Zoo
The Beardsley Zoo, Connecticut's only zoo, has approximately 300 species from North and South America. The zoo's aim is to save endangered creatures, and the staff is working hard to find new methods to protect species and their natural habitats.
Children of all ages will enjoy seeing all of their favorite animals up close. Take a stroll around the grounds, see the greenhouse, eat ice cream by one of the fountains, and ride the old carousel.
6. Kid City Children's Museum
The museum has interactive places for children to play and utilize their imaginations on three levels of creative play for children aged one to seven. The indoor playground is ideal for exploration and tumble play. The space includes a pirate ship, a space theme area, agricultural themes, and a plethora of playable things.
The whole bottom level has a unique marine motif, with plenty of crawling, climbing, and sliding options for young toddlers.
7. Rocky Neck State Park
Because of its vast sand bar, Rocky Neck State Park is one of Connecticut's greatest beaches for toddlers. You won't have to worry about the waves since your child will receive just the right amount of water play.
Stay at their fully furnished campsite, which includes amenities, charcoal barbecues, picnic tables, and convenient beach access, for the day or for many nights.
8. Museum of Discovery
The Discovery Museum is extremely hands-on for youngsters and uses sensory activities and play to engage them in learning. Their architectural display uses hands-on building activities to educate children about construction. Their energy and light display offer an interactive environment that blends touch and sight to create amazement and stimulate thought in your children. Make sure to stop by the instrument-themed area, where your child may try out various sounds (and make all the noise they want in one restricted space)!
9. Connecticut Science Center
The Connecticut Science Center is a fantastic spot for local families with inquisitive kids to spend the day. The Engineering Lab, Invention Dimension, and Our Changing Earth are just a few of the interactive displays that entertain and educate children of all ages.
There is always something intriguing to learn about and participate with at the Science Center, with distinctive changing exhibitions throughout the year.
10. Norwalk Maritime Aquarium
The Norwalk Maritime Aquarium is notable for its 110,000-gallon shark tank and beautiful patio overlooking the Norwalk River. Admire the sharks, watch them feed the seals, or let your kids put their fingers into one of the sensory tanks. Children may play in a fishing boat and view the shiny, scaly fish floating past, such as salmon, cod, and halibut, at the Go Fish exhibit.
11. Game of the Hartford Yard Goats
Consider taking your child to a game at Dunkin Stadium in Hartford. Enjoy a delicious treat while taking photographs with the Yard Goats mascot and taking in the thunderous shouts of the crowd. Within the stadium, strollers are permitted, and children under the age of three are admitted free if they sit on an adult's lap throughout the game.
12. Elizabeth Park
After wandering around the park and roaming around the old garden, this is a wonderful spot for a picnic with the kids. From your blanket, keep an eye on your child while he or she explores the cleared green area. Visit in the springtime to see the park in full bloom.
13. Nature's Art Village's Dinosaur Place
The Dinosaur Place in Montville, CT is a great place to take toddlers in Connecticut. From life-size dinosaurs to a splash pad, this location has it all. The strolling pathways are lengthy enough to hold a toddler's interest but short enough that they won't have a tantrum by the time they get to the splash pad and playground. The dinosaurs are realistic and huge, but not frightening. If you're searching for interesting activities to do with toddlers in Connecticut, this is the place to go.
14. Niantic Children's Museum
The Connecticut Children's Museum in Niantic is a terrific place for toddlers and preschoolers to visit. Everything is built on play and is "safe-enough" enjoyable. There aren't many older youngsters playing and endangering toddlers at this children's museum. This children's museum caters mostly to toddlers, while there is much for older children as well.
15. Farm Flamig
Flamig Farm in West Simsbury is a must-see for toddlers searching for fun activities to do in Connecticut. Wagon rides, picnic areas, pony rides, and, of course, lots of cuddly and friendly creatures to touch are all available at this petting zoo.
16 New Haven's Yale Peabody Museum of Natural History
Since 1866, this museum has been collecting relics, so it's no surprise that its ten scientific exhibitions are so impressive. From geology to human history, you'll learn about many aspects of the natural world here. There's more to it than rocks and fossils, however. Check out their Discovery Room for some exciting interactive activities. Spending the day here is one of the nicest things to do with kids when it's raining, in our view. This museum is as intriguing to teens as for little children.
17. Hartford's Mark Twain House and Museum
Visit the home that once belonged to one of America's most famous personalities. The lovely Victorian-style mansion is reason enough to pay a visit. This museum tour, on the other hand, includes an engaging guide, an introductory video, and informative displays. After the tour, stop by the Nook Cafe for a bite to eat and browse the gift store. This is just one of our favorite spots to visit with our kids. This event will appeal to children who are old enough to enjoy a good narrative, as well as their parents.
Final words
Now you are aware about the best fun things to do in CT with toddlers. Make sure that you go through the list of activities and pick the ones that you are comfortable in doing with the toddlers. Then you can simply go ahead with them and secure getting a perfect experience at the end of the day. No matter what, you will surely fall in love with the time you spend in here.