The Caribbean region's United States Virgin Islands are made up of several islands and cays. St. Thomas, St. John, St. Croix, and Water Island are its principal areas. Dreaming of a Caribbean island getaway on some of the region's most stunning beaches? Visit the US Virgin Islands to partake in some of the most mouthwatering island cuisine the Caribbean has to offer while enjoying wonderful water sports in the sun. Are you yet persuaded that your next holiday should be spent in the Virgin Islands?

The stunning US Virgin Islands, which are located just east of Puerto Rico, are a haven for sunbathers, snorkelers, and outdoor enthusiasts. There are many different types of lodging available, ranging from basic B&Bs to opulent beachfront resorts. The group consists of some 50 islands and cays, although St Thomas—where Charlotte Amalie, the group's capital, is situated—St John, and St Croix are the most well-known. Beautiful residences on each of these three main islands are included in our list of the top places to stay in the US Virgin Islands. If you desire to, you may go to all three during your stay in the Caribbean on routine boats from St. Thomas.

The primary island in the group is St. Thomas. The island, which was once a known pirate haven and subsequently a successful commercial port, today draws wealthy cruise ship passengers. These additional tourists make sure that St. Thomas has a great range of shops, upscale eateries, and hip pubs. There are also beautiful beaches, plenty of chances for water sports, and other activities on land. A day excursion to nearby Water Island is enjoyable! Make this your home base for a fun and exciting vacation.

St. John is easily reached by boat and has a whole distinct vibe. Two thirds of this tranquil, lush island are occupied by the Virgin Islands National Park, making it a fantastic choice for anyone interested in wildlife or outdoor activities. Small B&Bs and fantastic beach campsites are also available, and we really like an eco-lodge on the south-eastern shore.

We'll assist you in making travel arrangements for one of your most memorable trips if you're prepared to heed the call of the waves. To assist you in selecting the ideal Airbnb for you and your requirements, we've compiled a list of some of the top Airbnbs in the US Virgin Islands.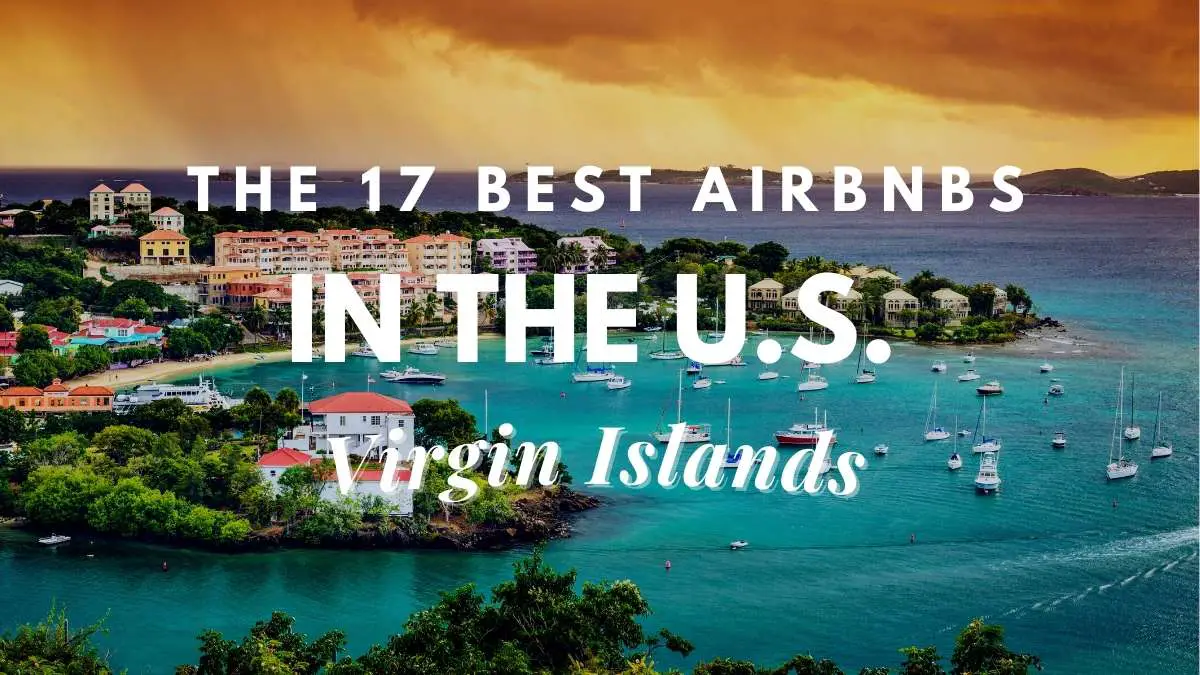 1. The Pirate
The Buccaneer, one of the best-rated Airbnbs in the US Virgin Islands, is a luxurious Airbnb with a spa, tennis, and golf courses, three on-site restaurants, a number of beaches, and a Kid's Camp. The Buccaneer is the place to check at if you're seeking for the top Airbnbs to stay at in the US Virgin Islands.
Additionally, it's the ideal location for big gatherings. The Buccaneer boasts a wide range of alternatives, from conference rooms to event spaces, that will undoubtedly satisfy your requirements. Whether you're taking your workers on a vacation to St. Croix or getting together with friends for a golf getaway, The Buccaneer has what you need.
Read: Is Traveling A Hobby? The Ultimate Guide To An Exciting Way Of Life Learn about the Downsides Of Traveling As A Hobby

2. The Frenchman's Cove Marriott
The Marriott's Frenchman Cove is tucked away along a scenic hillside with a view of Pacquereau Bay's serene emerald seas. Amidst a vibrant tropical setting, this family-friendly Airbnb has an overall interior style that reflects the influences of Danish and British architecture. There is no better place to stay if you're looking for Airbnb suites in the US Virgin Islands than Marriott's Frenchman Cove.
Even though it's not precisely one of the good, inexpensive Airbnbs in the US Virgin Islands, the excellent facilities make up for the high Airbnb costs. This Airbnb offers its visitors a BBQ and picnic space, as well as a fitness facility, a jacuzzi, an on-site restaurant named Sunset Cove & Bar Grille, and more.
3. Grande Bay Airbnb
On St. John, the Grande Bay Resort is situated on a hill with a view of Cruz Bay. Additionally, it is close to Wharfside Village and three minutes on foot from the ferry terminal. The Grande Bay Resort is one of the sites that are worth seeing, however it isn't exactly a cheap place to stay. It is in a superb position, just a short distance from the downtown area where many visitors go to dine and shop.
4. Resort & Spa Renaissance St. Croix Carambola Beach
Just a few steps from the beach, the Carambola Beach Resort & Spa is situated in a unique area and was formerly a sugar plantation. Additionally, the resort is adjacent to the Carambola Tide Pools and Carambola Golf Club. Visit the Carambola Beach Resort in St. Croix if you're seeking for affordable Airbnb rates in the US Virgin Islands. Additionally, it's the ideal location to stay if you want to unwind.
You may find peace and tranquilly there throughout your trip thanks to the villa-style accommodations and breathtaking ocean views.
5. Spa at Sugar Bay Resort
East End, St. Thomas, is home to Sugar Bay Resort & Spa. It is an affluent beachfront resort with two swimming pools, a waterfall, seven restaurants, and a lively nightlife. The beach has soft sand. If you want to treat yourself, stay at Sugar Bay, which is the exact opposite of inexpensive lodging. One of the well-known Airbnbs in the Virgin Islands nearby, Singles may take use of the Airbnb's full-service spa or visit the on-site beauty salon for a makeover.
6. Villas at The Westin St. John Resort
The Westin St. John Resort Villas, one of the most popular 4-star Airbnbs on the island, is a top choice for families travelling to the US Virgin Islands. It has two beachfront restaurants, gorgeous pools, kitchenettes, flat-screen TVs, and contemporary villas with elegant island accents.
The kiddie pool and the Westin Family Kids' Club, where they may engage in supervised indoor and outdoor activities, will be loved by the kids. The kids have a lot of fun, and Mom and Dad have more leisure.
7. Antilles Resorts
A beachfront resort called Antilles Resorts at Point Pleasant is a short distance between Lindquist and Sapphire Beach. The cozy 128 uniquely furnished guest rooms all have full-sized kitchens with stovetops and refrigerators. We like how convenient this resort is to Red Hook's dining, shopping, and ferry. Additionally, visitors like the on-site recreational spa, where they may get a variety of massages and treatments.
8. Resort at Gallows Point
Gallows Point is a quiet, remote resort on St. John that is well placed for sunsets. It's a popular option for couples looking to enjoy a romantic holiday in the Virgin Islands. Searching for a Airbnb with a hot tub? One is in Gallows Point! Along with the Airbnb's beachfront pool, visitors like unwinding on its many sun decks.
9. Resort at Secret Harbour Beach
Attractive beach with blue sea and palm trees can be found at the Secret Harbour Beach Resort in Charlotte Amalie, St. Thomas. It also includes two on-site restaurants that provide elegant and casual food. The Secret Harbour Beach Resort is the only location to stay if you're searching for quality accommodations in the US Virgin Islands.
Every room at this Airbnb has a king-sized bed, and guests may enjoy seaside views from their own balcony or patio.
10. The Pelican Cove Palms
In close proximity to a Blue Flag beach is the laid-back family-friendly motel The Palms at Pelican Cove. It has 40 roomy suites and rooms, each with a balcony and some with ocean views. Do you want to stay somewhere where the pleasure lasts all day and all night? The Mahogany Bar at The Palms at Pelican Cove serves up beverages and light meals while providing entertainment in the form of fire dancers and stilt walkers.
11. Bay Caneel, St. John (Permanently Closed)
A picturesque 170-acre estate attached to a national park is called Caneel Bay in St. John. It was constructed on a former sugar plantation and has simple accommodations without TVs or phones for a full and tranquil island experience. A delightful weekend getaway to the Virgin Islands is planned. Stay at Caneel Bay, a resort with not one but seven beaches that are all rather remote. The ideal seaside vacation spot for couples, families, and friends.
12. The Ritz-Carlton, Virgin Islands
One of the top five-star Airbnbs in the US Virgin Islands is the Ritz-Carlton in St. Thomas. It is one of the priciest five-star Airbnbs in the US Virgin Islands, and it has a large fitness facility, an infinity pool, and a prime position only five minutes from Red Hook's top clubs and eateries. Would you want to go snorkelling and scuba diving in the Virgin Islands? Staying at the Ritz-Carlton gives you access to a variety of activities, including these underwater ones.
13. St. John's Garden by the Sea.
An eco-friendly bed and breakfast in St. John called Garden by the Sea has a beautiful design that is reminiscent of a breezy treehouse. Two of the inn's three island-themed rooms include semi-outdoor bathrooms with stone showers. You're sick of staying in standard Airbnbs. Stay at Garden by the Sea, a place unlike any other. In an attempt to save, tourists are encouraged to keep an eye on their water and power use. Visitors like hanging out on the sizable public patio, which looks out over the stunning Caribbean Sea and is one of the best Airbnbs in the US Virgin Islands with a view.
14. St. Croix's Fred
King Frederik V, who also serves as the namesake for the municipality of Frederiksted on the US Virgin Island of St. Croix, inspired the name of The Fred, a historic 22-room boutique Airbnb. It was the first resort to operate in the region since 1986 and is the only beachfront resort on St. Croix. The Fred in St. Croix is a fantastic Airbnb option if you're looking for one downtown.
Beach lovers are advised to stay at this Airbnb since they will enjoy the lovely sandy beach with plush lounge chairs and umbrellas, a vending machine for towels, beachfront lockers, and more.
15. Airbnb at Bolongo Bay Beach
The Bolongo Bay Beach Resort, a favourite for weddings and bachelor parties, is situated on a tranquil beachfront in the southern region of St. Thomas. The Airbnb is situated next to a large, soft-sand beach with crystal-clear water. Bolongo Bay Beach Resort is where you should stay if you're taking a chill vacation to the USVI.
Freebies for Airbnb guests include a weekly cocktail event with on-site entertainment and activities as well as an introductory diving instruction when renting or purchasing at the dive shop.
16. Resort at Emerald Beach
One of the most well-liked resorts in the US Virgin Islands region is the Emerald Beach Resort in Charlotte Amalie, St. Thomas. The eco-friendly Airbnb, which received the Blue Flag designation, has a magnificent, picturesque beach with a nearby bar and a landscaped swimming pool with a waterfall. All of the accommodations at Emerald Beach Resort face the beach and include either a balcony or a private patio, which is fantastic. Its stunning restaurant, which has live entertainment, Sunday brunch, and fulfilling buffet evenings, is especially praised by visitors.
17. Property Lindholm
Adults-only Estate Lindholm offers stunning views of Cruz Bay, a small garden pool, and a terrace with a view of the sea. The centre of Cruz Bay can be reached by foot in about 10 minutes from this delightful boutique Airbnb, which is housed in an 18th-century manor. Estate Lindholm is one of the greatest Airbnbs in the US Virgin Islands if you're looking for a quiet getaway. The complimentary continental breakfast, tranquil massage rooms, and self-service honour bar with beer, wine, and cocktails are just a few reasons why we like it.
Final words
These are the best Airbnbs that we can recommend to you in the US Virgin Islands. It is up to you to take a look at these Airbnbs and pick the best one for your stay. No matter what option you select, you will surely be able to have a great time with your loved ones.