A summer day would be ideal for taking a leisurely stroll along a boardwalk along the coast in Southern California. Along these picturesque boardwalks, there is something to enjoy for everyone, whether you like people watching, window shopping, riding, or strolling. Here are a few of my favorite California boardwalks that will make your weekend more enjoyable. On a hot summer day, be sure to stop along the road for an ice cream or other frozen treat at one of the numerous nearby businesses.

Who doesn't appreciate stunning beaches, vistas of the ocean, arcade games, and mouthwatering food? Along the beautiful California coastline, boardwalks come in all different sizes and styles. Each one offers a unique selection of amusing activities that will delight any child.

The greatest California boardwalks provide something for everyone, whether you like riding, window shopping, people-watching, or indulging in regional street cuisine. There are several options for individuals wishing to spend a day along the expansive coasts of the Golden State, from the eccentric and bustling Venice Beach Boardwalk to the modest and serene Trinidad Pier. Here are the best California piers and boardwalks.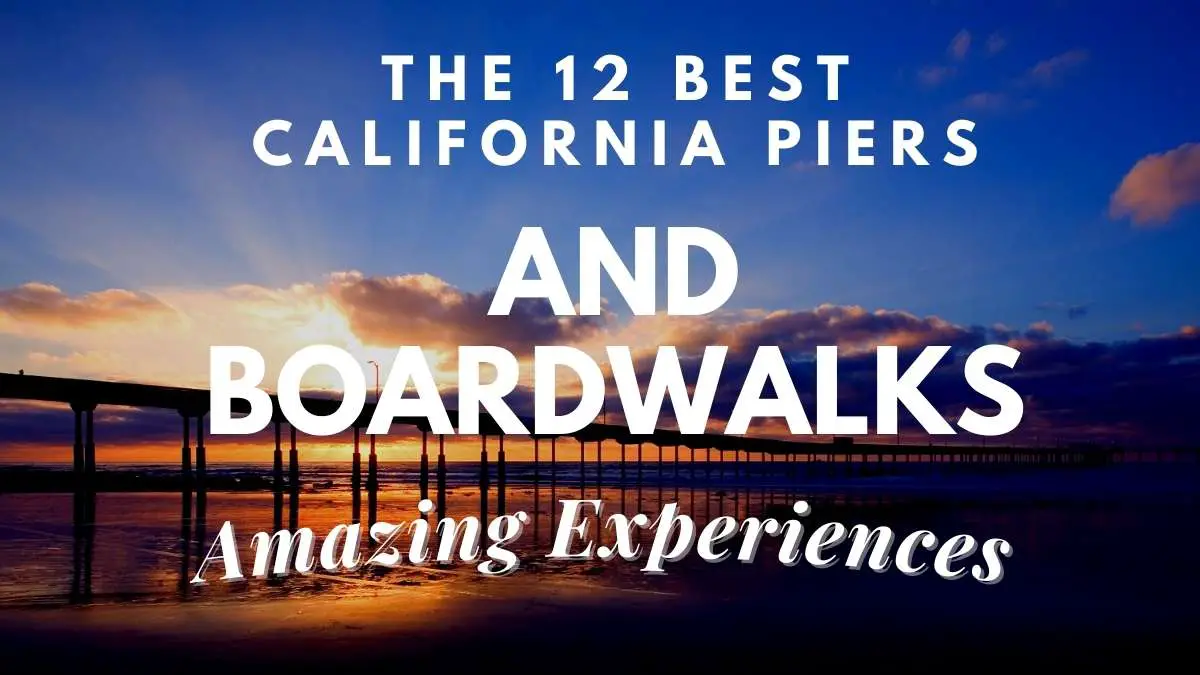 1. Pier 39
Visit this California boardwalk just for the delicious clam chowder served in San Francisco sourdough bread bowls at every turn. One of California's most recognizable boardwalks, Pier 39 is situated in the renowned Fisherman's Wharf district and is so for good reason. You could easily spend the whole day on this boardwalk since there is so much to do along it, including eat, drink, and explore. As you wander down the pier, browse the many stores and take in views of the San Francisco Bay. Feeling unmotivated to walk? For a thorough adventure, take a bus or boat cruise of the boardwalk. The wharf is beckoning, so make your plans immediately.
Read: Is Traveling A Hobby? The Ultimate Guide To An Exciting Way Of Life Learn about the Downsides Of Traveling As A Hobby

2. Continental Pier
At this unassuming California boardwalk, the Pacific's rough edges meet the lush green trees of the north. The Trinidad Harbor, located 80 miles below the Oregon border, has clear gray beaches, rocky outcrops, tidal pools, and a number of little islands. After enjoying a substantial bowl of clam chowder and strolling along Trinidad Pier's serene beach, take a short drive into the city to see the Trinidad Memorial Lighthouse. Trinidad is a secret treasure on the North Coast because of the variety of high-quality food establishments along the pier.
3. Boardwalk at Santa Cruz Beach
Sand beaches and inviting waves never fail to entice. How can you refuse when you add rollercoasters, video games, music, and theme park fare to the mix? Any Central Coast beach road trip plan must include a visit at this well-known California boardwalk. The Santa Cruz beachfront is free to enter, but you must either buy individual tickets or an all-inclusive day pass to take advantage of the many attractions along the lively seaside amusement park.
The Santa Cruz Beach Boardwalk is an amusement park situated on a mile-long length of sandy beach, unlike the other boardwalks on this list. Although there is no charge for admission, there are a variety of carnival games, rides, and food choices available for purchase. Play a game of mini golf, spend some time in the Casino Arcade, or browse the many gift shops.
If you like movies, you may remember this seaside classic from, among other things, The Lost Boys and Sudden Impact. This boardwalk, however picture-perfect for Hollywood, wasn't only constructed for show; it has been a popular in northern California since 1924. Don't miss the vintage carousel, where you may still reach for metal rings, which is unusual in contemporary models. The Roaring Camp Railroad steam train, which provides open-air excursions directly from the boardwalk into the towering Redwood Forest, is another "only here" attraction. In search of a longer excursion beyond a day trip? Make this just one of the stops on your road trip across California.
Take a spin on the renowned Giant Dipper, which debuted in 1924 but is now closed due to COVID-19, for an adrenaline sensation. The 1911 Looff Carousel offers calmer, less scream-inducing rides (sigh, also temporarily closed). The Santa Cruz Beach Boardwalk is a must-see throughout the summer, particularly when there is a free outdoor movie showing or a free music taking place on the beach.
4. Boardwalk at Moonstone Beach
This Central Coast boardwalk is a total 180 from the Santa Cruz Beach Boardwalk; it is calmer and quieter, yet it is just as attractive. Don't worry if you neglected to put up a beach day music. The background soundtrack for this peaceful retreat will be the sound of the breaking waves and migratory birds.
At the Moonstone Beach Boardwalk, reconnect with nature by strolling along the one-mile pier that runs from Cambria's northernmost point to Leffingwell Landing and back. Enjoying a picnic at the beach while watching whales, dolphins, and birds is the ideal activity to include on your couple's road trip schedule. It's perfect for a laid-back day.
5. Venice Board Beachwalk
If we omitted the Venice Beach Boardwalk, would our list of California boardwalks really be complete? Although you won't find peace and quiet on this boardwalk, it's a terrific place to shop, stroll along the sandy beach, and people-watch. This Los Angeles beachfront also has regular live entertainment and dubious street performers. You may spend hours exploring the various stalls and local artists offering crafts and trinkets.
Venice Beach is particularly beloved by skaters, bikers, and surfers since there is plenty of room for them to ride about and interact. You may wish to pick up a book from the neighboring Small World Books if you want to bring home a keepsake that is more significant than a tie-dye shirt. The Mosaic Tile Mansion, a house built in the 1940s and entirely covered in vibrant tiles, is another intriguing neighboring site.
While Venice Beach won't provide you with peace and quiet, it is a great place to people watch, shop, and take a stroll down the beach. You may often find live entertainment and sidewalk performances, and there are a number of merchants lined up offering a broad variety of goods and gifts.
6. Santa Monica Pier
Santa Monica Pier is a well-known boardwalk in Southern California. The substantial double-jointed pier provides first-rate shopping, acclaimed dining options, cultural attractions, interesting historical sites, and infinite chances for family-friendly entertainment owing to the vibrant waterfront amusement park. The Santa Monica Boardwalk follows the city's famed pier and the sand-filled beach. It's a great location for a leisurely stroll by the water with your special someone, and there are several fantastic nearby eateries.
Despite the fact that a lot of the attractions are now closed, there are still many good reasons to go. Explore the neighborhood stores, buy some trinkets, chow down on comfort food, and take in the sights of the sparkling seas and fine dunes. You may completely enjoy the tranquil surroundings at the pier and get a genuine sense of the Santa Monica way of life.
Though this wooden walkway is a Cali classic, Southern California's favorite boardwalk is really a pier. Nevertheless, we won't argue about it. Fishing, riding the historic Santa Monica Pier Carousel, or playing one of the 200 games at Playland Arcade are all traditional activities. Or visit Pacific Park to ride the only solar-powered Ferris wheel in the world.
7. Mission Beach Boardwalk
Nearly two miles of waterfront walkways, live street entertainment, genuine street vendors, an arcade, and other attractions can be found at this iconic California beachfront. You may go riding, play beach volleyball, boogie board, surf, and more only a short distance across Mission Beach to Mission Bay's serene waters. Take advantage of Mission Beach's kilometers of paved roads by carrying your surfboards and rollerblading past the crowds while you listen to the neighboring coasts' crashing waves.
The three-mile Ocean Front Boardwalk in San Diego runs alongside Mission and Pacific beaches. By day, it is a never-ending procession of skateboarders, bikers, and people enjoying the California sun. By night, clubs start to come alive SoCal-style, making it a vibrant atmosphere. Visitors may locate Belmont Amusement Park along the boardwalk, which has a wooden roller coaster with fantastic seaside views.
8. Newport Beach Boardwalk
With more than 10 miles of beachfront for swimming, surfing, fishing, and other water sports, Newport Beach boasts the biggest recreational harbor on the West Coast. On the Newport Beach Boardwalk, there are several activities that can let you unwind and enjoy beautiful views of California's dawn and sunset. Learn about the fascinating history of the region by visiting the Balboa Island Museum and Historical Society (when open under normal conditions). Go to the Lighting of the Bay at Newport Dunes to get into the holiday mood and take in the beautiful light displays of Christmas trees and floats over the calm waters.
9. Yosemite National Park's Cook's Meadow Loop
Yosemite National Park's Cook's Meadow Loop is a simple, underappreciated walk. Yosemite Falls, Half Dome, Sentinel Rock, and the Royal Arches may all be seen during the one-mile stroll through wonderful open meadows. Although the loop is accessible year-round, we suggest going in the spring when the snow has melted, the meadows are lush, and the wildflowers are in bloom.
10. Boardwalks along Bumpass Hell Trail in Lassen National Park
The Bumpass Trail provides a secure approach to see the amazing geothermal phenomena in Lassen National Park. It starts at the parking lot and runs for roughly 2.6 kilometers straight ahead along Bumpass Mountain. You'll come to a viewpoint with views of an eroded volcanic rim after about a mile, but if you keep going, the height declines and you'll come to a boardwalk that circles the steamy pools and boiling mud pots.
11. Boardwalks at Moonstone Beach, Cambria
The Moonstone Beach Boardwalk in Cambria offers a calm, unhurried stroll by the water that is ideal for the weekends or after work. It covers roughly two miles and is accessible to guests year-round, along with their leashed dogs.
12. Boardwalks at Hermosa Beach Boardwalk
The Strand, which stretches the length of Hermosa Beach, is well-liked by skateboarders, rollerbladers, joggers, cyclists, dog walkers, and pedestrians. Come take a leisurely stroll along the beach, or just recline and enjoy the stunning pier's sunset or dawn.
13. Death Valley National Park boardwalks
The Salt Creek Trail in Death Valley is about half a mile long round trip, and it follows this ADA-accessible wooden boardwalk. The Salt Creek Pupfish spawn in the spring, which is the trail's prime season for visits. There are several signage along the path that will provide you with additional information since it is also an interpretive route.
Final words
Boardwalks are a lovely and useful addition to any site used for maritime building. Whether you're working on a residential, commercial, or environmental project, well-built boardwalks may increase the value of your land while protecting and enriching the local ecosystem.
There are many different types of boardwalks to discover in California, including concrete beachfront pathways and wooden ones that wind through meadows. They all provide breathtaking views, and some are located on the shore where you can also find a strip of local eateries and stores. These eight routes in particular will show you some of the greatest scenery the Golden State has to offer, making them ideal if you simply want to be outside for a bit.
In reality, boardwalks are used in commercial and public projects for more than 150 years since they are an inherent part of maritime building. They are a fixture in well-protected marshlands, beaches, and other land regions that border waterscapes, as well as in thriving coastal towns and cities.
The main distinction between a boardwalk and a bridge is that the former only crosses very shallow water, wetlands, and sometimes even dry ground, while the latter often spans deep or swiftly moving water. A boardwalk may be built using concrete or wood pilings, complete timber, concrete, or fiberglass construction, and decking made of concrete, wood, composite, or vinyl. Their goal is to provide delicate maritime ecosystems simple, dependable, erosion-resistant access. Visit these best California piers and boardwalks. Then you will be able to get a perfect experience during your stay in the city.