Haines is one of Southeast Alaska's most picturesque towns. The combination of massive mountains rising directly from the sea and the broad Chilkat River valley cutting through a stunning environment is inspiring. It's also a location full of friendly, eccentric residents who are proud of their hometown, adding to the small-town atmosphere. Some guests even decide to stay! "It's the beauty that attracts you to Haines, but it's the people that keep drawing you back," one local remarked. If you are looking forward to learning how to get to Haines, Alaska, continue to read. We will share all information that you need to know.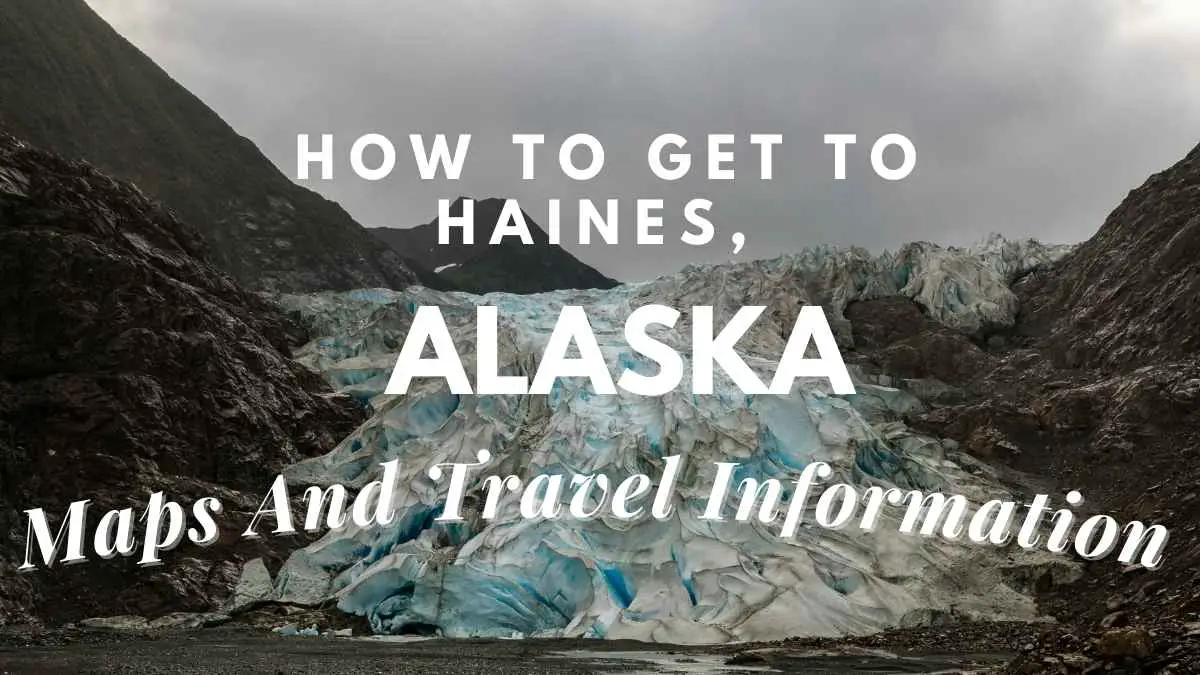 Getting to Haines on a cruise
Cruisers are only allowed to stay in port for a few hours. It's advisable to stay for 1-2 nights if you're traveling alone. The majority of cruisers choose a guided tour to make the most of their time in port. The following are some of our suggestions:
Read: Is Traveling A Hobby? The Ultimate Guide To An Exciting Way Of Life Learn about the Downsides Of Traveling As A Hobby

How to get to Haines, Alaska through air
Alaska Seaplanes' non-stop flights (which land on the ground) take roughly 25 minutes. The airlines operate on a regular schedule, however depending on your arrival time in Juneau, you may have to wait until the following day. Check the ferry timetable if you don't want to spend the night in Juneau.
Getting to Haines by a ferry
Alaska Marine Highways runs ferries between Juneau and Haines. The one-way fare is about $50, and it operates almost every day. Fjordland Fast Ferries run between Juneau and Skagway throughout the summer, cutting travel time in half.
Instead of flying to Juneau, take a boat from Bellingham, Washington. A weekly ferry from Bellingham to Haines is managed by Alaska Marine Highways and takes 3.5 days. Cabins and restaurants are available on the boat. It makes stops throughout the Inside Passage in Vancouver and Juneau, as well as other tiny Alaskan ports, and is a terrific opportunity to visit this breathtakingly gorgeous portion of our continent.
Things to do at Haines, Alaska
Now you know how to get to Haines, Alaska. While keeping those options in mind, let's take a look at the activities that you can do while you are at Haines.
Fort-William-H-Seward Army Installation
The first Army installation in Alaska was Ft. William H. Seward. It's simple to go about on foot, and the Visitor's Center includes a self-guided walking tour leaflet. Keep an eye out for the new outdoor art sculptures that have been erected around the Fort. Take a stroll along "Officer's Row" and then pay a visit to Alaska Indian Arts, where you could get a glimpse of a totem pole carver in operation. There are lots of other sites to see in the Fort if you're interested in art, including two galleries displaying the work of local artist Tresham Gregg.
Deb Knight-Forget-me-not Kennedy's Gallery, located just below Alaska Indian Arts, is well worth a visit. Take a stroll around the gorgeous garden in front of the Wild Iris Gallery and smell the flowers. Also, walk inside to speak with Fred Shields, the owner and former mayor of Haines. Fred carefully selects all of the artwork in his gallery and is a geography expert. Tell him where you're from, and he'll be able to tell you about your hometown, no matter where it is in the globe!
Chilkoot Distillery before leaving the fort and sample some of their award-winning spirits. Fireweed Restaurant, a local favorite, is located across the street. On a lovely day, you may sit on the terrace and eat their great pizza and salads while watching the mountains become pink with the sunset. Rainbow Glacier Adventures is just down the road. Small group trips, such as photography, kayaking, rafting, and wildlife watching, are offered by this local tour operator. Pick up a copy of Where Eagles Gather, the Story of the Alaska Chilkat Bald Eagle Preserve, by creator Joe Ordonez, which includes stunning images.
The Sheldon Museum contains information about the Chilkat Natives, local history, and Haines' growth. The eccentric Hammer Museum and the American Bald Eagle Foundation are two additional institutions worth seeing if you like museums (or even if you don't). You may purchase a pass that allows you to visit all three museums at a discounted fee.
The Great Alaska Craft Beer and Home Brew Festival, the Kluane to Chilkat Bike Relay, and the Alaska Bald Eagle Festival are all important events in Haines depending on the time of year. Even if there isn't a major event taking place, there is enough to do.
Traveling around Haines
There are just three routes out of town, two of which are dead ends, so it's difficult to get lost. If you have a vehicle, make a point of visiting all three; each offers a distinct setting as well as a state park or leisure facility.
The Takshanuk Mountains, which rise above Haines, divide the Chilkat and Chilkoot valleys. To get a taste of the Chilkoot, go north along the coastline toward the ferry station until you reach a bridge. Instead of crossing the bridge, turn left and remain on the Chilkoot River's near side (the other side is a residential area). Along the Chilkoot River and at the lake, there's always something going on; this is one of Alaska's most active wildlife corridors.
Smelt (eulachon) spawn in the river in May, attracting large rafts of sea lions and migratory birds. Sockeye salmon are spawning in the lake by July. Brown bears descend on the river in August to eat on the spawning pink salmon. (Just remember to observe bear safety precautions and leave plenty of distance between you and the bears.) The road terminates at a parking lot on the lake's coast, which is a beautiful spot for a kayaking excursion or pink salmon fishing.
Follow this guide and visit Haines. You will never regret about the experiences that you can secure by getting all the way to Haines.