Taking the boat from downtown Seattle to Bainbridge Island is a convenient method to get there. You have the option of walking, biking, or driving. For those living north of Seattle, taking the ferry from Edmonds to Kingston and then driving down to Bainbridge Island may be more convenient. You may drive over the Tacoma Narrows bridge and then up to Bainbridge Island if you're coming from the south of Seattle. If you wonder what to do on Bainbridge Island without a car, continue to read. We will share all the great activities that you can do, without having to worry about a vehicle.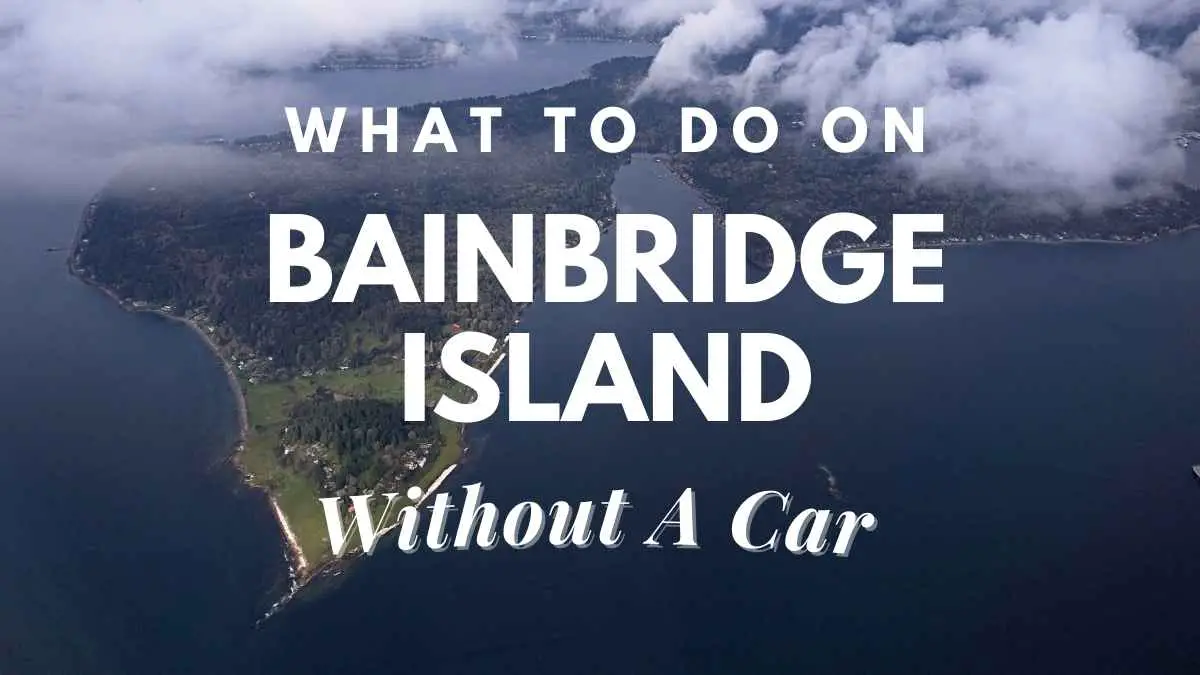 Getting a vehicle to Bainbridge Island
You'll enter the toll booth and parking lot at the pier if you're driving to the boat in downtown Seattle. While driving your vehicle on the boat allows you to explore the island more freely after you arrive, it is also more costly. The boat has a limited capacity for automobiles, so you may have to wait a bit to board.
Read: Is Traveling A Hobby? The Ultimate Guide To An Exciting Way Of Life Learn about the Downsides Of Traveling As A Hobby

Without a vehicle, getting to Bainbridge Island is a challenge
The ship will never be overcrowded if you walk or bike aboard it! You'll always be able to connect, and you'll save a ton of money in the process. The disadvantage is that after you are on the island, you'll have to rely on walking, riding, or catching the bus to get about. Many amazing things to do on Bainbridge Island can be reached without a vehicle, but not all. This article is structured in the following order: things you can do without a vehicle first, then things you'll need a car for.
When is the best time to visit Bainbridge Island?
Throughout the year! This is one of the finest things about Bainbridge Island; it's a great place to visit all year! All of the attractions in this article are open all year, with many of them being outside.
With everything in bloom, spring is a fantastic time to visit the Bloedel Reserve! Summers will be brighter and warmer, but late autumn, winter, and early spring will be wetter (much like Seattle). Without a vehicle, there are plenty of things to do on Bainbridge Island. From the Bainbridge ferry, there are a variety of things to see and do. Everything in this sector is conveniently positioned near the boat port and is easily accessible by foot! Because the island is mountainous, expect some uphill and downhill walking even on short hikes.
Things you can do in Bainbridge Island without a car
Read: Plane vs rental car on vacation – (pro's and cons)Learn about the what experiences matter the most?
1. Go on the ferry journey between Bainbridge Island and downtown Seattle
You don't have to wait till you are on the island to have a good time. The boat voyage to Bainbridge Island is a highlight of each vacation to the island. The views of downtown Seattle and the Olympic Mountains are among the best in the area. On a sunny day, you may sit outdoors and enjoy the sunshine. On a wet day, curl up in front of the large windows with a hot beverage and watch the Salish Sea sail by. The views of Seattle will be at the rear of the boat as you sail towards Bainbridge, while the views of the mountains will be at the front.
A vehicle and driver will pay about $26 round trip; a walk-on passenger will pay $9, and elderly and youngsters would pay $5.
2. Explore Winslow's boutiques, vineyards, and eateries.
Walking around the little town of Winslow, only a few blocks from the ferry station, is a lot of fun! There are a number of lovely little stores, including an independent bookshop and a charming toy store, in addition to the art gallery and the seaside walk. There are also several eateries in Winslow, as well as tasting areas for various vineyards on the island.
3. The Bainbridge Art Museum is located in Bainbridge, Massachusetts.
The Bainbridge Island Art Museum is a display of the region's excellent local art. It's also a lovely structure located near the ferry station.
Read: Anna Maria Island VS Siesta Key- What's The Difference?
4. The Historical Museum of Bainbridge Island is located on the island of Bainbridge.
In this old schoolhouse and intriguing museum, learn about Bainbridge Island's rich and diverse history. This modest museum tells the narrative of Bainbridge Island's varied and convoluted past.
5. Around Eagle Harbor, take a walk along the Waterfront Trail.
Starting at the top of the ferry terminal, the waterfront route goes for many kilometers along the waterfront. Take in the fresh air while exploring parks, restaurants, trees, and beaches.
6. Japanese American Exclusion Memorial on Bainbridge Island
All Americans should pay a visit to the Japanese American Exclusion Memorial. The visitor is invited to think on a tragic period in American history when Japanese Americans were forcibly removed from their homes and imprisoned for no cause other than having Japanese ancestry.
On March 30, 1942, Japanese American family were forced to leave Bainbridge Island. They assembled and were sent to detention camps by boat. This monument tells their tale and acts as a powerful reminder to never forget and never do anything like this again. It's also a lovely setting for this type of contemplation. In the spring, there are many lovely blooming trees.
7. Visit the Fay Bainbridge Park
Faye Bainbridge Park is one of the top things to do on Bainbridge Island. There is grass, driftwood, and people strolling along the shore at the park. From Faye Bainbridge Park, you can view the lake, mountains, and a city in the distance (Mt Rainier and part of downtown Seattle).
This great park features a lovely beach for lounging, walking, beachcombing, and picnicking. There's a lot of driftwood on this rocky beach! Mt Rainier, other Cascade Range mountains, and sections of downtown Seattle can all be seen from the beach. The park faces east, so you won't view the sunset, but on a clear day, you'll be able to experience Mt Rainier's amazing alpenglow. Camping is available immediately adjacent to the beach, as well as rental cabins.
8. Reserve Bloedel
Bloedel Reserve on Bainbridge Island has bright sky and blue ocean in the distance, framed by green grass and evergreen trees. The Bloedel Reserve offers beautiful vistas in addition to the garden and grounds.
The Bloedel Reserve is a lovely garden with a woodland backdrop. In addition to the lovely gardens, there are many miles of trails and forest terrain to explore. Coming here in the spring, when the spring flowers are flowering, is one of my favorite things to do! The rhododendrons are really lovely here. Adults pay $17, elders pay $12, students (13-18) pay $6, and children pay $6. (5-12).
9. Bainbridge Distillers
Bainbridge Organic Distillers, Bainbridge's foray into Washington's strong artisan distillery market, provides 100% organic vodka, gin, and whiskey in their tasting room. This is a fantastic destination for distillery fans, since it is conveniently located near Bainbridge Brewing, Fletcher Bay Winery, and a terrific pizza place.
Final words
Stay for the weekend if you can! On Bainbridge Island, there are several vacation rentals and hotel options, including cabins and camping in Faye Bainbridge Park! Make sure to book your accommodations ahead of time.