A family day at the beach is one of the best activities. A day at the beach is a great trip if you're prepared. A beach day with small children may be terrible if you are unprepared. Not to worry, we've put up a list of needs for a day of sun fun with your toddler or infant!

We adore traveling with our kids, and beach holidays are among our favorites. That's why we thought of sharing an article on the beach essentials for toddlers. You may go through this article and figure out the most important beach essentials that you need to take along with you when you travel to the beach with toddlers.

Beach trips are usually relaxing and pleasant. The water and sand provide enough of amusement without any effort from parents. We've taken several beach holidays with our kids. We've also included a list of beach necessities for toddlers and newborns, as well as some beach-day tips. What you need to know before taking your baby to the beach!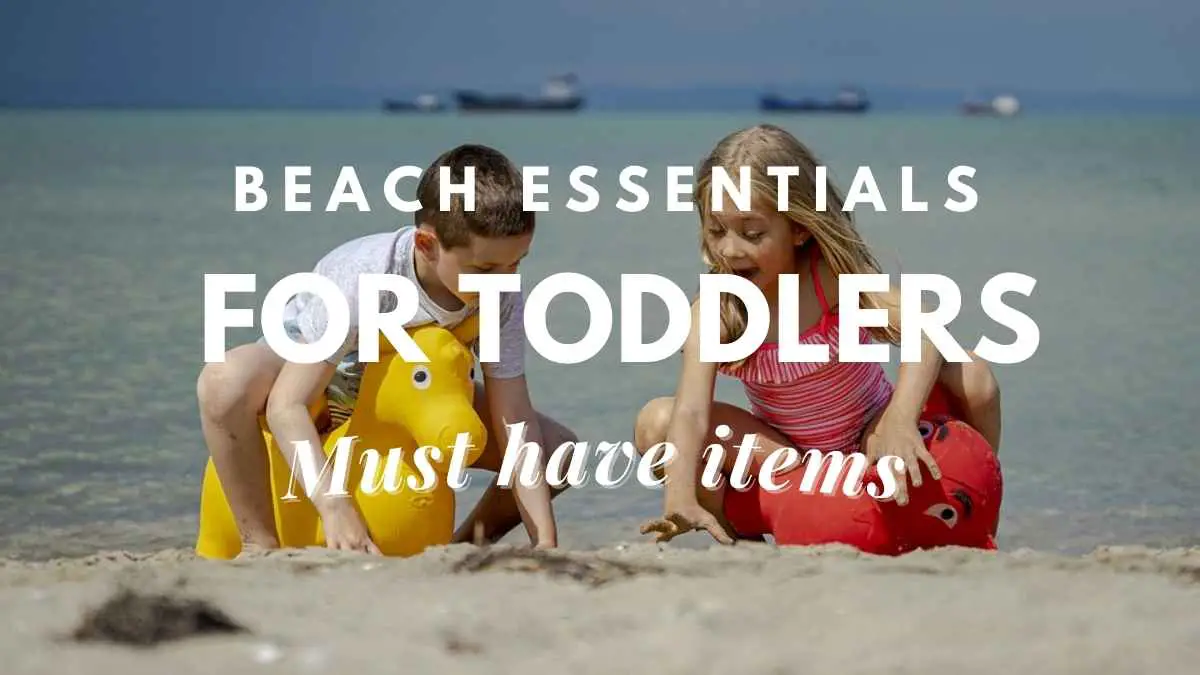 1. Sunscreen
Sunscreen is perhaps the most important beach requirement for children. It's difficult to find a sunscreen that offers enough protection while still being gentle on your child's skin.
My kids love Blue Lizard Sunscreen. It protects well, lasts a long time, and doesn't contain many harmful ingredients (even ones that claim to be baby safe). And this one is reef safe, so you can feel good about helping to save the planet! Manufacturers advise avoiding applying sunscreen on infants under six months old. Instead, keep newborn infants out of direct sunlight and shield them with caps and long sleeves.
Read: Is Traveling A Hobby? The Ultimate Guide To An Exciting Way Of Life Learn about the Downsides Of Traveling As A Hobby

2. Swimsuits
Of course, no beach excursion is complete without a swimsuit! Young children may use rash guards (long-sleeved swimsuits). They lessen the need for sunscreen and the danger of sunburn for your youngster. Great options for boys and girls here.
3. Diapers
If your kid is still in diapers, bring swim diapers. Swim diapers are one possibility. While we have tried disposable swim diapers, we prefer the reusable swim diapers since they are more durable and less bulky. Use reusable swim diapers for infants. The snaps make them simple to put on and take off, and they grow with your kid. Swim diapers are a must-have for non-potty-trained children. I use these swim diapers for my kids as they become older so they can simply go in and out.
4. Travel Beach Towel
These microfiber beach towels dry quickly and are great for kids! They are thin and light, yet surprisingly absorbent and dry rapidly. They also come with a carrying bag.
5. Waterproof bags
After swimming, you'll need a place to dry your clothing. These waterproof bags are great since they feature two sections for wet and dry clothing.
6. Life Vest
Safety must always come first when near water with a small kid. A nice life jacket may provide you peace of mind and let your youngster enjoy the water safely. A reliable Toddler Life Jacket is a wonderful choice. It's Coast Guard approved, comfy and safe for your toddler, and features a back-grab grip for easy kid control.
Also, for newborns and early toddlers are float rings. This is a good option for travel since it deflates quickly. This is not a lifesaving device and needs adult supervision. A puddle jumper is a less cumbersome alternative to a life jacket. Notable drawbacks include poor swimming technique and lack of safety elements of a normal life jacket.
7. Blanket
When traveling with small children, having a place to sit out of the sand is essential. This beach blanket is ideal. So, you can put your baby down without worrying about sand in their mouth or have a sand-free area for your toddler to enjoy their food. And it's big (10'x9′), so the entire family can sit! To secure the blanket, use sand pockets or metal pegs. It also just weights one pound and folds up into a little storage bag!
8. Baby flip flops
Toddler flip flops are ideal for the beach since they are lightweight and simple to put on and take off. I adore having shoes that don't hold a lot of sand and can be readily cleaned. With a rear strap to hold it in place, your child's foot will be comfy.
9. Beach Bag
Going to the beach with small kids means packing a lot! You need a great bag to manage everything. This beach bag has plenty of room for your toddler's and your beach supplies! There are eight compartments, including one inside for your keys, wallet, and other valuables. It's composed of mesh, so sand doesn't settle inside, and it dries rapidly.
This bag's size and pocket capacity made taking all of our beach needs to Hawaii so much simpler!
10. Snack catcher
Never go to the beach without bringing food! And these snack containers keep crackers and other tiny nibbles out of the sand. They include a top to keep your food fresh and avoid spills. They are also foldable, making them ideal for travel!
11. Wetsuits
Water shoes will safeguard your child's feet on a rough beach without interfering with their play. It can also help with slick rock. Their breathable mesh uppers and flexible gripping soles keep your toddler safe on slippery areas.
12. A hat
A sun that protects your toddler from sunburn and keeps the sun out of their eyes while they are out in the sun for long periods of time. To avoid loss in the water or to the wind, go for an airy, wide-brimmed hat with chin strap. This one is great for our kid. The chin strap keeps it tight even on stormy days. It's also great for trekking.
13. Eyewear
Baby sunglasses protect your baby's eyes from the brightness of the sun and water. This pair is polarized and bendable. It also comes with a strap, a soft bag, and a hard case. When you are looking forward to getting beach essentials for toddlers, you will need to pay extra attention to eyewear.
14. Sand toys
Looking for a beach activity for your small child? This sand play set includes a foldable bucket, shovels, rakes, and molds. a waterproof mesh bag. My kids adored them. And they still wanted more!
15. Drinking water bottle
It's easy to forget to drink water when having fun at the beach. But if your youngster is out in the sun all day, keep them hydrated! Bring a BPA-free reusable water bottle and provide it regularly to your youngster. A good kids water bottle includes an easy-to-use pop-up straw. Also, it comes in a variety of attractive designs, so your toddler is sure to enjoy it!
16. Sun tent Pop-up
If you are heading someplace without shade or shelter, pack a tiny tent for the kids to get out of the sun. Helpful if you have a baby who needs shade while everyone else is having fun in the sand and water.
17. Beach tent with a child
This little pop-up tent is perfect for beach outings with young children. It comes with a carrying bag that you just take out and unzip! It's also portable and light.
18. Beach Toys
A bucket and shovel are a good start, but don't stop there! Invest on a few favorite beach toys like an inflatable beach ball or squishy water toys for the kids! Some parents assume that these are not beach essentials for toddlers, but they really are. Hence, you will need to think about getting hold of them before heading to the beach.
19. Tent or Cabana
When on vacation or going to spend hours in the heat, having some shade around is essential! You may bring a simple beach umbrella or spend on a beach cabana tent for the kids. These generally include UV protection.
20. Shawl
It's easy. Towels don't always cut it. Bring a blanket to cover more ground and reduce the size of your beach bag. As a new parent, I noticed them everywhere and wished I had bought one sooner – waterproof, portable, and SO essential for taking the kids to the beach or garden!!
21. Baby Powder
Baby powder is perhaps the best hidden secret for eliminating sticky sand from the skin! An occasional sprinkling of the powder miraculously releases sand from the skin, keeping it on the beach.
22. Sippy cup
In the sun all day, water is vital! Bring your favorite sippy cup. An insulated cup keeps water cool and a sliding cover keeps sand out!
Final words
As you can see, there are many different beach essentials for toddlers available for you to take along with you while you are heading to the beach. Make sure that you get hold of all these and get to the beach to secure the best possible experience that comes on your way. You will fall in love with the results that would come to you.