Indoor activities on the Outer Banks are probably the last thing on your mind while planning a beach trip. But there's a reason the Wright brothers chose this windswept location in Kitty Hawk to make the first flight in the world with their Wright Flyer: it's windy. And the Outer Banks of North Carolina are affected by hurricane season. So, it's perfectly likely that you'll require some inside activities during your holiday – while we wish everyone who visits perfect weather for their stay. In this article, we are going to review fun things to do in Kill Devil Hills when it rains.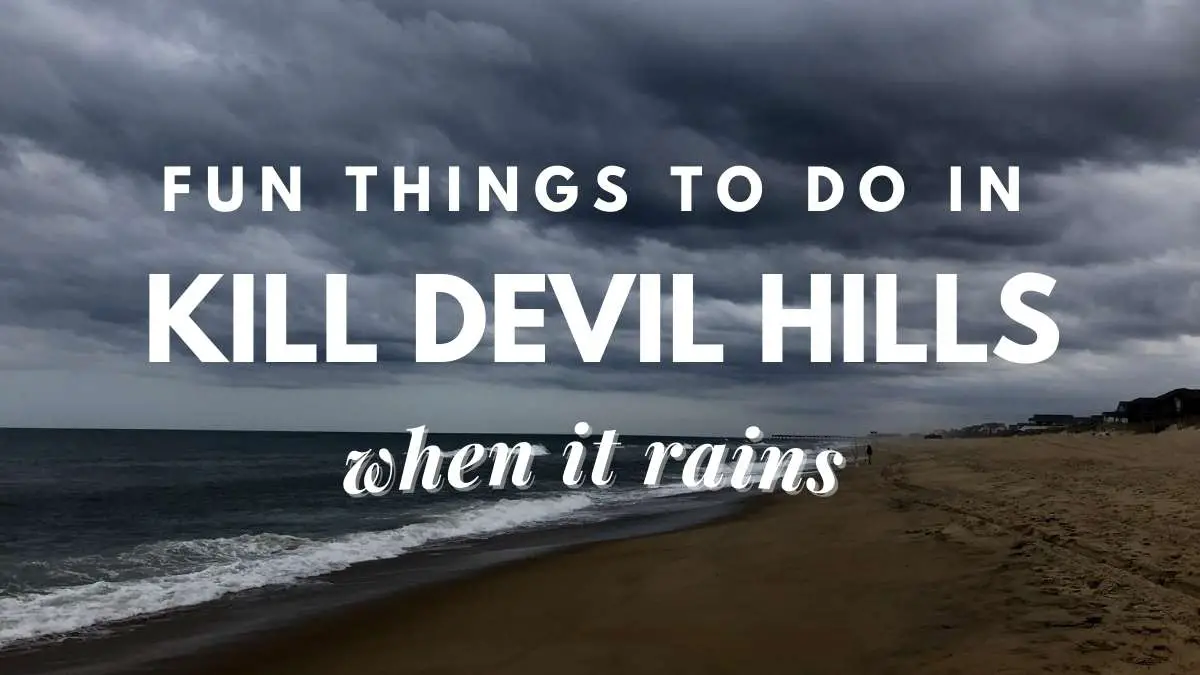 1. Indoor Shopping Can Be Exciting
We're not so-called "shoppers." Clothing shopping, for example, may not be at the top of our priority list. However, on occasion, such as when we visit Orlando, we will indulge in some outlet shopping (they have great outlets). However, shopping encompasses activities such as visiting art galleries and purchasing confectionery. That we adore!
Read: Is Traveling A Hobby? The Ultimate Guide To An Exciting Way Of Life Learn about the Downsides Of Traveling As A Hobby

2. The Christmas Shop
On our approach to The Tranquil House Inn in Manteo, Roanoke Island, we passed the Christmas Shop. We would never have gone inside if it hadn't rained, but we're delighted the bad weather prompted us to do so. The name undersells the location. They have a LOT more than Christmas decorations and ornaments inside.
3. The Christmas Market store
Its exterior is likewise quite misleading. From the front parking garage, this property seems to be a medium-sized home, so we're not sure how it's so big. However, the inside is enormous. It seems to go on forever. It's absolutely worth seeing, particularly if it's pouring, but it's also worth visiting on a lovely day! In addition to Christmas products, they sell the following:
Cards and presents for every occasion, such as buying a lovely gift for a buddy.

All-year-round Halloween decorations.

Thanksgiving and Harvest decorations (also available year round).
They have a massive sweets room! Even old-fashioned delicacies that transported us back to our youth!
4. Sugar Kingdom
I'm a sweet toothed child at heart. Sugar Kingdom's bright colors and massive structure drew my attention from the road, and the charming symbols on the exterior enticed me to see what was within. When it rained, we couldn't sit on the lovely ice-cream cone seats outside since they were saturated! But it was worth posing for a shot with the rainbow lollipop beneath the shelter of the building roof.
With bulk candy and boxed or packaged sweets, the inside is a candy lover's dream. They also feature a confectionery shop with pound-sized chocolates including truffles and other chocolate-covered pretzels. They also feature several arcade games and little toys for children. We took around 20 minutes to look around. We were reminded of one of the smaller sweets' boutiques in Disney Springs in Walt Disney World.
5. SeaWorthy Art Gallery
We had a great day visiting Hatteras' SeaWorthy Gallery. Inside, they had amazing jewelry, glass decorations, and ceramic presents. The outside was dreary and dismal, while the interior was vibrant. And it seemed that all of the products inside were from artists, whom we wholeheartedly support. It's also amazing to see what they've come up with.
In the exterior, the blue and white art gallery building proclaims "Seaworthy Gallery" on the Outer Banks.
6. Lee Robinson's General Store
We went to Lee Robinson's General Store in Hatteras the day following our meeting with Shaena and Brian from Hatteras Saltworks. We were ecstatic to see their fantastic exhibit of sea salt. We really enjoyed looking over the extensive selection of beer and wine, as well as the delicious delicacies! We'll admit it: we purchased some ice cream.
Lee Robinson's General Store, a yellow home on the Outer Banks of North Carolina, is a terrific place to visit for fun things to do.
7. Nags Head Outlets
Check out the Outlets in Nags Head if you want to do some shopping, particularly for apparel. Unfortunately, several establishments have closed owing to a lack of business during COVID (more so with fashion-focused shops closing on a national scale, not necessarily from lack of traffic in the Outer Banks). If it's raining, though, you may want to go check what's available.
8. Outer Banks (OBX) Museum
Check out the Wright Brothers National Memorial's Indoor Museum at Kill Devil Hills. The Wright Brothers National Memorial, located at Kitty Hawk on the Outer Banks, is divided into two sections:
9. Monument and outdoor area
The spectacular conclusion of the indoor museum is a replica of the 1903 Wright Flyer. The memorial will cost $10 per adult. However, since it is a National Park, a yearly pass for the National Park Service is valid here.
Near Kitty Hawk in Kill Devil Hills on the Outer Banks, a reproduction of the 1903 Wright Brothers plane. Another alternative is to purchase a $35 yearly pass that allows the passholder and three other people to visit the Wright Brothers Memorial. This is the way to go if you're a group of three or four people planning on coming just once more outside of the seven-day period.
From the date of purchase, your admission is valid for seven days. If it's raining, freezing, or terribly windy, or if rain is forecasted while you're on vacation and you'll require Outer Banks inside activities, reserve this for a day when the weather is bad.
On your first visit to the Wright Brothers National Memorial, you will buy a ticket. Then, if the weather is pleasant the following day, you may go back and wander around the park and monument outside.
Reading everything on the walls and seeing the 1903 replica of the Wright Flyer takes about an hour in the museum's indoor section.
10. The Atlantic Museum's graveyard in Hatteras
This museum is dedicated to the shipwrecks that have occurred in the Atlantic Ocean. The museum is free to enter, although there is a contribution box as you enter. We walked around the exhibit and read the material in about an hour. The lighthouse Fresnel lens (shown below) and information on the Titanic catastrophe were the highlights. Which was a little perplexing since it didn't happen on the Outer Banks, but it was definitely a shipwreck in the Atlantic and so fulfilled the museum's description.
The museum was adequate but not exceptional. However, we had a good time there, and since it's free and instructive about the Outer Banks, why not go?
11. Visit Outer Banks Distilling
Outer Banks Distilling, which produces Kill Devil Rum, was one of the most enjoyable excursions we made on our vacation to the OBX. You may have a fantastic time at their indoor bar, where you can sample all of their delectable, homemade drinks. They produce everything from scratch, even the coconut milk.
They used to provide tours of the distillery for a little price before COVID. They are not now doing tours but keep an eye on their website for updates as they are expected to resume in the future. They are open from 10:00 a.m. to 5:00 p.m. Tuesday through Saturday.
Final words
As you can see, there is no need to worry about anything when it is raining in outer banks. Take a look at these fun things to do in Kill Devil Hills when it rains and you can get the most out of your stay.