Nearly everything in the American South begs us to slow down, from the lilting accents to the strong beverages to the leisurely meals. The secret to appreciating the area is to take your time. That also applies to the Blue Ridge Parkway. The two-lane, winding motorway, which has a speed restriction that almost ever goes beyond 45 mph, quietly begs to be experienced.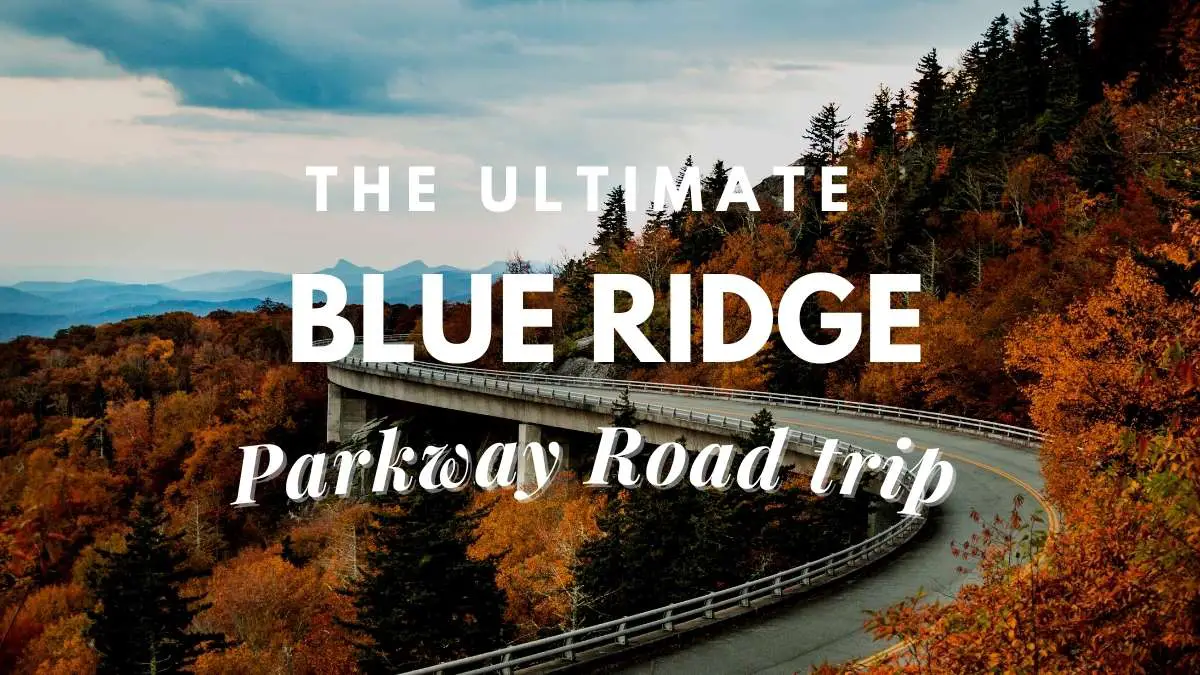 Getting ready for the Blue Ridge Parkway Road Trip
Give yourself five days to meander the 384 miles between these two cities, the most popular section of the 469-mile-long Parkway, even though it would only take nine or so hours to go the whole way from Charlottesville, Virginia, to Asheville, North Carolina. The route, which runs from Shenandoah National Park via the Blue Ridge Mountain range to the Great Smoky Mountains, follows the rugged ridges, lush plateaus, and gentle rolling meadows of the Appalachian Mountains. However, the route offers more reasons to stop than simply the magnificent views; they are many. Continue to read this Blue Ridge Parkway Road trip, where we share how to get the most out of time that you spend.
You may even spot some black bears foraging in the wayside woodlands as you travel along this famous roadway, along with wild birds, sparkling mountain streams, and mist-covered hilltops that serve as a reminder of how the Blue Ridge Mountains received their name. Along with many banjos, fiddles, and guitars, you'll hear birdsong, the thunderous roar of waterfalls, and maybe some stillness as well. After dazzling sunshine, you'll feel the abrupt chill of tunnels and the unique rush of driving around a bend to an open vista that stretches to the horizon.
Although it is a long journey, five days should be enough time for you to get out of the vehicle, order some BBQ, enjoy some music, and climb those slopes. Make the most of your drive along the Blue Ridge Parkway by following this plan.
Read: Is Traveling A Hobby? The Ultimate Guide To An Exciting Way Of Life Learn about the Downsides Of Traveling As A Hobby

Day 1: Get to Charlottesville, Virginia
Charlottesville is a great site to start your journey because of its convenience to the northern entrance of the Parkway and its attractions. The Albemarle-Charlottesville airport is a convenient location to hire a vehicle one-way if you're flying in to make the trip. North of Charlottesville, Washington Dulles International Airport (IAD) is roughly a two-hour journey.
At Oakhurst Inn, a friendly collection of structures from the 1920s, get a good night's rest before beginning the adventure. (Two of them were formerly boardinghouses, one was the residence of a professor, and the other was a fraternity.) The lobby cocktail bar of the 35-room hotel is open every evening till nine.
Visit Thomas Jefferson's Monticello in the area or take a walk around the University of Virginia's grounds if you want to spend some more time in Charlottesville before you leave. Then take I-64 west to get on the Blue Ridge Parkway, which will take you south.
Skyline Drive ends at the same point where the Blue Ridge Parkway begins. Similar in beauty, Skyline Drive travels 105 miles north through the 200,000 acres of Shenandoah National Park. Despite how strongly enticing it is, go south instead.
Day 2: Charlottesville to Floyd, Virginia
If you want to trek, you should stop at Milepost 6 to begin the Appalachian Trail, which is two miles away from the road and requires an uphill climb. However, anglers may choose to make a stop at the Tye River access point at Milepost 28.9, where bites are plentiful for fly-casters in the summer.
For a stop at Layne's Country Store and a country ham sandwich, get off at Glasgow (Milepost 61.4). Stock up on regional jams, pickles, and hand-cut bacon for your cooler. The short 10-minute journey from Glasgow will take you to Natural Bridge, a very towering limestone arch. (If you choose not to eat the ham and continued on the Parkway, seek for Milepost 63.7 to exit.) A young George Washington once observed this geological wonder, known as "Nature's Cathedral," and it was included in a land deal Thomas Jefferson struck with King George III. Enjoy the natural beauty but avoid the many associated tourist traps.
Once you're back on the Parkway, continue driving for another hour or two before resting in Roanoke for the day. The Taubman Museum of Art features local, folk, and modern artworks. It also boasts a one-of-a-kind permanent collection of Judith Leiber's sparkling minaudières, or comical evening bags.
At the River and Rail Restaurant, chef Aaron Deal's cozy bistro-style cuisine provides hearty, wild-caught meats, regional preserves, and seasonal veggies for dinner. Farm-to-table dining is not a fad in this region of the nation brought on by Netflix documentaries; rather, it has been a way of life for many generations of mountain people.
Drive an hour farther south to the Floyd Country Store after supper to see a dry-goods store turn into a kicking, stomping', live bluegrass hive with cloggers on the dance floor if you want to experience more of the local vibe, particularly on Friday nights. You'll be welcomed into the Friday night scene with a $8 cover. Check the store's website to see what activities are going on even if it isn't Friday before you go. There's a considerable chance you'll hear enjoyable music.)
Day 3: Meadows of Dan, VA to Floyd, VA
The picturesque Mabry Mill was one of the Parkway's most famous sites even before Instagram became popular. At Milepost 176, the 1905 millhouse is streamside, shake-roofed and endearingly crooked. After taking your picture, have a pancake breakfast at the café on the property that uses buckwheat flour that is made at the gristmill. (A bag of the flour is a wonderful and practical keepsake.)
Grab an early check-in at Primland, a luxury mountain resort spread out over 12,000 acres close to the Blue Ridge Parkway, while there is still plenty of time to enjoy the day (exit at Milepost 177.7). Tree climbing, sports clays, archery, and stargazing at an observatory in the main lodge are a few of the resort's very diverse activities.
Even with all the activities, you'll want to retire early to spend more time in one of the hotel's distinctive tree-house cottages, which are furnished with all the contemporary conveniences of opulent hotel rooms but are perched high in the branches of grand old trees. From your own terrace amid the woods, enjoy the sunset and the expansive views of the Kibler Valley.
Day 4: Blowing Rock, NC to Meadows of Dan, VA
After your nap in the trees, head back to the Blue Ridge Parkway and drive to Milepost 213 near Galax (pronounced GAY-lax) to check out what's happening at the Blue Ridge Music Center, a laid-back mountain music museum where midday pickup performances by neighborhood string bands are regular occurrences. Because of this museum and the Old Fiddlers' Convention, which takes place in Galax during the second week of August every year, the town is a reference point for bluegrass performers and their admirers. You'll hear top-notch, traditional gold music.
A tiny dairy in the neighborhood called Meadow Creek makes organic cheeses made from cow's milk that are beloved by food connoisseurs. Right in Galax, Chapters Bookshop & Wine Cellar has its cheeses for sale.
You have the next 75 miles to listen to your favorite music or catch up on a good podcast while taking in the landscape until your next stop in Blowing Rock, North Carolina. The road is eased in this section of the Parkway by graceful bends and lengthy, broad vistas. Along the first stretch of the road, you'll pass the North Carolina state line. Roosevelt's New Deal program started construction right here at Cumberland Knob in 1935, and it was only fully finished in 1987.
Visit Moses Cone Manor (Milepost 294.1), also known as Flat Top Manor, a magnificent estate constructed in the colonial revival style in 1901 by a local textile tycoon outside of Blowing Rock. The Parkway Craft Center, which is open from early April to late November, is the major attraction at this location despite the attractiveness of the home and grounds (and the fact that two of Cone's sisters were avid contemporary art collectors in the early 20th century). In the craft store, the center offers unique mountain-made products for sale. In the gallery area, other items are exhibited with labels that explain their origins. On the mansion's front porch, the Southern Highland Creative Guild hosts craft demonstrations by craftsmen who share their expertise in felting, turning wood, and manufacturing brooms.
Good antique shops, gift shops, candy shops, apparel boutiques, and tacky souvenir stands may all be found on Blowing Rock's Main Street.
Day 5: Asheville, NC to Blowing Rock, NC
Highlights included mountain treks, a swinging bridge, and the road trip's conclusion in Asheville, which was a food and beer mecca.
Instead of your morning exercise, trek Grandfather Mountain, which is close to Blowing Rock. There are a few trailheads located directly on the Parkway between Mileposts 304 and 308, but for a wider range of alternatives, take the Grandfather Mountain State Park exit at Milepost 305.1. Its 11 distinct trails vary in complexity from simple nature trails to circuits that follow razor-sharp ridge lines and cross steep rock cliffs using ladders or steel cables.
If you can, do the slightly challenging hike along the Bridge Trail and cross the Mile High Swinging Bridge, which looks a little terrifying crossing an 80-foot gap while being firmly made from galvanized steel. Although an elevator has been constructed to make the span accessible to everyone, the view from the bridge is sufficient compensation for the climb to get there. There are 11 trails at Grandfather Mountain State Park that range in complexity from easy strolls to trekking on steep rock sides.
Instead of returning to the Blue Ridge Parkway, take Route 221 a few miles south to Linville's Old Hampton Store & Barbeque. Set a table for straightforward pulled pork sandwiches and hot greens with portlike (the tasty liquid left from cooking greens). After operating for over a century, the shop and tavern combination has mastered the art of barbeque.
Ending your road trip
Once you're back on the road (you can either go the four miles back to where you left it or continue south on 221 for five miles to the next access point), keep an eye out for Linville Falls at Milepost 316.4. Follow the paths to see the twin waterfalls, which plunge 2,000 feet into the rough Linville Gorge, the deepest canyon east of the Grand Canyon, with considerable fanfare.
Because there is more fantastic trekking to come, take some time to unwind in the vehicle. You may access trailheads that lead to one of the Parkway's most breathtaking panoramas at Milepost 364 in the region known as Craggy Gardens. Follow the Craggy Pinnacle Trail as it ascends through trees with impossibly twisted roots and goes into a tunnel of rhododendrons. (In the early summer, Instagram is flooded with pictures of the rhododendrons arching over the sidewalks in full bloom.) The trek comes to a conclusion at a top that offers breathtaking 360-degree views of mountains and valleys that stretch all the way to the horizon.
It is just 19 miles to Asheville. Asheville is the obvious destination for your road trip, even if the Blue Ridge Parkway extends another 52 miles to its southern endpoint in Cherokee, North Carolina. The dynamic atmosphere of the city and its bustling regional airport make it simpler to return to everyday life.
Final words
If you're not quite ready to go home, exploring Biltmore Estate can take a day (or two). Built for George Washington Vanderbilt, the expansive estate is now the biggest in the country. It has a medieval manor house, enormous grounds, and a "town" with stores, a farm, three hotels, and a world-class vineyard.
If you're downtown, stop by Mast General Store to pick up some mementos like toffee, ceramics, and cookbooks. While you're there, think about getting a zip-up fleece to fit in with the active residents. Then, by all means, sip some alcohol. Asheville is well-known for its breweries and beer culture in addition to being a center for active visitors. Numerous businesses, both big and small, such New Belgium, Wicked Weed, and Sierra Nevada, produce beer here.