If you only have two days on Dauphin Island, what should you do? You will be taken to the greatest locations on the island and Mobile Bay by our 2-day Dauphin Island visitor's guide. Of course, you can't fit it all in, but we've narrowed it down to some of our favorites from our May visit. The weather in May was perfect for visiting the beaches, exploring the island on foot, and taking in the attractions. One of the most memorable activities you can do when staying in the Mobile Bay region for a few days, a weekend, or a vacation is to visit Dauphin Island. In this Dauphin Island visitors guide, we will be sharing more details with you on how to get the most out of your stay.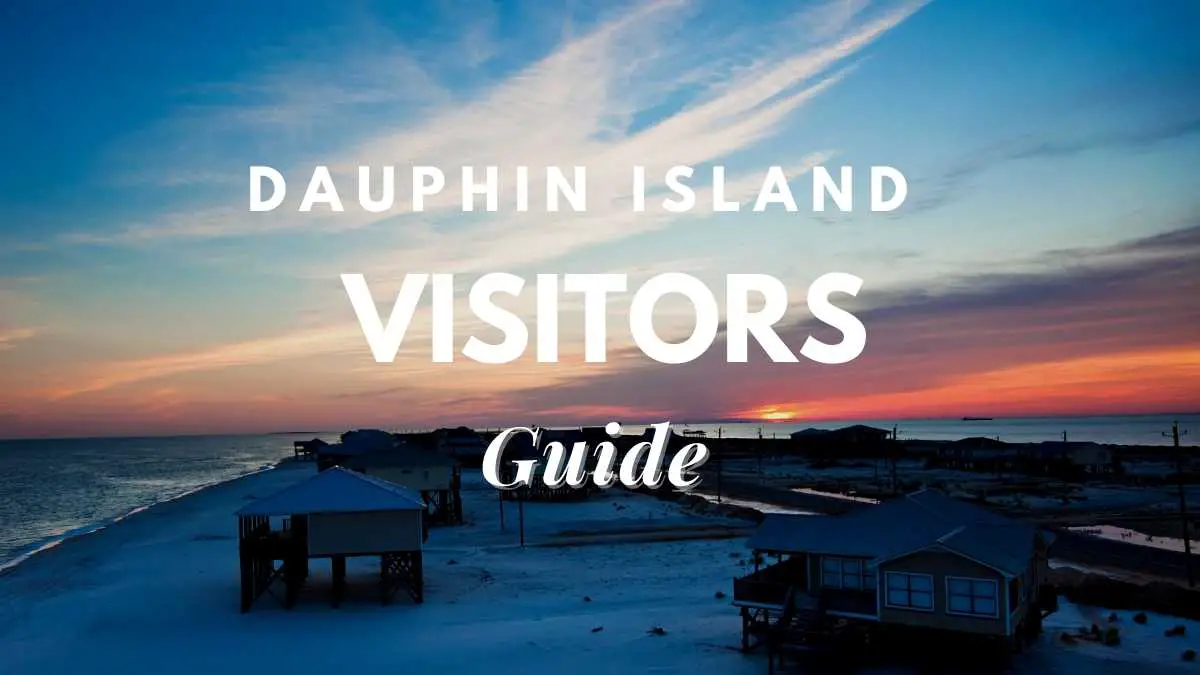 Where is Dauphin Island?
Follow I-10 West out of Mobile, Alabama, until you get to the bridge connecting to this island paradise. To get to the vicinity of Fort Gains, you may also take the Mobile Bay Ferry from Fort Morgan and the Gulf Shores region.
Read: Is Traveling A Hobby? The Ultimate Guide To An Exciting Way Of Life Learn about the Downsides Of Traveling As A Hobby

On Dauphin Island, is a vehicle necessary?
To make things simpler, we advise bringing a car (or a bike) with you while you're on the island. Despite being a tiny island that can be reached by foot or bicycle in most cases, it is 14 miles long. It's so much simpler to have a car only to drive to the island! The Mobile Bay Ferry or a car may be used to get reach the island by visitors.
Visiting Dauphin Island
This Gulf Coast Island, which has its main settlement on a small barrier island south of Mobile Bay, has stunning white sand beaches and a laid-back atmosphere, making it a simple and enjoyable weekend getaway.
The east end of the island is home to Fort Gains, the Estuarium and Dauphin Island Sea Lab, East End Beach, and the Audubon Bird Sanctuary. You may easily spend a day touring this side of the island by walking from one location to another.
1. Fort Gaines
The ideal location for a couple hours of outdoor exploration and tourism is Fort Gaines. Built in 1821, the fort functioned as an outpost during the American Civil War. On the National Register of Historic Places, it is recognized. On foot, one may tour the fort. Views of the Gulf are available both inside and outdoors for visitors to enjoy. East End Beach and the ocean are both nearby Fort Gains.
2. The Estuarium and the Sea Lab at Dauphin Island
The Estuarium and Sea Lab are situated on the grounds just north of Fort Gaines. This institution, as its name suggests, is a location where you may learn about aquatic ecosystems and marine creatures. Visitors may see and learn about the living species that often exist in the region, as well as their traits, habits, and habitats. Making the Estuarium a part of your day trip journey is simple enough.
On Dauphin Island, this is a great location to check out and is open all year. With over 100 different types of aquatic life, it contains 31 aquariums. It serves as a nature center where visitors may study the regional ecosystems.
3. Beach East End
Take a stroll to the East End Beach after touring Fort Gaines and the Estuarium. The day would be ideal for relaxing on this white sand beach. The Audubon Bird Sanctuary and the seashore are also nearby. The pathways leading to the bird sanctuary go from the sandy beaches into the marsh and coastal woodland. Between May and November, keep a look out for sea turtles that are laying their eggs!
4. Audubon Bird Refuge
People who wish to spend more time outside near Dauphin Island can visit the Audubon Bird Sanctuary. This sanctuary is renowned for its large collection of birds and seeing live wild creatures up close is one of its main draws (we saw turtles and lots of birds). Beautiful boardwalks and paths are also present. Perhaps you'll even see an alligator or an Osprey that is nesting! On Dauphin Island, spring is one of the greatest seasons for bird viewing.
The middle to western portions of the island are home to Dauphin Beach, the Goat Tree Reserve, Shell Mound Park, and the West End Beach. It is simple to go by car from one location to another and spend a day touring these regions. So, prepare your vehicle for a trip to the beach and a short hike!
5. Dauphin Beach
One of the island's busiest beaches is Dauphin Beach. It is situated at the southernmost point of the island and provides a lovely, long length of white sand that gradually widens and begins to gently bend into green seas. Sandbars assist to calm the water, making it ideal for swimming. Boardwalks and a lengthy pier that leads beachgoers out to the start of the amazing white sand beach are used to guide people to the beach. Dogs are welcome at Dauphin Beach too!
After enjoying yourself at the beach, be sure to visit the neighborhood. A few stores and eateries are available to keep you occupied. You could even wish to go farther west in order to stroll along West End Beach, or you might wait until dusk to do so (more on the West End Beach below).
6. Goat Tree Reserve
You should go to the Goat Tree Reserve if you like the outdoors. On the island, the largest living oak trees may be found here. According to local legend, goats formerly climbed these towering trees to flee from alligators, giving rise to the moniker "Goat Trees."
7. Park Shell Mound
You may easily spend an hour wandering about, taking pictures, and resting at Shell Mound Park. This park has a few fascinating historical monuments, such as sizable shell mounds constructed by the previous inhabitants of this area years ago. You should also bring your car or bicycle here.
8. Occidental Beach
Another excellent area to spend time on Dauphin Island is West End Beach, which is a well-known public beach. This beach's sand surpasses those of other beaches in quality. Beautiful sunsets are another feature of this specific beach and region of the island. Every evening, photographers swarm to this location to capture images of the sky's shifting hues just over the ocean. If you're traveling with your closest buddy, pets are not permitted at West End Beach.
9. Gulf Coast
Explore more of the Gulf Shores beaches after exploring Fort Morgan, and then have lunch with seafood at one of the many excellent restaurants nearby. Gulf Shores is referred to as the Southern Riviera! Along with the kilometers of beaches at Gulf State Park, there are a lot of things to see and do.
Final words
Dauphin Island is a natural marvel and one of Alabama's best-kept secrets! Using an overwater concrete bridge, the island is linked to the mainland. It has the impression of being an oasis in the center of the bay since it is completely surrounded by water. If you don't pause at all the lovely sites to stop and take in the views of the Gulf, you can drive around the whole island of Dauphin in about an hour. You can follow this Dauphin island visitors guide and learn how to get the most out of your journey.