Paddlers of all ability levels will find hundreds of excellent ocean, lake, and river kayaking paths in Massachusetts. It's difficult to know where to begin with so many possibilities! We've produced a list of the top locations to kayak in Massachusetts, in no particular order, to help you decide which one to choose for your next kayaking excursion. Continue reading to learn about launch locations, equipment rentals, and things to consider before you begin paddling. Continue to read and we will share the best places to kayak Massachusetts.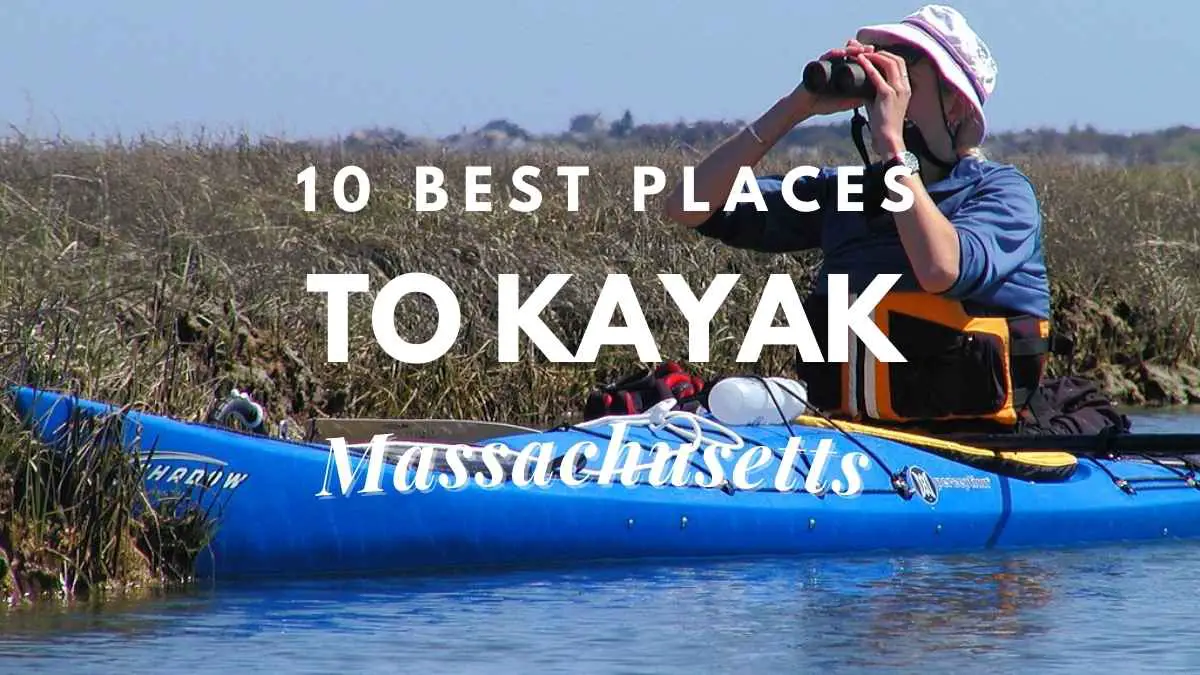 1. Massachusetts Plum Island
Plum Island is the first on our list, and it's a terrific kayaking path for novices eager to get their feet wet in the watersports sector. Plum Island, located near Newbury, is a favorite tourist location for beach barbecues, hiking, and kayaking (of course).
Plum Island is less than an hour from Boston, so you can go for a day vacation and still be home for supper. The kayaking path has access to both marshes and open water, providing a more varied experience than other Massachusetts routes.
Kayaking across the whole island is a 19-mile journey with a seemingly endless number of launch places. You may select practically any location along the coast and be certain that there will be a place to cast off nearby. Consider contacting Plum Island Kayak if you need to hire a kayak for the trip. They can provide you with equipment as well as a trained guide to assist you in navigating the island.
Read: Is Traveling A Hobby? The Ultimate Guide To An Exciting Way Of Life Learn about the Downsides Of Traveling As A Hobby

2. Great Island Trail, Cape Cod
The Great Island Trail around Cape Cod is a wonderful excursion and is considered one of the top kayaking paths in all of New England. It has a beautiful wildlife sanctuary, breathtaking views, and tough sea kayaking.
If you want to start your kayaking adventure on a river, the Bass River is a good place to start. There are several launch places along the river's bank and getting to other parts of the island from there is simple. However, there are far too many launch places for an ocean kayaking journey to include here. Nearly every spot along the coast with beach access is kayak friendly, so you can paddle out into the water practically everywhere. Just keep in mind that the challenge level is greater out on the ocean, so be prepared for rough seas and map out your path ahead of time.
To rent equipment and receive an overview of all the alternatives available depending on your ability level, contact Cape Marsh Kayaking or one of the other kayak tour providers in the region.
3. Ashland Reservoir in Massachusetts
The Ashland Reservoir Trail is an excellent alternative if you're searching for a relaxing and simple kayaking path. It has an uncluttered canal with several launch places around the reservoir, as well as calm waters and easy navigation.
The Ashland Reservoir Trail has a more natural feel than many other comparable venues since the launch spots from the verdant coastline are entirely undeveloped. There's also ample of parking, which is unusual for such a close-by kayaking spot.
You may select from a variety of rental equipment businesses in the vicinity since the Ashland Reservoir is close to Worcester and Boston. Boating in Boston is one of the best, and it's situated near Hopkinton State Park, which is also a great kayaking spot.
4. Swift River
Looking for a weekend trip that includes kayaking and fishing? Near Belchertown, have a look at the Swift River. After a long day of kayaking, the river is brimming with trout and other indigenous species, ideal for grilling.
Paddling downstream leads to some fascinating marshlands just before the Bondsville dam. Paddling upstream against the low river, on the other hand, allows you to see more species and experience some of the area's primitive lifestyle. Simply drive down Cold Spring Road in Belchertown until you reach the Swift Boat Launch to get started. There are kayak rentals and guides available to assist you in navigating the winding river.
5. Tully Lake
Tully Lake, a 1300-acre reservoir in Royalton, is a popular kayaking destination in Western Massachusetts. There are islands with pine trees, swimmable beaches, and amazing fauna. Tully Lake has just one primary launch site, which is situated just beyond the huge dam. If you choose, you may launch from almost any location along the beach. The seas are mostly calm all year, but if the wind kicks up, you may encounter some cross-current. Billy Goat Boats, situated at the Orange Community Boathouse, rents kayaks to anybody who needs one.
6. Barton Cove
Barton Cove is a reservoir on the Connecticut River that was created by the Great Falls project. The seas here are usually calm, but depending on the weather, they may turn turbulent. Plan your visit during the summer months when rain is less common.
Barton Cove is well-known among nature lovers and bird watchers for its spectacular bald eagle and mute swan performances. Plus, some individuals have reported seeing otters! To locate the launch spot for Barton Cove, go to Gill. In that region, you'll find the primary launch ramp off Route 2. First light's Barton Cove Campground is located there, and it is a power business that leases you everything you need to get started paddling.
7. Berkshire Hills
The Deerfield River in the Berkshire Hills is a popular destination for many skilled paddlers in Massachusetts. The rapids vary in intensity from Class I to III, giving a rewarding challenge for both novice and expert white water kayakers.
The Deerfield River is seldom crowded and stands in the center of lush woodland and green shorelines, making for a magnificent picture. Despite the fact that you'll most likely be racing down the rapids, you could see a bald eagle, blue herons, and other local species.
The Deerfield River is serviced by a few rental firms, but Zoar Outdoor has the most skilled operators and provides trips for all levels of expertise. If you're a seasoned kayaker, you may learn the ropes of white water kayaking or paddle more challenging stretches of the river.
8. Loop of the Nashua River
The Nashua River and Oxbow Trail Loop, with two miles of spectacular natural river kayaking, should be your next kayaking destination. It's in the heart of a nature preserve, with snapping and painted turtles, blue herons, bald eagles, and a diverse range of fish, giving it a lot more life than most.
The Nashua River is a simple kayaking course with calm waters and Class I rapids that are easily navigated. If you're going on a vacation with friends or family, there are picnic sites where you can dine together after a few hours of kayaking.
The Still River Depot Road/Oxbow National Wildlife Refuge launch near Harvard is a good place to start. It offers the most parking and a number of eateries nearby where you can refuel if you need to unwind after your journey. Nashoba Paddler is a good place to contact if you need to hire a kayak. They can also arrange for a guide if you want one, although the river is simple enough that we don't believe it is required. If you want to go fishing but don't have a license, a licensed tour operator may be an excellent option.
9. Buffumville Lake Loop
The Buffumville Lake Loop may be precisely what you're searching for if you're seeking for a more modest challenge. The Buffumville Lake, with its 500 acres of land, is a little more difficult to explore than the others on our list. There are various shallow sections, making judging where your kayak can and cannot go more difficult.
Under Oxford Road, there is a concrete boat launch where you may begin paddling either direction around the lake. It's well-developed, and park rangers are on hand to provide you with a map and navigational suggestions if necessary.
It's important to note that there are no kayak rental services around Buffumville Lake. Lakeview Marine, in Webster, is the nearest. They'll have all of the kayaking gear you'll need, but you may need a roof storage rack to get to the lake.
10. Fort River, Massachusetts
Fort River, the last kayaking site on our list, may be too difficult for novices to tackle. Kayakers with experience enjoy maneuvering through fallen trees, boulders, and other debris that litter the path, as well as the swift current. If you're not cautious, the river may carry you farther downstream than you want to go.
We've added Fort River as one of the most elite locales. Kayaking is only possible in the spring when the water levels are high enough to paddle. The landscape and intensity of the stream, on the other hand, make it one of the top kayaking experiences in Massachusetts, so you should absolutely go. To access the Fort River, go to Southeast Street in Amherst, where there is a bridge that spans the river. Valley Paddler in Easthampton can help you with your equipment rental.
Final words
Keep these places in mind and go ahead with your kayaking adventures. You will never regret about the kayaking experiences that you can get in the rivers located within Massachusetts.