Shawnee National Forest, known for its spectacular beauty, is a popular tourist destination due to its abundance of activities. And, since the weather is so pleasant, you can do them almost any time of year. We've compiled a list of our favorites activities to do when visiting one of our favorite's national forests. Before we begin, a word of caution: you may be in Bigfoot territory, so proceed with caution!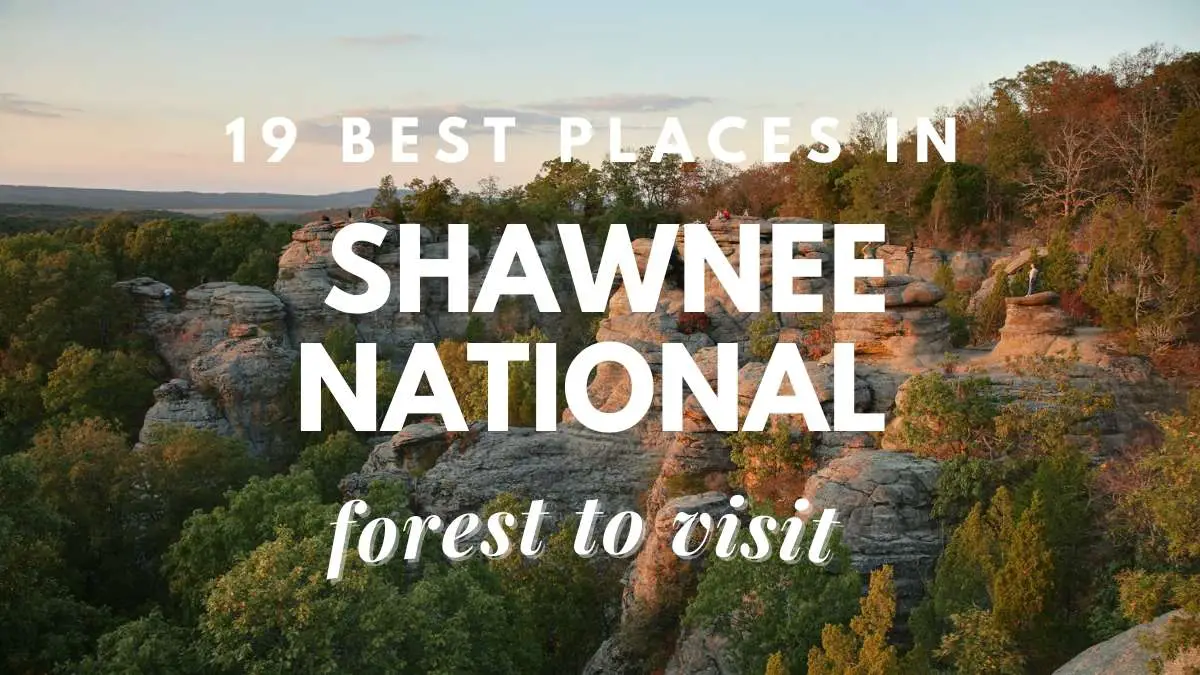 What is the location of Shawnee National Forest?
This magnificent national forest stretches throughout Illinois' southernmost region.
Missouri borders Kentucky on the west, just over the Mississippi River, and Kentucky on the east, across the Ohio River.
The Shawnee National Forest is fewer than 30 miles from both Carbondale and Harrisburg.
Paducah, Kentucky, is 18 miles distant, while Cape Girardeau, Missouri, is just 12 miles away.
Read: Is Traveling A Hobby? The Ultimate Guide To An Exciting Way Of Life Learn about the Downsides Of Traveling As A Hobby

What Are the Benefits of Visiting Shawnee National Forest?
Between two huge rivers, you may explore 289,000 acres of different forest regions, which contain some magnificent rock formations.
The location has a long history, and you may see relics from many ages up close.
On the ocean and on land, there are many leisure activities, including more than 400 km of hiking paths.
You may even walk from river to river on a trail that spans for miles.
Shawnee's vast geography has lush trees, rolling hills, fragile wetlands, and scenic rivers, lakes, and streams.
You may also go along two other picturesque byways to get a sense of the varied scenery.
While the Shawnee National Forest has a lonely vibe in many areas, it is close to a number of charming towns and settlements.
It's at a fantastic position, at the crossroads of the Midwest and the South.
You'll have easy access to many interstate routes as well as a wide range of lodging options.
Read: Is There Swimming At Shawnee National Forest?Learn about the best place to swim
When Should You Visit Shawnee National Forest?
Shawnee National Forest may be visited practically any time of year due to its temperate climate.
Fall is a good time to come since it's neither too hot nor too cold, but it might get chilly at night.
Additionally, when the leaves begin to change colors, the woodland becomes even more gorgeous.
You may also get a better picture of the beautiful cliffs and rock formations with less leaves on the trees.
Are you ready to take a tour of this magnificent location?
Prepare your camera as we take you on a tour of the Shawnee National Forest's most popular sites.
1. Take a picture with Sasquatch.
Sasquatch is a female with the moniker Sassy.
She will stay for a picture, unlike the real-life equivalents that some people think exist in these same forests.
Getting your picture taken with Sassy the Sasquatch is considered a rite of passage in these areas.
She'll be waiting patiently along the road that connects one of the forest's major attractions to another.
Read: [One Day] In Sequoia National Park Travel GuideLearn about the General Sherman Tree
2. Walk around the rim of a cliff
The Rim Rock Recreational Trail in the Shawnee National Forest leads you over and around amazing rock formations that are comparable to those seen in Utah's slot canyons.
The sandstone pillars in this rendition in southern Illinois are surrounded by thick greenery and wildflowers.
The bottom track has greater inclines than the other.
3. Pay a visit to the Garden of the Gods.
The forest's most popular feature, and for good cause, are these unusual sandstone formations.
The Garden of the Gods is the picturesque focal point of this popular hiking and camping destination.
The Garden of the Gods has 5.5 miles of paths encircling it, as well as a quarter-mile observation route.
A Nashville writer who came recently provided us with our finest description of these unique outcroppings.
The Nashville Scene's Steven Hale observed, "It appears like a giant-sized child was playing with stones and left them heaped and scattered all over the forest."
Read: What Is The Best Time To Visit Capitol Reef National Park?Learn about Visiting Capitol Reef National Park in summer
4. Take a tour of the Iron Furnace
In the Shawnee National Forest, go to the Iron Furnace historic site.
This fascinating rock creation, made of local limestone slabs, is 32 feet tall.
It was constructed in 1837 to produce iron, which was later used in Civil War armaments.
It used to burn charcoal at temperatures of approximately 3,000 degrees back in the day.
Don't worry; it's been sitting idle since 1887, so it's got plenty of time to chill.
A young lady explores one of Shawnee National Forest's numerous caverns.
5. Pay a visit to the American Fluorite Museum in New York City.
Do you have any idea what fluorite is? It's the state mineral of Illinois, as well as a naturally occuring crystal used in steelmaking, ceramics, and fluoride manufacturing.
The American Fluorite Museum can teach you a lot more about it.
This was formerly the country's biggest fluorspar mining facility, and it was situated on Main Street in Rosiclare.
This is a one-of-a-kind attraction that you won't find anyplace else.
Read: Lassen Volcanic National Park Itinerary ( Printable Multiple Day Itinerary ) Learn about turtle exploration at Sundial Bridge
6. Take advantage of Pounds Hollow's water activities.
Pounds Hollow Lake is a 25-acre lake where you can see towering hills from the water.
You may swim, kayak, or canoe, or fish for catfish, bass, or bream using a fishing rod and reel.
This rustic day-use area is also a great place to have a picnic.
If you're lucky, you may be able to get a space in the beach pavilion.
On vacation, a woman enjoys kayaking along the river.
7. Enter the Ox-Lot Cave
Visit Ox-Lot Cave, which is located in the same region as Karbers Ridge.
It won't be simple to climb the granite stairs to see this rock shelter.
It's possible that navigating through Fat Man's Misery will be difficult.
This is the term given to the cave's tiny tunnel.
Read: Is Zion National Park Pet Friendly? (Our Findings)Learn about the Rules to adhere when you are taking your pets
8. Take a Beautiful Drive
Your windshield allows you to view a number of things.
There are two beautiful roads in Shawnee National Forest.
One of them runs through the Hidden Springs District on the east side of the forest.
The Mississippi Bluffs District, on the other hand, is located to the west.
From cypress swamps to rich farmland to limestone cliffs, the route offers breathtaking views.
9. Pay a visit to Cave-In-Rock State Park.
It's not difficult to deduce how this location gained its name, and a quick check confirms it.
Thousands of years ago, water carved a natural cavern in a big rock on the Ohio River's banks.
This historic site served as a rest stop for pioneers travelling west as well as a hideout for pirates and criminals.
Explore this 200-acre state park by taking in the vista from the craggy cliff and walking the meandering riverside pathways.
One of the numerous rivers in the region carved a cave out of the rock.
Read: Congaree National Park ItineraryLearn about the massive Loblolly Pines trees at the park
10. Take a trip on the Cave-In-Rock Ferry.
While visiting Shawnee National Forest, take the chance to float across to Kentucky.
You may get a better view of Cave-In-Rock by taking a ferry boat across the Ohio River and back.
It might also be a once-in-a-lifetime experience for you and the kids.
The free boat service operates every 15 minutes, seven days a week.
11. Take a hike to Burden Falls or Jackson Falls.
At Jackson or Burden Falls, unwind to the calming sound of flowing water.
Many individuals in the region love rock climbing, bouldering, and rappelling.
Burden Falls is closer to Eddyville than Jackson Falls, which is located near Ozark.
The distance to the falls is rather short on both of these moderate walks.
Make Shawnee National Forest a part of your vacation plans.
Are you seeking for a variety of outdoor activities?
Take advantage of what some refer to as a national treasure by travelling to southern Illinois.
We could have written a list twice as long since there is so much to do in and around this town.
What is your favorites Shawnee National Forest activities?
Read: Innes National Park Itinerary ( Planned Days And Printable Itinerary ) Learn about Enjoying your meals at Yorke Peninsula's Watsacowie Brewing
12. Lake Glendale
Lake Glendale is one of the most popular Shawnee National Forest camping choices owing to its central position and huge number of sites.
It's ideal for families looking to enjoy the lake and the region's surrounding trails.
This campsite, which has 34 electric sites and 59 non-electric sites, is spacious enough to accommodate families and large groups interested in exploring the Shawnee National Forest.
This well-developed campsite has a boat ramp, a popular swimming beach, and various hiking routes that round the lake.
Reservations are available via the USDA website.
13. Cadiz Camp
This campsite, which is located on the old site of a Civilian Conservation Corps labor camp, is unusual in that it provides an off-the-beaten-path alternative for campers looking to avoid the usual summer throng.
This eight-site campsite, which is open all year, offers a quiet yet convenient way to get to Shawnee National Forest camping.
The campsite supplies water and bathrooms to all guests, and sites are available on a first-come, first-served basis.
Read: Best Time To Visit Katmai National Park ( Plus Reasons )Learn about Where You Can Go to See the Bears
14. Recreation Area in the Garden of the Gods
The Garden of the Gods Recreation Area, unlike its famed Colorado cousin, is defined by an exceptional quantity of natural beauty, the majority of which is made up of magnificent sandstone rock formations scattered across the area.
Visitors to the Garden of the Gods Recreation Region may camp adjacent to the interpretive center and a quarter-mile observation walk with views of the surrounding area.
Campsites may accommodate up to eight people and two cars and are available on a first-come, first-served basis.
The campsite is open every day of the year.
There is a parking area at the Indian Point Trailhead for hikers, where overnight parking is allowed all year.
15. Bell Smith Springs Recreation Area
The Bell Smith Springs Recreation Area, a hiker's paradise, is as family-friendly as Shawnee National Forest camping gets.
The campground is modest, with just 21 borderline rustic campsites available on a first-come, first-served basis, but there are many of advantages to camping here: less visitors, superb trails, and a true wilderness experience defined by summer flower blooms and unusual rock formations.
16. Pounds Hollow Recreation Area
The Pine Ridge Campground is located in Pounds Hollow Recreation Area and is open from March 15 to December 15.
It has 13 electric sites and 22 non-electric sites that are provided on a first-come, first-served basis.
During your Shawnee National Forest camping trip, the surrounding 25-acre Pound Hollow Lake gives countless chances for enjoyment, including fishing, boating, and swimming.
Several of the original sandstone foundations may still be located along the water's edge at another campsite that stands on a former Civilian Conservation Corps site.
While the lake does not have any public boat ramps, it does have various bathing areas and a fishing pier that are available to the public from March to December.
17. Tower Rock Campground
Shawnee National Forest camping alternatives, is situated on the banks of the Ohio River, providing unmatched views and access to fishing and boating activities across the Shawnee area.
Tower Rock provides free scattered camping due to its remote position, which means that guests may camp anywhere they like as long as they stay within the Tower Rock Campground's limits.
Anglers may get out into the river for some kayak fishing fun through a short quarter-mile route that runs from the campsite to the boat launch.
Though bathrooms are available on-site, visitors should bring their own food and drink.
Read: Great Basin National Park Stargazing (What To Expect) Learn about Where in Great Basin National Park Can You Go Stargazing?
18. A picnic table from Johnson Creek Recreation Area
Johnson Creek Recreation Area, located on the banks of Kinkaid Lake, is a popular destination for outdoor enthusiasts looking for a well-rounded Shawnee National Forest camping experience.
Johnson Creek is the perfect destination for families and groups with a variety of outdoor interests, since it offers hiking, kayaking, bicycling, and even horseback riding.
The campground is available from March 15 to December 15 and has 20 first-come, first-served campsites.
A boat ramp, picnic tables, bathrooms, and drinking water are all available at the campsite.
The lake is great for fishing and hosts a kid's fishing competition in May.
19. Pine Hills Campground
Pine Hills Campground is a Shawnee National Forest camping location with 13 campsites that offers plenty of opportunities to get away from the crowds throughout the camping season.
Pine Hills' position in the Shawnee National Forest is difficult to surpass, since it is adjacent to both the LaRue Swamp and the Mississippi River floodplain.
Read: Visiting North Cascades National Park (What You Should Know)Learn about Where to Camp in the North Cascades National Park
Final words
Now you are aware about the best places to visit in the Shawnee National Forest. Keep these locations in mind and go ahead with getting the best possible experiences that you can probably have.