Martha's Vineyard, an idyllic destination set off the coast of Massachusetts, boasts some of the most spectacular beaches on the East Coast. This oceanic haven features a blend of serene private coves and bustling public shores, each bringing its own distinctive flavor. Exploring them is an astonishing adventure, awash with freckled sand, rolling surf, and captivating beach activities. Welcome to a world of sunlit landscapes at Joseph Sylvia State Beach, Menemsha Public Beach, and the famed South Beach—where every grain of sand tells a tale. Add to this a plethora of entertainment options, from water sports and local excursions to nightlife and dining. Prepare to navigate Martha's Vineyard with practical tips that will make your beach experience clean, safe, and unforgettable.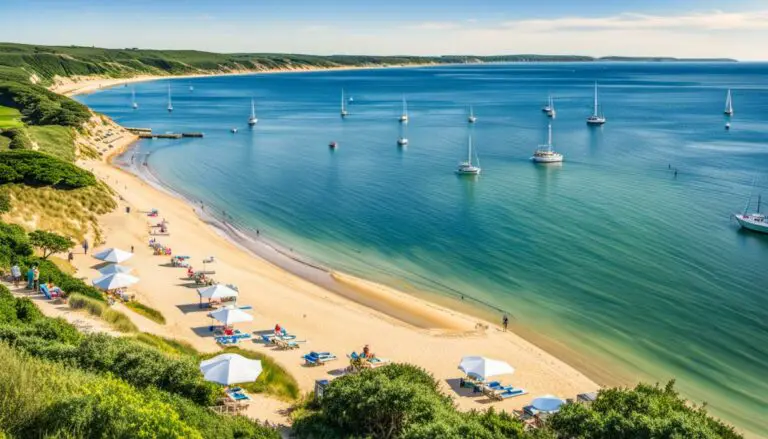 The Best Beaches on Martha's Vineyard
Joseph Sylvia State Beach: The Family-Friendly Choice
Located between Oak Bluffs and Edgartown, Joseph Sylvia State Beach is a popular option for families due to its gentle waves and sandy shoreline. This two-mile long beach also features free parking and easy access, which distinguishes it from many other island beaches that require payment or residential permits. The beach is quite clean, and hours of low tide leave behind shallow pools ideal for younger children to explore. Considered safe, its sandy bottom slopes gradually into the water, presenting no sudden drop-offs.
The nearby clam snack bar ensures that you are never too far away from a quick, delicious meal. As for amenities, Joseph Sylvia State Beach has public restrooms and is wheelchair accessible. Keep in mind, though, that lifeguards are stationed only during the summer season.
Menemsha Public Beach: Spectacular Sunsets and Fresh Seafood
A quaint charm emanates from Menemsha Public Beach, located in the small fishing village of Menemsha in the town of Chilmark. This beach, known for its spectacular sunset views, is a haven for people who love tranquil, scenic landscapes. Its calm, warm waters also make it great for swims or lounging by the shore.
Keep an eye out for the fishing boats that come in and out of the harbour – Menemsha is, after all, a functioning fishing village. Adjacent to the beach, you can find fresh seafood markets and eateries, offering lip-smacking lobsters and clam chowder. Parking is limited and fills up quickly, so it's advised to arrive early in the day. Public restrooms and food options are available nearby.
South Beach (Katama Beach): A Haven for Adventure and Thrill
If you're on the lookout for an adrenaline-filled beach experience, look no further than South Beach, also known as Katama Beach, in Edgartown. With its reputation as one of the top Atlantic Coast beaches, it offers the perfect playground for those eager to ride its massive waves and long shoreline – whether it be surfing, body boarding, or other thrilling water sports activities.
Katama Beach is divided into two segments: the monitored left section with a calmer undercurrent and stationed lifeguards, and the right section colloquially referred to as "Little Beach," where swimmers need to be extra cautious due to more forceful tides. The beach's exposed location often results in powerful winds – a condition favored by wind surfers.
Before heading to South Beach, bear in mind that while parking is free, spaces can be limited due to the high influx of beachgoers in the summertime. There are restrooms and food vendors on site but there aren't any shade or shelter provisions, so be sure to bring your own sun cover.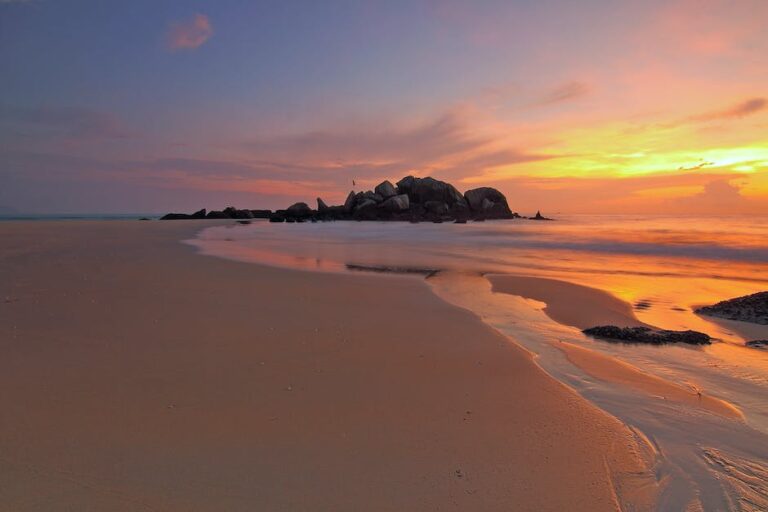 Activities and Entertainment on Martha's Vineyard Beaches
The Joy of Water Sports on Martha's Vineyard Beaches
A trip to Martha's Vineyard isn't solely about tranquil relaxation. In fact, the islands invite you to immerse yourself in a variety of energetic and active water sports. Regardless of the intensity you're after – be it braving the Atlantic waves on a surfboard or stand-up paddle board, or perhaps kayaking or canoeing in the serene settings along the northern shoreline – the islands have it all. For those with a flair for sailing, the opportunity to charter a boat and explore the island's stunning coastline is a must, whether you're an absolute beginner or a seasoned sailor. Rental providers cater to all preferences, offering a spectrum of watercrafts, from solo kayaks to larger paddle boards, sailboats, and motorboats.
Beach Festivals on Martha's Vineyard
Mid-summer sees Martha's Vineyard come alive with several beach festivals. The most popular is the annual Martha's Vineyard Film Festival which is a treat for movie lovers with numerous films being screened in unique, beachside locations. Concerts at the Beach with local and nationally recognized artists are a regular feature during the summers and draw large crowds.
Family-Friendly Activities on Martha's Vineyard Beaches
Martha's Vineyard boasts numerous family-friendly activities that are perfect for kids and adults alike. The annual Sandcastle Contest at South Beach fosters creativity and teamwork as families work together to construct intricate structures from sand. The Flying Horses Carousel in Oak Bluffs, the oldest platform carousel in the country, is a hit with the younger visitors. Nature walks and bird-watching excursions are also available, offering families a chance to explore and learn about the local wildlife.
Local Flora and Fauna Excursions
For those interested in nature, guided nature tours offer a chance to learn about the island's diverse ecology, from the coastal sand dunes to the inland forests. The Felix Neck Wildlife Sanctuary is a popular destination for birdwatchers, while the Polly Hill Arboretum houses an extraordinary collection of trees and shrubs. For those interested in marine life, the Martha's Vineyard Museum organizes regular talks and demonstrations introducing the local marine ecosystem.
Experience the Nightlife and Dine by the Shoreline on Martha's Vineyard
Martha's Vineyard beaches don't come alive just in the daytime. From dusk until dawn, they are filled with the exciting hum of nightlife, featuring open-air beach bars, lively clubs, and eateries offering a spectrum of culinary delights. The local dining options encompass rustic seafood shacks presenting the day's fresh catch, all the way to sophisticated restaurants serving gourmet cuisine. With live music as a common offering across many of these venues, often delivered by local bands, the shores of Martha's Vineyard pulse with rhythm and energy. Oak Bluffs, in particular, shines as a mecca for night owls, with a myriad of bars and clubs, catering to tastes from relaxed acoustic tunes to exhilarating dance parties.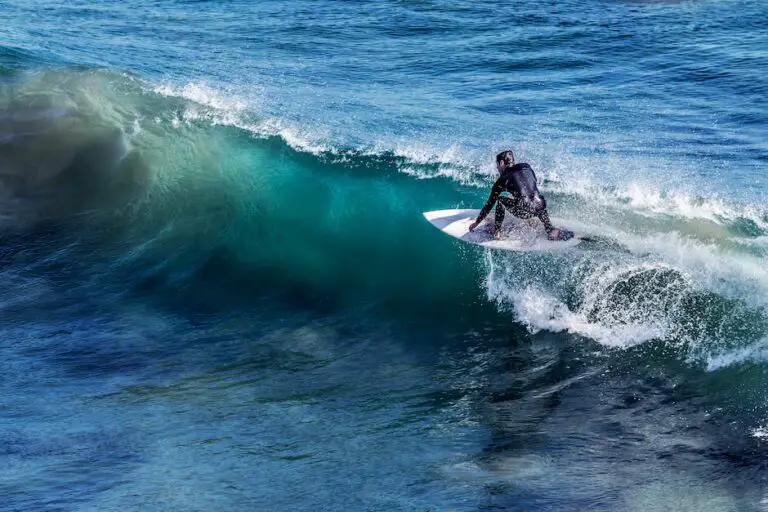 Practical Information for Visiting Beaches on Martha's Vineyard
Smooth Navigating: Transportation Options on Martha's Vineyard
Foremost on your checklist when orchestrating a trip to the stunning beaches of Martha's Vineyard should be understanding your transport options. The island has a variety of transportation services to fit different traveler needs. Cycling is a preferred choice for many visitors, with numerous bike rental shops offering competitive rates. Moreover, the Martha's Vineyard Transit Authority (VTA) offers efficient public transportation across the island, including convenient stops at several favorite beach destinations.
Martha's Vineyard Beaches: Parking Information
Parking availability at the various beaches of Martha's Vineyard depends largely on the specific beach and time of year. Some beaches, like Menemsha Public Beach, have free public parking, while others such as Lambert's Cove Beach and Lucy Vincent Beach might require residential stickers for parking between June 15th and September 15th. Contacting the Town Hall in Vineyard Haven, Chilmark, or Edgartown can provide definitive information about parking regulations for their respective beaches during your visit.
Martha's Vineyard Beach Rules and Regulations
The local rules and regulations for beaches on Martha's Vineyard generally prohibit glass containers, open alcohol, and fires. Pets are generally not allowed on beaches from April 1st to September 15th although regulations may vary by beach. Specific regulations may also apply to beach activities such as surfing, fishing or collecting. Check with local authorities for the specific rules and regulations pertaining to the beach you plan to visit.
Safety Tips for Beaches on Martha's Vineyard
It is important to prioritize safety during a beach visit. Always observe posted signs about water conditions and potential hazards. Some beaches have lifeguards on duty during the summer months but not all, so keep that in mind if you have young children or are a novice swimmer. Use sunscreen, drink plenty of water to stay hydrated and be mindful of native wildlife.
Beach Facilities on Martha's Vineyard
Beaches on Martha's Vineyard vary in terms of facilities. Some beaches, like South Beach in Edgartown and Menemsha Public Beach, offer restrooms and picnic areas. Others, like Lucy Vincent Beach, have more limited facilities. Beaches located within towns often have more facilities and amenities such as restaurants and shops within walking distance while those located in more rural areas of the island might require you to bring your own food and beverages.
Other Essential Information
With beaches spanning from Aquinnah to Oak Bluffs, planning your visit according to your needs could enhance your experience. If you prefer calm waters, Vineyard Sound beaches are generally more placid compared to the Atlantic Ocean beaches. If you're interested in collecting, the south-facing Atlantic beaches are often better for beachcombing. No matter where you decide to spend your beach time on Martha's Vineyard, the emphasis is on enjoying the natural beauty and respecting the environment.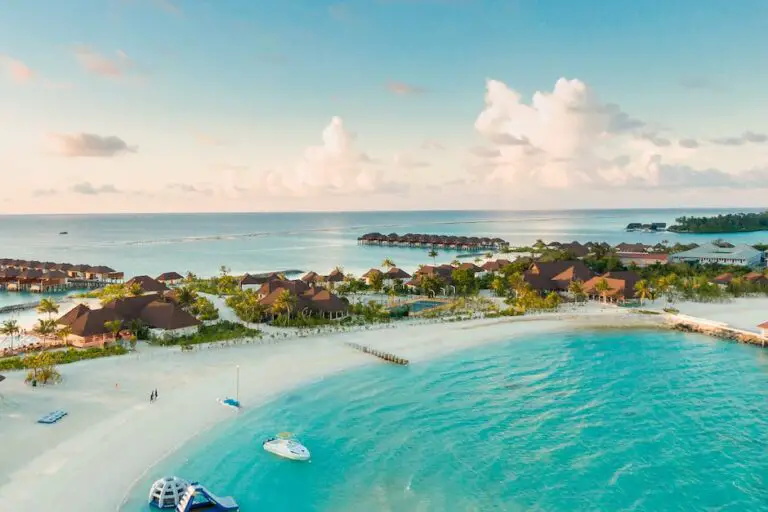 Whether you're yearning for a peaceful retreat or seeking thrilling adventures, the beaches on Martha's Vineyard are the perfect backdrop for an unforgettable seashore escape. You'll fall in love with the distinctive charm, character, and variety that these beaches offer. As a well-prepared traveler, making the most of the practical tips laid out here, you can embrace everything from the laid-back vibe of Joseph Sylvia State Beach, the quaint beauty of Menemsha Public Beach, or the vibrant life bustling on South Beach. Indulge in a world of experiences that go beyond the ordinary – capture the essence of water sports, traverse through coastal wildlife, and dive into a wealth of food and cultural experiences on Martha's Vineyard. So feel the sand in your toes, listen to the rhythm of the surf, and surrender yourself to the uncharted magic that this enchanting island offers.