When you read about Hudson valley swimming holes, you will come across the need to go there and explore the great experience that you can secure. However, you should plan your trip before you go to get the best possible experience. That's why we thought of sharing an article with you about the best Hudson valley swimming holes.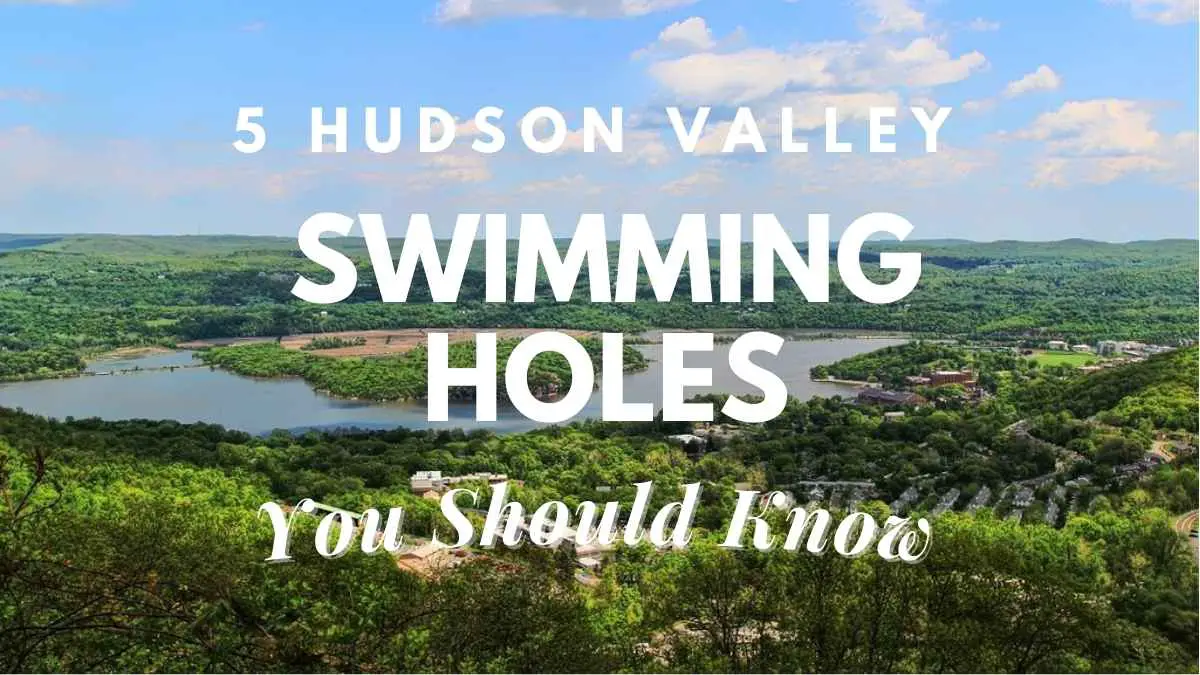 Why should you visit Hudson Valley swimming holes?
You move towards the office door, relieved to be done after a hard day. 5pm-9pm has a world of possibilities: Run? Sort your closet? Make a fancy meal? Nap?
You purposefully push past the double doors and onto the pavement. The heat pursues. Sweat beads form on your skin, and your neat collared shirt adheres to your back in long strips. You instantly notice every pore and the precise size of your underpants. Welcome to the Hudson Valley's first big heat wave of the season. Leaving the cool, air-conditioned confines of your job, house, vehicle, bank, or grocery becomes tough, let alone think about anything besides swimming.
Read: Is Traveling A Hobby? The Ultimate Guide To An Exciting Way Of Life Learn about the Downsides Of Traveling As A Hobby

What are the best swimming holes in Hudson valley?
Here are our top five suggestions for locations to swim in the Hudson Valley this summer. Cool down—you earned it. You can go through the list and you will notice that each swimming hole offers a unique experience to you. Hence, it is up to you to think about securing the best possible experience that you can get when you are at Hudson Valley.
1. Awosting
Lake Awosting is a fantastic choice for those who believe in building up a sweat before swimming. From the Minnewaska State Park Preserve, follow the tough, uphill four-and-a-half mile trails to the lonely mountain lake. Mid-trip refueling on the Blueberry Run Trail.
2. Blue Hole Peekamoose
The Rondout Creek swimming hole is named from the water's crystal-clear cerulean tint. Brave the icy waters of the natural swimming hole and warm up on one of the nearby granite slabs. There are three free camping locations along Peekamoose Road (upper, middle, and lower fields). Enjoy a day by the sea, then a night by the campfire.
3. Park Taconic
The Taconic Region's oldest state park, Copake Falls State Park, provides swimming and rowboat and canoe rentals at Rudd Pond and Copake Falls. Both portions of the state park allow campsites, and there are vast trail systems to explore, including excursions to Bash Bish Falls, Massachusetts' tallest single drop waterfall.
This Hudson Valley state park in northern Dutchess County provides swimming at 64-acre Rudd Pond, as well as canoes and rowboats for hire. It features 15 tent sites and 26 tent platforms for those who wish to stay overnight.
4. Kaaterskill
The two-drop cascade is one of New York's most popular and tallest waterfalls, having been painted by several Hudson River School artists. The Kaaterskill Creek, between Haines Falls and Plainville, has various swimming holes, including a natural pool created by the upper portion of the falls.
5. Belleayre
Beach fun for the whole family at Pine Hill Lake in the summer. It has a diving dock, row and pedal boats, kayaks, and fishing. The beach also provides picnics, horseshoe pits, volleyball, and basketball. In the summer, this state-run ski resort becomes a Hudson Valley destination. Pedal boats, rowboats, and kayaks may be rented by the hour, and there are dedicated places for fishing, volleyball, horseshoes, and basketball. In addition to the diving dock and deep-water lap track, adventurers will enjoy the climbing wall and SUP rentals.
6. Park Clarence Fahnestock
This Hudson Valley park has a sandy beach and a picnic area. Hikers work up a sweat before cooling down with boating, fishing, or swimming. If you become hungry, the snack bar is supplied.
7. Rockland Lake State Park
The pool at Rockland Lake opens during Memorial Day weekend. There's a boat launch and fishing on the lake, a 3.2 mile paved path, six tennis courts, two 18-hole golf courses, and a concession stand.
Tips to keep in mind when you go swimming
Summertime fun in or around water comes with some major concerns. According to the CDC, drowning is the second greatest cause of unintentional death among children under 14. As COVID-19 regulations relax, more families will congregate informally and go to the beach, increasing the risk of unsupervised water exposure for youngsters. Swimming classes help youngsters acquire water safety skills and develop safer behaviors in and around water. Swimming classes are starting around the nation, many with COVID-19 protections. This summer keep your family safe near water with these advice from experts.
Assign a Water Watcher and Keep an Eye on Kids
When near or in water, designate a water watcher. Even if they can swim, keep an eye on youngsters and teenagers playing in or near water. Keeping small children or unskilled swimmers within reach may enable you give aid if required.
Anyone engaging in boating, paddling, or towing water activities should wear a Coast Guard-approved life jacket, regardless of swimming ability. Preschool-aged children (5 years old and younger) should always wear a life jacket. Swimming aids and water toys like water wings, rings, and inflatable water wings are not meant to save lives.
Swimming lessons minimize the risk of drowning in children by 80%. The USA Swimming Foundation, with the help of Phillips 66, sponsors the annual Make a Splash Tour. Swimming opens the door to a lifetime of safety, enjoyment, exercise, and even career chances. Even in early sessions, swimmers learn to manage their breath and float. These fundamental abilities are vital for remaining afloat if you can't touch or are too fatigued to swim. Parent-child swim classes give bonding opportunities as well as water safety teaching.
Be aware of posted signs and flags while swimming.
Larger bodies of water like lakes and seas employ ropes, buoys, and flags to indicate safe swimming zones and offer visual signals regarding depth, underwater surfaces, and currents. Teach kids that these signs and markings are there to keep them safe, not to play with or float on.
If the unimaginable happens, learning CPR helps you to intervene quickly, which has been found to improve outcomes for children with submersion injuries. You might save a life while paramedics come. Seconds matter; the faster CPR is begun, the better. Many community and charity organizations provide CPR training. Once you've met the first criteria, maintain your certification updated.
Final words
Nothing says summer like a sandy beach and the chance to swim. Luckily, the Hudson Valley has plenty of lake and river beaches, as well as public pools, where the entire family can enjoy the sun (with sunscreen, of course). For $80, you can receive a year's worth of entry to all New York State parks. While keeping these facts in mind, you may proceed with exploring the Hudson Valley swimming holes. Then you will fall in love with the great overall experience that you can secure in the long run.