Yuma has long maintained a special place in the hearts of the locals, even before European arrival. It was one of the few safe or dependable crossings at the time, situated on the banks of the previously turbulent Colorado River. If you wonder whether "Is Yuma worth visiting?", you may continue to read this article. We will share all details with you on why you should be visiting Yuma.

Originally known as Colorado City, it grew in importance when thousands of opportunist Americans flocked to California through Yuma to take advantage of the 1849 gold rush. A rope ferry carried passing passengers over the river back then. Because the Indians of the region utilized smoke in their rites, the city was called twice, first to Arizona City, then to Yuma, after the Spanish term for smoke. Let's take a look at the greatest things to do in Yuma, Arizona, which is rich in history and surrounded by environment.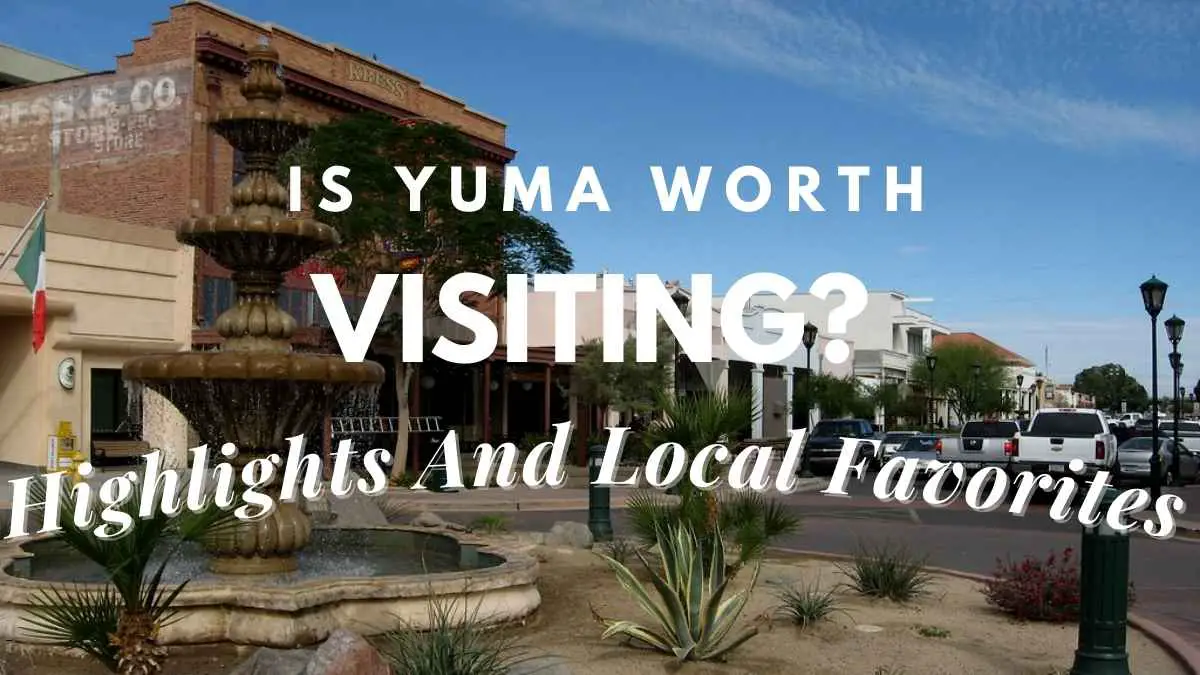 1. The Historic Downtown Area
Because of prior floods, most of the structures here are only from the 1920s, yet history is alive and well with the revitalization of this district. Historic tours are available to learn more about the North End, or just enjoy the shopping, eating, and entertainment options available. Fairs and events are held on a regular basis throughout the region.
Read: Is Traveling A Hobby? The Ultimate Guide To An Exciting Way Of Life Learn about the Downsides Of Traveling As A Hobby

2. Yuma Territorial Prison State Historical Park
Yuma Territorial Prison is currently a state historical park with quite a reputation, despite the fact that it is no longer in use. It was carefully erected on the banks of the Colorado River (by its very own pioneering inmates) as an added safety precaution against regular jailbreaks at the time.
During its 33-year tenure, it housed 3,069 inmates, 111 of whom died while completing their sentences. The prison cemetery stands as a harrowing reminder of life in the Old West. Before you go, don't forget to take your own mugshot using the original mirror, which formed a front and side profile in one snapshot.
Read: Visiting North Cascades National Park (What You Should Know)Learn about Where to Camp in the North Cascades National Park
3. Park at the Gateway
Yuma's Gateway Park, with its toes in the sand and history above, is a great place to spend a hot day with the family. This is the greatest spot to see the historic Ocean to Ocean Bridge, which was built to transport the Ocean to Ocean Highway in the first place.
After 14 years of exclusively pedestrian and bicycle traffic, the bridge was restored and reopened to automobiles in 2002. With its playgrounds and a small beach adjacent to the cool waters of the Colorado River, the park is the ideal spot for a picnic.
Read: Is Port Townsend Worth Visiting?
4. Sanguinetti House Museum and Gardens
The original adobe home of businessman E.F. Sanguinetti, tucked away in the downtown area and surrounded by magnificent gardens, now serves as a museum showcasing his life. Follow Sanguinetti's journey to learn how he arrived in Yuma with little and went on to become a powerful businessman in the town he had grown to love. Learn about his and his family's history in relation to the town's and life at the time.
5. The Colorado River State Historic Park
This park, which includes the ancient U.S. Army Quartermaster Depot and the Yuma Crossing National Heritage Area, offers a blend of full-on history and kid-friendly displays. It has some of Arizona's oldest structures, where you may learn about the history of the Colorado River and its critical crossing at Yuma during the Old West.
You may also study about the Yuma project, which aimed to irrigate a large amount of land in Yuma County and California using dams, canals, siphons, power plants, and drains so that year-round agricultural could be accomplished. Head to Yuma Crossing to learn about the railroad, visit the original pivot point, and board the steam train on exhibit to keep the kids entertained.
6. The Imperial National Wildlife Refuge
Imperial National Wildlife Refuge is a wildlife refuge in Imperial County, California. Mountains, marshes, desert, and river merge in this beautiful, protected area that straddles Yuma and Imperial counties in Arizona and California.
Despite its location in the Sonoran Desert, the bulk of its environment is made up of wetlands, giving it a haven for species and a great site to view nature. Boat tours, fishing, hiking, and camping are all available inside the refuge. For newcomers, a walk along the painted desert route is a must.
7. Castle Dome Mine Museum & Ghost Town
The abandoned city of Castle Dome, once a thriving mining town, is now completely deserted. Over 300 mines have been discovered under its soils, all of which have been examined and treasures hauled up to fill the museums.
You may walk through more than 50 structures, including houses, stores, and a church, each contributing to the town's history in their own unique manner. This western ghost town, frozen in time, preserves a valuable heritage of the Old West for everybody to enjoy.
8. Waylon's Water Park
Waylon's water park is a refreshing visit with lots to do for the whole family, with over 15 slides and activities. The mini golf course alone provides plenty amusement without requiring you to get wet. This location serves to all ages and is the ideal getaway on a hot day, with a decent restaurant on site.
9. Environmental Restoration Area of the East Wetlands
Yuma's East Wetlands, located near Yuma Prison, have recently been restored to their original environment. The elimination of rubbish and filth, as well as the replanting of native species, has resulted in a substantial increase in bird variety and numbers since the restoration started in 2002, making it a superb nature destination.
There are various trails and routes to walk or bike on in the marshes, as well as some good spots to stop and relax while taking in the scenery.
10. Centennial Beach & West Wetlands Park
The West Wetlands Park is just across the river from the East Wetlands. With playgrounds, picnic areas, walking routes, and fishing sites, this is a more recreational area than the Eastern Wetlands. It also includes the lovely Centennial Beach, which was built to commemorate the town's 100th birthday. This is another great site for a picnic and to cool down.
11. The Imperial Sand Dunes National Recreation Area
Imperial Sand Dunes National Recreation Area is a national park in Imperial County, California. These enormous sand dunes, which run over 40 miles and are located 20 miles west of Yuma, are the country's biggest inland dunes.
In the low season, anybody may enjoy the dunes; however, during the off-roading high season, only off-road vehicles are permitted on the dunes, however you can stop for a brief snapshot. Dirt biking, quad biking, and dune buggy riding are all popular activities here. Several films, including Star Wars: Return of the Jedi, have used the breathtaking environment as a backdrop.
12. The World's "Official" Center
This apparently random spot located only a short drive from Yuma in Imperial County, California, has been designated as the official Centre of the World by the Californian state and the French government. The complex, which was founded in the 1980s by Jacques-Andre Islet, has a number of intriguing structures, including a spiral stairway to nowhere, which was formerly part of the Eiffel Tower.
There's also a collection of stone pyramids depicting humanity's history, a chapel, and, of course, a plaque commemorating the location. This strange stop is only available from March to December, but visitors will get a certificate.
13. Yuma Conservation Garden
This botanical garden is a hidden area about 4 miles outside of Yuma that serves as an educational center and community treasure. A lovely Sonaran Derert experience is provided by magnificent desert plants, many of which are kept for educational and identifying reasons.
A variety of vintage agricultural equipment is also on show for those interested in ancient trucks and tractors. Two airports are nearby, providing opportunities for exciting aircraft watching, as well as the opportunity to feed the ducks or wander along the nature paths.
14. Yuma River Tubing
Yuma River Tubing is a great way to explore the Colorado River throughout the summer months in Arizona, from April to September. You're free to try and guaranteed to enjoy this floating tour from where the business drops you upstream, beneath the Ocean to Ocean bridge, and all the way back to West Wetlands Park, no matter how old you are.
The activity lasts around an hour, and you can even stop for refreshments while watching the sunset with your friends or family. It's essential to book ahead of time since places fill up quickly, and you don't want to miss out on the excitement!
15. Martha's Gardens Date Farm
Arizona, especially Yuma, is increasingly becoming a favorite destination for date shoots. It's hardly surprising, given that dates need constant sunlight, and Yuma is the sunniest city on the planet.
You may walk around the palm groves at Martha's Gardens and learn about the organic farm's growth technique and history. Before departing, you may have a bite to eat, sample their famous date shake, and purchase other daring goodies to take home. Keep in mind that the busiest season is from September through April.
Final words
Now you know that Yuma is totally worth visiting. Therefore, you don't have to think twice about the idea of getting to Yuma and enjoying all these attractions.