The ideal location to enjoy authentic dog sledding is Montana, which has icy, snowy weather all winter long. This activity has a long history in the region, and in addition to participating in mushing oneself, you may watch professional dog sledders in sanctioned tournaments. This page will examine dog sledding in Montana, including background information on the activity as well as suggestions for events. You can refer to this and gather all information that you need to know about big sky Montana. Then you can go ahead with your big sky adventures without having to worry about anything.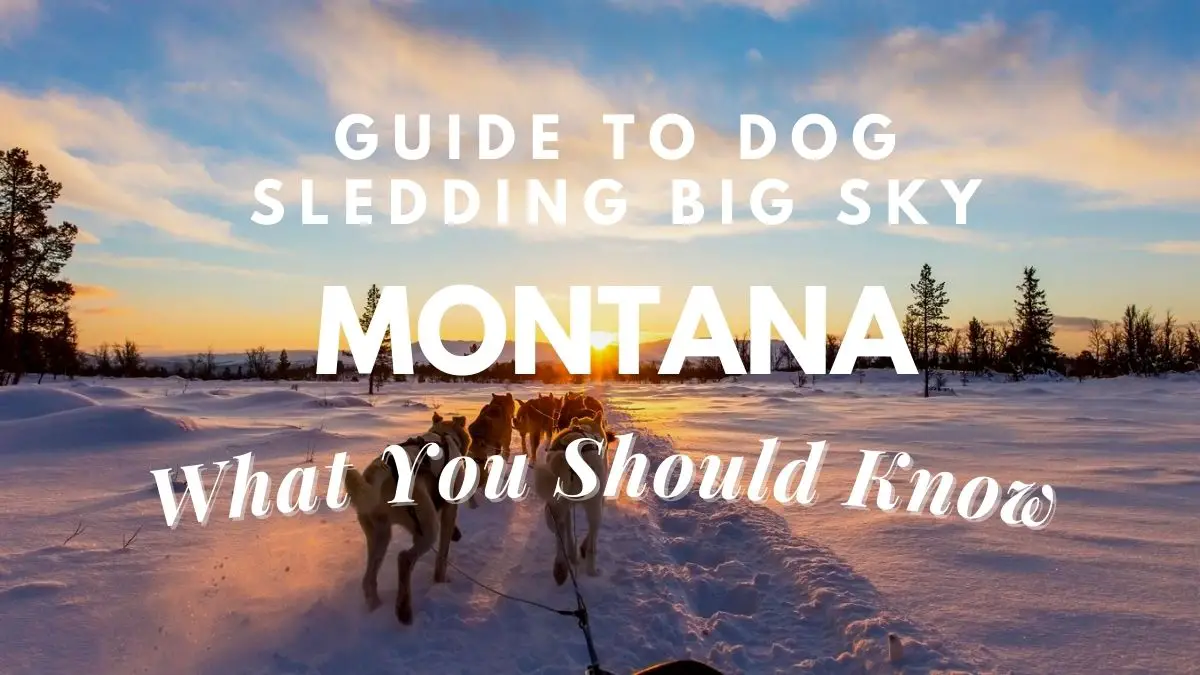 What is dog sledding in big sky Montana all about?
Big Sky's dog sledding is a completely unique experience that is suitable for people of all ages and is safe. Teams of devoted and endearing Alaskan Huskies go many times daily from December to April to offer you a tour of their winter paradise. You'll see regions of Big Sky on these trips that you wouldn't normally visit, and you'll enjoy breathtaking vistas of Lone Mountain, the Spanish Peaks, the Gallatin Range, and the surroundings.
All of your guides are expert dog mushers eager to share their love of dog sledding and Montana with you. There are excursions where you can learn how to properly operate a sled dog team in addition to trips where you can just relax and take in the scenery as you travel through beautiful Montana woods. In Big Sky, Montana, dog sledding is a ton of fun.
Read: Is Traveling A Hobby? The Ultimate Guide To An Exciting Way Of Life Learn about the Downsides Of Traveling As A Hobby

In what ways may you go dog sledding in Montana?
By signing up for a guided sled with an authorized tour operator or outfitter, you can enjoy dog sledding in Montana in the best possible manner. No matter where in Montana you want to go, you should be able to work some sledding into your schedule since there are several that are open.
The Origins and Development of Dog Sledding in Montana
Dog sledding is a centuries-old sport, as Distinctly Montana describes. Both colonial settlers and Native American tribes utilized dogs to pull travois packed with provisions. Particularly during the Yukon gold rush in the 19th century, dog sledding was a popular mode of transportation.
Since 1986, when Lincoln, Montana hosted the renowned Race to the Sky competition, dog sledding has been popular in Montana. Participants from all over the world go to this 350-mile race, which begins near Rimini and concludes at Elk Park, to try their luck at winning. If they are successful, they may compete in the famed Alaskan Iditarod.
The husky is the most popular breed of dog used for sledding in Montana, and both Siberian and Alaskan huskies are employed (the latter is slightly bigger). When they are around a year and a half old, dogs start training. These days, you may try mushing on a trip to Montana without any prior expertise. The guides make the trip enjoyable and provide you with all the safety-related information you need.
Visitors have a range of options, including daylong excursions, hour-long excursions, and everything in between. You may even go on overnight mushing excursions, which sometimes include s'mores and cocktails by the fire in the evening.
How Do Montana Dog Sledding Trips Work?
Teams of 6 to 12 dogs are used in the majority of Montana's guided dog sledding activities. Many businesses use tandem sleds, which have two sets of brakes and room for a driver and an experienced instructor.
Although an instructor will always be in a sled nearby to provide a hand if you need it, you may choose to drive a sled on your own if you are more skilled or confident at mushing. Alternatively, you may relax and take in the breathtakingly beautiful white scenery as your experienced driver guides you at a thrilling but reasonable pace. All trustworthy tour operators will go over the fundamentals of mushing safety with you and explain the words you should be familiar with. Normally, tours take place from December to April.
Do Montana Dog Sledding Events Exist?
There are a few competitions in Montana that draw the best mushers from around the globe if you'd rather watch than participate in any mushing yourself. One of the most well-known dog sledding competitions in North America is Race to the Sky. The event is about 300 miles long and usually takes place in mid-February, when the weather is ideal for winter sports. In Helena, Butte, Lincoln, Ovando, and Seeley Lake, you may watch it.
Some of the other state's biggest dog sledding competitions are listed by Montana Mountain Mushers throughout the year. They consist of:
Seeley Lake hosts skijoring and dog sledding fun days in January.
Darby Dog Derby in January, Darby, Montana
Flathead Classic in February, Olney, Montana
Yellowstone Dog Sled Adventures: The 6 Best Places to Go Dog Sledding in Montana
When it comes to big sky Montana, there are few places that you can go to get the best experience. Below mentioned are 6 such venues that you may think about visiting to secure the best possible experience with dog sledding. Regardless of what your preferences are, you may think about visiting these destinations to get the most out of your dog sledding big sky Montana adventures catered for.
1. Adventures in Yellowstone with Dog Sleds
Yellowstone Dog Sled Adventures is one of Montana's most well-known dog sledding operators. The Rainbow Ranch Lodge, which lies halfway between Bozeman and West Yellowstone, is the starting point for these dog sledding excursions.
You may acquire the skills necessary to mush a team of huskies at Yellowstone Dog Sled Adventures. Participants will have the option to learn to drive their own sled or let a guide drive them on tours that normally last between two and two and a half hours.
These excursions, which take place on a private network of trails in a rural area of Montana not far from Big Sky Resort, run from December to April. It is advised that visitors use a four-wheel drive to go to the base camp, where they may partake in hot beverages and refreshments.
Supporting Yellowstone Dog Sled Adventures is one of the nicest things you can do since the majority of their huskies are rescue dogs who were rescued from racing kennels. This business abstains from purposeful breeding. Reservations are required, and the cost of the trip is $250 for adults and $175 for children. The trips can leave at 10 a.m. or 1 p.m.
2. Dog Sled Adventures
Dog Sled Adventures has been running out of Olney, Montana, since 1973. This outfitter offers a family-friendly experience and is home to 130 Alaskan huskies. The sledding fun is open to visitors of all ages, including young children and the elderly.
These excursions take you through the lovely Stillwater State Forest, which is adjacent to Whitefish Resort and Glacier National Park. You'll probably see some animals while admiring the scenery along the route.
Each trip closes with the opportunity to enjoy hot chocolate by the fire in the base camp cabin, baked cookies, and conversation with new acquaintances. If you are looking for more of a beginner friendly dog sledding adventure, this is something that you will need to think about. You will be able to get the most out of your learning experience during the time that you spend here as well.
3. The North's Spirit Dog Sled Expeditions
Another well-known outfitter in Montana that provides first-rate dog sledding excursions is Spirit of the North. Every day of the week, you may reserve a dog sledding excursion here, with half-day excursions leaving at 9:30 and 12:30.
Spirit of the North offers dog sledding excursions in two locations: the Gallatin National Forest in West Yellowstone and Moonlight Basin in Big Sky. The comfort and delight of the visitors are always prioritized, and the knowledgeable guides provide comprehensive instructions and mushing advice. All ages may mush with the assistance of the teachers, and trips come with food and picture ops.
Spirit of the North offers trips for $175 for adults and $85 for kids aged seven to twelve. The musher excursions are free for kids under 6!
4. Bigfork Base Camp Bigfork
Year-round outfitting excursions are offered in Montana by Base Camp Bigfork, which specializes in dog sledding in the winter. Here, visitors will get the opportunity to lead their very own sled dog team across the picturesque Flathead Valley.
Tour participants may choose to be as active as they'd like, driving their own team of dogs or choose to relax and let the guide handle everything. Additionally, you'll get the option to harness the dogs, get them ready for sledding, and take care of them afterwards. The trips at Base Camp Bigfork don't need any prior dog sledding knowledge, but everyone who takes part must be physically fit and prepared to interact, even if they're not driving.
This outfitter's dog sledding trips cost $295 per person for a half-day excursion and $395 for a full day, and participants must be at least 12 years old. A hearty lunch by the fire is included throughout the whole day. Along with dog sledding, kayak and paddle board excursions, mountain bike rentals, snowshoe and cross-country ski rentals, and cozy housing, Base Camp Bigfork also provides sauna experiences.
5. The resort at Paws Up
The Resort at Paws Up, a luxurious lodging choice with exclusive winter activity activities, is the pinnacle in dog sledding vacations. A one-hour excursion, which includes stroking the dogs and seeing them be harnessed before the tour starts, is available at the lodge in Greenough, Montana, as well as a two-hour Iditarod Experience, which includes everything from the one-hour trip as well as lessons on how to operate a sled.
Both packages let visitors interact closely with a faultless team of Alaskan huskies, but the Iditarod Experience adds hot chocolate, picture opportunities, and additional time with the dogs. Both excursions are appropriate for children as young as three. The three-mile, one-hour trip costs $230 for adults and $180 for children under 12 and lasts for the duration of the journey. The cost of the Iditarod Experience is $320 for kids and $435 for adults.
The resort offers a variety of other winter activities, such as ice skating, snow tubing, fat-tire electric bike riding, horseback riding in the snow, and snowmobiling.
6. The Triple Creek Ranch
The Triple Creek Ranch, located in Darby, Montana, is another renowned outfitter and resort that provides the chance to partake in real dog sledding. You'll pass through the beautiful Bitterroot Valley on these excursions.
Three times daily, two-hour-long rides are available here. Sleds may hold one or two people, with the price per sled for the former being $350 and the latter being $450. It is advised that you book your spot at least one day in advance since this is one of the ranch's most popular activities. Additionally, Triple Creek Ranch provides comfortable lodging in the shape of log cabins that are tucked away in the nearby forest's pine trees.
Horseback riding, downhill skiing, cattle driving, white-water rafting, fly fishing, mountain biking, woodland walking, sapphire mining, and even frontier skills are some of the other year-round activities offered at the ranch.
Final words
Given the state's snowy winters, dog sledding is a typical and popular hobby. To participate in dog sledding, you don't need any expertise or special abilities; all you need is the desire to learn and try something new. Make travel arrangements with any of the aforementioned destinations to experience the enchantment of this sport for yourself. Have you ever engaged in dog sledding? Why not plan a vacation to Big Sky, Montana, to go dog sledding? Contact Yellowstone Dog Sled Adventures or Spirit of The North Sled Dog Adventures to make reservations for your canine-powered excursion. You'll never forget the aspect of Big Sky Country that you'll see on a guided dog sled adventure.