Lake Ming is a popular fishing destination located in Bakersfield, California. The lake is stocked with a variety of fish species, including largemouth bass, catfish, crappie, and bluegill. If you're planning a fishing trip to Lake Ming and are looking for some guidance, here's a fishing guide to help you out. Anyone who is interested in visiting the lake can think about following this Lake Ming fishing guide first.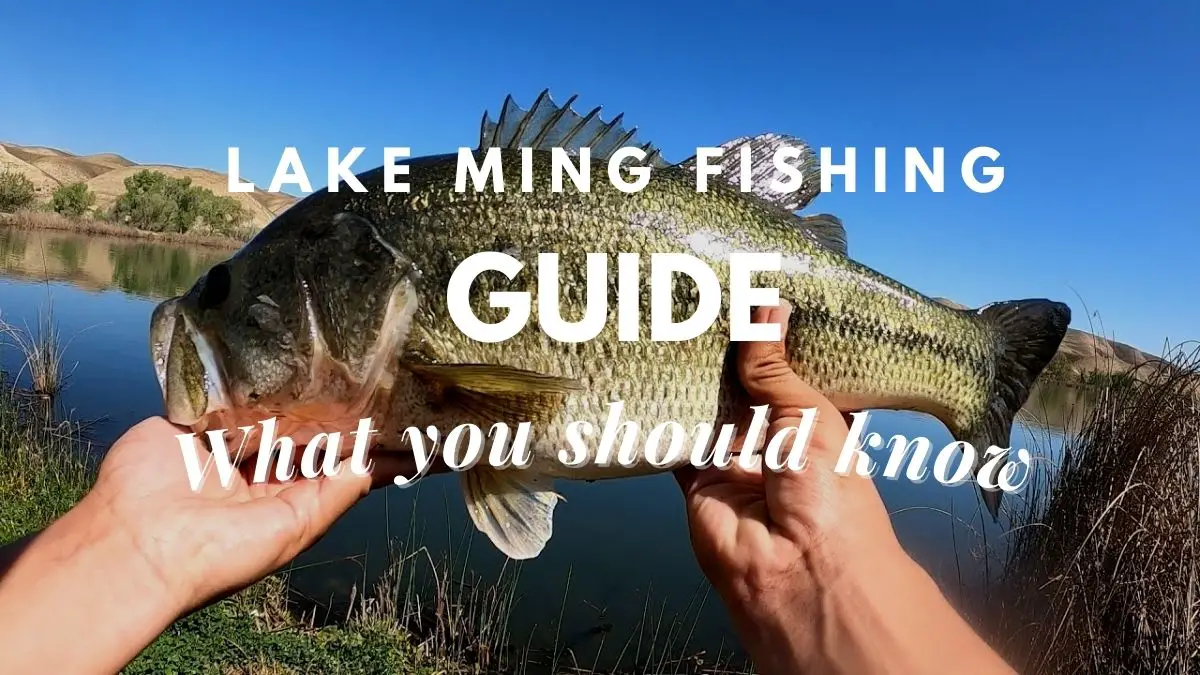 What is the best time to go fishing at the Lake Ming?
The best times to fish at Lake Ming depend on the species you're targeting. Largemouth bass tend to be most active in the early morning and late evening, while catfish and crappie are more active at night. Bluegills are generally more active during the day.
What are the best baits and lures?
The best baits and lures for fishing at Lake Ming depend on the species you're targeting. For largemouth bass, popular lures include spinnerbaits, crankbaits, and plastic worms. Catfish can be caught using live bait such as worms, nightcrawlers, or minnows, as well as prepared baits such as chicken liver or stink bait. Crappie can be caught using small jigs or live minnows. Bluegill can be caught using small jigs, live worms, or flies.
Fishing regulations that you need to keep in mind
It's important to follow the fishing regulations at Lake Ming to ensure the sustainability of the fishery. All anglers 16 years of age or older must have a valid California fishing license. The daily bag and size limits for each species vary, so be sure to check the current regulations before fishing.
Few tips to keep in mind
Here are a few tips to help you have a successful fishing trip at Lake Ming:
Fish the areas where the water is deepest, as this is where the larger fish tend to be.
Use a variety of lures and baits to see what works best on a particular day.
Pay attention to the weather and water conditions, as these can affect the behavior of the fish.
Be patient and keep an open mind, as fishing is often a game of trial and error.
How to get the most out of your Lake Ming fishing experience
Lake fishing is undoubtedly one of the simpler methods to start fishing out of all the options. There are many of fertile lakes in the US, and you may go bass fishing without any specialized equipment. And even if you're a seasoned saltwater fisherman, a change of setting may always teach you something new.
There is no better time to start than right now since lake fishing is one of those activities that is simple to learn yet difficult to master. We'll go over all the fundamentals you need to be aware of before visiting the closest freshwater lake. So, let's start talking about fish right now!
What kinds of fish are available to catch in lakes?
The particular body of water you're fishing in and the time of year you choose will have the most influence on the fish you choose to target. We'll guide you through some of the most common lake fish species in the US to make things easy. The majority of them are likely things you already know but be prepared for a few surprises along the road. Enter the fray!
Salmon should naturally be the first fish in this section as it is the nation's favorite freshwater fish. Landing a monster is more than worth the trek to one of the Great Lakes, in our opinion, since lake salmon tend to be larger than their river counterparts. Check out our in-depth essay if you need a reminder of how to distinguish between the several Salmon species that exist.
Salmon are fantastic because they can be fished by almost every kind of fisherman. At the end of the day, do you want to have a wonderful dinner? Hunt for sockeye. Do you yearn for nonstop action? You will be challenged by coho salmon. Looking for the largest fish in the sea (or lake, depending on the situation)? Chinook salmon are often referred to as "King" salmon for a reason.
Another very well-liked species, trout are a mainstay of lake fishing for good reason. What more could you want for? They are easy to locate, have terrific flavor, and are tough competitors. Prior knowledge can only go you so far when you are fishing for trout in a lake as opposed to a river. When it's warm outside, they remain in the deeper parts of the river; when it becomes chilly, they go closer to the shore.
There are many different types and sizes of trout, but lake fisherman like to catch Rainbow, Brook, and Brown Trout. Another frequent species is lake trout; however, its name is a little deceptive since they really belong to the Char family. They're a lot of fun to catch, particularly if you're going ice fishing, so we won't hold it against them.
For a beginner fisherman, bass are the best fish to catch. On your first lake fishing trip, look no further if you're unsure of what to pursue. Bass are ideal for experimenting with various methods and rigs until you find one that works for you since they are very aggressive and ravenous. Spend some time going for these masters of light tackle, and you'll soon be prepared to go on to larger prey.
The numerous types of Bass are a lot easier to understand than the earlier species we covered. The two most common varieties of bass you'll find scattered across US lakes are largemouth and smallmouth. The ideal time to pursue any of them is often during their spring spawning season.
Walleye are a mainstay of lake fishing in North America and are particularly popular in the Upper Midwest. Beginners may find it challenging to catch walleye, but the excellent fillets at the end of the day are well worth the effort. Since they like to go deep and eat in low light, locating them is the biggest challenge. As a result, shortly before dawn and just after sunset are the best times to target Walleye.
Don't give up if you have a sluggish day or two; even an experienced fisherman will find it difficult to figure out their movement patterns. Alternatively, if you believe you have everything figured out, why not change things up a little and search for Walleye beneath the ice?
Not least among them is the persistent catfish. You may go catfishing at just about any time of year without risk since these fish are common not just in lakes in North America but across the whole planet. You can locate them in the shallower areas of a lake during their spring spawning season, but for the rest of the year they go a little deeper.
The most common catfish species you'll find in US lakes are Channel, Blue, and Flathead Catfish. The most prevalent and smallest of the group are channels. Blues, on the other hand, are unquestionably the biggest, with some reaching weights of 150 pounds.
Keep a look out for other species including Bluegill, Pike, Crappie, and Sauger since they are abundant in lakes around the nation. In addition, there are a few freshwater lakes close to San Antonio, Texas, where you could even discover Redfish if you're up for something wholly unusual. Not something you see every day, for sure!
On Lake Ming, how do I fish?
Now that you are aware of the challenges you will face, let's talk about the various approaches to lake fishing. Make important to research the individual lake you wish to fish since various lakes and species will respond better to different approaches.
The easiest way to get started in the realm of freshwater fishing is undoubtedly with charter fishing aboard a boat. You won't have to worry about purchasing equipment, and an expert guide will teach you the ropes. This is the best choice if you're searching for a family-friendly solution.
The benefits of fishing from a boat are many. The most apparent one is that it enables you to employ trolling, which is a helpful strategy while fishing for salmon and trout. Additionally, a boat makes it much simpler to go to deeper waters, increasing your chances of success while fishing outside of the spawning season.
By foot
Another excellent choice is to go fishing while on foot, particularly if you simply want to see what's biting in your neighborhood lake. You will have a few alternatives accessible to you, depending on the location and size of the lake. You may, for instance, try tossing a few lines from shore and see if you are successful. But if you don't immediately obtain a decent bite, you should walk around and try different places.
You may get a pair of waders and go closer to the action if it turns out that you do not have easy access to the deeper portions of the lake. To prevent startling your target when wading, strive to keep motionless and minimize needless movement. When in shallower waters, this is very crucial.
If you want to get the most out of your ice fishing experience, you'll need some additional equipment, but you can always hire a guide to take care of it for you. There may be regional companies that focus on things like ice shack rentals, depending on the size of the lake you're fishing. This might also make for a good family adventure under the correct circumstances.
Fly fishing
Without mentioning fly fishing briefly, you really can't speak about freshwater fishing. It's a whole different game from casting and spinning as usual. You'll need a whole other set of tools, including a specialized fly rod and a plethora of different fly designs that you can either purchase or create on your own time.
Many more fisherman have never looked back since throwing their first fly, but others find the entire thing tiresome and excessively difficult. Until you try it yourself, you won't be able to tell which one you are.
What fishing equipment do I need for lakes?
We couldn't reasonably include gear for every kind of fishing because of how many different species you may potentially pursue in various fisheries. Make sure that you are equipped with basic fishing equipment, so that you will be able to get the most out of fishing equipment.  
Final words
Overall, Lake Ming is a great place to fish, with a variety of species and good fishing opportunities throughout the year. By following these tips and regulations, you'll be well on your way to having a successful fishing trip at Lake Ming.