If you like the beach and are visiting Florida, you've probably heard of Sarasota's famed barrier islands: Anna Maria Island, Longboat Key, and Siesta Key. The white sand beaches, turquoise oceans, and little beach town vibes of these series of islands near Sarasota between Tampa and Fort Myers on the gulf coast are widely recognized. People looking for the nicest beaches in Florida and seeking to escape the busy, over-commercialized beaches of St Pete and Clearwater are often lured here. From this article, we are looking forward to doing a comparison between Bradenton beach vs Siesta Key. Based on that, you can figure out the best beach to visit.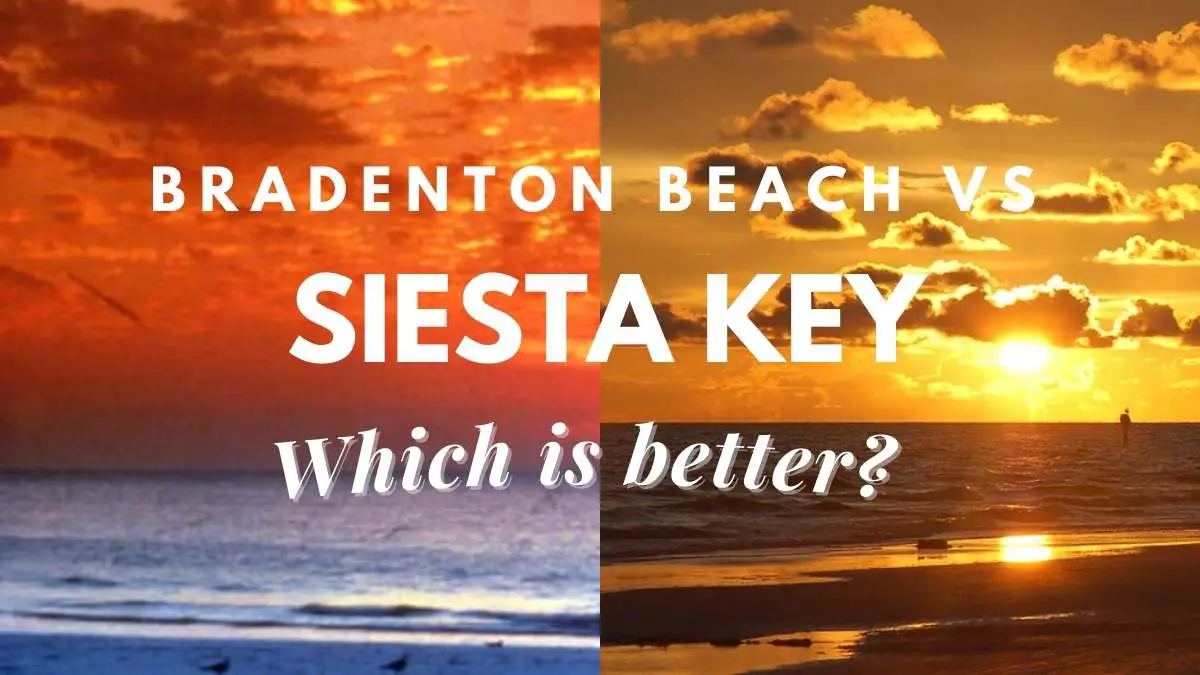 Bradenton Beach
First and foremost, although these three islands are very diverse, they are all quite near together in the Sarasota region and have a similar ambiance. These islands have the atmosphere of little beach villages. There aren't many hotels or resorts in the area. The majority of the properties are condominiums and holiday rentals. The islands seem to be somewhat dispersed, however there are a few small clusters where businesses and restaurants are concentrated. They're also somewhat tropical the tropic line in Florida is near Bradenton, which I like.
While these islands are heavily developed, they do not seem unduly marketed. The difference between this location and the St Pete and Clearwater area to the north is night and day. There are no Bubba Gump's or Hooters in the vicinity. You're not going to enjoy this location if you prefer Destin, Panama City Beach, Coco Beach, or Clearwater/St Pete. You'll probably like it if you enjoy Sanibel/Captiva and Marco Island.
Read: Is Traveling A Hobby? The Ultimate Guide To An Exciting Way Of Life Learn about the Downsides Of Traveling As A Hobby

Island of Anna Maria
Although the northernmost island is one continuous island, it is divided into two parts: Anna Maria Island and Bradenton Beach. Bradenton Beach is located on the island's southern tip (the city of Bradenton is just across on the mainland). At the southern end of the island (Coquina Beach), there is a major public beach access, and as you go north, it's pretty much one uninterrupted length of "small beach town" vibes.
Anna Maria Island is located on the island's northern tip. There is no clear distinction between the two, and there is no discernible variation in the sorts of lodgings (one is not always finer than the other). I will admit that there is a perception that Anna Maria Island is better than Bradenton Beach, but I believe this is mostly due to name familiarity. I observed that several establishments on the island's southern end use "Anna Maria Island" in their names or on their items instead of Bradenton.
What it is like?
The atmosphere on Anna Maria Island is generally relaxed, however there might be a lot of traffic (especially around Bradenton Beach). In most aspects, it's your normal tiny seaside town. Consider tiny hotels and motels, ice cream parlors, beach stores, and intimate eateries. These objects are more or less lining the major route up the island. It doesn't have the same bucolic atmosphere as Seaside or Rosemary Beach on the 30a, but it's also not too commercialized with brand restaurants or retailers. It's merely been steadily built up over the years, and it has that pleasantly ramshackle air that comes with a little seaside town being "discovered."
On this island, I recommend staying near the north end, close to Pine Avenue and other attractions. Renting a golf cart would also be beneficial. You'll escape a lot of the traffic that comes through Bradenton Beach (where there's a massive public beach access), plus there's a Publix and a bridge across to Bradenton if you remain on the north end of the island. Here are a few possibilities that appeal to me:
Longboat Key has an intriguing atmosphere. There's a significant contrast between it and Bradenton/Anna Maria Island. In general, I believe that the individuals that remain on Longboat Key are older, and that everything is a bit more affluent.
Siesta Key, Florida
I finally made it out to Siesta Key after years of hearing about its legendary sugar white sand beaches. I honestly did not expect to be that blown away. I mean, the whole Florida gulf coast is known for its white sand beaches.
Where is Siesta Key?
To begin with, it is distinct from the other islands. You can't go from Longboat Key/St Armand's to Siesta Key without crossing the bridge to Sarasota, driving along the coast, and then crossing the bridge. From Sarasota to Siesta Key, there are two bridges: one in the center of the island and one at the far northern end. Around the bridge at Midnight Pass (in the center of the island), there's a tiny collection of restaurants (and maybe a few of businesses), but the most of everything else is concentrated up towards the northern end on Ocean Blvd. It's the part of the island that feels the most like a "town." Unlike Anna Maria Island/Bradenton, which is essentially one continuous strip of stores, restaurants, and enterprises, everything on Siesta is centered in just two districts.
The majority of the lodging is located at or north of the Midnight Pass bridge. Things are mostly residential as you go south around the island. On Siesta Key, there are several condo complexes, modest inns, and holiday rentals. The thing to remember is that even if a location is on the beach side of the major road, it may still be a long way from the beach. The island is pretty large in one length, and it seems like there are 2-3 condo complexes between the road and the beach, so make sure you pick something that is truly on the beach if that is essential to you.
What is it like?
While there is a continuous stretch of sand that runs the length of the island, depending on where you stay, you may or may not have access to it directly from your home or must utilize a public beach access. The public access to Siesta Beach, on the other hand, is rather amazing. I'm not being dramatic. Siesta Beach is the greatest public beach I've ever seen (facilities included). Anywhere.
There's good to see that, after years of being dubbed "America's finest beach" and winning several accolades, they've invested in infrastructure that makes visiting it a pleasant experience. There was plenty of parking (certainly not enough during peak season, but you only have so much space!) , drop-off and loading zones, clean bathrooms with plenty of stalls, a snack bar, a store with necessities like sunscreen, inflatables, beach toys, caps, and more, picnic tables, and MORE
Also, I had never seen an accessible entry before (although I heard that they have beach wheelchair rentals available). There was a 5-6 foot wide industrial cloth/walkway leading down to the water's edge from the amenities. It's an extraordinarily broad beach (it looked like a 14 mile or more from the parking lot to the sea), so walking (or using a wheelchair, pulling a wagon, etc.) to the coastline without having to slog through dense, hot sand is incredible.
On this island, I would stay at the northern end of the island, close to all of the stores and restaurants on Ocean Blvd. It would be wonderful not to have to worry about a vehicle every time you want to eat since there is so little parking in the neighborhood (and so few eateries relative to the number of hotels on the island).
What is the best beach? Bradenton Beach or Siesta Key?
Unless you like shelling, Siesta Key offers the nicest beach Because there are no shells in the sand, it looks like white sugar . That's why it's so lovely, but if you're searching for shells on the beach, you could be disappointed. The finest public beach access is on Siesta Key. If you aren't staying directly on the beach, this may be crucial. Bradenton Beach has almost no public beach access.