Norris Lake, located in the rolling hills of East Tennessee, is a popular destination for boaters and vacationers looking to enjoy the great outdoors. With over 800 miles of shoreline, there are plenty of opportunities for fishing, swimming, and water sports. But after a day on the lake, you may be looking for a delicious meal at one of the area's marina restaurants. Here are the top 10 Norris Lake marina restaurants to experience on your next visit.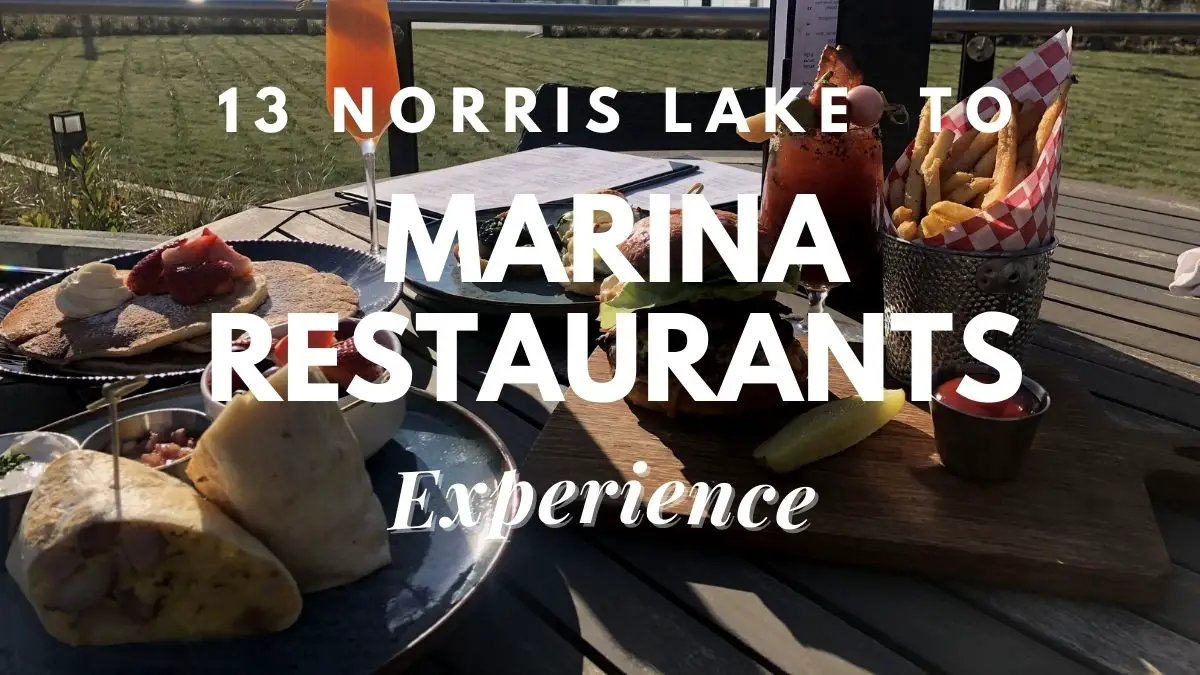 1. Jimmy's Place
Jimmy's Place Lakeside Bar & Restaurant, which is situated at Norris Landing Marina, offers delectable cuisine and beverages along with an unbeatable view. Take advantage of the pleasure of dining al fresco. For a broad selection of cool beers on tap and your favorite mixed beverages, visit their complete bar. For diners coming from anywhere on Norris Lake, they provide boat docks!
2. Bubba Brew's Sports Pub
The sports pub and grill Bubba Brew's An area to relax, located near Beach Island Marina on stunning Norris Lake. Visit Bubba Brew's Sports Pub and Grill before leaving Norris Lake; it is situated close to Beach Island Marina at the famed Highway 33 Bridge. You are graciously invited by Bubba to experience his unmatched hospitality and delectable cuisine. With three bars, more than fifteen flat-screen televisions, and more than 12,000 square feet of "Floating Fun," Bubba Brew's features all of your favorite sports events. For a fantastic dining experience, live music, a full bar, daily specials, and underwater illumination are provided. easily accessible by vehicle or boat. For events or big groups, call in advance. At your headquarters for fun on gorgeous Norris Lake, there are pool tables, darts, and corn hole accessible for the entire family to enjoy.
3. Shanghai Resort's Castaway Grill & Bar
On Norris Lake in LaFollette, Tennessee, there is a full-service marina called Shanghai Resort. The stunning lake, located just south of the Cumberland Gap, draws boaters from all over the country. Their restaurant, Castaways, is available for lunch and supper seven days a week. They take great pride in their house-smoked beef brisket and ribs. They are conveniently positioned in the ship shop and provide a wide variety of food. At Shanghai Resort, they endeavor to give the finest service possible with the utmost concern to quality and client satisfaction while fostering a fun-loving, family environment.
4. Waterside Grill.
Come and enjoy delicious cuisine and welcoming service. The eatery operates on a seasonal basis. Either inside in the dining room or outside on the large, covered patio, you may dine while admiring the lovely views of the lake. If you are a person who is interested in exploring magnificent views of the lake, look no further than visiting this restaurant. You will surely fall in love with all the fascinating views that this restaurant can offer you.
5. Lindsey Mill Grille
Family members own and run Mountain Lake Marina and Campground. Customers of Mountain Lake have access to one of Tennessee's most breathtaking regions. They take satisfaction in being able to share Norris Lake with you as one of the best camping and boating locations on the lake. Whether you like camping or boating, they do their best to provide the services to make your trip or weekend break in Tennessee unforgettable. The seasonally available Lindsey Mill Grille (Memorial Day thru Labor Day) Their best-selling dish is hand-battered, deep-fried shrimp with their exclusive bang boom sauce!
6. Sugar Hollow Marina's Galley Bar & Grill
"Party like a Pirate, Work like a Captain." The restaurant offers full service, has room for more than 100 patrons, is welcoming to families, has top-notch entertainment, and offers much to eat and drink. Join us at any time, whether it be for breakfast, lunch, or supper! They include salads, appetizers, wings, and other items on their grill menu. Take a drink from the fabled "Pirate Ship Bar" and take in the expansive views of Norris Lake and Cedar Creek. Live music is performed on Thursdays and Saturdays and karaoke on Fridays.
7. Sequoyah Marina Dining Room
The Sequoyah Marina restaurant offers a wide range of options on its menu, including its renowned breakfast, salads, desserts, and selections from the grill. Every Friday night is Wing Night, and Norris Lake's coldest Corona beers are served there.
8. The Harbor Grill at Stardust Marina
The Harbor Grill at Stardust Marina is a lakeside restaurant with a full-service marina that offers a superb cuisine with one of the largest options on the lake, as well as courteous service to guarantee an amazing dining experience and unrestricted entertainment. Come to "Sundown Saturdays" for exciting times and live music. On the weekends, a breakfast buffet is available. frozen beverages and cold draft beer.
9. Twin Cove Marina Dining Room
Everyone can have a wide selection of beers and beverages at the restaurant! Fries, onion rings, cheddar nibbles, wings, potato skins, chicken tenders, hamburgers, a variety of sandwiches, and more are available on the menu. Ask about breakfast, of course! Lunch will be served outside near the pier.
10. Hickory Star Marina
The area's freshest food may be found at the dockside eatery Hickory Star Marina. Customers may choose from a variety of tasty home dishes and American food. Every person who comes in to eat will have their needs met by the welcoming staff. This has already become a popular place for many locals to often stop in for a bite to eat.
11. Jimmy's Place
Jimmy's Place is another name for Norris Landing Marina among the locals. Customers will like the availability of several craft beers and ales on a regular basis. There are many more conventional menu options available at this Norris Lake restaurant, but its comprehensive range of steaks and ribs may be its claim to fame. Guests have access to pool tables and dartboards.
12. The Sequoyah Marina
The Sequoyah Marina has assisted individuals in becoming used to a few of the available unusual cuisines, enhancing the entire experience that many people might have. Many guests value the opportunity to peruse the menu and enjoy their available alternatives. The wide variety of wings offered at this Norris Lake restaurant is likely its best-known feature. Here, celebrations and weddings may be held.
13. Dockside Bar and Grille
A wide selection of beers and beverages are available at Dockside Bar and Grille to satisfy any palate! They provide traditional American fare and just began serving breakfast.
Tips for finding the best Norris Lake Marina Restaurants
Now you are aware about some of the best Norris Lake Marina restaurants available out there. However, finding a place to dine in out of these might become an overwhelming experience at times. That's why we thought of sharing some useful tips on how to find the best restaurant out of them for you to visit. A great chef is knowledgeable with your customers' demands and works well with the kitchen staff to make sure that every time, diners get their dish just as they wanted it. Pay attention to the following tips and proceed with finding the best restaurant that you can dine in at the Norris Lake Marina.
Go through online and offline reviews
The use of technology like smartphone applications and online reviews has made it simpler to choose which restaurant to visit. Genuine remarks and criticism regarding the places they often visit were made by diners. By looking at their experiences, you can decide which restaurant to go to. Even unofficial reviews, such as word of mouth, may be quite influential when choosing a restaurant. Want to eat at a popular restaurant in Burdwan? Peruse online reviews.
Even though you'll work hard to acquire good evaluations, it's inevitable that some will be unfavorable. Not everyone can be pleased, but that's alright. There is no need to fear if a review is negative right now.
Negative evaluations, though, might hurt your reputation if you don't respond to them. Therefore, reply as soon as possible, be specific, apologize, outline your plan of action, and urge them to give you another opportunity.
The more helpful you are, the more likely it is that a bad review will become a good one. Even if it doesn't, other clients will notice that you tried your utmost to address the problem, demonstrating your concern for your clients.
Pay special attention towards food
The menu and cuisine that a restaurant offers are two of the most important things to keep in mind. Find a restaurant that specializes in Chinese food or has Chinese food on the menu if you must eat Chinese food. If your family members all have diverse culinary preferences, go to a restaurant that serves a variety of foods. Additionally, you may search for a restaurant just based on your tastes in ethnic cuisines, locally grown fruit, meat, or seafood.
Take location into consideration
Ensure that the location of the restaurant is accessible to you. Traveling tens of thousands of miles for food that only costs a few hundred rupees is foolish. Visit a restaurant that is nearby or that is accessible by car. When picking a restaurant, keep in mind the neighborhood as well as the surroundings. For instance, seek for eateries that have a beautiful view or are close to a lake, mountain, or the ocean. Spending money on lunch or supper at these establishments can be beneficial. You must take the vicinity into consideration if you want to choose a good restaurant in Asansol.
See whether there is a massive waiting time
In general, a Vadodara restaurant with a huge crowd is most certainly an excellent one. You could decide to make the extra effort to visit these locations. Some restaurants could see a noticeable boost in customers on the weekends or during fairs. Make a reservation in these situations to avoid a lengthy wait. Arrive to the restaurant earlier than usual, before the people arrive, if you haven't booked a reservation and want to reduce your waiting time.
Take a look at hygiene levels
Does the restaurant have a bad reputation for cleanliness? If so, such places need to be stayed away from. You run the danger of developing health problems including a bloated stomach and food poisoning at unhygienic restaurants. Make sure the restaurant is hygienic and welcoming. The importance of cleanliness is usually considered at top restaurants in Durgapur.
Don't ignore the customer service
A dining experience's level of customer service is crucial. Regardless of the restaurant you choose to eat at, the attitude and conduct of the personnel might make or break your experience. Choose a restaurant that has a solid reputation for providing superior service.
When you encounter any issues at the restaurant, it is the quality of the customer service that will contribute a lot towards the overall experience that you can get. This is why you need to pay a lot of attention towards going ahead with a hotel that is known for the delivery of a top-notch customer service.
Check whether there is a parking lot for you to park the car
If the site of your future restaurant has a large parking lot, you may have an edge over nearby rivals. Your customers will be drawn to your restaurant if it has a parking space since they won't have to walk there, compete for a place, or pay for it while they're dining. For the convenience of your guests, it's a good idea to integrate parking information in your restaurant ordering software. Your customers will have a wonderful eating experience in your restaurant as a result.
Final words
Now you have a clear idea on how to pick one of the North Lake Marina restaurants. Adhere to these tips and proceed with finding the best restaurant that you can find out there. Then you just need to walk in there with your loved ones, and you will be able to end up with securing a perfect dining experience.