Even though there are many things to do in the larger Fort Myers region (where virtually all of the campsites are situated), Jennifer and I always spend most of our time on Sanibel and Captiva Islands when we visit. You'll know you're somewhere unique as soon as you cross the Sanibel Causeway ($6 toll road).

The island only has one campsite (more on that in the paragraphs below), but because of the causeway, it's a terrific spot for day camping and exploration. At dark, we drive across in our RV and return to whatever mainland campsite we were at earlier. We will share more details about Sanibel and the best RV parks in Sanibel through this article.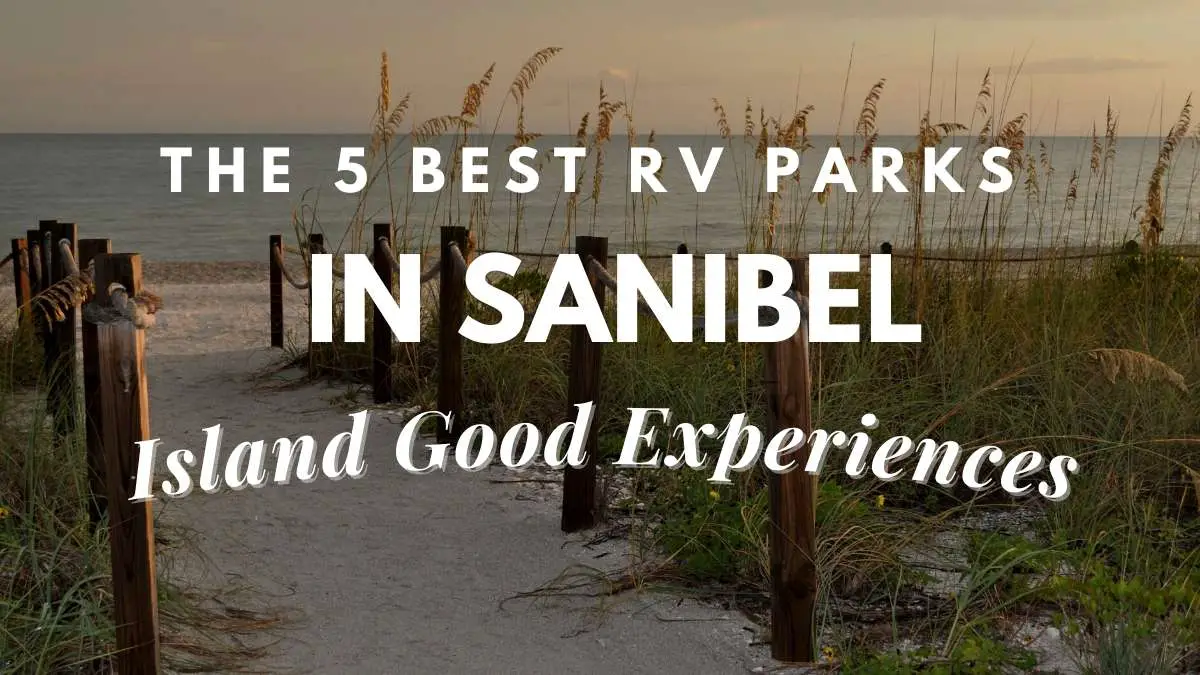 What is the Sanibel Island all about?
Over 67 percent of the land on Sanibel (and neighboring, small Captiva Island) is protected by federal, local, or private foundation ownership, creating a barrier island refuge with a sensitive ecological. With San Carlos Bay on one side and the Gulf of Mexico on the other, Sanibel and Captiva have a special biodiversity. They also have a lot of wetlands, the Tarpon Bay, and the Sanibel River.
Sanibel is one of just a few of Florida's barrier islands with a freshwater river, which is why it is more popular with wildlife (especially alligators, river otters, and bobcats) than other islands. The Sanibel Lighthouse and Lighthouse Beach Park should be your first destination after you arrive on Sanibel Island.
At the SCCF Nature Center, there are various preserves, including the Periwinkle Preserve, Bob Wigley Preserve, Sanibel Gardens, and Bailey Homestead Preserve, as well as a fantastic 4-mile nature walk (sadly, dogs are not permitted due to animals). Many of the wonderful walking pathways on Sanibel Island, including the ones already described, are shown in an excellent map. Download it from this page.
Read: Is Traveling A Hobby? The Ultimate Guide To An Exciting Way Of Life Learn about the Downsides Of Traveling As A Hobby

What are the best RV parks in Sanibel?
The 4-mile Wildlife Drive on the Refuge is one of the nicest things to do while you are here. Every day except Friday, the drive is available from 7:30 am to a half-hour before dusk. On this path, you may ride a bike, drive, or stroll. $5 for cars, $1 for bikes and pedestrians, is the entry fee. The alternative is to go on a guided tram excursion that Tarpon Bay Explorers has available for 90 minutes.
In addition, the preserve has a number of nature paths, including the 2-mile Indigo Trail that starts at the visitor center, the 1/3-mile Wulfert Keys Trail that extends to Pine Island Sound, and the 1/3-mile Shell Mound Trail.
Dogs are now allowed on Wildlife Drive, Indigo Trail, and the Bailey Tract, however they must always be kept on a leash no longer than 6 feet. All of the Refuge's policies are available by clicking here. RV campsites in the Sanibel Island region are in great demand. Given how crowded this location is, as you can expect, there are a lot of campsites. The mainland is only over the causeway, yet they are all there.
Periwinkle Park and Aviary is the only campsite that is located right on the island. There are many tropical birds in this unique kind of bird sanctuary (all were rescued). There are no dogs permitted on the property, maybe as a result. Additionally, it is quite difficult to get a spot since it is the only campsite on Sanibel or the neighboring Captiva Island.
Fortunately, there are several of additional campsites in and near Fort in the mainland area, just across the causeway. Myers. From Sarasota to Bonita Springs, we feature 10 campsites in our Florida's Gulf Coast Travel Guide, starting with less expensive county and state parks before moving on to privately owned campgrounds. We lay down all the information, including prices, facilities, and more.
1. Avalon RV Park
The Avalon RV Resort is an excellent starting point from which to explore all the sights along Florida's Gulf Coast because of its convenient location in Clearwater, near to Tampa. Additionally, it takes only 90 minutes to reach all of Orlando's attractions. Both semi-permanent RV users and those who are just planning a brief visit are catered to by the park. The resort has grassy, sunny plots with water and sewage. Garbage collection, Wi-Fi, laundry, bathhouses, heated pools, community halls, and regularly scheduled events are other helpful services. The resort is about 15 minutes from Clearwater Beach, and there are several great walking and cycling trails nearby.
2. Gulf Coast RV Park
Gulf Coast RV Resort is a fantastic spot to stay for anybody wishing to enjoy the stunning beaches and water activities of the Sunshine State. It is located up in the northern portion of the Florida Peninsula. This campground is situated in the quaint community of Inglis, close to the picturesque Lake Rousseau and providing easy access to a variety of woodlands, recreational places, and beaches. Gulf Coast RV Resort is an excellent choice for those who want to get away from it all and enjoy the soft beaches and warm seas of Florida without having to deal with the noise and congestion seen in other spots along the Gulf Coast since there are no major cities close by.
Gulf Coast RV Park offers a variety of great features, including a tranquil environment, spotless amenities, and very roomy RV sites. With direct access to the Withlacoochee River for fishing and hiking, free Wi-Fi, and cable TV for every RV user, 30/50 amp power and full hook-up utilities at each site, recently renovated restrooms and showers, a large swimming pool, plenty of laundry machines, and even a dog park so you can bring your furry friends along for some fun in the sun, it offers a level of luxury living that other parks simply can't match.
3. The Emerald Coast RV Beach Resort
The Florida Panhandle's Emerald Coast RV Beach Resort is a terrific choice if you want to experience some Gulf Coast thrills without having to go all the way down the peninsula. Due to its ideal position in Panama City Beach, this RV park has become very popular with RV enthusiasts from all over the United States, particularly in nearby states like Alabama and Georgia. This is a great place to select for sunbathing, beachcombing, watching the sunset, boating, fishing, water sports, and more. There are several very excellent beaches to enjoy in the region, and Pensacola and Destin are just short drives away too.
The exclusive Sun RV Resorts brand of RV resorts, which has luxury RV parks all across the country, includes Emerald Coast RV Beach Resort. This family-friendly campground has lots of roomy, big-rig-friendly RV sites with full hookup amenities and is available all year round. The amenities at this RV park include not one, but two heated swimming pools, a fitness center with a ton of equipment, a hot tub, numerous game and sports courts, premium RV sites with extras like grills and patio furniture, a dog park, a play area, a boat dock, bike rentals, a library, a laundromat, a store, and a lot more.
4. The Gulf Waters RV Park
It truly pays to go to South Florida and stay at a place like Gulf Waters RV Resort near Fort Myers Beach for the most warmth and sunshine. This RV Park is well situated for visits to some of the greatest beaches in Florida, including Captiva and Sanibel, as well as journeys a little farther south to the lovely city of Naples. It is situated right by the shore of the Fort Myers region. Additionally, there are other helpful facilities and venues within a mile or two, including dining establishments, shops, banks, gyms, and more.
The 33 acres of beautifully manicured grounds and more than 315 RV sites at Gulf Waters RV Resort make it a full-service RV park with a lot to offer. In addition to big rig friendly sites, 20/30/50 amp power, a dog walk area, tennis courts, a huge laundry area, hot showers, complimentary Wi-Fi access, multiple lakes with lovely fountains, a club house for games and activities, a heated swimming pool, a spa, and other amenities, this Gulf Coast RV Park has its own restaurant and tiki bar that serves up a fantastic selection of meals and drinks throughout the summer.
5. Things to Do While RV Camping on Sanibel Island
Whether you are staying overnight in Fort Myers or camping at that one island park, Sanibel Island RV camping is conducive to lots of sunny leisure. Myers. With gentle waves, near-shore sandbars, and superb shelling over more than 15 miles of white-sand coastline, the island has some of Florida's most breathtaking beaches.
The majority of beach access points charge $5 per hour for parking; however, overnight parking is not permitted. Day camping is acceptable, but parking costs may mount up quickly. Always double-check the price before leaving.
1. Shelling
Spending some time shelling on the beach is a necessity. Due to their geographic location, the islands are the best on the continent for beach shelling. Instead of running parallel to the shore like many other islands, Sanibel Island curves at the bottom.
All the shells that would otherwise be washed out to sea are caught by this like a glove. Seashells arrive here in great quantity and diversity, and the theme of shells can be seen all across the island in both shell stores and other places.
2. Explore the Beach Park
Cattle barons who required assistance navigating the dangerous seas at Point Yael insisted on the 98-foot lighthouse's construction, and it was put into operation in August 1884.
Once the U.S. In spite of widespread opposition, the Coast Guard chose to put it out of commission in 1972. It is still burning today. With the beach encircling the whole island's tip, it now serves as a well-liked entertainment area and is one of the island's greatest locations for shelling.
3. National Shell Museum Bailey-Matthews
The Bailey-Matthews National Shell Museum, the only museum in the country dedicated only to shells and mollusks, is located farther down the main road. If you wish to identify the sorts of shells you've collected, they provide a helpful shell guide on their website. The use of shells in ecology, history, the arts, economics, medicine, and other fields is examined and explained here. Additionally, they provide daily explanatory beach walks with a museum scientist.
4. Visit the center for Sanibel Captiva Conservation Foundation
The Sanibel-Captiva Conservation Foundation Center is almost close to the shell museum (SCCF). The SCCF oversees nearly 1,300 acres of property on Sanibel and Captiva and is committed to the preservation of coastal ecosystems and aquatic resources (and owns an additional 500 acres on nearby Pine Island).
They provide a broad range of educational programs for individuals of all ages, including classroom-based activities, beach walks, trail walks, boat tours, wading expeditions, and kayak tours.
5. Visit the J.N. Wildlife Preserve Ding
The 6,354-acre wildlife reserve bears Jay Norwood Darling's name, a Pulitzer Prize-winning cartoonist and early environmentalist. More than 50 different types of reptiles, 32 different kinds of mammals, and 220 distinct bird species may all be found there.
It's one of the most well-liked locations for wildlife enthusiasts to visit when RV camping on Sanibel Island. The refuge has excellent places for bird observation, as well as a 4-mile scenic drive, cycling and walking routes, and meandering canoe pathways. All of which are covered in a luxuriant vegetation of native plants, including cabbage and sabal palms, wax and salt myrtles, red mangroves, and sea grapes. It is renowned across the world as a destination for birders.
Final words
If you are a person who loves RV adventures, you may take a look at these RV parks in Sanibel and plan your visit accordingly. You will surely fall in love with what comes on your way with it.