You'll immediately recognize Rams Hill Golf Club as a Fazio-designed course. Some people still believe that nothing grows in the desert. Tell Tom Fazio that! Rams Hill is quite unique. It's one of the most incredible pieces of desert that Mr. Fazio has ever had to deal with, as he said. Members will show up to play it, and they'll want to play it again and over again without becoming bored.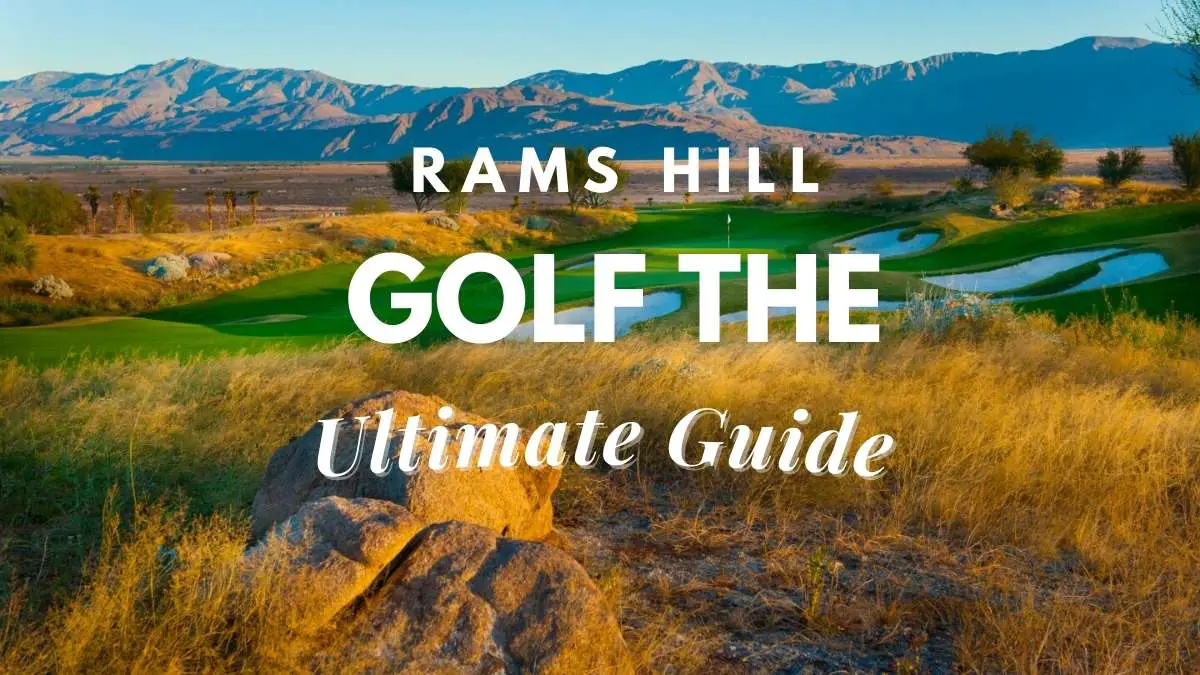 What can you find at the Rams Hill Golf course?
Rams Hill Golf Club provides an unparalleled feeling of tranquility and panoramas while being tucked away in the heart of the enormous Anza Borrego State Park. The gently sloping landscape offers the ideal amount of elevation change—neither too steep nor too flat—to make each hole noticeably different. With white sand bunkers and crystalline blue lakes around them, the mountains provide the ideal setting for golf courses.
The course has five different teeing areas and is about 7,200 yards long. The 141 slope, 7 lakes, bubbling streams, waterfalls, 97 traps, and 75.1 rating will not let you down if you're seeking for a challenge. The biggest state park in California, Anza-Borrego Desert State Park, actually abuts the course. Tawny desert is everywhere you turn, separated from San Diego County by 90 miles of meandering back roads.
However, if you step outside onto the patio of The Yacht Club, a fantastic restaurant at Rams Hill, you will be greeted by a breathtaking view of lush green fairways surrounded by tall golden grasses, blooming desert flowers scattered with succulent plants, water features streaming over rock, and finally a mountain backdrop.
The words "perfect conditioning" and "lush" are appropriate here, as well as "plays firm and fast and smooth bent grass greens," which are often only seen at posh country clubs. It is difficult to think that such beauty was shut down in 2010 as a result of water rights issues and the recession. With no expectation of a genesis in the future, Rams Hill was put into exodus mode.
Rams Hill wore brown for more than three years. Even the famous resort La Casa del Zorro, which was established in 1936 and is just a mile distant, was shuttered. Both President Nixon and President Reagan have stayed there. Rams Hill was revived by new management and a fantastic superintendent called Steven Gregory. Mike Satchell, director of golf, has probably heard it hundreds of times if not thousands of times. "This is the finest maintained public golf course I've ever played," people keep telling me.
Read: Is Traveling A Hobby? The Ultimate Guide To An Exciting Way Of Life Learn about the Downsides Of Traveling As A Hobby

Rams Hill Golf Club's resurgence
In 2013, Bill Berkley, CEO of Rancho Santa Fe real estate firm T2 Borrego, paid $842,000 for the property and its 3,000 acres. Since then, the business, according to Berkley, has invested millions. Since sprinkler heads had been sold, the irrigation system needed to be modified. With fresh sand and seed, bunkers and greens were repaired, and eating choices were provided.
We began in November 2013 and reopened a year later, according to Setchell. Concerns about water in the current California drought? There are presently six wells at the club. "We aren't using any of the available drinking water since the water isn't drinkable. To help preserve, we also introduced native grasses and drought-tolerant plants."
Rams Hill: An unforgettable Fazio adventure
In 1983, Ted Robinson created the first 27-hole course. Although many people like its design, Tom Fazio was hired to redesign it in 2007. The change in ownership and the new name, Montesoro Golf & Social Club, only lasted until 2010, when the economy began to falter, and real estate prices began to decline. Thankfully, the Rams Hill name returned in 2014 and brought back the must-play.
This acreage is absolutely the right match, said Setchell. "Despite being 72 miles from PGA West, our 1,000-foot elevation makes it just cold enough at night to successfully produce bent grass greens. And in the late afternoon, a little wind appears to somewhat chill things down. You can see what is in front of you all day long because it is not dressed up."
The 18th hole, a 577-yard par 5, is among the greatest instances of viewing the complete course. On the road, there is a swinging dogleg right that sweeps downward. It may be your longest drive of the day if you encounter a downhill and a wind in the rear. Numerous fairway bunkers are left and right, while a pond on the right collects water that cascades over big boulders and falls downhill from the clubhouse in phases. Even the green is surrounded by water. There is no justification for missing this enormous fairway when planning your route to a birdie. Yes, the mountains provide a beautiful background.
There isn't a nasty void in my mind. You'll be tested by back-to-back par 3s holes 10 and 11, which are 151 and 213 yards long. Despite being just 331 yards long, the 17th hole is a minefield of bunkers with a left turn on the approach to an elevated, narrower, and more difficult to hit green. This Palm Springs golf course was just as enjoyable to play as any other. It is undoubtedly on par with any in San Diego County.
Golf at Rams Hill Club: Stay and play
For $192 for double occupancy, La Casa del Zorro (lacasadelzorro.com) is offering an unbeatable stay-and-play deal with Rams Hill Golf Club. In Palm Springs, the value of Rams Hill and La Casa del Zorro will cost you twice as much.
The 42-acre landmark resort provides 19 individual casitas, each with its own pool, so you can enjoy stargazing in seclusion. The Fox Den Bar & Cantina and the Butterfield Dining Room are not to be missed. The 44 poolside guest rooms at Zorro are the ideal blend of contemporary comfort and rustic desert charm, with high vaulted ceilings, tile flooring, wood-burning fireplaces, and marble baths.
Large flat-panel TVs, free internet, terrycloth towels, and coffeemakers are provided in both the guest rooms and the casitas. Six illuminated tennis courts, three guest pools, a fitness center, a yoga studio, a conference center, and a spa are all available at Zorro. Rams Hill was visited by Independent Golf Reviews in the winter of 2021. For two days, I remained on the property. I liked my stay at House on the Hill with several other golfers and played four games of golf while exploring Rams Hill.
What to expect in here?
The best golf courses in the world may often be located in remote areas. Most are not even in the suburbs, much alone in the center of a city. The greatest golf courses are sometimes difficult to access and far away. Rams Hill is one of those courses in the middle of nowhere in the CA desert. San Diego and LA, two of the largest CA cities, are a couple of hours apart. To experience this oasis in the desert is worth the journey.
1. Fazio Design
Rams Hill has a lengthy and turbulent history. It originally featured 27 holes, many original designers, and multiple bankruptcies. All of this convinced investors to hire Tom Fazio to remodel and build the 18 holes that make up the Rams Hill Golf Course that exists today. One of the top course designers in the world is Fazio. His designs are incredibly playable and provide plenty of visual delight for players of all skill levels. I was able to play Rams Hill with both contemporary clubs and hickory sticks that were almost a century old. It played well from a variety of tees and was extremely playable for golfers of all ability levels. Only a small number of forced carryings occur, and they are not severe. This golf course is stunning and enjoyable since it makes advantage of the surrounding natural terrain, desert vegetation, and water.
2. Outstanding Course Conditions
Rams Hill provides excellent course conditions. One advantage of their management team is that they truly shut down during the sweltering summer months. As a golfer from Arizona, I would be disappointed if all the courses in Tucson closed for the summer, but I can understand how advantageous it is for maintaining the courses. They can get the course in top condition for autumn, winter, and spring golf since there is almost little wear and damage during the heat (apart from the sun). Although you won't necessarily shoot a score of 14 while you're there, the course will be lush, congested, and constant from tee to green.
3. One of the top golf courses in the region
I've experienced several of the best golf courses there. Rams Hill is among the top 5 public courses, but certainly not all the private ones. This is one of California's best courses because of the diversity of holes, playability, beauty, and green complexes, as well as the whole experience. Although it doesn't offer ocean vistas like some of its rivals, many of the holes feature miles-long views of the desert.
4. The Hill House
I really suggest staying at the House on the Hill if you're traveling to the Rams Hill golf course. It is a Rams Hill property and provides stunning views of the golf course along with an opulent stay for you and a group of golfers. With its spacious living space and 4 bedrooms, it's the ideal location for a holiday with friends or as a couple. It contains 4 golf carts for both golfing and moving around the grounds. Your company may take use of many TVs, a large kitchen, an outside terrace, and a grassy overlook.
5. Special Snacks
The Ram Shack tacos and the end of the round cookie are two of Rams Hill's distinctive and delectable confections. The clubhouse has a full-service bar, and there is a beverage cart that circulates, but the Ram Shack's free street tacos are the ones that truly satisfy. The street tacos are the ideal quantity of food to keep you full for the remainder of the round, however you may buy beverages and other snacks to go with them. Up until then, you won't get the free cookie after your round is over until you hit 18 green. Although I prefer chocolate chip cookies, this Apple Carmel cookie is incredible. I love a nice cookie.
6. Excellent golfing experience
If you're playing at Rams Hill, Matt from Golf in Your State may be there, along with his RV and metal dog Puttz. If you can meet the course ambassador, it adds to the experience. Each autumn, Matt works on various projects around the property in preparation for the course's opening while posting beautiful images of Rams Hill on social media.
Final words
Many people continually consider the Rams Hill Golf Club to be one of the top facilities in the country. One of the few public Tom Fazio-designed courses exists here. Rams Hill provides a remarkable experience with over 7,200 yards of lush lying, immaculate lakes, and shifting breezes sailing through the stunning Anza Borrego State Park.
On this lonely slope overlooking the desert in Southern California, Fazio produced a masterpiece with the stunning Santa Rosa Mountains as a backdrop. Each hole is distinctively different due to the natural elevation fluctuations; they are neither too steep nor too flat. The many lakes, streams, waterfalls, and endless mountain panoramas at Rams Hill contribute to the area's unmatched feeling of tranquility and pleasure.
Rams Hill is well-known for its immaculate course conditions and flawless bent grass greens. The Rams Hill practice facilities are equally remarkable. The double-ended driving range includes raised target greens with white sand bunkers around them, and bag stands with range finders and free Titleist Pro V1 practice balls. There are several putting greens and pitching areas with bunkers around the complex, and PGA Director of Golf Mike Setchell and his qualified team provide instruction.