Twenty minutes from Alamogordo, the town of Cloudcroft is located high in the Lincoln National Forest. It is located in the Otero County in southeast New Mexico. The haven offers fantastic opportunities for hiking, camping, motorcycling, horseback riding, and fishing. It is famous for the renowned Cloudcroft Lodge. The community attracts Texans seeking milder climates due to its pleasant summers at an elevation of 9,000 feet, and Cloudcroft is renowned as the country's southernmost ski resort. A high-tech employer, Cloudcroft is home to two sizable ground terminals for the tracking and data relay satellite system. While looking for fun things to do in Cloudcroft NM, take a look at this article and plan your tour.

The El Paso and Northeastern Railroad was established by the Eddy brothers a century ago, and by 1898 it had built a line from Alamogordo to Toboggan Canyon. As "a meadow for the clouds," the train workers proposed the name Cloudcroft. The next summer, John A. Eddy established the Pavilion at the peak with 40 tents placed on wooden platforms, a kitchen, dining area, living room, and entertainment area—early glamping as we now know it.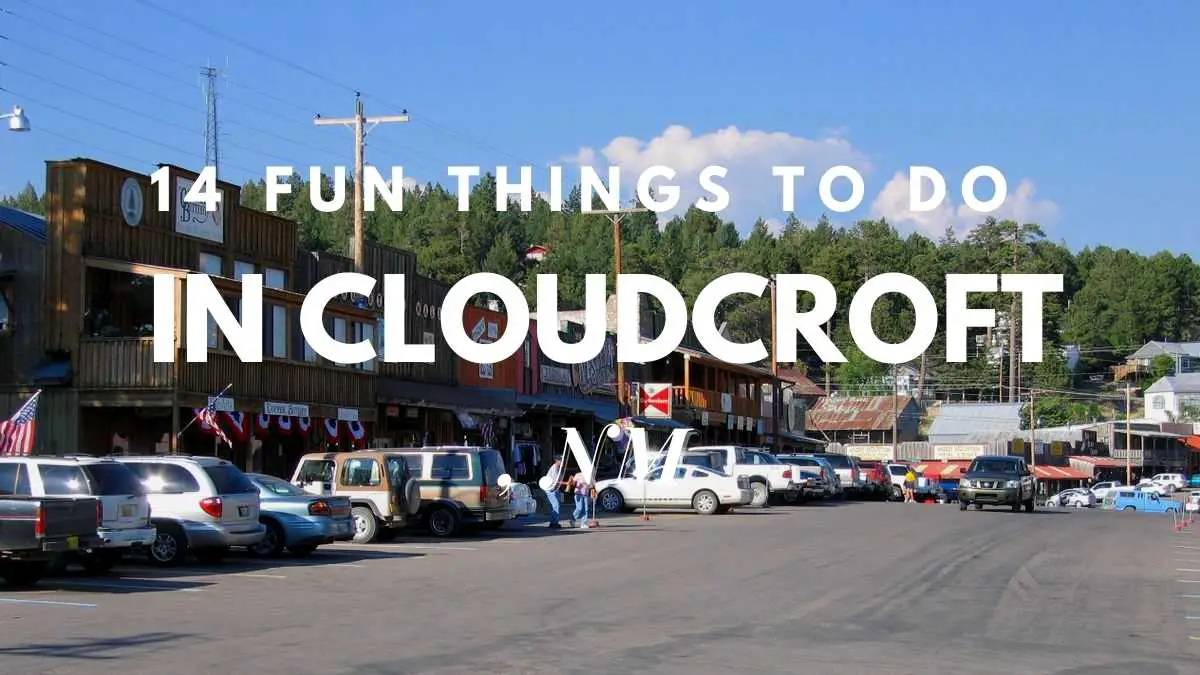 1. Mountaineering in Cloudcroft
The Trestle Recreation Area has a lovely view and is only open for daytime picnics. Restrooms, water, interpretative materials, and easy access to hiking routes are all present. In order to transform abandoned railroad lines into multi-access, multi-use recreational trails, the New Mexico Rails-to-Trails Association built and maintained nearly 90 miles of linked trails. 113 hikes are available on the All-Trails App.
Rim Trail, a network of historic Native American roads, railroad grades, farm trails, and logging routes, runs through fir and pine woods, aspen, and verdant meadows for 30.5 miles. Various locations provide breathtaking views over the Tularosa Basin, which is more than 4,000 feet below. Dispersed camping is available adjacent to the waterfalls at Bluff Springs Waterfall, a partly built picnic park 8 miles south of Cloudcroft along the Sunspot Highway.
Read: Is Traveling A Hobby? The Ultimate Guide To An Exciting Way Of Life Learn about the Downsides Of Traveling As A Hobby

2. Ski Cloudcroft
The finest snow in the world falls at Ski Cloudcroft, the southernmost ski resort in the United States. 25 fantastic trails, including eight for beginners, seven for intermediates, eight for experienced users, and two for experts, make up this long-time favorite. With the double chair lift, rope tow lift, and hand tow lift, you can ascend the hill swiftly and with nearly as much enjoyment as going down the slopes. Come ski, snowboard, and tube on the 700-foot vertical drop and 9,100-foot summit peak.
Enjoy the Cloud Nine Ski School's expert, reasonably priced individual and group instruction for snowboarding or skiing. There is a big selection of well-maintained equipment available for rental. The cost of the lift ticket and tube rental is included in the price of two-hour blocks of snow tubing, which is a ton of fun. Three lanes, each 700 feet long, with a 70-foot vertical drop are available for tubing. It's a fantastic ride!
3. Ice Rink at Cloudcroft James Sewell
The James Sewell Ice-Skating Rink, the only outdoor natural ice skating rink in the Southwest, is located in the old town of Cloudcroft. In a cozy space with a fireplace, put on your skates. There is terrific music, high-quality skates, and hot cocoa provided.
4. Practice your swing at Cloudcroft's Lodge Resort.
Play twice at the Lodge 9-Hole Golf Course, which is available from April 1 to October 31 and follows the Scottish custom of using different tees and flags for each shot. The almost 122-year-old historic course, which is now ranked seventh internationally, was created in 1899. The good thing about the altitude is that your drives last longer than they ever have.
5. The Lodge Spa Resort During Cloudcroft
The Lodge Resort and Spa at Cloudcroft is a wonderful old hotel with fascinating spooky legends of the past and where some experience a frightening presence, towering high above the 9,000-foot mountain. There are 59 suites and guestrooms in the Victorian style, and no two are the same. Keep in mind that the motel, which has three stories, lacks an elevator. There are still some improvements going on.
6. Outdoor Recreation and Mountain Biking
The 8.2-mile High-Altitude Race Loop is a meandering single track that begins at the High Altitude Bike Shop and travels to Pines Campground before making a big descent down Bailey Canyon and two hard climbs on Forest Roads before returning to the town.
7. Geocaching
In the vicinity of Cloudcroft, there are more than 240 Geocaches, some of which date back to 2004. The real-world outdoor treasure seeking game Geocaching enables players to identify a specified set of GPS coordinates and try to locate a hidden geocache container using GPS-enabled devices. It is customary to document your experience on the geocaching website or app and to note your discovery in the logbook located within the cache.
8. Pioneer Village & Museum in the Sacramento Mountains
Visit the museum to learn about the village's history, which includes the construction of the railroad, the logging industry, and the settlement of the Mescalero Apaches, who dubbed the region "Pisacah," meaning "a land of abundance." The historic lodge in its heyday, the pioneer settlement, early farming and ranching, and life in a rough log house are all shown in the photographs. Visit the General Store to purchase handcrafted trinkets.
9. Wine and Beer Tasting Noisy Water Winery
With five sites in the region, Noisy Water Winery offers chardonnay, pinot noir, petit sirah, and the double-gold-medal winning Ruidoso Bubbly. In a historic setting with a large outdoor terrace where live music is often played, the family-friendly microbrewery Cloudcroft Brewing Company serves up regional on-site microbrews along with wood-fired pizza, soups, and salads.
10. Cloudcroft Light Opera Company
At the Zenith Park Pavilion, Cloudcroft Light Opera Company presents light family-friendly comedies with the dashing hero, evil villain, or lovely heroine. It all began in 1991 when two former theater pals made the decision to stage a performance on the Chamber of Commerce's back porch. Since then, there has only been melodramas after hats were handed around and money was donated. The CLOC offers Santaland, a holiday celebration featuring a bonfire, hot cocoa and cider, Christmas music, activities, and Santa.
11. More Events in Cloudcroft
Santa Claus is present during the Cloudcroft Christmas Market, the Lighted Christmas Trail, and the Tree Lighting. Bring a tree ornament to decorate. A children's procession, food sellers, entertainment, and a Cajun cooking competition are all held during the Mardi Gras in the Clouds every February. Axe throw, chainsaw competition, block chop, and relay events for adults and kids are all part of the autumn lumberjack competition. There are also food vendors and arts, and crafts exhibits. In June, July, and August, register for the Cloudcroft Art Workshops in 2022.
12. Sunspot Solar Observatory
The Dunn Sun Telescope at Sunspot Solar Observatory, a leading facility for solar study since 1947, is one of the top ground-based observatories in the world and is only accessible by appointment. A gift store and a museum with exhibits are located in the tourist center. Using the walking tour booklet as a guide, stroll the grounds' half-mile circle.
13. Rent a bike and ride it  
The variety of outdoor activities available in this city is one thing for which it is renowned. Its elevated location makes it a haven for those who like going on hikes up mountains, exploring forests, and setting up tents in the center of nature. If you fall within one of those categories and live in this town, you will be delighted with all it has to offer. And High Altitude is the finest spot to obtain (rent) your bike and equipment if you wish to travel on challenging mountain paths for hiking or biking vacations.
14. Visit Cloudcroft Light Opera Company to see a show.
Since it began operations in 1991, Cloudcroft Light Opera Company has dominated the local entertainment scene. The inaugural performance of this lovely and revered Cloudcroft attraction took place approximately 30 years ago, and it is still routinely used. It provides everyone with a venue where they can enjoy witnessing amusing musical comedies, endearing children's shows, and several other forms of engaging stage acts all year long. It's a lovely location to explore with a special someone.
Accommodations in Cloudcroft
Six guestrooms at the Crofting Inn include balconies, microwaves, and complimentary breakfast. Stay at one of the 13 completely furnished cabins at Cloudcroft that include a king or queen bed, a kitchen, a couch, a fireplace, and a pleasant sitting room high among the aspens and Ponderosa pines. A unique kind of bed and breakfast, The Dusty Boots Motel & Café is a retreat for Texans seeking a change of scenery to cool mountain air with skiing and snow in the winter. Every night, visitors eat handmade banana bread.
Burro Street Boardinghouse transports you back in time to an upgraded replica of a log cabin adorned with century-old antiques, terraces overlooking the town, a wood-burning furnace, and an old-fashioned breakfast served every day, only a half block from distinctive stores on the Boardwalk.
Where To Eat
In addition to pastries, breads, pies, hot and cold espresso lattes, frappes, coffee, tea, hot chocolate, and other beverages, Burro Street Bakery is where Cloudcroft's renowned Mountain Top Pies are made. Order complete pies in advance, such as the beloved caramel apple walnut pie.
The Dusty Boots Café is a favorite place for a filling breakfast and a nice cup of coffee. For lunch and supper, they provide substantial country fare like chicken fried steak, meatloaf, and fish-fry Friday.
Two brothers-in-law from central Texas who operate Brother-in-Law Barbecue provide barbecue brisket, pulled pork, baby-back ribs, as well as plates or sandwiches with smoked chicken, sausage, or turkey with all the fixings.
Final words
You may now plan your trip to Cloudcroft by taking a look at these fun things to do in Cloudcroft NM. We guarantee that all these things would deliver a bunch of enjoyable experiences to anyone out there.