Merrymeeting Lake is a 1,233-acre body of water situated in the town of New Durham, Strafford County, in eastern New Hampshire, United States. The Merrymeeting River, which empties into Lake Winnipesaukee, flows south before turning northwest. Continue to read this article and we will be sharing some additional details with you on what Merrymeeting Lake is all about.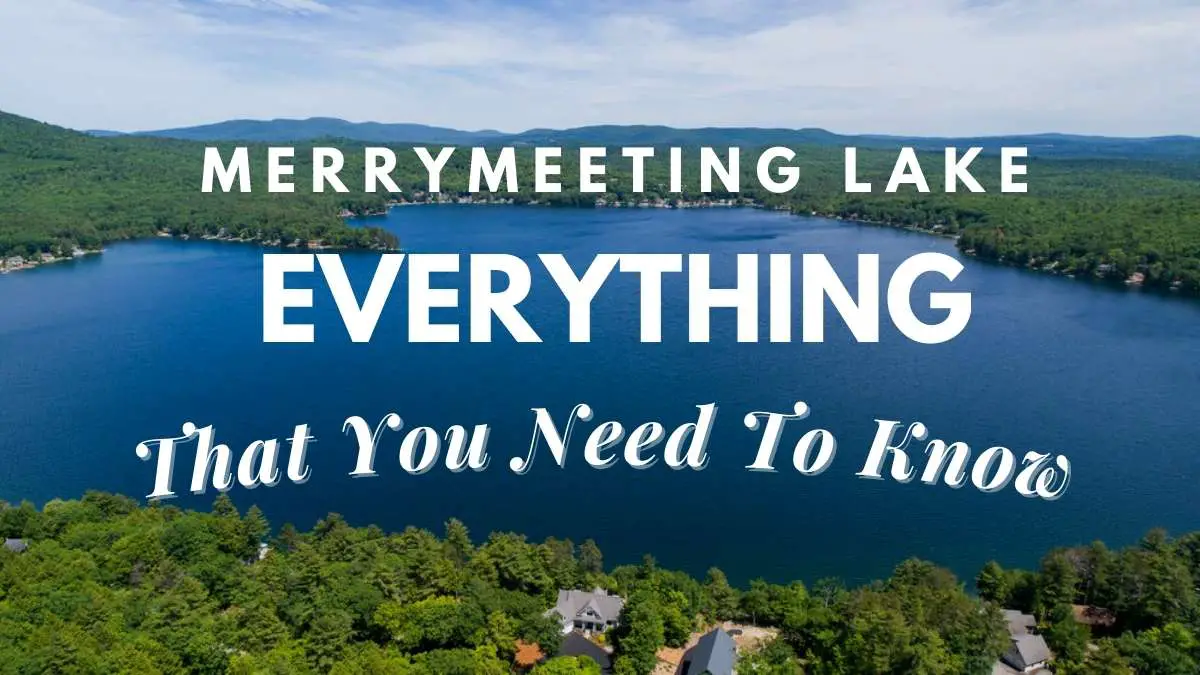 What is Merrymeeting Lake?
Merrymeeting Lake's shoreline has a moderate to high level of development. Rather of having a wilderness-like quality, the lake has a crowded recreational vibe. There are now just a few little unspoiled stretches of coastline. Both the far eastern border of the lake, which is impossible to reach by road, and the western side of Sawtooth Cove, where the soil is exceedingly steep and difficult to build on, are undeveloped regions.
The majority of the structures beside the lake were basic summer campers in the 1980s. Most of these buildings were taken down in the 1990s and rebuilt with more luxurious summer residences, some of which cost millions of dollars. Two paved roads, North Shore Road, and South Shore Road, which are maintained by the town of New Durham, allow for year-round habitation, and nearly completely surround the lake. The winter population is modest, nevertheless. Affluent families' second houses make up the majority of the residences on the lake.
The lake's west end has a dam that is used to regulate the lake's water level. The dam lowers the lake's water level every year in the autumn. Snow melt and showers in the spring raise the water level to its regular level. The lake's water overflow supplies the Powder Mill Fish Hatchery, which is situated at the foot of the dam.
Common loons may be seen nesting on the western coast of Merrymeeting Lake. On the lake, ducks may also be seen, however the Merrymeeting Lake Association forbids feeding them. The lake is stocked by the New Hampshire Fish and Game Department for recreational fishing. Observed species in the lake include rainbow trout, landlocked salmon, lake trout, smallmouth bass, chain pickerel, and horned pout. The lake is categorized as a cold- and warm-water fishery.
Read: Is Traveling A Hobby? The Ultimate Guide To An Exciting Way Of Life Learn about the Downsides Of Traveling As A Hobby

Why should you think about visiting Merrymeeting Lake?
Summers at Merrymeeting Lake often pass by in a flurry of sun, sand, water, boats, and barbecue. Like nowhere else in the earth, you settle into a routine. Purple sunrises in the early morning hours are accompanied by fog rising from the lake and drifting over the mountains. Sunny days spent with friends on a boat. Evenings dining outdoors on the terrace. sails at night through the many sparkling stars-covered bays and inlets. Merrymeeting has numerous distinctive features that make it the ideal place to hold a summer camp.
It offers a great water body to enjoy
Because of the lake's depth and flow, the water is so pure that you could really bottle it and sell it at the shop. Merrymeeting is frequently rated as one of the cleanest lakes in the nation, and the locals work hard to preserve this reputation. Since everyone is concerned about the lake's health, floating garbage, invasive alien plants, and oil/gas in the water are very unusual, if ever seen.
Merrymeeting has just one public boat launch and one marina on its borders, yet it is miles long and spacious enough to sail about and enjoy yourself. It is typical on Merrymeeting to be out on the water in the middle of the week and never see another boat in sight since the larger lakes in the region tend to pull the visitors. Less boats imply fewer waves created by vehicles, which results in smooth conditions for boarding and skiing most days. Reduced boat traffic also creates a playground unlike any other for activities like swimming, sailing, and kayaking without the danger of being cut up by a passing propeller.
Perfect weather and temperature
The lake's depth (125 feet at its deepest point) plays a role in preserving the appropriate water temperature. In New Hampshire, summers are just wonderful. The average daily air temperature is approximately 80 degrees, and by the end of July, the water is reaching the 70s and remaining there until September. Just right—not too hot, not too chilly.
The folks that spend time together on Merrymeeting are kind and supportive of one another. Everyone here is nicer and a bit more relaxed than they would be in other places in the real world. Any passing kayak, canoe, or motorboat will always give you a salute, and the only traffic on the roads is created by motorists who stop in the middle of the street to converse. As you pass by people on land or in other boats while wakeboarding or water skiing on the lake, you will hear hoots and see fist pumps; everyone gets excited to watch others having fun on the water.
I've saw some incredible animals throughout my time at Merrymeeting. A few couples of loons live on the lake, and you can hear their cries most nights. At night, you can't escape the croaking of enormous bullfrogs. Bald eagles circle the area and soar in for their fishy feasts, while turtles rest on docks and moose and animals sneak to the shoreline to drink. In addition, I've seen several foxes, a couple bears, and a mountain lion. The majority of the wildlife seems completely unconcerned about us and content to simply go on with their daily activities, leaving us to enjoy the beautiful lake.
All of these reasons Merrymeeting is wonderful serve as a reminder to share the lake, maintain it tidy, and safeguard it for future generations.
Other activities you can do around Merrymeeting Lake
1. The Cotton Valley Rail Trail by foot.
On top of an abandoned railroad track, this twelve-mile path is located! Even while you can still see some remains of the old railroad, the route itself has been transformed into a relatively straightforward walking path, and right now it essentially simply appears like a walking path.
One of the most popular activities in Wolfeboro is now the trail. Families and anyone who prefer to be active while vacationing like it very much. If you're fortunate enough to go during the winter, the path transforms into the ideal location for snowmobiling!
2. Discover Wolfeboro's Art Walk.
Do you like art? You're in luck, then! One of the best things to do in Wolfeboro, New Hampshire, is the Wolfeboro Art Walk. Because of the better weather, it takes place on the last Saturday of every month from May through September. This enjoyable event was organized by a few local galleries and benefits many of the regional artists. Additionally, a local musician or band often performs throughout the event!
3. Visit a farmers' market
A bunch of flowers is seen up close in front of a beach and a body of water. Attending a farmer's market is one of the finest ways to mingle with the locals since New Englanders like them! Fortunately, you are permitted to visit the weekly farmer's market that takes place in Wolfeboro.
Remember that the Wolfeboro Area Farmers Market is only open in the afternoon on Thursdays. This is the ideal approach to support the local farmers, and you could even receive some fantastic tips for additional entertaining things to do in Wolfeboro, New Hampshire.
4. Winter sports
If you're fortunate enough to go to Wolfeboro in the winter, you can go skiing there. The Wolfeboro Abenaki Ski Area is the greatest location in Wolfeboro for skiing. One of the oldest ski areas in the nation is this one.
There are several paths, so regardless of your skiing ability, you can choose one that you can complete without difficulty. Additionally, since it is operated by the community, the prices are quite reasonable when compared to most other ski resorts. Each individual simply pays $20 per day!
5. Visit the Cate Park
You should go to Cate Park if you want to unwind. Due to its waterfront location, it is the ideal site to visit if you want to do nothing except watch the boats sail by. Think about going to a neighborhood restaurant and purchasing some food so you may have a picnic here.
Since this is Wolfeboro's most visited park, it may become rather crowded, particularly on pleasant days. However, it's typically simple to locate a space all to oneself! To enjoy live music while watching the sunset, try to go on a Wednesday. Wolfeboro, New Hampshire, as viewed from above, is a town near to a body of water with mountains in the background.
6. Go swimming
Because it has sand and has a more beach-like feel, Allen Albee Beach is the most visited area of Lake Wentworth. Additionally, there are several picnic tables available, allowing you to relax with friends and family.
Allen Albee Beach is a lot calmer than other areas of Lake Wentworth. This is the beach you should visit if you want a more relaxing experience. Additionally, if you stay at Allen Motor Inn, the beach is only outside your door!
7. Explore downtown
Going downtown to get a feel for the area is one of the finest ways to discover a new location. You'll be in the center of the whole town and are frequently able to meet people here. Wolfeboro is not an exception either!
Additionally, Wolfeboro's downtown is highly walkable. You could even come upon some undiscovered treasures! The Lone Wolfe Brewing Company and Black's Paper Shop, a fantastic gift store, are two fantastic locations in the downtown area.
8. Visit The Wright Museum of WWII to learn.
If you like learning while traveling, the Wright Museum of WWII is a fantastic destination. Be careful to schedule your vacation between May and October if you want to visit the museum since it is really a hidden treasure and only open during those months.
Most visitors only require one to two hours to completely tour the museum. Every time you come; it won't be exactly the same since the museum curators often have changing rotational exhibits that take place throughout the year.
9. Try some of the delicious dishes at La Boca.
Visit La Boca Restaurant in Wolfeboro for a fantastic lunch. The food is extremely vast, and the ambiance is quite relaxed back. There is usually a chef special, and the menu changes weekly. For instance, the main course may be spaghetti one week and paella the next! To satisfy various tastes and nutritional requirements, the main meal is often offered in a few distinct variations.
10. Copple Crown Mountain hike.
The walks in New England are unsurpassed because of the amazing mountain ranges there. Try climbing Copple Crown Mountain for a fantastic trek! Both residents and visitors agree that this is the most well-liked trek in the region.
Only around eight miles long, this modest trek offers breathtaking vistas at the summit. If you wish to attempt snowshoeing, it's also a wonderful path to hike on in the winter. If it has recently rained, be careful to check the weather forecast since it may get muddy.
11. Visit Winnipesaukee Winery to support locals.
Do you like treating yourself when you travel? Then go to Winnipesaukee Winery, one of the top Wolfeboro, New Hampshire attractions. The family has a long history of producing wine, and their winery has received quite a few awards.
Visit the proprietors' 1810 House Bed & Breakfast for a night if you want to learn more about producing wine. Throughout the year, the winery also conducts a variety of events; check to see if any are scheduled for the time of your visit.
12. Learn to ride a horse at High Meadows Farms.
Have you always longed to be able to ride a horse? You're fortunate! High Meadows Farms is a fantastic location in Wolfeboro to learn how to ride a horse. Additionally, it is situated in a stunning area surrounded by sweeping mountains and verdant forests.
Final words
Now you know all the basics about Merrymeeting Lake and the reasons on why you should be visiting here. Keep these in mind and plan your visit, so that you can get the most out of time that you are spending in Merrymeeting Lake.