Your hunt ends at Harpers Ferry, West Virginia, the perfect mountain retreat. You'll enjoy spending a long weekend at Harpers Ferry, which is home to the Harpers Ferry National Historic Park, amid pure environment, tremendous history, and a quaint tiny village that really welcomes tourists. There are many possibilities for your tubing excursion to Harpers Ferry as it is situated at the meeting point of the Potomac and Shenandoah rivers. On this Harpers ferry tubing guide, we are looking forward to sharing all important details that you need to be aware of Harpers ferry tubing.

Along with peaceful river tubing, you may choose to be a bit more daring and go whitewater rafting on the rivers' faster parts. But for the sake of this essay, let's keep to what you need know to organize the ideal tubing trip in Harpers Ferry, West Virginia.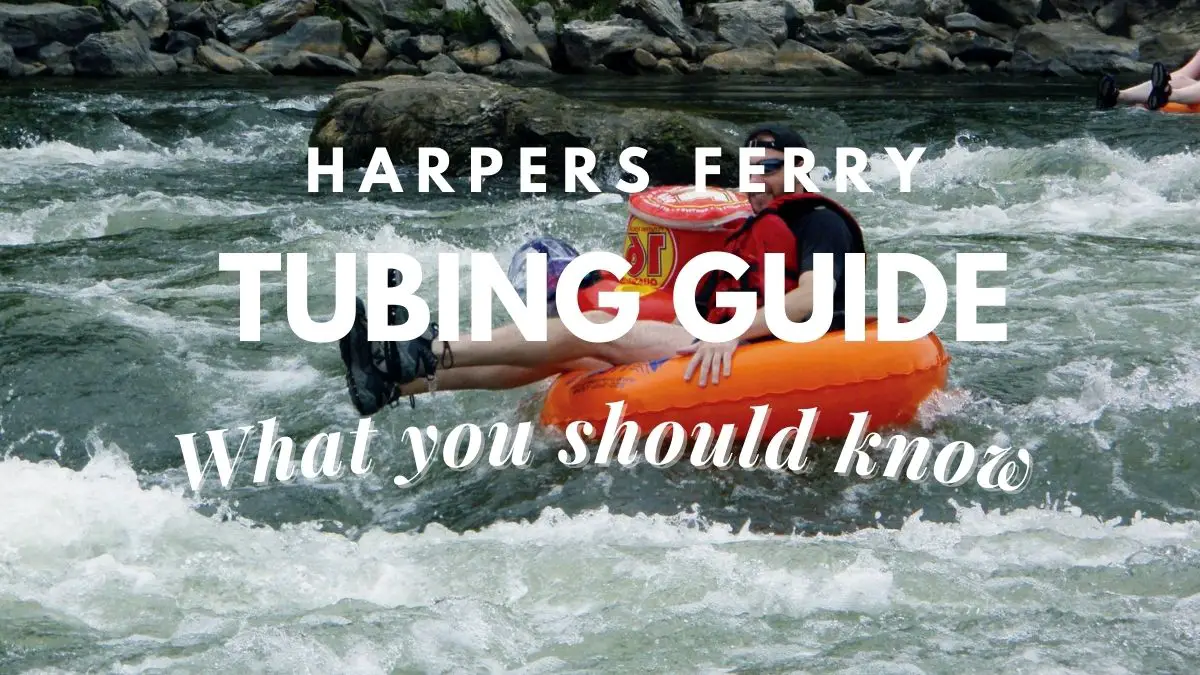 What Does Harpers Ferry Tubing Mean? Why Is It So Well-known?
Grab a tube, wade into the river, and enjoy a leisurely float—all that's there is to tube. Tubing has always been a popular summertime pastime in Harpers Ferry. The river calls when the temperature is high.
But Harpers Ferry is popular with tubers for more reasons than simply the chilly water. Wildlife and landscape are other important factors. The Potomac or the Shenandoah, Harpers Ferry's twin rivers, provide the best vantage point from which to see its towering cliffs, spectacular animals (including golden eagles, bald eagles, and peregrine falcons), and lush surroundings. In fact, Harpers Ferry is often listed as one of the best US rivers for tubing.
What Do I Need in Harpers Ferry for Tubing?
A tube and a life jacket are all you really need for a day of tubing in Harpers Ferry if you're the do-it-yourself type, however extra accessories can make the experience more enjoyable (like a floating cooler)!
The greatest challenge is finding a route back to your vehicle if you accidentally drift down the river. Outdoor retailers in Harpers Ferry provide anything from full-service tubing (they supply all the equipment and the shuttle) to shuttle-only service to address this issue (you provide your own gear; they provide the ride back to your car).
Who In Harpers Ferry Offers Tubing?
In Harpers Ferry, there are three outfitters that provide amazing outdoor excursions. These three businesses are great places to start if you want to organize a vacation that includes kayaking, rafting, or zip lining in addition to tubing.
Center for Adventure in Harpers Ferry
The Harpers Ferry Adventure Center is unique in that it has a personal take-out on the Potomac River's banks. Jump out of the river at the conclusion of your journey, then take their quick shuttle up to the top of the hill where you left your vehicle.
Stop at Harpers Ferry Brewery for a drink and a breathtaking view of the river before you depart the neighborhood!
Because they have an exclusive put-in on the Potomac upstream from historic Harpers Ferry, River Riders' claim to fame is that their whitewater tubing tours are longer than those of their rivals.
In the region, the journeys offered by the River Riders are the longest. Your whitewater tubing journey is a little over 1.5 kilometers longer. Just above Harpers Ferry, River Riders has obtained a personal, private river access. Only 2 miles and less than 5 minutes separate our base from this access. You will now have more time for tubing and less time for the bus. 30% more fun on the whitewater on your next vacation!
The first Harpers Ferry tubing business is called River Riders. Over the course of the year, they serve thousands of visitors, and on weekends, they accept several hundred. Even if there can be a little delay on the weekends, we're devoted to giving you a great experience. As the only outfitter that provide Tube Tracker Pros with paddles, they offer improved vinyl tubes for a more comfortable and long-lasting choice.
How to Prepare for a River Tubing Trip
Due of safety concerns, flip-flops are not permitted as footwear. For the activity, it is advised that visitors dress in bathing suits and water shoes or something equal. Guests without the proper footwear will not be allowed on the excursion. Footwear with an ankle strap is necessary. On-site at HFAC are water shoes and straps for spectacles (chums).
Visitors are advised to leave whatever they won't be bringing into the river with them in one of the on-site lockers or in their cars after checking in. For lockers, visitors may either bring their own locks or buy them there. Visitors are STRONGLY advised NOT to bring their vehicle keys into the river, and HFAC offers a free key check service. Everything you carry on the shuttle will accompany you onto the river, where it will likely become wet and maybe get lost. Please leave anything like jewelry behind; HFAC is not liable for anything that is lost on the river.
Once at the staging area, guests will wait for the next shuttle while bringing themselves and their coolers there. The staging area must be occupied by visitors at least 15 minutes before the shuttle is scheduled to leave. Shuttles won't hold for passengers. The next shuttle departure must be waited for by anybody who misses their shuttle time.
Guests will depart the river at the HFAC property when the experience is through, where they will wait for the shuttle to take them up the hill.. When the guests return to their automobiles, they may either utilize the HFAC's hot showers and restrooms or take the next shuttle back to the river to repeat the journey (time allowing). You will get a post-travel survey via email after your trip; we invite visitors to respond with feedback on their experience to assist us keep offering the things you loved on the trip and address any suggestions you may have.
Tips to get the most out of your Harpers ferry tubing experience
One of the best summer activities in the United States is tubing, along with pool parties, backyard barbecues, and finishing work early on Fridays. It blends unwinding on the water with taking it easy while enjoying a refreshing beverage. There is definitely a location to float close to your house since rivers all throughout America open up to tubers during the warm-weather months. But unlike the waterparks of your childhood, there isn't a lazy river here.
You're going to need a strategy. We outlined everything you need to know to be prepared for a summertime tubing excursion, including how to check the water's clarity, what to pack (and what to leave behind), and the floats that will make you the envy of other tubers. The last step is to get some companions.
Pick the best location in Harpers ferry
Water level and flow velocity are the main factors that affect a river's tube-ability. If the current is too strong or traveling too quickly, tubing won't be safe. You can find yourself walking if the flow rate is too low instead of floating (and stepping on exposed rocks — ouch). Flow rate recommendations vary based on the exact river, so research your location online before you go (see our more detailed tip below). You'll also need access to the river, either via a tour operator or a public access point if you're going alone.
Furthermore, we're not simply debating sun vs. clouds. Key factors include the water. One day, a river can be perfect for tubing; the next, it might be too risky. Even on a beautiful bright day, recent heavy rains may have caused the river to become too deep to tube in (or a drought may have caused it to become too shallow), and you don't want to find out about this after your crew has already arrived at the launch site. Most tubing outfitters' websites regularly update river conditions, and they often provide a color-coded key that indicates whether tubing is permitted that day for everyone, just strong swimmers, or not at all. Alternatively, you can always give an outfitter a call to double-check the details (you may do this even if you don't intend to rent from that specific business).
Self-serve or full-service?
When you work with a tubing outfitter, everything is handled for you, including the transport to the launch site and the rental of the tubes. They sometimes even provide optional rentals such as coolers and sunglasses. Of course, there is a price for this convenience: You should expect to spend an additional $25 per person if you want a cooler or an extra tube. If you pick the BYOT (bring your own tube) option, you are not restricted to the river segments where tour companies operate (again, just make sure it's safe to do so). Additionally, if you want to make tubing a yearly or semi-annual summer habit (because honestly, why wouldn't you?) investing in the equipment up front to use repeatedly might end up being more affordable in the long run. You can get a solid tube for approximately $20.
Understand the regulations.
On the river, are life jackets required? (On occasion, the response will depend on the state of the river.) Is alcohol permitted? (Frequently, Styrofoam and glass are forbidden.) Before leaving on your journey, research the regulations so that you are informed. A run-in with the police may ruin a good day of tubing quicker than anything else.
Avoid having food before you enter the water
This is not the time to heed the proverbial advice to avoid eating before entering the water. A lengthy float journey takes a lot of gasoline. Consider bringing some refreshments in a dry bag or cooler if you plan to be on the water for more than three hours or choose a tubing location with a concession stand. This is especially crucial if you want to drink alcohol while riding your float. Open water necessitates maintaining your composure and preventing hanger.
The cost of renting a tube from a tubing outfitter often includes transportation upriver to the launch site, and you'll float downstream to the location of your parked automobile. If you decide to do it yourself, you'll need to plan how to return to your vehicle from where you depart the river. One alternative is to arrive at the destination first, leave one car there, and then board the remaining vehicle(s) to go back to the starting location. The drivers return that vehicle after you depart to pick up the other vehicles before returning to get the passengers. Calling an Uber or Lyft might assist in getting drivers back from the departure point if it is simpler to park all of the vehicles at the beginning location. Those who drink alcohol should, of course, choose the latter choice or designate a designated driver.
You must bring your own tube if you aren't renting one from an outfitter. The best kind of tube for the river is one with a mesh bottom (as opposed to those donut-shaped pool floats), which makes them more comfortable to sleep in for hours, keeps you cool from the water beneath, and serves as a catch-all for anything you may have with you (like a water bottle or dry bag). In addition to tubes with a headrest for maximum comfort during lazy floats, look for tubes with grips or other gear for hanging ropes onto.
Because riverbeds may be stony, wearing durable footwear will prevent your feet from being sliced up when you enter and leave the water. A word of advice: Avoid wearing flip flops since they won't keep your feet dry in the river.
It should go without saying that in order to prevent sunburn, you must apply sunscreen before entering the river and continue to reapply it while tubing. However, you're going to need a hat and sunglasses to further shield your face, so think twice before bringing your pricey lucky hat and $200 Ray-Bans along. Be aware that everything you bring with you could end up at the bottom of the river, so be ready for that possibility. Choose something snug-fitting, like a baseball cap, as opposed to a wide-brimmed straw hat, which is more prone to be blown away by the wind. A sunglass strap can also hold your sunglasses more securely in place if you're concerned about dropping them.
Don't bring your phone along
Bringing your mobile phone is just not worth the risk. One member of your party should seal theirs in a waterproof bag if you need one for emergencies or to arrange your return transportation (this goes for other valuables like car keys, too). Now, we're not saying you shouldn't post photos from your amazing tubing trip on social media. Bring a waterproof camera if someone in your party has one or toss one back with a few disposable waterproof cameras. After your adventure, upload the photos to a group folder so everyone may share.
Multiple tubes may be connected using nylon rope, which resists decay. A crew that is connected by rope tends to stay together (literally, because they have no choice). Remember to bring scissors to cut it, and a few carabiners to attach items to your tube, such as water bottles, hats, dry bags, etc.
Get a portable air compressor
This item is a requirement for the BYOT path. To speed up the process of inflating your tubes without anybody on your team passing out from physically blowing them up, choose a type that plugs into a vehicle.
You should wear a swimming suit since you are entering a river. However, if you want to stop in town for a bite to eat once your journey is over, you should bring towels and a change of dry clothing. You may also want to think about wearing a sun-protective garment on the river if your skin burns easily. It's simpler to forget to reapply sunscreen while the water is keeping you cool.
Bring a thermal water bottle
Water that has been boiling in a plastic bottle is not very hydrating when you are talking about floating in the sun for hours. A stainless steel bottle can keep water cold for many hours and often has a handle that makes it simple to carabiner-attach to your tube.
One benefit of bringing your own flotation device is that you won't have to settle for the rental company's standard-issue tube. And know this: You'll win the respect of everyone else on the river if you bring a six-person unicorn float or an inflatable riding bull. Additionally, tubes with built-in cup holders are a great option for holding your drinks.
It's time to use those rope-tying techniques you picked up at camp years ago. To guarantee that your team doesn't get separated throughout the several-hour journey and that everyone has access to the cooler, just tie all of your tubes together using the nylon rope. Just keep in mind that hooking up means you're all going to be on the float together, so if one of you wants to stop to leap off the rope swing, you're all going to stop.
Bring a waterproof speaker
Use a water-resistant speaker (this one even floats) to offer the music for your excursion and keep the river party atmosphere continuing. Verify that the individual who is scheduled to bring their phone has a preset playlist, and make sure the speaker is fully charged.
Bring some water safe toys
On the leisurely float, there will be entertainment in the form of flying footballs and discs throw. Squirt guns are another option if you want to add some friendly rivalry and cool down when the sun begins to fry you. It's time to choose a weekend and assemble the group now that you have all the required tubing advice. I'll see you by the river.
Should you go ahead with Harpers ferry tubing?
Harpers Ferry tubing is a popular outdoor activity in the small town of Harpers Ferry, West Virginia. Located at the confluence of the Potomac and Shenandoah Rivers, Harpers Ferry is known for its beautiful scenery and rich history.
One of the best ways to experience the natural beauty of the area is by going tubing down the Potomac River. Many visitors to Harpers Ferry choose to spend their days floating leisurely down the river, taking in the stunning views of the surrounding mountains and forests.
There are a number of companies that offer tubing trips in Harpers Ferry, most of which provide everything you need for a fun and safe day on the water. These companies typically provide tubes, life jackets, and shuttle services to and from the river.
Tubing trips typically last for several hours and take you downstream at a leisurely pace. Along the way, you can stop to swim or explore the shoreline. Some trips also include stops at local attractions, such as the famous Harpers Ferry National Historical Park.
One of the great things about tubing in Harpers Ferry is that it is suitable for people of all ages and abilities. Whether you are an experienced water enthusiast or a first-timer, you can find a tubing trip that is right for you.
If you are planning a trip to Harpers Ferry, be sure to consider adding a tubing adventure to your itinerary. It is a fun and unique way to explore the beautiful scenery of the area and create lasting memories with friends and family.
Final words
Keep this Harpers ferry tubing guide in mind and proceed with getting your tubing adventure. You will surely fall in love with all the amazing experiences that would come on your way with it.