A sense of relaxation and exhilaration hits you as you get off the aircraft at your destination. That lasts about as long as it takes you to remember that in order to start your vacation properly, you still need to go to your lodging. Travelers with much of experience can relate to the challenging difficulties that often come with getting from the airport to, well, almost everywhere. Here are the top ways to go from the San Diego Airport to Coronado to ease your journey and speed you closer to paradise.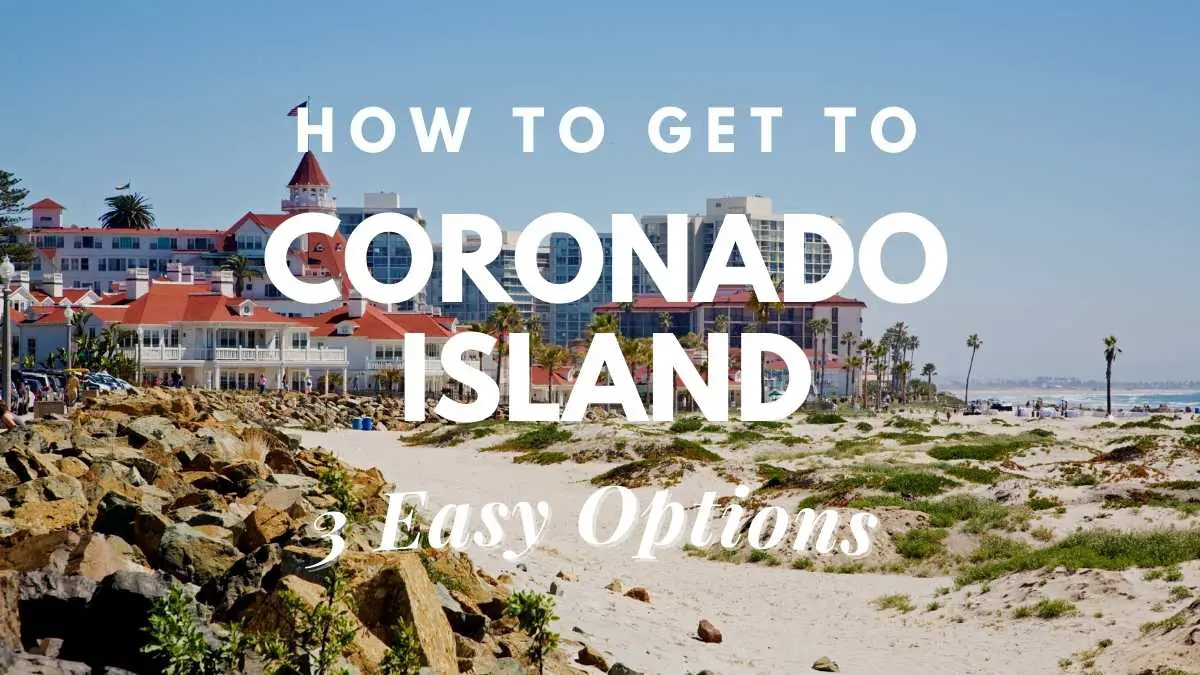 Where is Coronado Island.
Coronado Island is situated across the bay from San Diego's Gaslamp neighborhood, seven miles from the airport. Transportation from the airport is efficient and offers you a variety of alternatives to assist tourists reach their destination quickly. The San Diego International Airport is manageable due to its size. They also do a fantastic job of marking their transit alternatives. There is an information kiosk close to the baggage claim area if you get lost. While keeping that in mind, let's take a look at the options on how to get to Coronado Island.
Read: Is Traveling A Hobby? The Ultimate Guide To An Exciting Way Of Life Learn about the Downsides Of Traveling As A Hobby

How to get to Coronado Island
1. LYFT, UBER, OR TAXI
The quickest way to get to the island is to grab a vehicle, use Uber, or make a Lyft request. For those of you who aren't aware with the last two, Uber and Lyft are two well-known ridesharing services that are widely used both in Southern California and around the United States. Here is a brief comparison of the Rideshare Apps, highlighting their differences.
No matter which method you use, it won't take long for you to be loaded into your vehicle. Taxis get special attention, with a designated loading space located just beyond the area for baggage claim. Just before the bus and taxi loading are specific spots for Uber and Lyft. They know exactly where they are in the short-term parking. You must download the app and utilize it to request a ride in order to use one of the ridesharing services.
Prices change based on traffic and demand. When we compared the prices of the various apps for transportation from the airport to the Coronado Inn, Uber Pool, which is a carpool option, was between $7 and $15, while Uber X and Uber XL, which is a bigger vehicle, were between $18 and $24. With Lyft's "Line" option, you may choose a car from the line of vehicles. That costed between $6 and $13. The standard Lyft cost between $12 and $15.
If there is any traffic, which is rare in San Diego, particularly in comparison to the city of angles up north, you can anticipate leaving your baggage at the hotel and be on your way to the beach in 20 minutes or less.
2. Renting a vehicle
Renting a vehicle is one of the most expedient options. We advise making a reservation in advance to streamline the procedure and get the best price. To ensure a smooth transaction, each of the many vehicle rental locations will have a kiosk close to the baggage claim area.
Whether you're unsure if you need a vehicle for your trip to Coronado, learn if this is a viable choice for you in our "do you need a car" advice. Many tourists decide to hire a vehicle for their trip, but often you may get by without forking out additional money for one.
Your journey will take around twenty minutes, much as the taxis and rented autos. At Coronado Inn, we provide complimentary parking as a service to guests who do hire automobiles.
3. Bus and ferry (Public Transport)
Public transit comes next. Insert the conventional bus first. The MTS system in San Diego performs a fantastic job of providing coverage for the bulk of the city, including routes to Coronado. Most buses leave and arrive at the airport around every fifteen minutes.
You may board the 923 bus and go to the Broadway & Front Street stop if you want to take it all the way to Coronado. You then board the 901 Bus at Broadway and Third Street from there. You will cross the Coronado Bridge on the 901 bus, and you will get out at the 3rd Street & Orange Street stop. After that, it will just take you two minutes to reach Coronado Inn. This alternative costs $4.50 per passenger and takes around an hour. Make sure you have $2.25 per passenger every bus since the bus system only accepts exact change. Here, you may map out your bus route.
The views from the next choice are even more stunning! Take the 923 bus to the N. Harbor Dr. & 1140 from the airport (B St. Cruise Ship Terminal). You are really disembarking at Broadway Pier. You ride the Coronado Ferry from here to Coronado Ferry Landing. Coronado Inn is a lovely ten-minute stroll along Orange Avenue from the dock. On the bus it costs $2.25, while on the boat it costs $4.75 per person. We strongly advise our visitors to use the boat voyage, even if it is a common means of transportation. Simply said, the views are excellent.
Things to do in Coronado Island
You have the option of an unhurried or hectic trip to Coronado. Take a stroll around Downtown Coronado, a charming, quiet town with shops and restaurants to explore. After seeing it, go around the neighborhoods surrounding, which are full of charming homes and flower beds that will make you want to bring out your Zillow app to see how pricey they are (hint: extremely!). After finishing that, you may stroll along the beach at Coronado Beach, which is only a few streets away.
One of the nicest beaches in San Diego, it has flat, broad stretches of excellent, unpolluted sand. Use the paved walkway to avoid getting sand on your shoes or stroll along the water's edge.
There are lots of places to explore along the 15 miles of bike routes that go beside the coast. At the Hotel Del Coronado or the Ferry Landing Marketplace, you may rent a bike downtown on Orange Avenue. Families or groups of friends will enjoy renting the four-wheeled, pedal-powered surreys that are available.
Visit the Hotel del Coronado, a massive, rust-red, and white Victorian-style coastal hotel that first opened its doors in 1888. The most well-known and notorious celebrities of the 20th century have visited the National Historic Landmark. Some claim that a spirit lives there as well. You may look around the historical displays and images below even if you aren't staying there, or you can eat outside on the terrace.
The fantastic Coronado Island walking tour, which departs from the Gloriette Bay Inn many times every week, is one of the greatest ways to learn about Coronado Island and get some entertaining rumors at the same time. It is "not strenuous" and suitable for wheelchairs and strollers.
Final words
Plan your tour to Coronado Island and get the benefits coming on your way. There are more than 20 stores, eateries, and art galleries there. Walking or cycling along the coastal walkway at Tidelands Park, visitors and residents take in views of the San Diego skyline. The park includes accessible parking and facilities, but the picnic area may be difficult for some people since the picnic tables are set up on a concrete slab that is about five inches from the ground.