Sunriver, the ideal vacation resort in Central Oregon, is known for its year-round outdoor activities and golf course, making it a wonderful base camp for explorers and those looking to celebrate family occasions. The golf courses at the resort are well-liked all year long since they each sparkle from the start of spring to the end of the season.

You may ride a bike on the 30 miles of paved paths, ride a horse into the middle of the desert, or visit the Sunriver Nature Center to learn about the history and culture of the area.

If you need anything else while you're here, there are also many of stores, eateries, and breweries in the Village at Sunriver. Take a look at our list created to help you concentrate your vacation if you're seeking for a simple overview of all the popular attractions in Sunriver, Oregon. Anyone who is looking for things to do in Sunriver may go through this guide and get ideas.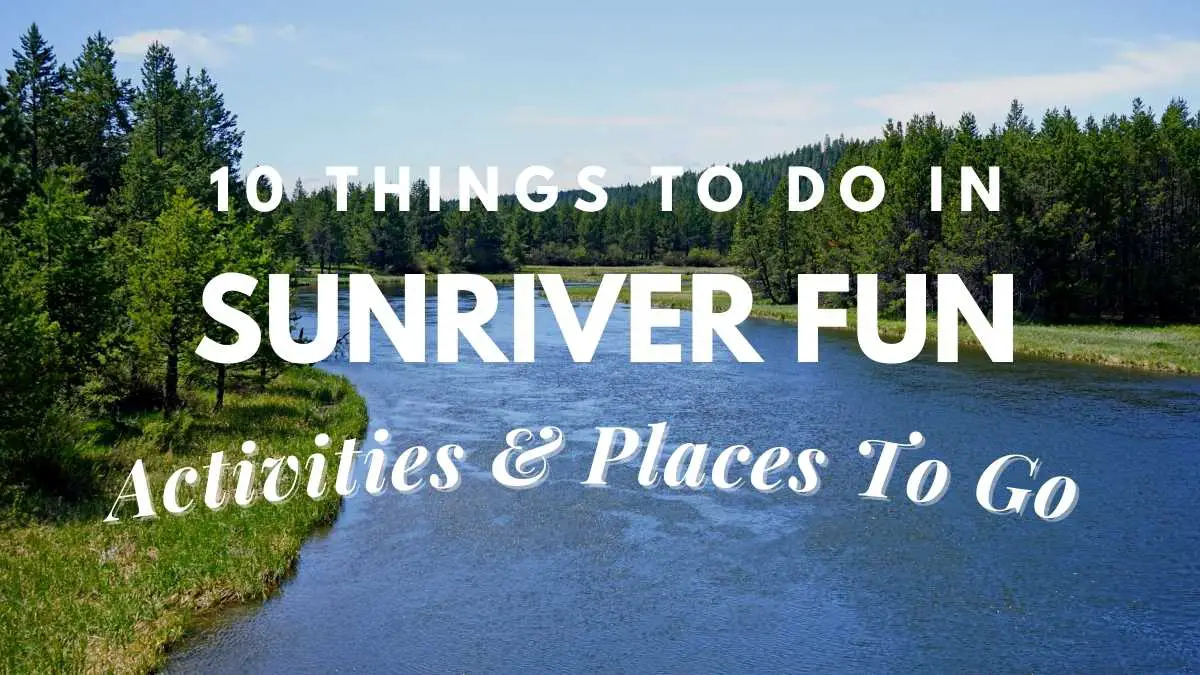 1. Visit Benham Falls
An approximately 6-mile out-and-back walk to Benham Falls near Sunriver in Bend, Oregon, is renowned for its breathtaking river vistas and falls. The most famous river on the upper Deschutes may deceive you into believing it's a simple ride with its amazing 22.5° pitch, but this is untrue. Be advised that these waters are class 5, making them the most hazardous rapids in the whole river system by technical criteria. Swimming is difficult here!
The year-round path is great for jogging, walking, hiking, and biking. You will pass by several stunning natural basins along this less used trail as you go through the mostly wooded region. Additionally, keep a watch out for sculptures that portray local fauna including elk, mule deer, porcupines, and bears along the way. Please be aware that certain portions of the park may have fallen trees or otherwise slick ground if you are unfamiliar with it.
Read: Is Traveling A Hobby? The Ultimate Guide To An Exciting Way Of Life Learn about the Downsides Of Traveling As A Hobby

2. Take a trip to Sunriver Rock and Gem
Gems, jewelry, and crystals are on exhibit in amazing fashion at Sunriver Rock and Gem! If you take your kids to Sunriver, be sure to take advantage of the fantastic kids' exploration section where they can learn more about rocks and minerals. In this extremely amusing functional black sand sluice box, you can even go gemstone and fossil mining for yourself!
If you're searching for something more hands-on, in addition to the interactive exhibitions they provide, you may choose from a variety of earth and scientific study kits. Anyone with a love for rocks, gems, and minerals must visit Sunriver Rock and Gem. They're open from Tuesday through Saturday from 10:00 am to 6:00 pm and from 10:00 am to 4:00 pm on Sunday and Monday.
3. Visit the Sunriver Nature Center & Observatory to View the Stars
Exploring Sunriver Nature Center & Observatory is enjoyable. This distinctive Sunriver destination spans eight acres that are split equally between wetlands and trees, right close to Lake Aspen. You may ride a bike to the nature center in the morning with your complete family. When you arrive at the nature center, a group of naturalists will be waiting to pique your interest in the natural world. The Sunriver Botanical Garden is another attraction of the Sunriver Nature Center & Observatory. While you enjoy sunset views, don't forget to stop at the observatory or beside Lake Aspen!
Remember to stop by the observatory in the evening to observe the starry heavens. Due to its height and the absence of light pollution, Sunriver is a great place to experience the wonders of space right here on Earth! With Sunriver Resort Marina, visit Sunriver on the Deschutes River. Nothing is more lovely than your grin while you're out on the Deschutes River enjoying a lovely summer day! Count on the knowledgeable, welcoming team at Sunriver Resort Marina to assist you in getting ready for an exciting excursion.
4. Go on canoeing
Bring out those magnificent sunglasses and suntan lotion since they have you covered from head to toe, regardless of the situation. For the six miles down the Deschutes River, canoes and kayaks normally take two hours, while rafts may take three to four hours. The extraordinary half-marathon challenge presented by standup paddleboarding requires even more adventure. All rentals include with life jackets and paddles, which are useful if you get into trouble while you're on your excursion.
5. Sunriver's Village
The only outdoor retail mall that provides Sunriver's upmarket, outdoor, natural ambience is The Village at Sunriver. This prestigious location has been thoughtfully created with you in mind and designated as a "Outdoor Village." Since 1974, The Village at Sunriver has been fulfilling the desires of homebuyers as a quaint commercial property in Sunriver, Oregon.
Homebuyers will enjoy visiting Sunriver's sizable commercial center, which includes everything from hotels to business offices. With an ice skating rink, Alpine Express train, mini-golf, bumper cars, a movie theater, and even a bouncy house, The Village at Sunriver is the nicest hostel in the whole world. You will undoubtedly enjoy yourself at The Village at Sunriver with all of these things to do.
6. Go on horseback riding
With Sunriver Stables, experience the unspoiled beauty of Sunriver on horseback or by sleigh. Planning a journey to sunny Sunriver in search of the outdoors' splendor? You should definitely go horseback riding or sleigh riding with Sunriver Stables! The knowledgeable crew of Sunriver Stables, which is situated at 57215 River Road, will give you the memorable ride of a lifetime.
They have a stable of roughly twenty bouncy ponies that are ideal for young kids wishing to experience the environment, ranging in age from 2 to 6. There are many levels of trail rides to accommodate visitors of all skill levels, including novice riders as well as more seasoned riders who would appreciate taking group lessons. Additionally, Sunriver Stables provides individual tuition and fundamental horsemanship courses if you haven't been riding in a while.
Give oneself and your family a time-honored Christmas memory this winter by visiting Sunriver Stables if you appreciate traditions. The custom will be a two-horse open sleigh to remember.
7. Try the freshly baked treats at Hot Lava Bakery.
The delectable & distinctively gorgeous cakes from Hot Lava Bakery leave you craving more! If you find them to be a little pricy, just know that they are of the greatest quality. Just be sure you order your cake at least 72 hours before your big day. However, if you're not quite ready to indulge in something sweet, there are a ton of other dishes that will make you salivate.
Try one of their hot breakfast sandwiches or one of their delectable pastries; both are served in generous portions and are ideal for breakfast on-the-go. When you need a boost, they have a great assortment of coffee drinks for you!
8. From the Bike Barn, ride a bicycle along the Deschutes River.
On these smooth over 40 miles of paved paths, you may ride pleasantly by the Deschutes River, meandering through fragrant pine forest, passing easygoing equestrians, with a detour to rugged mountains. Everyone in the family, including young cyclists learning the basics, may enjoy leisurely trail cruising!
Sunriver Resort the Bike Barn offers day-long bike rentals with a wide selection of all different types of bikes that will charm you with their grace for casual and dressy riding. And you can get everything you need here, whether you're an expert rider trying to tie up your trailer or a person wishing to go for a leisurely ride. The Bike Barn provides helmets, locks, maps, and other necessary equipment with each bike rental. You may utilize any of our bikes as long as you get there on time.
9. Play golf at the New Meadows course.
With its spectacular vistas of water hazards, lovely lakes, and majestic mounds awaiting golfers to overcome them, Meadows offers something for everyone every summer. Meadows was designed by renowned architect John Fought to provide all players with a meaningful challenge. This course, which has 18 outstanding holes, provides diversity with its seven fairways that run beside the Sun River's twisting route. Golfers from all around the globe will like the breathtaking setting that is reminiscent of American golf courses from the 1920s. Anyone may enjoy it since the well-designed greens can accommodate players of all ability levels. On Golf Advisor's 2019 Best of Oregon list, Meadows Golf Course is ranked number fifteen, and it has previously hosted the NCAA Men's Division I Championship as well as several other USGA and NCAA Championship events.
10. Get a VR experience at Sunriver VR
Sunriver VR is the ideal location for explorers, and it can be found at Venture Ln in Sunriver. Why not book one, two, or even three of their VR rooms and take advantage of all that VR has to offer in terms of realism?
Rent a room for one, a room for one to seven people, several rooms, or the whole facility. Try their full-scale multiplayer games if you want to provide your visitors with an extraordinary group experience. There are worlds here created particularly for you, filled with everything from robot dogs to Kung Fu warriors to zombies and dinosaurs.
Final words
Now you know about 10 things to do in Sunriver. Make your travel plans accordingly, so that you have time to engage with all these activities and get a perfect overall experience while you are in Sunriver.