From farmland through acres of national park woods to the furious steel furnaces and soaring skyscrapers of downtown Cleveland, the Cuyahoga River travels through a diverse terrain. Kayaking is one of the most popular activities in the river. From this Cuyahoga River kayaking guide, we are going to share more details with you on what to expect out of it.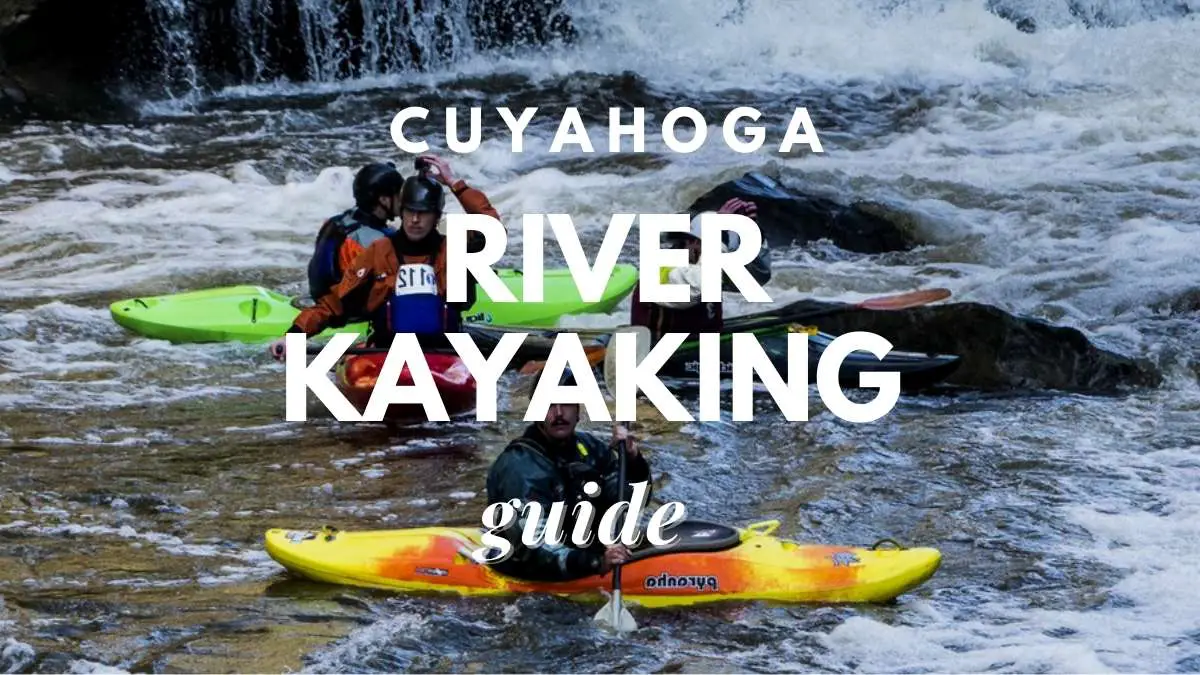 How to get ready for Cuyahoga River kayaking
1. Evaluate your physical condition.
Kayaking does not need Iron Man training, but it does necessitate some physical condition. A high sense of balance and excellent upper body endurance are the two most vital components, in my opinion. I mentioned upper body endurance, not upper body strength. You'll be paddling practically constantly, so you'll need to be able to wield a paddle and push through water for long periods of time. Yoga, Pilates, and/or mild weight training are all wonderful strategies to get ready.
Cardiovascular exercise is also beneficial, although you will seldom be out of breath. Kayaking is mostly an anaerobic sport.
Read: Is Traveling A Hobby? The Ultimate Guide To An Exciting Way Of Life Learn about the Downsides Of Traveling As A Hobby

2. Enroll in a paddling class.
I was like most Northeast Ohioans a week and a half before paddling the river from Kent to Cleveland. My feet had never been inside a kayak, and my only previous experience with the river was driving over it on high-level motorway bridges.
If you're in the same boat as me, you may correct your stupidity by attending a one-day crash course. Crooked River Adventures at Kent State University was where I got mine, although 41 N Kayaking Adventures and Keelhaulers Canoe Club in Cleveland also offer courses.
These kayaking classes will teach you the fundamentals of the sport. You'll learn how to put on your gear, navigate river hazards, paddle, and make a "wet escape," which is ejecting oneself from the boat if it flips. The advantage of taking a class at Kent State is that you will be learning on the Cuyahoga River. Except for the Cuyahoga Falls rapids, the Kent portion of the Cuyahoga is approximately as difficult as you'll find anyplace on the river, so if you can make it here, you can make it just about everywhere upstream.
Don't worry if you're first afraid. It takes some practice to become comfortable in a kayak, particularly if you've never paddled before or are accustomed to the relative steadiness of a canoe. However, after a few hours, your body and mind will begin to acclimate.
Read: How Much Does It Cost To Get Into Cuyahoga Valley National Park?
3. Make a vacation plan.
It might be difficult to work out the logistics of a vacation, particularly one that lasts many days. Give yourself a few weeks and answer each question one at a time, and you'll have your journey planned in no time.
Things to consider before you go ahead with Cuyahoga River kayaking
1. How much time do you have available?
First, select if you want to go on a day excursion or go on a multi-day adventure. The basic campsite at Stanford House Hostel in Boston is a beautiful spot to stay if you're going on a multi-day excursion and want to remain in nature. See the camping section below.
2. Can you cover the whole river?
Determine how much of the river you can cover in the time you've set up. We averaged 3 to 4 river miles per hour on my two-day expedition, but your pace may vary depending on your aptitude and the intensity of the current.
3. Where are you going to put in and take out?
Only a few spots along the river are accessible. This map (LINK) may help you plan the start and finish places for each leg of your journey. You may also wish to visit these locations before your journey to ensure that you won't be surprised (blocked entrances, fallen trees, etc.).
4. What happened to the (damned) dams?
The Cuyahoga now runs much more freely than it did before. Two dams near Akron were demolished in 2013, and there are plans to remove a couple more. However, you'll have to portage over multiple impoundments, including those near Kent, Cuyahoga Falls, Peninsula, and Brecksville.
As you paddle, warning signs put on overpasses above the river will alert you to each of these dams. However, you should be aware of their location ahead of time in case you miss the signs. The dams at Cuyahoga Falls and Brecksville are particularly dangerous.
5. How will your kayaks be transported to and from the river?
You'll also need to consider how you'll get your kayaks to and from the river. For our group of seven paddlers, we hired a U-Haul, but if you're a smaller group, you may be able to put your boats in a car or van. If you're planning a multi-day vacation, you'll need to consider where you'll store your kayaks overnight.
6. Gather a group of pals and several kayaks.
You should never (ever) kayak by yourself. So, get up some family or friends and go. Ascertain that at least one member of the party has kayaking expertise so that he or she may take the lead and scout ahead for any hazards. Need to rent kayaks since you don't have any? Check out these resources.
7. Gather supplies and equipment.
Kayaking does not need a lot of pricey gear, but it does require some basic gear, food, and water. A complete list may be found at the bottom of this page.
What are the best place to go ahead with Cuyahoga River kayaking?
The portions of the river are similar to chapters in a book. Each section is unique, shifting between fast-paced action and peaceful lulls. They provide a coherent tale, moving from a chaotic, natural beginning to a soaring metropolitan finale. Here are the best places that you can select for kayaking.
1. Cuyahoga Falls to Kent
The river twists and swirls through downtown Kent, the water slipping and sliding along at a quick pace. It broadens as the stream slows about north of town. Between here until the approach to Cuyahoga Falls, when the river quickens again, you'll paddle continuously.
There are Class 4 and 5 rapids in downtown Cuyahoga Falls. This part of the river lowers approximately 300 feet in height, making it one of the Midwest's quickest and most spectacular river fall. This part should only be attempted by experienced kayakers. The First Energy Dam, a 60-foot concrete wall in Gorge Metropark just upriver of downtown Cuyahoga Falls, will require everyone to portage past it. Cascade Valley Park is where you may re-enter.
2. Peninsula to Cuyahoga Falls (Cascade Valley)
The river is typically quiet between Cascade Valley and Peninsula, while "strainers" — fallen trees and branches that may trap kayaks — are always a threat. Along with the Akron Water Reclamation Facility, this is also where the river stinks the worst. The image of freshly cleansed water re-entering the river, smelling slightly of detergent, and covered with soapy white bubbles, is maybe more distressing than the stench of sewage.
The reward, though, is entering the southern area of Cuyahoga Valley National Park, which is densely forested. A tiny, abandoned dam may be seen in Peninsula. Portage signs are posted along the riverbank.
3. Boston to the Peninsula (Stanford House Campsite)
With fast-moving but non-threatening water and lots of twists and turns, this brief piece of river was possibly the most enjoyable of my trip. It also goes by quickly and is a good choice if you just have an hour or two.
You'll know to quit the river soon after going under two high-level motorway bridges if you're staying at the Stanford House Campsite (see below) (I-80 and I-271). You'll arrive in the Boston Store Visitor Center's parking lot, where you can walk to the campground via the Towpath Trail or Stanford Road in about a half-mile.
4. Brecksville to Boston
We missed this stretch due to a lack of time (which proved out to be unnecessary, as we reached downtown well ahead of schedule). However, it is said to be one of the Cuyahoga's most beautiful parts, traveling through lush woodland and uplands of the Appalachian Plateau.
The low-level Brecksville dam is one of the river's most perilous paddling obstacles: if you go over it, you risk spinning in the foam indefinitely. When you see the elegant arches of the Chippewa Road Bridge, built in the 1920s, you'll know it's coming. Portage at the Station Road parking lot, which is clearly visible from the river. This is the river's penultimate dam, and the last permanent barrier you'll encounter before reaching the shipping channel.
5. Valley View to Brecksville (Rockside Road)
Apart from one little waterfall that you can easily kayak over, this segment doesn't provide much in the way of thrills. The northernmost stretch of Cuyahoga Valley National Park is mostly a lengthy slog of a paddle, while the woodland landscape is attractive enough.
Final words
These are the best places available for you to go ahead with Cuyahoga River kayaking. Keep these in mind and get the most out of the time that you are spending with kayaking.