You have so chosen to go by road. Good decision! In addition to enjoying the journey, we have some entertaining suggestions for lengthy car journeys. After all, the voyage itself is a part of it! We hope that our list of romantic road trip activities will inspire you with suggestions for things to do while traveling. Consider it a wish list for your joint vacations. Continue to read the list of fun things for couples to do on a road trip and get inspiration.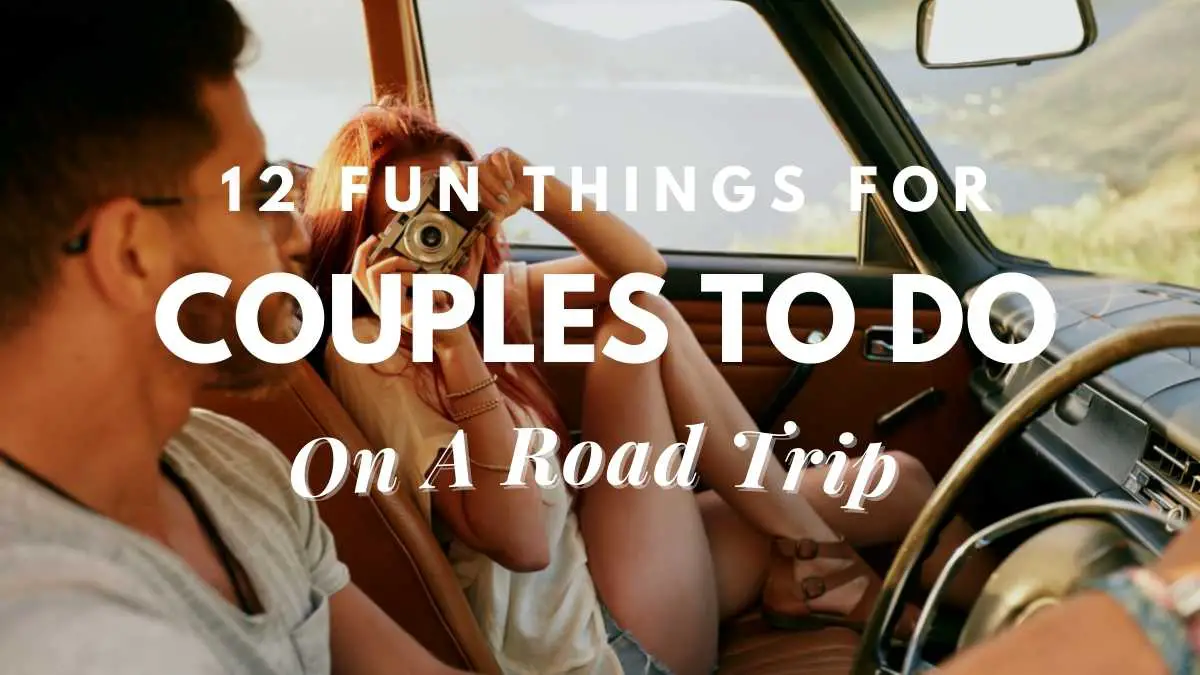 1. Talk.
Couples who want to reconnect and discuss their shared passions should take a road trip. It may include anything from important subjects like politics to frivolous subjects like how amazing or horrible your first date was. If both of you are often quite busy, this is particularly crucial. Talking is still a vital part of any relationship that will last and pass the test of time, even if you constantly spend a lot of time together.
Discuss anything and everything, from your shared qualities to the destinations you would want to visit. You may even toy with the idea of having conversations about what your future together could include if you're both game for it. The scenery you are passing through makes for interesting conversation, and it's a terrific chance to share your knowledge of history and nature with one another. Good chats are enjoyable, and you won't even realize how fast the time passes.
Such in-depth discussions strengthen relationships between partners and serve as a reminder for both of you as to why you choose the other.
Read: Is Traveling A Hobby? The Ultimate Guide To An Exciting Way Of Life Learn about the Downsides Of Traveling As A Hobby

2. Listening to audiobooks and podcasts while discussing key lessons learned.
Since it is understandable that you won't constantly be conversing, podcasts and audiobooks are excellent fillers for stillness. You may sometimes wish to pause the conversation and take pleasure in some quiet time. When that happens, audiobooks and podcasts may speak for you. Both choices provide interesting talking points.
For brief car journeys, podcasts are preferred since they are shorter and provide ideas that are simple to understand. For lengthier car journeys, audiobooks work best since they can be played for a longer time. You may both discuss one or more talking points you learned while listening to the podcast or audiobook to make the conversation more interesting.
Read: 17 Exciting Road Trip Activities For Tweens
3. Engaging in romantic automobile games.
Playing games is usually a good way to pass the time, and traveling is no exception. There are amusing games to play while driving, which will make for enjoyable car games for couples, if you're wondering whether there are road trip games to play in the vehicle. In the part below this, we'll provide you a thorough list of these enjoyable driving games for couples.
Read: What to pack for a road trip for tweens?
4. Taking breaks in cities and towns to enjoy the scenic views and city life.
If there is no sightseeing involved, there is no use to road trips. There is no reason why you shouldn't take advantage of this benefit on your next road trip with your significant other.
If you are having trouble coming up with a theme or schedule for your road trip, sightseeing may also assist you in planning. You may choose a subject, such as things to do in the United States before you pass away, the finest American cities to visit, or the greatest little communities to visit in the country.
If you and your boyfriend or girlfriend like traveling often, you probably take advantage of this by doing a lot of sightseeing. Every couple's list of must-do activities on a road trip must include this enjoyable pastime.
Read: 16 Fun Road Trip Activities For Kids
5. Trekking.
Another enjoyable pastime for couples on a road trip is hiking. If you don't already have an itinerary, it is yet another enjoyable pastime that aids you in creating one. Choose a trekking route for your next road trip. There are a lot of hiking locations on this list of the Top 10 long-distance hiking routes in the US by Guardian that you may not have visited.
6. Picnics along the road.
Picnics along the roadside are fun and provide a wonderful leg stretch after a long trip. It's not a real picnic by the roadside; rather, it's a road trip picnic in a gorgeous natural location. Enjoying a picnic in the great outdoors, among the lush foliage and picturesque scenery, also has a soothing and relaxing impact.
Popular routes for road excursions like those in the map above, particularly the Blue Ridge Parkway, the Pacific Coast Highway, and Route 66, provide stunning natural scenery for an absolutely pleasurable drive. This list of the Top 10 Road Trip Destinations also includes a useful list of places where you may stop for a roadside picnic.
On your road trip with your partner, bring a lovely picnic bag. You could even use a portable breakfast maker to make your meal hot, fresh, and delectable while you're out on your picnic. Don't forget to bring your rechargeable portable power source.
7. Photography.
Both of you will pass by lovely landscapes and tourist places while traveling, which will result in some epic Instagram shots. These images will be lovely keepsakes to gather and compile in a couples' adventure scrapbook and/or picture album, which you can both use to remember the experience in the future. And not just for your Instagram. Don't forget to bring your camera, whether it's a Polaroid or another kind, on your road trip.
You may enjoy reading our post on Gifts for Scrapbookers for more fun things to use in the process of scrapbooking your memories from your road trip.
8. Fishing
If you and your spouse like fishing, this one is engaging and entertaining. On your way, there may be ponds or lakes; stopping briefly to capture a few small fish for your roadside picnic will be enjoyable.
In order to pack a fishing rod and reel organizer with all of your fishing rods and the like for this enjoyable sport, you will need to find out and confirm in advance that there will be ponds and/or lakes along your road trip track.
9. Attend a festival or fair.
You could be lucky enough that your road trip holiday coincides with a festival or fair taking place in a city or town along your route. Why not pop by and take in the events and/or fair. Festivals and/or fairs in a city or town provide a wonderful chance to discover fresh information about that city or town.
10. Pay a visit to loved ones.
A road trip provides a convenient opportunity to see relatives and friends who reside nearby. Why not compile a list of all the households and friends along your route and pay them a visit?
Given what you know about them, if they don't like unannounced surprises, you may surprise them by just showing up. However, if you had intended to spend the night there, be ready to hear that you might not be allowed to do so. Given their schedules and other obligations, most people won't be amused by surprises, so it's best to let them know you'll be traveling together and are looking forward to seeing them again.
11. Pick a Flavor game
This one is a straightforward game that combines a variety of savory and sweet snacks, including packet chips, meat, and pepperoni sticks. Consider this a pleasant way to enjoy food while also feeding your significant other.
Playing it is extremely simple. Choose your favorite snacks from the variety of flavors and tastes available. Bring out the snacks when it's time to eat them while your partner is operating the vehicle. Inform them that they are not permitted to look and that their only priorities are to drive and eat. After you give them a taste, ask them to estimate what the food's flavor is.
You might include some entertaining rewards for obtaining so many correct answers or guesses to heighten the excitement. To get your boyfriend or girlfriend enthusiastic about winning, try to come up with answers that are based around a relationship (s).
12. License Plate game
On a couples' road trip, you absolutely must play this age-old game. The objective of the game is to observe as many license plates from each of the 50 States as you can in a certain amount of time. The rules are also pretty straightforward. When playing jointly, you get points for seeing each number plate first (or for seeing them all simultaneously). You mark down every number plate you see. There is a single license plate limit each State.
It may be played either collaboratively or in competition. Just a pen and piece of paper will do. Additionally, having a printout of what the license plates for each of the 50 States look like will be useful for marking off the States that have been visited.
By adding interesting variants to it, such as how many green automobiles from Utah will you notice, you may make it more engaging. The only restriction on creating entertaining game variants is your creativity.
Final words
These are the best fun things for a couple to do on a road trip. Pick the best activities out of them based on your preferences and the preferences of your partner. Then you can fully enjoy the road trip.