A road trip through Tennessee may not be the first vacation that springs to mind when thinking of seeing the United States, but why not? Tennessee is home to stunning scenery and vibrant cities steeped in music and civil rights history. This state is also extremely centrally placed, so if you reside in the United States, it is not too far away and can be easily and affordably flown or driven there, making it an excellent vacation location. Read this and plan your family road trip to Tennessee.

If you've decided to take a road trip to Tennessee, we're here to assist you! The route we've outlined here circles you around Tennessee, ensuring that you experience all of the top state parks, museums, and picture-perfect locations. Tennessee is a beautiful place to visit in any season, but if you like fall, plan your vacation around the changing hues of the leaves.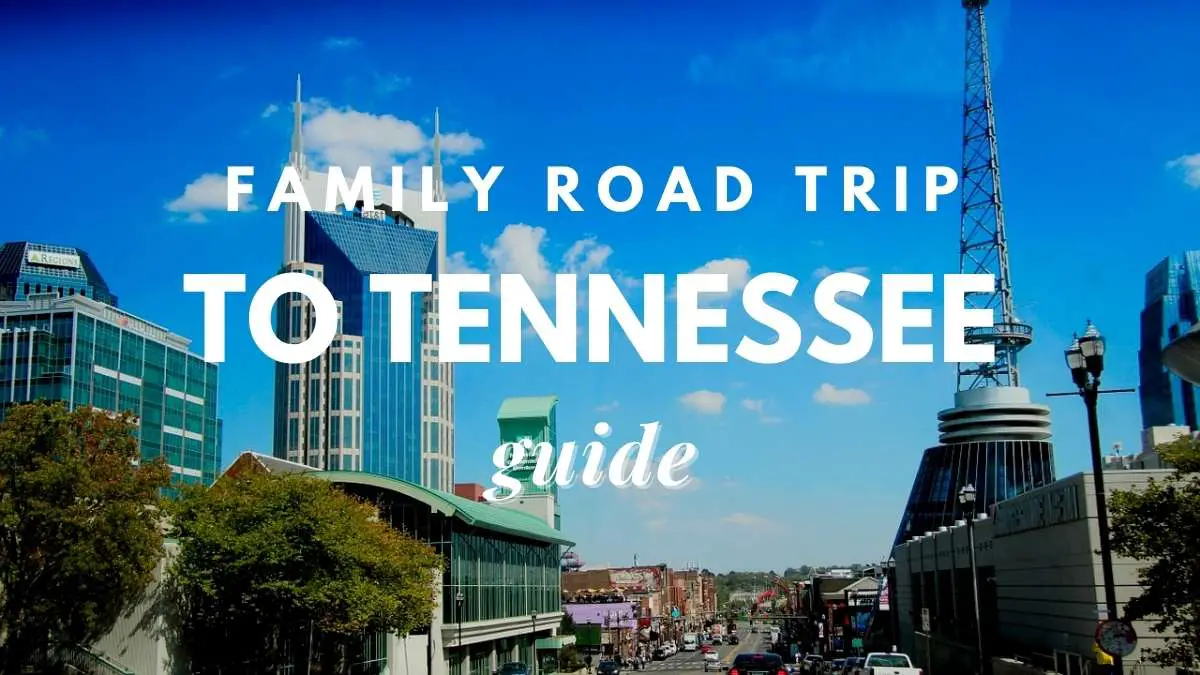 Fly into Nashville to begin your Tennessee road trip.
You'll begin your Tennessee road trip by flying or driving into Nashville, the state capital. Make sure you use Skyscanner to discover the greatest airline deals! Nashville, in the state's northwestern corner, is an excellent starting place for any Tennessee road trip. It has plenty of interesting activities for the entire family and is close to subsequent locations, so you won't have to go far to continue the journey.
You will need to hire a car after arriving at the airport if you are not driving into Tennessee in your own vehicle. There are several rental firms at the airport, so finding the ideal vehicle for your Tennessee road trip will not be difficult. Consider how much space you'll need for the amount of people going as well as the fuel efficiency when choosing a vehicle.
Read: Is Traveling A Hobby? The Ultimate Guide To An Exciting Way Of Life Learn about the Downsides Of Traveling As A Hobby

First stop Nashville
Because of its lengthy and rich musical heritage, Nashville is known as the Music City. Country music is extremely popular in this area. There will always be a tune to keep you going with streets lined with live music venues and music outlets. You may want to spend at least two days in Nashville to incorporate everything into your Tennessee agenda.
Nashville is a lively city with plenty of things to do to pass the time. Mornings might be spent visiting old museums and residences. Spend a day relaxing and strolling around one of the city's beautiful parks. Hit the pubs at night and dance to live music. Whatever you do, you will create lasting memories while seeing some of Tennessee's top attractions.
Discover Music City's Attractions
Lower Broadway is where you'll discover Nashville's entertainment area. A bustling strip with honky-tonks, themed restaurants, and lots of stores can be found here. This is a must-see whether you just have one day or a full weekend in Nashville.
Don't forget to visit the Country Music Hall of Fame. You may wander along the neon-lit street with your own group, but if you want to understand more about the history and see everything worth seeing, try scheduling a tour.
Take a look at the Ryman Auditorium.
Architectural Digest named the Ryman Auditorium the most famous building in Tennessee in 2018. It has been standing since 1892. Throughout the years, this National Historic Landmark has hosted a variety of entertainers and musicians, including Charlie Chaplin, Harry Houdini, Elvis Presley, Johnny Cash, and Patsy Cline. For many years, the famed Grand Ole Opry concert has been presented here. There are still performances at the Ryman today, so don't miss it if you have the opportunity!
The Adventure Science Center will teach you something new.
If you like science or are traveling with children, the Adventure Science Center is a must-see. Over 170 exhibits covering a wide range of scientific fields are included in this interactive and hands-on museum. Don't forget to gaze into space or enjoy a laser display in the planetarium at the facility.
Jack Daniel's Distillery Tour
If you're a big lover of Tennessee whiskey or simply want to get out of town for a few hours, the Jack Daniel's Distillery is about an hour and a half south of Nashville. Take a tour of the distillery and sample some whiskey throughout the tour. The first formal distillery in the United States, Jack Daniel's Distillery, was established in 1866.
Second Stop: Cummins Falls State Park
The next destination on our Tennessee road trip is Cummins Falls State Park, which is roughly an hour and a half away from Nashville. The park's major attraction is a beautiful 75-foot waterfall with a swimming hole at its base. While the waterfall may be seen from a viewpoint, hiking down the steep canyon where it is located is the greatest and most enjoyable way to see it.
You must get a Gorge Access Permit before beginning your walk. Also, be prepared for a tough walk across difficult terrain, including river crossings and rock climbs. The trek has two beginning points: one is a mile long and the other is a mile and a half long. The gorge is not advised for children under the age of five. Make sure you're wearing shoes that can handle slick surfaces.
The view of the rushing waterfall makes the journey worthwhile. You'll also be able to cool yourself in the nice swimming hole. Because there are no lifeguards, use caution.
Third Stop: Burgess Falls State Park
Burgess Falls State Park is just 30 minutes away from the previous destination, so you may visit both state parks on the same day if you start your day early enough. Alternatively, you may stretch it out over two days if you prefer a more leisurely pace. Burgess Falls State Park offers enough activities to keep you busy for a whole day, particularly if you like nature.
The four waterfalls along the Falling Water River are the principal attractions of this Tennessee state park. Burgess Falls, at 136 feet, is the highest. Each waterfall may be found by walking along one of the park's numerous hiking paths. The paths vary in complexity, so there's something for everyone. The pathways are densely forested with native plants and trees, providing a serene natural setting.
Because this park is also a Tennessee State Natural Area, there is lots of animals to explore in the forest. The park has a Native Butterfly Garden with beautiful wildflowers and is a popular spot for birding. Bass may be found in the river if you like fishing. Pack a lunch and eat at one of the picnic tables near the playground, which is ideal for families traveling with loud children.
Fourth Stop: Fall Creek Falls State Park
Hopefully you haven't had enough of beautiful waterfalls yet, since an hour's journey from the previous destination will take you to another state park with flowing waterfalls. Fall Creek Falls State Park is one of Tennessee's biggest state parks, covering over 29 thousand acres and offering a variety of activities. This is ideal for anybody who is sick of waterfalls! Fall Creek Falls, at 256 feet height, is a natural wonder worth visiting!
Anyone who appreciates spending time in nature will adore this park and want to spend the whole day there. Fall Creek Falls State Park is certainly one of Tennessee's top attractions. Hiking, biking, fishing, and birding are all options. To go out on the water, you may also hire a boat or canoe. A swimming pool with Olympic dimensions is also available. Head to the Nature Center to learn about the environment when you want to get out of the sun.
Check out the Canopy Challenge Course, which is made up of ropes and netting stretched through the trees and includes a balancing beam and zip line for those seeking excitement. You may also go rock climbing but be sure you register and get a permission ahead of time. Check out the differences between rock climbing and bouldering before you go! If you prefer not to engage in heart-pounding activities, you may unwind with a game of golf.
Fifth Stop: Gatlinburg and Pigeon Forge, Tennessee
Gatlinburg and Pigeon Forge are two charming mountain villages located at the Great Smoky Mountains' edge. To get the most out of your visit and see everything, plan on spending at least two to three days in the region, if not more. Outdoor pleasure, excellent museums, and exciting amusement parks abound in both towns. Both Gatlinburg and Pigeon Forge, as tourist towns, offer their fair share of wonderful pubs and restaurants, shopping opportunities, and distinctive attractions.
Fall Creek Falls State Park is just under three hours away from Gatlinburg and Pigeon Forge, where you will spend the following several days of your Tennessee road trip. Prepare to have a great time in the mountains!
Final words
Keep these places in mind and plan your family road trip to Tennessee. You will surely enjoy the great returns that come on your way with it.