Alabama's rivers are among the most active and diversified in the country. The 132,000 miles of waterways provide boaters and kayakers with lots of opportunities to see nature in new ways and compelling reasons to be on the water. Rivers, streams, creeks, and other bodies of water abound across the state, satisfying your thirst for adventure, sports, and other water activities. With that in mind, here are spots for best kayaking in Alabama.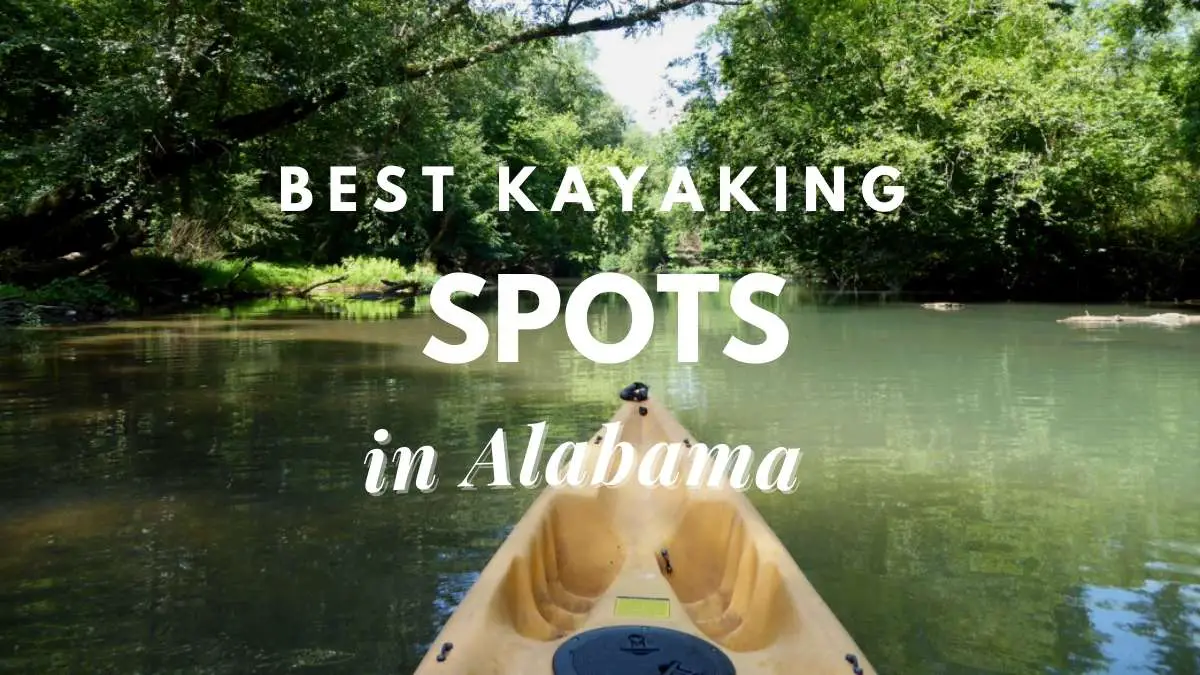 1. Alabama's Sipsey River
The Sipsey River is one of Alabama's beautiful natural rivers. In the Bankhead National Forest in northwest Alabama, the Sipsey carves a long narrow sandstone canyon with pure water. Massive rocks, beaches, and huge sandstone cliffs loom above you on all sides, providing a spectacular vista.
Beginners will find the river to be wonderfully tranquil, while veterans will be able to relax and enjoy the spectacular vista. While it may seem to be shallow, you must not underestimate the currents, so be cautious and carry a life jacket!
Read: Is Traveling A Hobby? The Ultimate Guide To An Exciting Way Of Life Learn about the Downsides Of Traveling As A Hobby

2. Alabama's Cahaba River
The Cahaba River is the state's most extensive and ecologically varied environment. The river, which begins in Trussville and runs for 194 miles to the north of Selma, has a rich history and is home to approximately 130 different fish species. The Cahaba River Lily, which blooms between May and June, is also found here.
Start your kayaking experience at Grants Mill Road, which is a convenient starting point. Slow, tranquil water awaits you downstream for a relaxing paddle. The Cahaba River is a fantastic area to go for a short float or to rest and play on the rope swings. It is also easily accessible by public transportation from Birmingham's downtown area.
3. Rock River, Alabama
The Paint Rock River was created by the confluence of Hurricane Creek and Estell Fork, and it runs naturally south through Paint Rock town. For both plant and animal relationships, the 460-square-mile river is an important natural element of the city and the state in general.
Because it is also home to snakes, it is commonly referred to as a "snaky river." If you don't like snakes, don't go kayaking here. Your kayak might easily collide with a snake bed, which can be scary. If you're fortunate and vigilant, you could see turtles, deer, ducks, and a variety of fish species. The river is shallow, but it is not completely tranquil, and if you misjudge it, it may rapidly turn you over.
4. Elk River, Alabama
The beautiful Elk River may be found in Northwest Alabama. Forests, woodlands with untamed trees, rich green fertile meadows, and sandstone cliffs thread across the varied ecology. The Elk River is 22 miles long and may be accessible at many spots along its meander.
The river is navigable, particularly during the summer, and the waters are beautiful, serene, and quiet. This is the ideal spot to learn how to kayak if you've never done it before. If you don't feel like bringing snacks or a packed lunch, there are various eateries around the Mills Park and Maples Bridge portions that provide a well-deserved break from paddling.
5. Locust Fork, AL, Black Warrior River
The Black Warrior River is said to be one of northern America's best kept fishing secrets. It's also been dubbed one of America's best-kept boating secrets. One thing to bear in mind about this river is that it is not suitable for beginners or people with little kayaking expertise. Still waters may sometimes deceive you into making poor judgments. The river's better half is everything from tranquil.
The shallow waters provide lots of fish for keen kayak fishermen, making it a popular day trip location. There are several rapids in each stretch, depending on where you are on the river flow. One rapid is enough to fill your kayak with water and wreak havoc. If you are experienced, however, nothing should deter you since there are many wonderful places to put your talents to the test and enhance them.
If you want a bit more whitewater action on your Alabama paddling excursion, go to the Locust Fork River. The first portion runs for 10 miles from the put-in at the Highway 14 bridge (just west of Snead, AL) to the take-out at Cold Branch Road. With largely Class I rapids, this segment is relatively gentle and might be an excellent introduction to whitewater. Kayak rentals are also available at the put-in site. Beyond there, you'll find a mix of Class II and III rapids, which you may find more suited if you've had some previous whitewater experience.
6. Flint River, Alabama
The Flint River is another beginner-friendly stream to check out. Kayakers seeking to experience Alabama's outdoors will like this day excursion. The river begins in Lincoln County and travels through Madison County before emptying into the Tennessee River. It's a good spot for fishing and kayaking since it's shallow and easy to manage.
You should feel comfortable even if you are alone as a beginner since you can essentially take breaks anywhere on the river. The currents are gentle, and there are several highways and bridges to divide floats into manageable chunks. The southern path is more adventurous, with caverns, streams, and islands to discover.
7. Tallapoosa River, Alabama
The Tallapoosa River, which runs 265 miles across Alabama from Georgia's southern Appalachians, is a major feature of the state's picturesque river system. There are four dams along its course, therefore it's a fast-flowing river. That implies that whether you are an experienced kayaker or not, you will need to be extra cautious while paddling on this river.
It's a fantastic journey and a once-in-a-lifetime chance to see Alabama. There are five river access spots, as well as a variety of kayak rental companies if you don't have your own kayak.
8. Limestone Creek, Alabama
The limestone stream, a tributary of the Tennessee River, is a great area to spend a day on the water. The 45.5-mile watercourse begins in Lincoln county and flows through Limestone and Madison counties. When kayaking here, you'll need some experience, but it doesn't mean you can't start from the beginning.
This path is not for the faint of heart, though, since it is home to a lot of alligators. When threatened, alligators may be deadly, so be sure you're prepared to deal with them if your paths cross. It's important to remember that you can't approach an alligator or attempt to feed it. You have been warned.
9. Terrapin Creek, Alabama
Terrapin Creek is one of Alabama's most favorite floats for a summertime splash. It is divided into two pieces that may be completed in one day. It's a simple and straightforward paddle that anybody can attempt, making it great for families and beginners.
You may quickly pull up to the creek's edge and immerse your body in the warm sun, rest for a while, and then cool down with a swim. If you don't have your own kayak, you can always borrow one from one of the local rental shops.
10. Alabama's Hambrick Bat Cave
Last but not least, there's Hambrick Bat Cave, which is a terrific spot to visit. While kayaking, you will not only have fun but also get a close look at the gray bat cave, which is home to one of the largest maternity colonies of this species. Do not approach them too closely, since you may disturb them, and you are not permitted to enter the cave. At nightfall, watch from afar to get an excellent glimpse of the cave's roughly 60,000 bats exiting.
It's also a great place for novices to practice their kayaking. However, you should be cautious while approaching the dam since it might cause currents.
11. Little River Canyon National Preserve
If you're seeking for wild and picturesque landscapes as well as a diverse variety of species, including federally protected plants, Little River Canyon National Preserve is a great area to kayak.
Because this portion of the river features up to Class VI rapids, kayaking through the Little River Canyon (below the falls) is reserved for very competent and experienced whitewater kayakers. This portion has been utilized to train Olympic competitors. The sections of the river above the falls, surrounding DeSoto State Park, and from Canyon Mouth Park on the opposite side of the canyon, with a variety of Class I and II rapids, may be more appropriate for all abilities of paddlers. Canyon Mouth Park has a launch point where you may paddle down the river to Weiss Lake.
Final words
We hope this has given you some ideas for your next Alabama kayaking excursion. Whether you're simply seeking to have some fun with your friends along the Sipsey River or you're on a quest to discover that elusive photograph of the Cahaba Lily, Alabama waterways provide everything you need for a terrific day.