So, you want to go on a mountain trip, but your family isn't quite ready for wilderness camping. I understand. We have three little children and are just getting started in experiencing the great outdoors. Gatlinburg, Tennessee, seemed to be an ideal compromise. I had no idea what to anticipate when we headed to Gatlinburg for a weekend visit. Even though stories of kitsch and airbrushed t-shirts swirled around in my head, I was looking forward to seeing the mountains.

I discovered that Gatlinburg is much more than souvenir stores and tourist traps. There's a reason this east Tennessee hamlet is so popular with families on vacation. This Smoky Mountain National Park gateway community offers something for everyone, from adventure-seeking families and outdoor enthusiasts to individuals who like strange museums.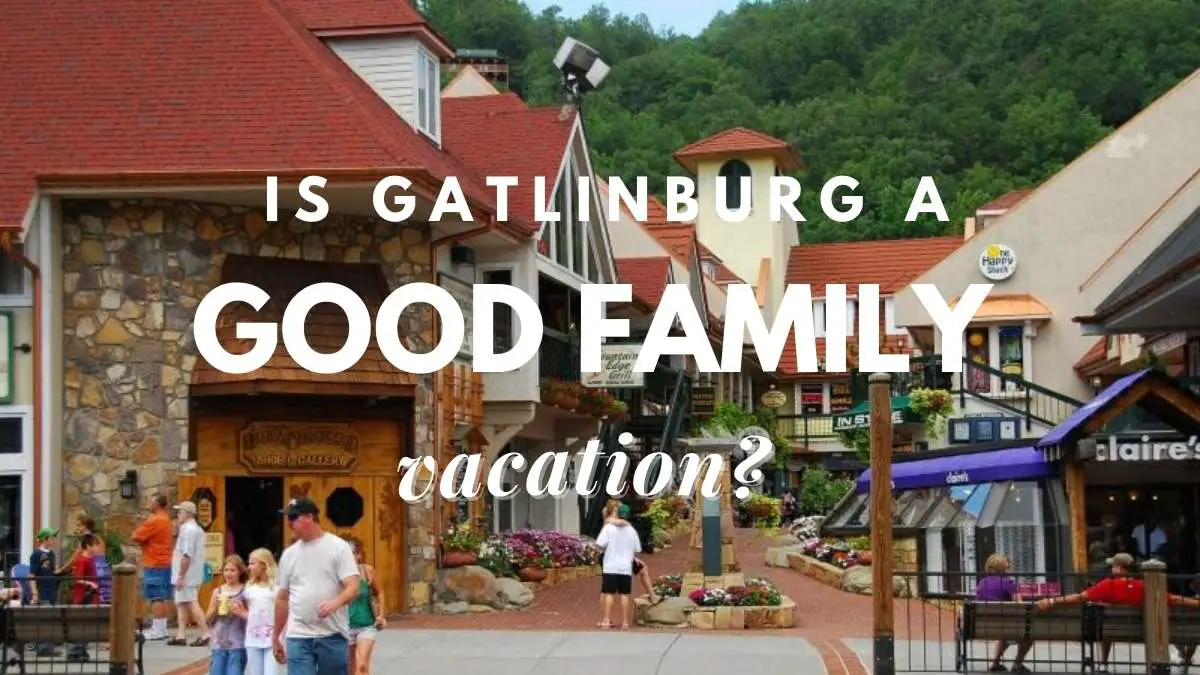 National Park of the Great Smoky Mountains
Gatlinburg's closeness to the Smoky Mountains is one of its most appealing features.
If you're short on time, the Sugarland Entrance into Great Smoky Mountains National Park is a quick drive from Gatlinburg.
After approximately 15 miles, you'll arrive in a parking lot and observation area with excellent views of the Smokies.
Hike the trails if you have a little extra time to spend exploring the park and enjoying the outdoors.
To reach Tennessee's highest peak, go up to Clingman's Dome or follow the short walk to Cataract Falls from the visitors center.
Read: Is Traveling A Hobby? The Ultimate Guide To An Exciting Way Of Life Learn about the Downsides Of Traveling As A Hobby

Views to Die For
The city of Gatlinburg itself is brimming with opportunities to take in the beauty of the Smokies.
The Gatlinburg Space Needle, at 407 feet in height, offers panoramic views of the city and mountains.
The viewing deck is accessible via an elevator, so strollers and children are welcome.
The Gatlinburg Sky Lift or the Ober Gatlinburg Aerial Tramway are two alternative options for aerial views.
The Sky Lift is a chairlift ride that is likely not suitable for little children.
The Ober Gatlinburg Aerial Tramway is a family-friendly enclosed gondola.
Anakeesta
Take a chairlift or enclosed gondola up the mountain to reach Anakeesta, a new outdoor family adventure park in the Alps, while we're on the subject of aerial trams.
Zipline above the trees with amazing vistas is a thrilling experience for families with older children.
Anakeesta also has much to keep younger families entertained.
The Children's Treehouse Village Playground, which consists of a series of rope bridges, a labyrinth, and a tube net, allows little ones to put their athletic talents to the test.
Take a stroll around the Tree Canopy Walk to get a closer look at the zip lining and witness animals 50 feet down on the forest floor.
Firefly Village, at the summit of the mountain, has ice cream, gift stores, restaurants, and a peaceful cluster of Adirondack chairs around a bonfire.
You may also visit the memorial path to learn more about the 2016 flames that ravaged Gatlinburg.
Appetizers Suitable for Children
Every good family trip involves a search for the finest local ice cream, and Gatlinburg has many to choose from.
For a more relaxing experience while taking in the sights of the Village, visit The Village Cafe and Creamery, or go back in time to the Glades Soda Fountain for a malt or a sundae.
A candy shop may be found on every corner, in addition to plenty of ice cream goodies.
The sheer quantity of sweets will undoubtedly delight children.
Pancakes are served at Log Cabin Pancake House and Pancake Pantry.
After all, what youngster doesn't like a syrup-drenched short stack?
Greatest Italian was also a great location for supper, with some of the best pizza we'd ever had.
To escape the throng, we arrived early.
It was worth it just for the garlic knots!
Attractions for Families
Check out one of the numerous family-friendly activities that line Gatlinburg's sidewalks if you need a break from the outdoors or have some free time.
Our whole family enjoyed Ripley's Guinness World Records Museum, where children of all ages – even adults – could compete for world records in hula hoop rotations, loudest screams, and quickest hopscotch.
Mini golf, Ripley's Marvelous Mirror Maze, and Gatlin's Escape Games are among the other outstanding attractions.
Set aside at least an afternoon to visit Ripley's Aquarium of the Smokies.
Kids will never want to leave with an indoor playground and underwater tunnels for up-close views of penguins and sharks.
Accessible with a Stroller
I liked Gatlinburg because it was so simple to carry a stroller practically anyplace.
We had no trouble taking our stroller to the top of the Gatlinburg Space Needle or Anakeesta on a gondola.
With a baby, you may even enjoy a few walking routes in the Great Smoky Mountain National Park.
Simply visit the Sugarlands Visitors Center for information on the finest family-friendly pathways.
The sole exception to Gatlinburg's stroller-friendliness are some of the attractions.
Although some of the buildings are too tiny for strollers, we never had any trouble leaving ours at the front desk.
Adventure
If you're visiting Gatlinburg with older children, there are plenty of adrenaline-pumping things to attempt.
Go whitewater rafting on several of the neighboring rivers, whether it's your first time or you're a seasoned veteran.
In the highlands, try a ropes course, horseback riding, or zip line.
Ober Gatlinburg Amusement Park & Ski Area offers a variety of exhilarating activities in one location.
Throughout the year, there are rides, a mountain coaster, and a rock wall, as well as skiing, snowboarding, and snow tubing in the winter.
Excellent Shopping
Do you need a break from the adrenaline rush? There is no need to be concerned.
With seven malls and many stores and boutiques, shopping is a popular Gatlinburg pastime.
Make a beeline for The Village, which is located just off the main street and has some genuinely interesting boutiques and eateries, including the fabled Donut Friar.
There are lots of toy stores and candy shops to keep the youngsters entertained, as well as memento shops to help the whole family remember their vacation.
The Gatlinburg Craftsmen's Fair takes place at the Gatlinburg Convention Center between July and October, and features handcrafted jewelry, ceramics, wood carvings, sweets, leather items, artisanal jam, and more.
The Kids Corner will provide free handicrafts for children, making this an event for the entire family.
It's Simple to Get Around
Everything in Gatlinburg is walkable, which is particularly convenient for families with strollers and little children.
Another entertaining way to get about is to make use of Gatlinburg's trolley system.
Fares are incredibly low (starting at 50 cents) and include stops at several of Gatlinburg's most popular attractions.
We stayed at the Greystone Lodge on the River, which was ideal for a family trying to make the most of their visit to Gatlinburg.
The pleasant rooms and cabins are located just across from Anakeesta, as well as close to the aquarium and trolley station.
It's in the heart of it all, yet it still seemed like a calm refuge when we needed a respite from the crowds.
History and culture abound
With many stops along the Tennessee Heritage Trail, Gatlinburg pays respect to east Tennessee history and culture.
The Smokies are dotted with old cottages, schoolhouses, and homesteads that chronicle the history of the area's first residents.
During Smoky Mountain Tunes & Tales, a seven-week summer festival of Appalachian culture and history, children will enjoy the street performers.
Every night on the streets of downtown Gatlinburg, entertainers tell tales, sing, dance, and perform bluegrass and folk music.
Whitewater rafting
It's no secret that Gatlinburg is one of Tennessee's greatest whitewater rafting destinations for families and visitors.
Guests may face anything from a Class I to a Class IV rapid along the Little Pigeon River's rapids.
Whitewater rafting is a terrific opportunity for families and tourists to appreciate the natural beauty of the region while also adding an exciting adventure to their vacation.
Ripley's Aquarium of the Smokies is located in Gatlinburg, Tennessee.
Ripley's Aquarium of the Smokies, one of the most popular attractions in the United States, is home to hundreds of exotic aquatic creatures that you and your family will enjoy seeing.
Penguins, sharks, turtles, snakes, and much more may be found here!
Autumn hues in the Smoky Mountains
In the Great Smoky Mountains, there are over 800 miles of hiking trails just waiting for you and your family to explore.
This implies that you may all have a lot of fun and adventure for a long time.
Hiking in the Great Smoky Mountains National Park is also one of the greatest ways to see some of the Smokies' most beautiful scenery.
Gatlinburg Sky Lift
Take a trip on the Gatlinburg Sky Lift to get a different view of downtown Gatlinburg.
This Gatlinburg attraction will provide you and your family with a very gorgeous perspective of the majestic Smoky Mountains, whether you visit during the day or at night.
Don't forget to pick up your souvenir picture before you leave when you come!
Mysterious House
Families may enjoy a vacation in a cabin in Gatlinburg.
Even though it isn't Halloween, you and your family may still enjoy a haunted house walk during your Gatlinburg family vacation.
The Mysterious Mansion is the area's oldest and scariest haunted home, and it's ideal for visitors of all ages.
There's a twisting staircase, hidden tunnels, and dark halls here, all full of things that go bump in the night!
Should you visit Gatlinburg?
A Gatlinburg family vacation was just recognized among the top 10 greatest small cities to visit in 2015 by Bustle.com, which is major news for one of the largest tiny towns in the Smoky Mountains.
According to the website, Gatlinburg, Tennessee made the list because of its lively environment and entertaining things to do.
Gatlinburg family vacations, according to Bustle, are ideal for loved ones to spend quality time together while taking advantage of all the fun things the Smokies have to offer, such as visiting one of the numerous fascinating attractions.
The site also contrasted visiting a small city to visiting a bigger one, claiming that visiting a smaller city generally results in travelers having a more relaxing holiday.
Guests may discover a plethora of enjoyable activities to do in the neighborhood without feeling confused or overwhelmed, unlike other holiday areas.
Splash Country, a waterpark with dozens of family-friendly water slides, is just next door to the hotel.
Dolly Parton's Stampede and Smoky Mountain Adventures are two of Dolly's supper presentations in Pigeon Forge.
Both presentations are very fantastic, and both involve four-course dinners that are shockingly good, just like everything else here with Dolly's name on it.
Travelers are eager to wait in line for a meal at the famed Applewood Farmhouse Restaurant, which serves delectable cuisine.
The chicken and dumplings, as well as the apple fritters that come with every meal, were our favorites.
While you wait for a table, stop by the Apple Barn next door for some souvenir shopping and a refreshing drink of fresh cider.
Final words
So, what is it about this place that makes it so popular with families and visitors? The solution is straightforward. In Gatlinburg, there is a plethora of fun and interesting activities for families to enjoy. Whether it's your first visit to the region or you've been coming for years, we're practically certain you'll fall in love with all of the exciting activities that await you and your family during your Gatlinburg family vacation.
Do you and your family have certain activities that you and your family like doing during your Gatlinburg family vacation? Please let us know in the comments section below! We like receiving feedback from our readers. You will also be able to keep these facts in mind and go ahead with planning your visit to Gatlinburg. It can provide the best experience and you will never have to worry too much about anything.