Victor is a little community in Idaho's Teton County that is situated close to Grand Teton National Park. But despite how quiet it may seem; this little town offers attractive services and activities that you won't find in other places. So don't let that fool you. You will quickly fall in love with Victor if you adore the outdoors.

As the town's potential for tourism has grown, several changes have been undertaken to make it easier for visitors to enjoy its outdoor attractions and activities. If you want to go to Victor, pack additional clothing since you will undoubtedly engage in a variety of outdoor activities, including hiking, mountain biking, and some relaxation. In this article, we will be sharing a list of best things to do in Victor Idaho as of now.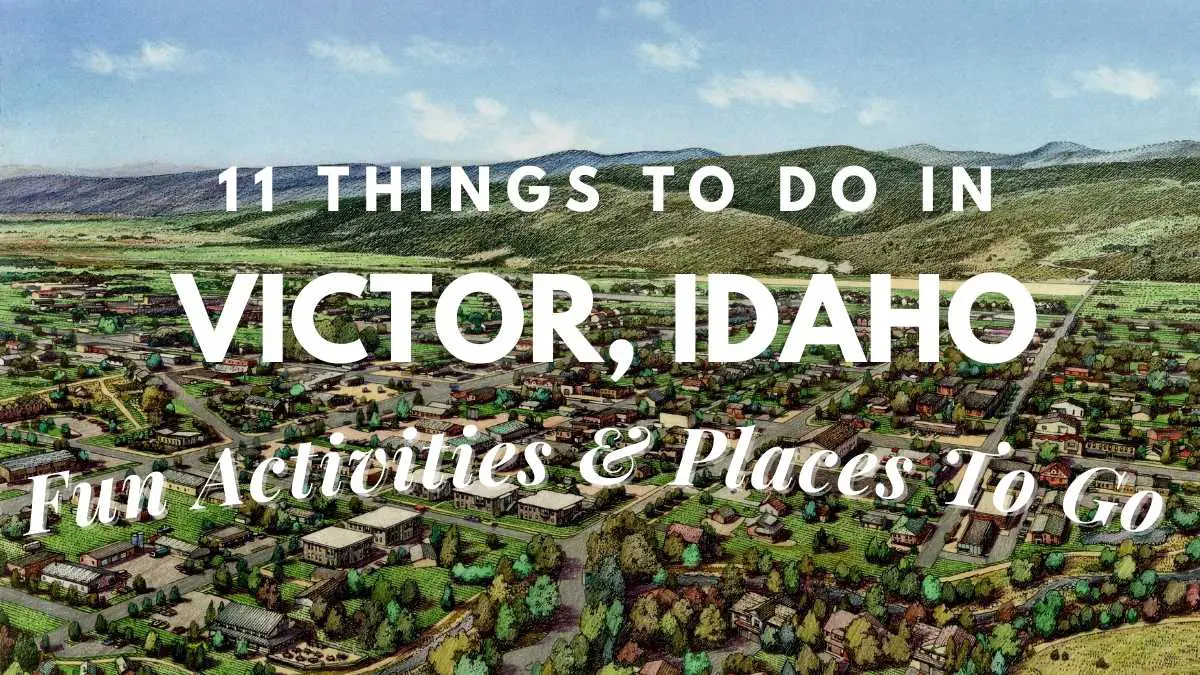 1. Travel along the Teton Scenic Byway
The Teton Scenic Byway follows the picturesque Teton Mountain Range's western slopes. This scenic 70-mile route, which travels via Victor, Darby, Driggs, Clawson, Tetonia, and Clementsville, takes around two hours to drive.
During your trip to Victor, you shouldn't skip doing it. Along the route, you'll pass through bustling communities with one-of-a-kind attractions, historic buildings, rivers, and spectacular views of the Teton Mountain Range. The Upper Snake River Valley, which transforms into stunning fall foliage and blankets fields throughout October, is reached farther north along the route. Especially if you go with family or friends, the Teton Scenic Byway is really worth the journey.
Read: Is Traveling A Hobby? The Ultimate Guide To An Exciting Way Of Life Learn about the Downsides Of Traveling As A Hobby

2. Taste the Victor Emporium's renowned Huckleberry Milkshake.
The Victor Emporium has already become a local landmark. It may be recognized by its large mural of a bear and a fish enjoying the store's distinctive milkshake. The Teton Valley is well-known for Victor Emporium's distinctive and interesting gifts, dry goods, fly-fishing gear, and antique soda foundation. Additionally, a lot of customers stop by the store to sample their famously rich huckleberry milkshake. Due to the fresh ingredients utilized to prepare this well-known milkshake, it is well worth a try. Their huckleberry milkshake contains only ingredients that are sourced from local foragers in Idaho. Victor Emporium is also a one-stop store for unusual products you won't find anyplace else, food, souvenirs, and anything else you want to bring home.
3. Ride a bike
It would be wise to stop by Fitzgerald's Bicycles to get a feel for what Victor has to offer. Cycling enthusiasts who wish to explore Victor's courses and trails often stop by this store. In addition to being a premier bicycle store, Fitzgerald's also provides led excursions throughout Teton Valley and is the preferred name in the area's cycling scene. In Victor, there are miles of trails, paved roads, and mountain bike courses waiting for you. Visit Fitzgerald's Bicycles to become acquainted with them all.
Let Fitzgerald's technicians inspect your bike first if you want to tune it up before you ride Victor's trails and courses. At the Fitzgerald's Nine Bar coffee shop, you may unwind while enjoying a delicious cup of coffee. They provide mouthwatering breakfast burritos and organic, drip-brewed coffee beans. In addition, they also provide bike rentals if you don't own a mountain bike.
4. Consider a stay at Teton Springs Lodge and Spa.
If you want first-rate lodging while visiting Victor and Teton Valley, there is no other option than the Teton Springs Lodge & Spa. While staying in one of the resort's charming and luxurious cabins, you may enjoy a magnificent 360-degree view of the surrounding Grand Tetons Mountain. This resort offers additional facilities and recreational possibilities in addition to fantastic lodging and views.
They provide tour packages that take you fishing, skiing, hiking, horseback riding, bicycling, and other activities across Teton Valley. They also feature a full-service spa, function rooms, wedding sites, and a top-notch golf course. Visit the Teton Springs Lodge and Spa's official website to make a reservation.
5. At the Kotler Ice Arena, put Your Skating Skills to the Test
The primary location for all ice-related sports in Teton Valley is the covered ice rink known as Kotler Ice Arena. The Teton Valley Foundation oversees the facility, which often holds figure skating contests and hockey leagues. Additionally, it gives everyone access to ice skating and hockey instruction. Since Kotler Ice Arena often provides lessons for various sports, this is the ideal opportunity to learn hockey or figure skating. You might also unwind by sitting and watching locals play hockey on the sidelines. You may rent ice skates at the location if you wish to try out the ice rink.
6. Spend the night at Teton Valley Resort.
The Teton Valley Resort is another wonderful place to stay in Victor. This resort offers a variety of lodging options thanks to its various cabin sizes. For couples, parties, or families who want to use Victor as a launching point to explore the Grand Tetons and Yellowstone National Park, this resort is ideal. The Teton Valley Resort also has a mouthwatering eatery called Wanderlust Bistro, which offers a variety of dishes focused on Italian, American, and Mexican cuisines. This restaurant at Teton Valley Resort offers all three meals, so there's no need to go to Victor's downtown. In addition, they provide a good variety of wines, drinks, and beers.
7. Victor Tour by Mountain Bike
Mountain biking, one of the most practical methods to explore the area, is the most well-liked outdoor sport in Victor. However, if you want to put your mountain biking talents to the test, go to Sherman Park's Victor Bike Park. It is a great spot to put your riding talents to the test since it has a mountain bike course for riders of all levels. The bike park, one of Victor's attractions, is presently managed by Mountain Bike the Tetons. The Victor Bike Park was created by Canadian mountain bike expert Jay Hoot, who also added numerous pump tracks and dirt jumps to make the course more exciting and difficult to navigate. Victor Bike Park's complete course is around one mile (1.6 kilometers) long.
8. Eat at Butter Cafe
The delectable food of the locally owned and operated Butter Café features items that are obtained in the area. For their delectable brunch menu, which focuses on American-Mexican foods like their Al Pastor hash, vegan and meat burritos, Mexican grilled cheese, and their rendition of the renowned Philly Cheesesteak, residents and tourists alike keep returning to this restaurant.
To refuel your body for a full day of exercise, eat at Butter Café before leaving for your outdoor excursion in Victor and Teton Valley. In addition, Butter Café offers mouthwatering pastries like croissants, making it a terrific destination to visit for good meals.
9. The Victor to Driggs Rail-Trail
Victor and Teton Alley is home to hiking routes in addition to mountain riding. The Victor to Driggs Rail-Trail, which provides hikers with a magnificent perspective of the adjacent Teton Mountain Range, is one of the most well-liked hiking routes. A 104-mile path between Yellowstone and Montana in the west is accessible beyond the trail. It's a terrific site to begin a lengthy trek or outdoor excursion as you travel through lovely forests, Idaho's enormous farmlands, and have the mountains as your background. In addition, the route crosses the Ashton-bound Historic Oregon Short Line Route.
If you're not up for the 104-mile challenge, Victor offers a shorter alternative that approximately covers 25 kilometers of out-and-back terrain. Anyone may enjoy this lovely and picturesque path in Victor, whether they are a casual hiker or a long-distance hiker.
10. Attend performances at Music on Main
The Teton Valley Foundation hosts one of Victor's most eagerly anticipated events, Music on Main in the Victor City Park, from June through August. Every year, Victor hosts a free outdoor summer concert series that includes performers from many musical genres, from up-and-coming local artists to those who have received national success. Victor's Music on Main has been a staple of the community for fifteen years and is a must-attend event. You shouldn't miss it since it is a wonderful event, and you should go with your family to make it even more enjoyable.
11. Drink some Highpoint Cider from a can.
Highpoint Cider, a locally owned cider business and taproom that debuted in 2021, is also based in Victor. Alex and Andrew Perez, two brothers, created this business with the goal of creating a new drinking hard cider brand for the surrounding Jackson Hole and Teton Valley markets. In 2021, in Victor, as a result of their ambitions, they opened their first cider house and taproom. Their distinctive ciders include the Transplant, a semi-dry New England-style cider, Tram-Line, a cider with dry hops from mosaic, and the Spur, a ginger-infused cider.
Additionally, their taproom has a range of special releases and small batches. While their taproom includes open and outdoor dining and a comfortable, relaxed vibe. They also provide a selection of quality wines as well as several local brews.
Final words
These are some of the best things to do in Victor Idaho as of now. You will never get bored during your stay due to the presence of such a large number of activities.