Maligne Lake camping is the best way to see Spirit Island in Canada. Spirit Island, one of the most popular sites in Jasper National Park, is routinely included on lists of the "Most Photographed Places in Canada." Tourists from all over the globe visit Canada to view this little island. It's difficult to blame them when set against a background of blue sea and encircled by enormous glacier-capped mountains.

Most people choose a 90-minute boat excursion that drops them off at a viewpoint where they have 15 minutes to take in the scenery and take as many photos as they can. We immediately discovered that not only was this an Alberta Bucket List item, but that the most Zen way to experience this world-class scenery would be to visit Maligne Lake as a canoe camping trip. What can compare to hiking through the Maligne Lake wilderness and camping along the way? We're not going to take the easy way out on a tourist boat!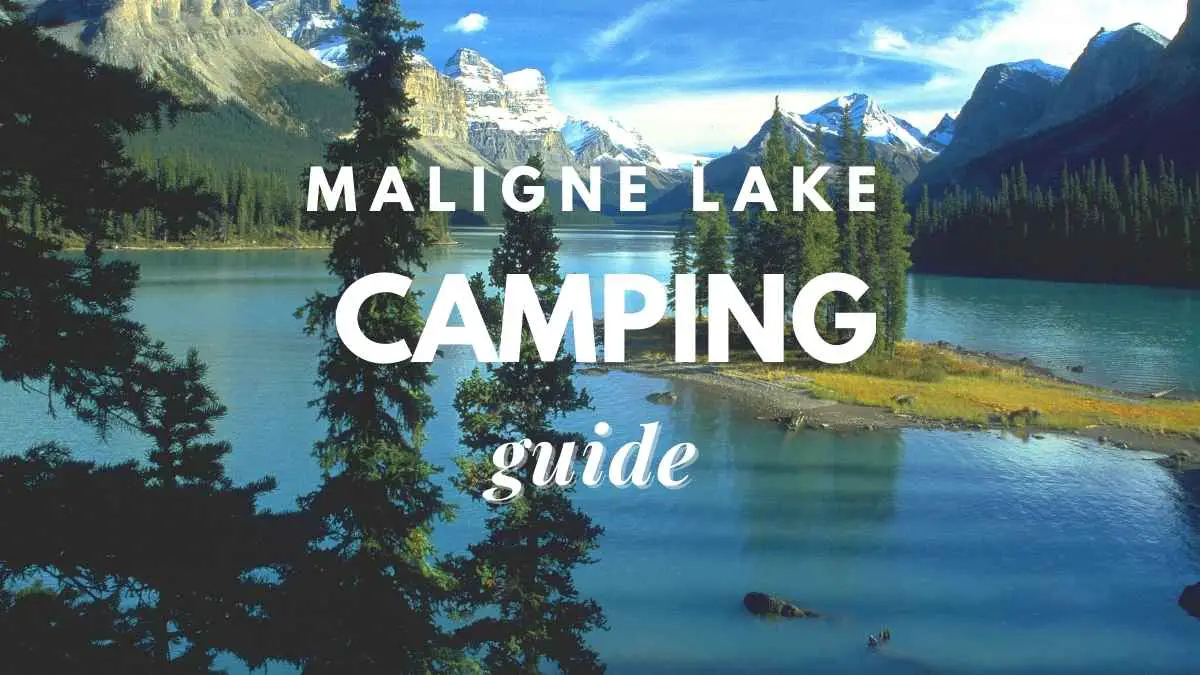 The best way to travel to Maligne Lake
Maligne Lake is in Jasper National Park, approximately a 4-hour drive from Edmonton, Alberta, or a 5-hour drive from Calgary, Alberta, where the closest airports are. While Edmonton is a little closer, travelling from Calgary allows you to pass through Banff National Park and cruise the spectacular Icefields Parkway, which is certainly one of the most scenic trips in all of Canada.
There are many accommodation alternatives in Jasper, as well as excellent camping near Maligne Lake at Wapiti or Whistler campgrounds. We remained in town throughout the week for our Maligne Lake canoe excursion but spent the night before our paddle at the Hostel International on Maligne Lake Road to get an early start.
Driving from Jasper to Maligne Lake takes around an hour and 15 minutes through the Maligne Lake Route, which has some spectacular vistas, so you may want to leave additional time to drive the road in order to stop and snap photographs.
Medicine Lake is one of the highlights of the Maligne Lake Road, which may be considered a destination in and of itself. The lake is formed in the spring by glacial run-off from the Maligne River, and it drains down a number of subterranean tunnels in the autumn, to the point that the whole lake may dissolve into a mudflat. On this particular day, we were fortunate to capture a beautiful reflection in Medicine Lake's quiet morning waters.
Read: Is Traveling A Hobby? The Ultimate Guide To An Exciting Way Of Life Learn about the Downsides Of Traveling As A Hobby

Spirit Island's History
According to Indigenous legend, the island was a meeting place for two star-crossed lovers, with one lover waiting for the other until he died, leaving his ghost behind.
In the 1950s, Kodak commissioned a photographer called Peter Gales to discover isolated and gorgeous sites worthy of their Colorama film in order to advertise color film to customers. This little island was photographed by Peter Gales and became part of Kodak's Colorama enormous 18′ by 60′ display at Grand Central Station. The sight has encouraged many people to visit Jasper and Spirit Island, making it one of the most photographed vistas in the Canadian Rockies. Nowadays, the island is featured in Travel Alberta's "Remember to Breathe" campaigns and is used to promote the Canadian Rockies on a global scale.
So, with our destination in mind, we completed our research, made our preparations, and tied a canoe to our ancient but trusty two-door 2003 Monte Carlo. We may have received a few odd stares on our way up to Jasper National Park.
Canoeing or cruising to Spirit Island
We're sorry to bust your bubble, but Spirit Island isn't even an island. The appropriate phrase would be a peninsula, but I suppose Kodak's advertising strategists didn't think Spirit Peninsula sounded as good. They're most likely correct. If you're paddling by, you could easily miss Spirit Island if you don't know what you're looking for but viewed from the right angle (and there is a viewing platform for the tour boats, so don't worry, you won't miss it), it's a sight to behold and you can see why it's one of the most photographed locations in the Canadian Rockies. This is an experience that anyone who goes ahead with Maligne Lake camping should experience.
If you choose one of the boat trips, you'll only get 15 minutes on the island to take photos before being escorted back to the boat. Those of us who go to the island on our own may take our time and enjoy the scenery! Unfortunately, there is no camping on Spirit Island, however the Fisherman's Bay backcountry campsite is just a short paddle away.
Cruise Boat on Maligne Lake
There are three backcountry campsites throughout the lake's length. Each site must be reserved in advance with Parks Canada, and owing to the popularity of the region, vacations are restricted to six nights, with two nights at each campsite. Reservations for Maligne Lake camping are available on the Parks Canada website. (See the link below)
Hidden Cove, located just 3.5 kilometers from the lake's entrance, is Jasper's newest campsite and is intended to be a starting, family-friendly location. We didn't stay here, but we did check it out and, although it was a little windy, it would be a nice site to take the family or for a mild start to wilderness kayaking. It has a shelter where you may eat your meal (or hide from the rain), fire pits, and space for up to 14 campers.
If you want to spend the night, stay on the right side of the lake since it is concealed in a cove (guess where they got their name!) and would be simple to paddle by. Keep a watch out for osprey, mergansers, and loons, who all nest nearby.
Campground at Fisherman's Bay
Most people spend their first night camping on Maligne Lake here, a 14-kilometer paddle from the pier. Despite a late start and a headwind, we arrived in one day, with plenty of time to set up our tent and prepare supper before the dark. While a bit more rustic than Hidden Cove, it's a terrific backcountry camping with views of Mt. Charlton, Samson Peak, and Maligne Mountain, as well as campsites directly on the lake.
Fisherman's Bay Campground, Maligne Lake
It's not a horrible campground!
Fisherman's Bay is just a few kilometers from Spirit Island, so if you arrive early and have the energy, you may perhaps add a journey to the island and back.
Backcountry Campground Coronet Creek
This is the last stop on the line. This campground is located at the end of the lake and is only accessible by a 23-kilometer paddle from the pier or a 9-kilometer paddle from Fisherman's Bay. It is peaceful and in a stunning location. There are six campsites, and, like Fisherman's Bay, they are well-equipped with fire pits, picnic tables, bear-proof lockers, and pit toilets. Keep an eye out for the local harlequin ducks who spend the summer near the campsite; they're quite adorable!
There is a trek up to Coronet Glacier that you may take, but we didn't have enough time to check it out. Perhaps next time! All three Maligne Lake wilderness camping sites are stunning, and even if you don't get your dream itinerary, you'll have a fantastic experience camping on Maligne Lake at any of these locations!
Secure Maligne Lake camping
Now is the moment to talk about safety! Maligne Lake is a beautiful place to canoe or kayak, but in the highlands, the weather may change fast, and aid is not readily available, so you must be prepared to take care of yourself. We've been in less-than-ideal circumstances before, and it can happen to you as well!
It should go without saying, but tell someone where you're going, give them a copy of your itinerary, and tell them when you expect to return. You won't have cellphone reception until you return to Jasper, so plan accordingly. A Spot GPS would be useful.
Maligne Lake is Canada's second biggest glacier-fed lake. The water is FROSTY. Hypothermia is a severe concern if you fall. Wear a PFD and keep near to the beach so that if anything goes wrong, you won't have to swim too far to safety.
The boats that go to and from Spirit Island generate a wake, so paddle near to the coast rather than directly in the route of the boats and you'll be OK.
Wind is another element that you may have to deal with. We had to paddle against the wind both ways AND contend with a storm on our trip back from Coronet Campground. Prepare to paddle hard and for your journey to take longer than you anticipated. Plan ahead of time for food and warm clothing.
If you wind up going through the Maligne Lake rinse cycle as we did, you'll be grateful to have a second pair of warm, dry clothing in your tent (this is the one we use) or a waterproof bag waiting for you (we like Sea to Summit bags).
Pack lightly so as not to overburden your boat but allow for some comforts such as a crib board, champagne, or copious amounts of hot chocolate. For this paddle, there's no need to pack as if you're carrying it on your back.
Begin early in the day since the water is usually calmer earlier in the day.
There have been reports of bear sightings near Maligne Lake, so bring bear spray and know how to use it. Store your food in the bear-proof lockers provided at each of the Maligne Lake campsites.
Final words
Whether you want to explore Maligne Lake by boat tour or reserve a wilderness campground to paddle the length of the lake, it is a fantastic place. If you go camping on Maligne Lake, please take plenty of photographs; we'd love to see them!