Although New York City is a famous travel destination with a ton of attractions, it might be intimidating to visit. How can you avoid tourist traps and find local hangouts? Which days are ideal for visiting popular locations like the Met and the Empire State Building? Did you know the city offers a wide variety of outdoor activities throughout the year? What about choosing from so many renowned pubs and eateries of various kinds? When you are planning a trip to New York City, make sure to follow this article as a guide. Then you will be able to figure out how to get the most out of your visit.

Planning your vacation is essential to making the most of your time, whether you want to spend a weekend in the city or a week traveling. Let's examine the finest that the city has to offer so that you may choose when to go, find out what to do, and learn where to eat, drink, and stay while you're there.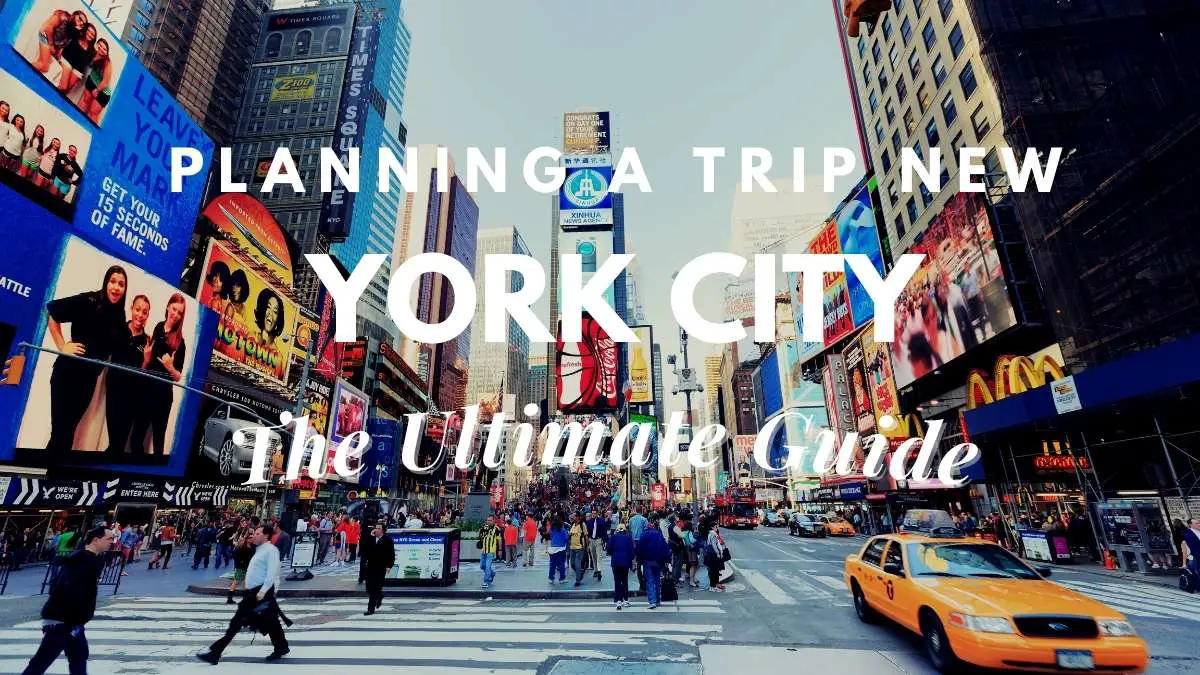 Organizing Your Trip
1. Best Time to Visit
Deciding when to go mainly depends on what you want to do while traveling. The whole year is a terrific time to visit New York City, but each season offers unique benefits (and disadvantages). Visitors who wish to enjoy the marvels of the Christmas season in New York City should go there in the winter, when people truly thin out and costs start to decline. The best seasons for enjoying the city's attractions are spring and autumn because of the warm weather. Beaches, pools, and parks are all open for business, despite the fact that summer may be quite hot and humid and attract large people.
Read: Is Traveling A Hobby? The Ultimate Guide To An Exciting Way Of Life Learn about the Downsides Of Traveling As A Hobby

2. Language
Although English is the city's official tongue, you'll also hear a lot of Spanish1, Mandarin, and other languages in this multilingual melting pot.
3. Moving About
New York City's public transit system makes getting around the city simple, quick, and inexpensive. To avoid traffic and save money, you'll discover that taking the bus or the metro is often the best option. To avoid getting lost or taking the incorrect train, acquaint yourself with the routes before you try it. However, there are situations when using a vehicle service, such as an Uber, Lyft, or taxi, is more practical or acceptable. For a group, a taxi is a decent alternative and might be less expensive. Although buses and the metro operate through the night2, you may feel safer in a vehicle at that hour. It's typically not a good idea to rent a vehicle if you're staying in the city since parking is pricey and/or hard to come by. Additionally, traffic is often terrible.
4. Travel advice
Keep in mind that New York City is comprised of more than just Manhattan, and all five boroughs are worthwhile seeing, particularly Brooklyn and Queens, which are accessible from Manhattan with relative ease. Get an early start and, if possible, visit the most popular sights during the week to avoid crowds.
What to do
New York City has a lot to offer, whether it's your first or tenth trip there. It is bursting to the seams with sights to see and things to do, from renowned museums and monuments to breathtaking parks and an abundance of shopping. Families with children may do fun things together, couples can have romantic outings, and friend groups can keep themselves occupied for days. Here, lovers of architecture, history, entertainment, cuisine, shopping, art, and culture will all be content. Don't miss these events:
Visitors would struggle to explore all of the museums in New York City; there are hundreds of art, history, science, and even food museums and galleries to visit. The Brooklyn Museum, Queens Hall of Science, Museum of the City of New York, El Museo del Barrio, and the Museum of Food and Drink, to mention a few, are among the classics beyond the Met, MoMA, American Museum of Natural History, and 9/11 Memorial & Museum.
1. Boat Rides
Keep in mind that New York City is around by water4, making sightseeing by boat a wonderful experience. A variety of businesses provide boat trips and cruises throughout the city; alternatively, you may take the Staten Island Ferry for free or pay a little fee to go along the East River.
2. Theater & Shows
Broadway productions are a popular tourist attraction for good reason. The finest theater in the world is also performed at a number of Off-Broadway, Off-Off-Broadway, experimental, and avant-garde locations. Almost every band visits NYC to perform in one of the city's most renowned concert halls, including Carnegie Hall, Radio City Music Hall, Lincoln Center, Bowery Ballroom, Kings Theatre, and Music Hall of Williamsburg.
Restaurants and bars
There are many different cuisine alternatives in New York City, including well-known meals that should be tried while there. Grab a hot dog, a typical deli sandwich, a bodega egg and cheese on a bread, a piece of pizza, and a bagel with lox while you're there. And don't forget to enjoy brunch, a New York City custom. The best thing about New York City, however, is that you can find foods from all over the world there because of the city's immigrant population, whether it's in Michelin-starred restaurants or tiny eateries serving everything from Ethiopian to Burmese to Korean to Italian to Israeli to Mexican and beyond. In the five boroughs, you may splurge at a restaurant or get inexpensive food. And if you look closely enough, even Times Square has something special to offer.
In New York City, drinking is equally as vital as eating, and there are many artisan cocktail bars, traditional taverns, breweries and taprooms, wine, and Champagne bars, and even places to have a drink without alcohol. Additionally, there are several amazing coffee shops where you may start your day.
Places to Stay
Getting a hotel in New York City is simple but finding the ideal accommodation for you is another matter. Your choice of borough, neighborhood, whether you're traveling alone, with a partner, or with family, and your desired budget will all influence where you stay. The majority of the tourist attractions are located in Midtown Manhattan, which is also one of the priciest neighborhoods to stay in. There are several excellent low-cost hotels in Manhattan if you're ready to go north or south. Of course, you should expect to spend more but will be satisfied if you choose to stay someplace with a view of Central Park, close to the nightlife in Chelsea, or in the heart of fashionable SoHo.
There are some great alternatives in Brooklyn if you're willing to cross the bridge, and many people enjoy the more laid-back atmosphere there. Other alternatives to hotels include short-term apartment rentals (which are cost-effective if you're staying for three nights or more and want to cook rather than dine out), hostels for people on a low budget, and Airbnb rentals—although be aware that some of these may be operating illegally5.
View our suggestions for the top hotels in New York City with Pools and the best hotels near the airport as you explore the many districts where you may stay.
How to Get There
NYC may be reached in a variety of ways, including by plane, train, bus, or automobile. Major airports include:
Although John F. Kennedy Foreign Airport is the biggest and has the most international flights, navigating its several terminals may be stressful and draining. There are many routes to get there, and it is 16 miles from Midtown Manhattan.
The Queens La Guardia International Airport is now easier to navigate, and recent improvements have substantially enhanced its appearance, use, and amenities. However, compared to JFK and EWR, it offers fewer international travel choices. Additionally, certain airlines, like as Delta and United, utilize the other local airports as their headquarters, resulting in fewer flights from La Guardia. With 8.5 miles between it and Midtown Manhattan, it is a bit closer and accessible in a number of ways.
Midtown Manhattan is 16 miles from Newark Liberty International Airport in Newark, New Jersey, and sometimes flights there may be less expensive (but taxis generally cost more from there to NYC). Since this airport serves as United's hub, practically all of the airline's flights come and leave from here. It also offers a wide range of foreign flights.
Penn Station is served by frequent Amtrak trains to other major East Coast cities as well as trains to farther-off destinations. The least expensive method is often taking a bus, which the city is served by Greyhound, Megabus, Bolt Bus, and several smaller firms. Of course, there is also the option of driving, but bear in mind that parking may be both costly and challenging.
Customs and Culture
Locals in New York City adhere to a number of unwritten norms, such as how to stroll on a congested sidewalk (hint: don't stop in the middle of it), subway etiquette, how to hail a taxi, and appropriate bicycle conduct.
In New York City, leaving tips for bartenders, wait staff at restaurants, and taxi drivers is expected.
New York City is it secure? Visitors often inquire about safety, and in general, it is a safe city6. However, con artists and robbers are frequently able to identify "out of towners," so using common sense is advised.
Savings Advice
In NYC, there are a ton of wonderful free activities, occasions, and destinations to attend, including parks and museums.
Numerous museums and attractions offer Pay What You Wish or even free admission on particular days or periods.
Purchasing an MTA MetroCard for a day or a week of unlimited trips will help you save money if you intend to utilize the subway and buses at least a few times each day.
For less expensive Broadway tickets, check out TKTS and other inexpensive theaters, and don't forget about standing room only.
For several top-notch but more reasonably priced restaurants and eateries, go to the outlying boroughs.
Some tips to get the most out of your stay
1. Don't be hesitant to stray
Start telling people that New York is the safest major American metropolis. The days of being advised not to visit the Lower East Side or Alphabet City are long gone. Almost no place in Manhattan is off-limits, but it is still an urban environment, so take caution (for instance, you may not want to walk around at 3 a.m. by your lonesome). With relatively few hills and a grid-like layout, much of Manhattan is quite simple to navigate, with the exception of a few central districts including the West Village, the Lower East Side, and Battery Park. In fact, roaming the streets and taking in the intriguing people, structures, and sites that appear around every corner is probably going to be one of the highlights of your vacation.
2. Board the "A" (and "B" and "C") train
The first underground line in New York City opened in 1904, and despite the system's age, the trains are well-marked and surprisingly quick, making them a superior alternative to taxis when attempting to traverse the city from east to west or vice versa or while traveling during morning or evening rush hours. The subways do operate around-the-clock, but if you're traveling alone, you may feel better at ease getting a cab after midnight, even though you'll still see plenty of people using the trains. To determine which subway line will get you to your destination the quickest, try HopStop.com. However, keep in mind that many routes may be rerouted or shut down for maintenance, especially on weekends, so be sure to also check the Metropolitan Transportation Authority's website for the most recent updates. Tip: To avoid spending $2 on MetroCard's every time you board the train, consider purchasing the 7-day unlimited travel MetroCard.
3. Have supper either early or late
When eating out, New Yorkers like to do it between 8 and 10 p.m. If you want to eat where they do, it's best to make a reservation in advance – at least a week in advance for most places and a full month in advance for favorites that are perpetually booked, like Daniel, Babbo, and Le Bernardin – and to choose an evening between Sunday and Wednesday rather than the consistently busy Thursday through Saturday. However, if you wait until the last minute, consider contacting a day or two in advance and making a reservation for a table for either before 7 p.m. or after 10:30 p.m. This will greatly improve your chances of being seated, even at the trendiest restaurants in town. Naturally, this strategy won't work at the few hip eateries like Momofuku, Boqueria, and Bar Jamon that don't accept bookings in advance. You will need to wait in line there with the other hungry foodies.
Final words
Keep these tips in mind when you are planning a trip to New York City. Then you can save money, and stay away from frustration to get the best possible experience.