Captiva Island offers the ideal Florida getaway. Sunsets, waves, sand. The first thing to consider is how to travel to Captiva Island. Don't forget to include Captiva Island in your Florida holiday itinerary. In this article, we are looking forward to sharing more details with you on how to get to Captiva Island. You may take a look at the different options available and proceed with the best one out of them.

Captiva Island offers the ideal Florida getaway. Sunsets, waves, sand. The first thing to consider is how to travel to Captiva Island. Don't forget to include Captiva Island in your Florida holiday itinerary. The quickest option is to fly to Southwest Florida International Airport, then drive 90 minutes south to Captiva Island, which is 38 miles away from Captiva Village.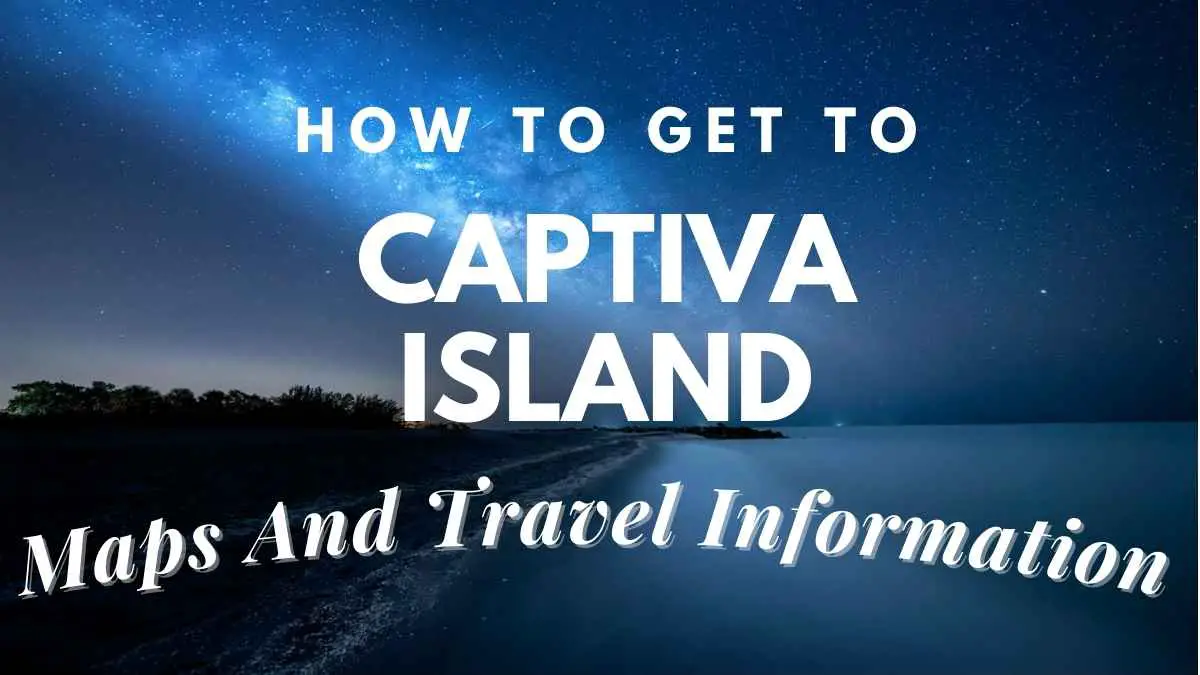 To Captiva Island by Car
Captiva Island is an excellent Florida vacation destination. Better? Captiva Island is accessible by car. The Sanibel Causeway is roughly an hour distant from Fort Myers. When you reach the bridge's apex, say farewell to the mainland and welcome to a Florida vacation on Captiva Island! Yes and no. If it seems complicated, let us explain the means of transport:
Driving from the mainland to Captiva Island through Sanibel Island and the Blind Pass Bridge requires a vehicle.
Once here, a Florida boat rental can carry you too much of the island.
The north end of Captiva Island is accessible by boat.
North Captiva is about 4 miles long and half a mile broad. North Captiva has less than 400 residences developed, keeping most of the southern section of the island untouched. Cayo Costa, the island directly north of Captiva, contains a lovely state park.
Does North Captiva differ from Captiva Island? Between the two now-separate islands, from Pine Island Sound to the Gulf of Mexico, a deep pass known as Redfish Pass was created by a severe storm in 1921.
While most visitors know Captiva Island, North Captiva has an air of mystery that is thrilling to explore by boat!
Read: Is Traveling A Hobby? The Ultimate Guide To An Exciting Way Of Life Learn about the Downsides Of Traveling As A Hobby

Captiva Island Driving Directions
Now to know how to get to Captiva Island  by car. Getting around Captiva Island by car may be difficult, particularly during peak season. Remember that a vehicle is not always the best option. Always use a boat to avoid traffic.
Turner's Beach and Alison Hager up Beach, sometimes known as Captiva Beach, are accessible by vehicle or boat. Across the Sound, take a boat to Wild Child Art Gallery and other galleries on Pine Island. This will save you two hours of driving time. Looking for airport driving directions? I-75 is not your best bet. To get there fast and securely, follow these steps:
Take Terminal Access Road to Treeline Avenue and go north to Daniels Parkway.
Turn left onto Daniels Parkway and then left onto Ben C Griffin Six Mile Cypress Parkway.
Keep on and it becomes Gladiolus Drive.
Take the Summerlin Road exit and go west to the Sanibel Causeway. Summerlin Road becomes McGregor Boulevard without your knowledge.
Almost there! Next, do this:
Go to Sanibel.
Turn right at the four-way stop onto Periwinkle Way.
Right at Palm Ridge Road.
Straight at the stop sign into Sanibel-Captiva Road.
You'll be on Captiva Drive after crossing the Blind Pass Bridge.
Can You Drive to North Captiva?
This is one of numerous boat-accessible barrier islands in the vicinity. Isn't it unique and cool? Rent a boat and experience North Captiva Island's many attractions, including:
Access to bicycles and motorized golf carts for a fee.
Fun North Captiva North Captiva has a modest grass runway for small private aircraft. No airport. People who live near the runway park their aircraft in their backyards. It's not available to the public, however search for little aircraft on your tour and wow your friends!
North Captiva Island Ferry or Water Taxi
Now that you know that North Captiva Island is only accessible by boat, we have several alternatives for you below:
North Captiva Ferry Directions
Captiva Island has a ferry service to North Captiva. Jensen's Twin Palm Marina and Cottages provides a water taxi and island tour so you may spend the day on the sea.
Also take advantage of this opportunity to talk to the fishing guides and charter boat captains. They know everything about the region.
How Much is a Ferry to North Captiva Island?
Ferry trips and chart boat excursions may be scheduled at Jensen's Marina. Marina staff can assist with excursion planning. You need to keep the cost in mind when you want to figure out how to get to Captiva Island. Then you can plan your expenses accordingly and proceed with visiting the island without any issue.  Enjoy a lunch cruise to North Captiva Island's Mainstay North Captiva Restaurant and Gift Shop, Barnacles Bar, and Over the Waterfront. A boat journey to Cayo Costa is recommended for a picnic lunch.
For a Cheeseburger in Paradise, go to Cabbage Key. After lunch, take a stroll around the island to burn off some calories and see the observation tower.
To Get A North Captiva Water Taxi
North Captiva water taxi service is offered via various charter firms and operates every 30 minutes or so depending on demand. Allow up to three hours for water taxi ride. To reach Cabbage Key in Pine Island Sound, you may take a ferry. Cabbage Key is only accessible by boat, therefore take the ferry from Captiva. You may also hire a boat or join a boat tour.
Cabbage Key is about an hour away by boat from Captiva Island. You may also go fishing or shelling at neighboring Cayo Costa State Park, or check at dolphins, birds, and other Florida wildlife.
What is the Captiva Island Airport?
Captiva Island is served by Southwest Florida International Airport (RSW) near Fort Myers. Captiva Island is 36 kilometers from Fort Myers. It has a contemporary facility and on-site vehicle hire. Other nearby airports include:
TIA (this is a 140-mile car ride to the south)
Airports in Sarasota (this is a 90-mile car ride)
A 4-hour drive from the entertainment capital is Orlando International Airport.
Miami Intl (a 3.5-hour car ride across Alligator Alley)
PG Airport (a 54-mile car ride)
From Fort Myers to Captiva Island
Is a Car Necessary in Ft. My
We propose hiring a vehicle in Fort Myers at the Southwest Florida International Airport to make your Captiva Island trip more convenient. When you wonder how to get to Captiva Island, we strongly encourage you to pay attention to this fact.
What other options are available to get to Captiva Island?
Pontoon boats are ideal for cruising the Intracoastal Waterway or fishing trips. This is the choice for a family boating excursion or a small group of 11 pals. Our 24-foot pontoon boat is powered by a 115-horsepower engine.
Smaller fishing groups prefer center console boats. Our 18-foot center console boat can accommodate up to five persons and their fishing gear.
We also have an 18-foot Boston Whaler with a 150-horsepower Yamaha four-stroke engine for up to six persons. These boats can hold up to 1,000 pounds of weight including you, your holiday crew, fishing gear, coolers, and more!
Why should you visit Captiva Island?
It's rare to find a destination that combines a vast all-inclusive resort with the privacy of a private island. It's harder to choose a place that checks all the criteria without a passport. …and the South Seas Island Resort.
1. A drivable island
No passport necessary to visit this island: If you live near the Gulf Coast, you may not even need an aircraft. Captiva is an hour distant from Fort Meyers and may be reached through the Blind Pass Bridge.
2. Availability of private beaches
Captiva has just two public beaches. Guests of the South Seas Resort get exclusive access to a 2.5-mile length of shoreline that surrounds the resort. Don't worry about towel space since Captiva Island beaches are rather uncrowded.
3. Over 60% of the island is yours to explore
South Seas Island Resort is 330 acres in size and encompasses 2.5 miles of Captiva's complete length. Only resort guests get access to the property, so if you want to tour the whole island, you're in luck.
4. Sanibel
Captiva's sister island is bigger yet can be driven around in 20 minutes. Visitor may easily tour both islands through a small bridge (then brag about island-hopping). See our blog article on why you should visit Sanibel.
5. Affordable to travel
Renting a vehicle from the airport saves money, since an island cab costs $85 each trip for four people (or $75 for three). The resort cost includes free parking and access to Sanibel Island. Once in the resort, you may use the complimentary trolley service to go about. Or you may hail a passing golf cart for $100 per day.
Final words
Visiting Captiva Island is something that you will never regret about. The resort's features make it a great place for a family holiday. You have 20 alternatives if you prefer the pool to the ocean. A 4,000-square-foot state-of-the-art spa awaits your relaxation. The Sanibel Sea School provides a hands-on learning program about the island's environmental preserve and the wildlife that inhabit there. Oh, and there's a nine-hole golf course.