Boasting sweeping vistas, rustic appeal, and an immersion in the rich tapestry of nature, Shenandoah National Park offers a plethora of cabin choices for those seeking refuge from the clamor of civilization. Amid these magnificent landscapes, you can choose from a bevy of cabin types, each boasting a unique blend of local craftsmanship and modern comforts. Nestled in some of the park's most picturesque locales, these cabins tender not just shelter, but the spectacle of wilderness in the raw. Accommodation varies in terms of structure, size, and special features, each designed to deliver distinctive experiences for guests wanting to delve deeper into the beauty of Shenandoah while keeping the frills of domesticity within reach.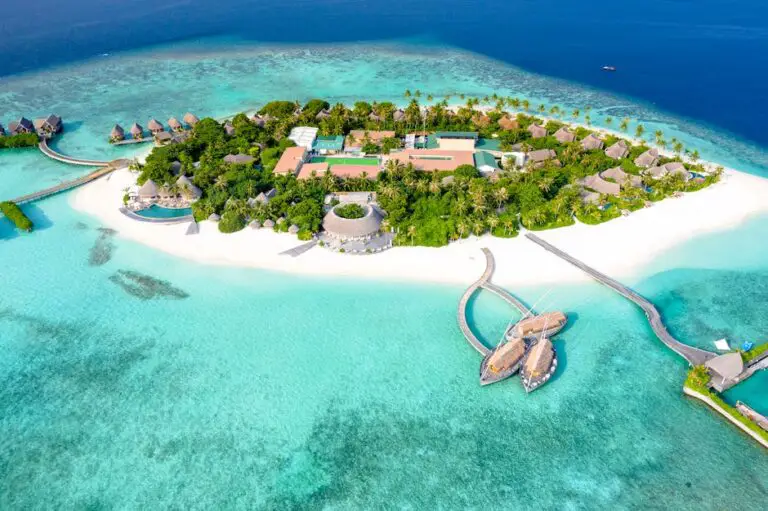 Types of Cabins in Shenandoah National Park
Shenandoah National Park's Potomac Appalachian Trail Club (PATC) Cabins
Potomac Appalachian Trail Club (PATC) manages many cabins in the Shenandoah National Park. Ranging from rustic to fully-equipped, these cabins differ in their provisions. Some are very primitive, involving vault toilets and stream water sources, while others offer fireplace heating and spring water. You'll find the cabins generally modest in size, most accommodating between 2-8 people, perfect for solo travellers, couples, or small families who want to expose themselves to the park's natural beauty in its purest form.
Lodge-Style Accommodations: Skyland and Big Meadows Lodges
For people preferring a more traditional, less rustic experience, Shenandoah National Park offers lodge-style accommodations. Skyland and Big Meadows lodges are two of the park's major lodging facilities. Skyland, at a magnificent elevation of 3,680 feet, not only offers breath-taking views but also cabin-style rooms, suites with a balcony or patio, and traditional rooms. Big Meadows Lodge is located closer to the heart of the park with access to three popular waterfalls. In addition to comfortable rooms, it offers multi-room suites and traditional cabins, all designed to offer guests the unique experience of staying within a national park while enjoying a certain level of comfort.
Lewis Mountain Cabins: The Historic Option
For those seeking a historical experience, the Lewis Mountain Cabins are a delightful option. As the smallest lodging facility in Shenandoah National Park, it offers a quaint, intimate setting. The Lewis Mountain Cabins were initially built in the 1930s as a segregated facility, but now serve all visitors. These historic cabins come equipped with heating, bed linens and basic kitchen equipment. Each cabin can host 2-4 people, an ideal getaway choice for couples or small families.
Shenandoah River Cabins: A Riverside Retreat
The Shenandoah River Cabins offer yet another unique experience. Located outside the park but within easy access, these cabins promise the tranquillity of riverside living. The cabins typically offer modern amenities including fully-equipped kitchens, WiFi access, hot tubs, barbecue facilities and outdoor fire pits. Sizes and styles vary, some built to comfortably accommodate larger groups, making them a stellar choice for larger families or gathering events.
Camping Cabins: Lewis Mountain and Loft Mountain
For visitors wanting to stay directly within the splendour of Shenandoah National Park, the camping cabins at Lewis Mountain and Loft Mountain are good considerations. While Lewis Mountain's camping cabins come with some furnishings and electricity, Loft Mountain's cabins are more primitive, offering a sheltered, campsite-like experience with no electricity.
The various accommodations at Shenandoah National Park, including a broad range of cabins, are strategically designed to cater to different visitor requirements and tastes. Whether you are interested in experiencing a taste of history, finding tranquility by the river, enjoying a rustic outdoor adventure or just looking for comfortable lodge-style living, there are numerous cabin offerings available to meet your unique needs.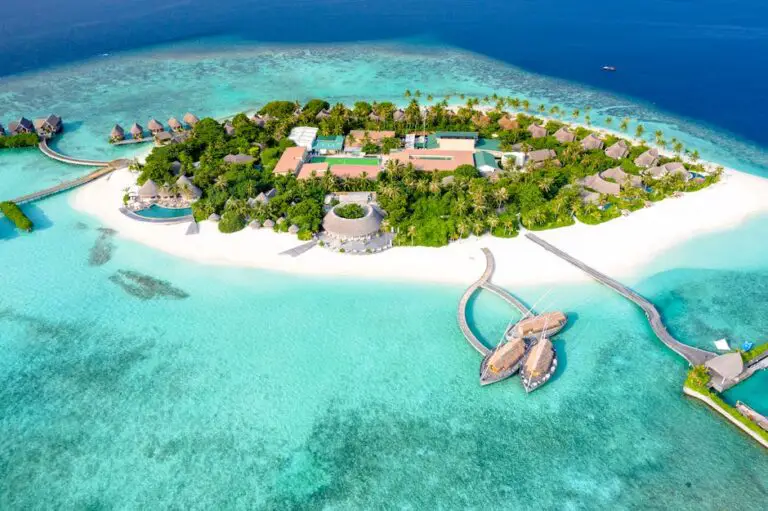 Location and Scenery of Shenandoah Cabins
The Scenic Beauty of Shenandoah Cabins
Tucked away in the serene Shenandoah National Park in Virginia, the park's cabins offer a rustic retreat amidst the undulating Blue Ridge Mountains. They are scattered across various campgrounds within the park, including Matthews Arm, Big Meadows, and Loft Mountain. Each site offers a unique snapshot of the remarkable landscape and biodiversity of the park.
The majority of the cabins command sweeping views of the Shenandoah Valley and the Blue Ridge Mountains, presenting visitors with mesmerizing sunrises and sunsets. High, panoramic overlooks are characteristic of these cabins and many are within a short distance of favored viewing spots such as the Stony Man Overlook and Hazel Mountain Overlook.
Tenants at these cabins gain direct access to over 500 miles of diverse hiking trails catered to all abilities and age groups. These paths meander through thick forests, revealing majestic waterfalls, wildflower meadows, and secluded wilderness areas. The renowned Whiteoak Canyon trail, known for its six waterfalls, lies nearby, while the Appalachian Trail boasts a steeper challenge with panoramic mountain views.
Cabin dwellers can also enjoy the park's rivers and streams, which offer fishing, swimming, and opportunities for quiet reflection. The Rapidan River and Hawksbill Creek are particular favorites, with the former known as a previous hideaway for President Hoover.
The abundant plant and animal species that reside around the cabins are a significant aspect of the experience. With over 200 bird species, 50 mammal species, and an array of insects and plants, the area offers plentiful opportunities for wildlife spotting and nature photography. Watch out for black bears, white-tailed deer, and various songbirds.
Besides the natural splendor, the Shenandoah cabins are conveniently close to historical sites that narrate the regional human history. These cabins are a mere drive away from President Hoover's Rapidan Camp and remnants of old mountain communities that existed pre-park creation.
Spanning diverse wildlife to historical landmarks, cascading waterfalls to mountainous panoramas, the cabins in Shenandoah provide a unique opportunity for complete immersion in the tranquillity of Virginia's Blue Ridge Mountains. No matter the specific location within Shenandoah National Park, all the cabins bear one commonality: a gateway to some of the most striking natural landscapes on the US east coast.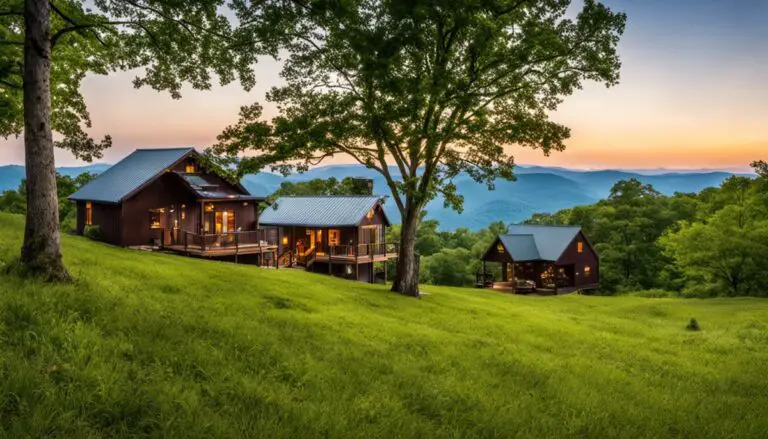 Amenities and Services
Comfort and Convenience at Shenandoah Cabins
Cabins within Shenandoah National Park offer a wide array of facilities and services for a comfortable and enjoyable stay. While the specific amenities can vary slightly based on the cabin or cabin style, all of them generally offer a home-like comfort.
A majority of the cabins in the park come with fully equipped kitchen facilities, which typically include a refrigerator, stove, microwave, toaster, and coffee maker. Moreover, these kitchens are frequently supplied with basic utensils, cookware such as pots and pans, dishes, cutlery, and often, outdoor grills.
As for the bathroom facilities, most cabins have full bathrooms, equipped with a shower, sink, and toilet, along with amenities like towels, soap, and toilet paper. In some instances, cabins may also feature bathtubs or hot tubs, providing an extra touch of luxury to your stay.
The cabins are generally equipped with heating systems, making them suitable for year-round accommodations. These can be central heating, electric heaters, or traditional, cozy wood-burning fireplaces for the colder months.
The sleeping accommodations in the cabins range based on cabin's size and type. Most cabins feature one or more bedrooms with comfortable beds, pillows, linens, and blankets. Larger cabins might offer additional sleeping arrangements like bunk beds or pull-out sofa beds.
Diverse amenities and services characterize the cabins in Shenandoah National Park. Some cabins boast features like decks with scenic views, fire pits for outdoor nighttime gatherings, or screened porches. While some cabins offer internet service and cable TV, others promise tranquility without such modern distractions.
The cabins at Shenandoah National Park manage to cover more than just the basics to ensure visitors experience a comfortable and memorable stay. They offer a home away from home in the heart of nature, enabling you to immerse yourself in the abundant beauty and tranquillity of the park.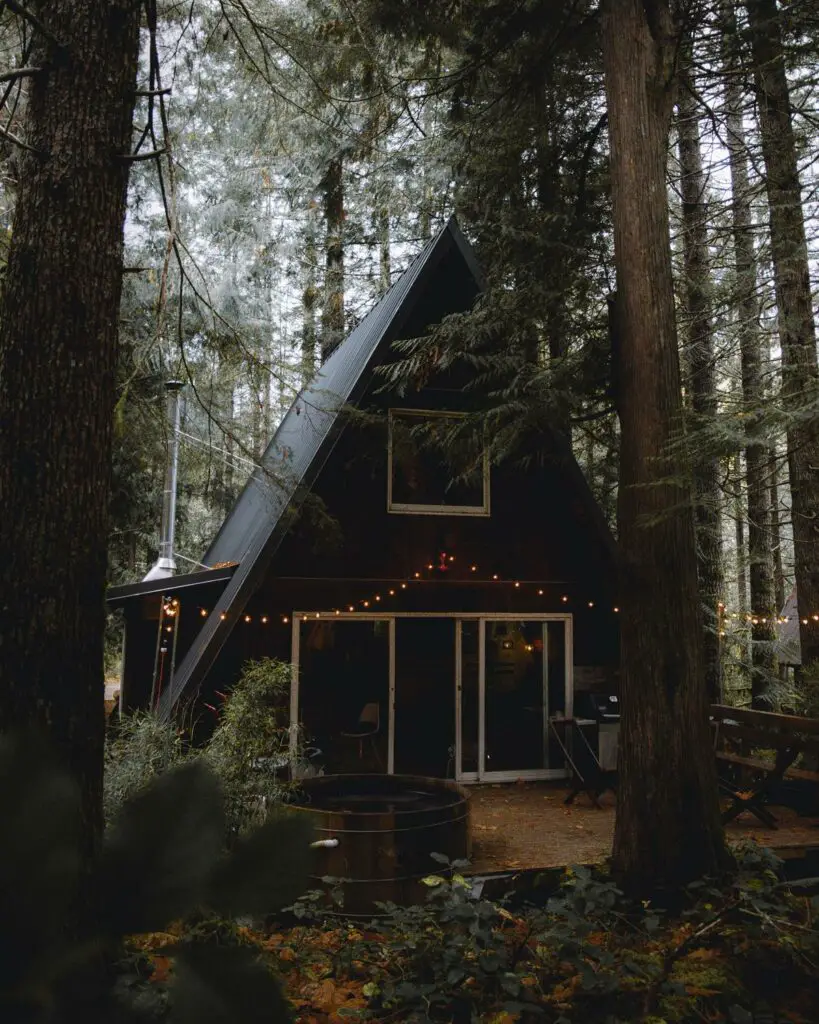 Photo by kristinelliss on Unsplash
Booking Process and Prices
How to Secure Your Cabin at Shenandoah National Park
To secure your ideal cabin at Shenandoah National Park, you'll need to access the park's official website or a reliable third-party booking platform. Here, you can make direct reservations for cabins in any of the park's lodges or campgrounds. Keep in mind, some websites may require you to create an account before you can book.
It's common to book cabins as early as six months in advance. Simply select your preferred dates, pick the cabin type that suits your needs, and fill out the necessary details like guest count and payment information to complete the booking.
Ensure you read and fully comprehend the cabin's specific booking policies before confirming. It's usual for a deposit to be required at the time of booking, and keep in mind that changes or cancellations could incur fees.
Prices and Peak Times: Cabins in Shenandoah National Park
Price rates for cabins in Shenandoah National Park can vary greatly depending on the size, type, location, season, and the number of guests. However, the standard prices typically range anywhere from $125 to $300 per night. Visitors are encouraged to book early especially during the peak seasons to avoid missing out on their preferred choices.
The peak visiting times for Shenandoah National Park are during the spring and fall seasons. Particularly, the vibrant changing foliage in fall draws high visitor volume, making it one of the busiest times of the year.
Discounts and Special Packages
On occasion, the Shenandoah National Park extends a variety of exciting special packages and attractive discounts. These promotions may encompass bundled packages combining accommodation and activities, preferential mid-week rates, or special offers during off-peak periods. To stay updated on these promotions, you can sign up for newsletters from the park's official website or contact the park directly.
Moreover, seniors, active military personnel, and disabled individuals are eligible for additional discounts. To illustrate, the 'America the Beautiful' series of passes grant these specific groups free or discounted entry to federal lands.
One key tip for securing your desired cabin at the optimum cost is to book early. Additionally, it's reassuring to know that all revenue from cabin reservations directly contribute to the upkeep and sustainability of the Shenandoah National Park.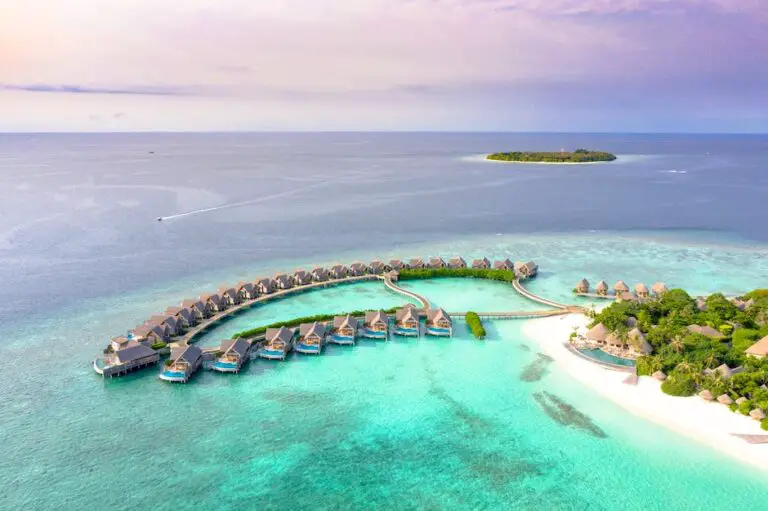 Experiences and Reviews
First-Hand Experiences: Cabins in Shenandoah National Park
The cabins of Shenandoah National Park have drawn admiration and recognition from numerous guests for their idyllic locations and their peaceful atmosphere. These cabins, enveloped in lush trees and diverse landscapes, are highly appreciated for their authentic woodland living encounter. Guests often rave about the delightful patios and cozy furniture, labeling them as the ideal spots for enjoying morning coffee amidst beautiful sunrise views or sipping on evening beverages under a twinkling starry sky.
Activities Available: More than Just a Stay
Staying in these cabins is not merely about accommodation; it goes well beyond that. Shenandoah National Park is renowned for its sweeping mountain vistas, cascading waterfalls, and the vast network of trails embracing flora and fauna. Guests have frequently mentioned their satisfying walks alongside Skyline Drive, and the rewarding hikes to witness the majesty of Shenandoah's waterfalls. A lot of reviews also touched upon their ventures to the Luray Caverns, a striking natural treasure situated close to the park.
The park also provides opportunities for adventurous guests to engage in bird watching, wildlife spotting, and even horseback riding. Fishing enthusiasts have shared their fond experiences of peaceful hours spent at numerous streams in the park.
Comfortable Stay: Know Before You Go
Several testimonials point out the importance of being well-equipped for the ideal Shenandoah cabin experience. The cabins themselves come furnished with the basic amenities like bed linens, towels, and kitchen essentials. However, guests are encouraged to carry their necessities like toiletries, food, drinkable water, and specific cooking utensils based on their needs.
In the cooler months, since the cabins are not equipped with electrical outlets, reviewers suggested bringing warm clothing, blankets, and firewood for the wood-burning stoves present in the cabins. Also, packing a first-aid kit, bug spray, and flashlights were advised by past visitors, especially for those planning to explore the backcountry trails.
Lastly, connectivity can be limited in this natural haven. While some were delighted with the break from the digital world, others recommended preparing with offline maps and entertainment.
Overall, Shenandoah National Park cabin stays were rated as an exceptional experience by most visitors. The cabins, coupled with the spectacular views and opportunity for exploration, make it a favorite for both relaxation seekers and adventure enthusiasts.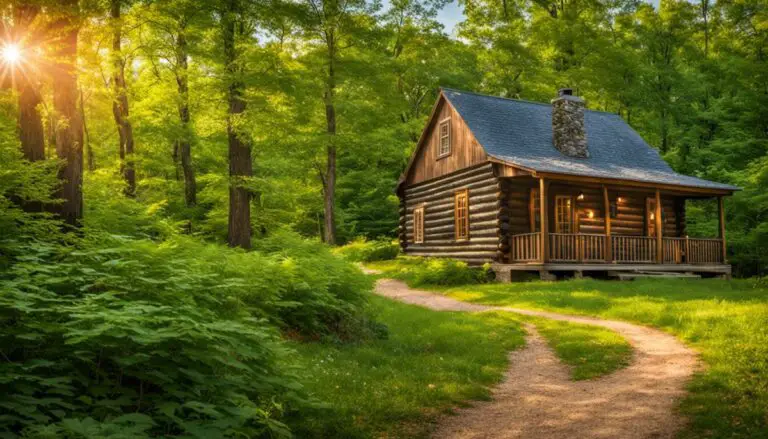 While the majestic beauty of Shenandoah National Park draws thousands of visitors every year, it's truly the immersive cabin stays that solidify visitors' impressions of this extraordinary wonderland. From petite, intimate cabins suitable for romantic getaways, to larger structures made for groups and family spend, Shenandoah cabins have a range of amenities, comfort options, and awe-inspiring views to cater to a varied palette of preference. These robust offerings, coupled with insightful user reviews, are a clear testament to the unforgettable experiences waiting for you in Shenandoah. Regardless of the cabin you choose or the time of year you visit, you can rest assured that a heart-warming rendezvous with Mother Nature is part and parcel of your Shenandoah sojourn.