I went on my first cruise with Celebrity Cruises to Alaska, and I fell in love with it right away. During one of our stops, my daughter, who was 13 at the time, was offered the option to participate in one beach excursion. She made the excellent decision to go dog sledding in Juneau. On this article, you will be able to learn more on what Dog sledding Alaska Juneau experience is all about. 

Now, if you believe that Alaska dog sledding is only enjoyable during the winter, think again. Snow and ice cover Alaska's mountains all year long. As a result, you may use a helicopter to take a trip. Not only will you be able to cross dog mushing off your bucket list for Alaska, but you'll also get to go flightseeing.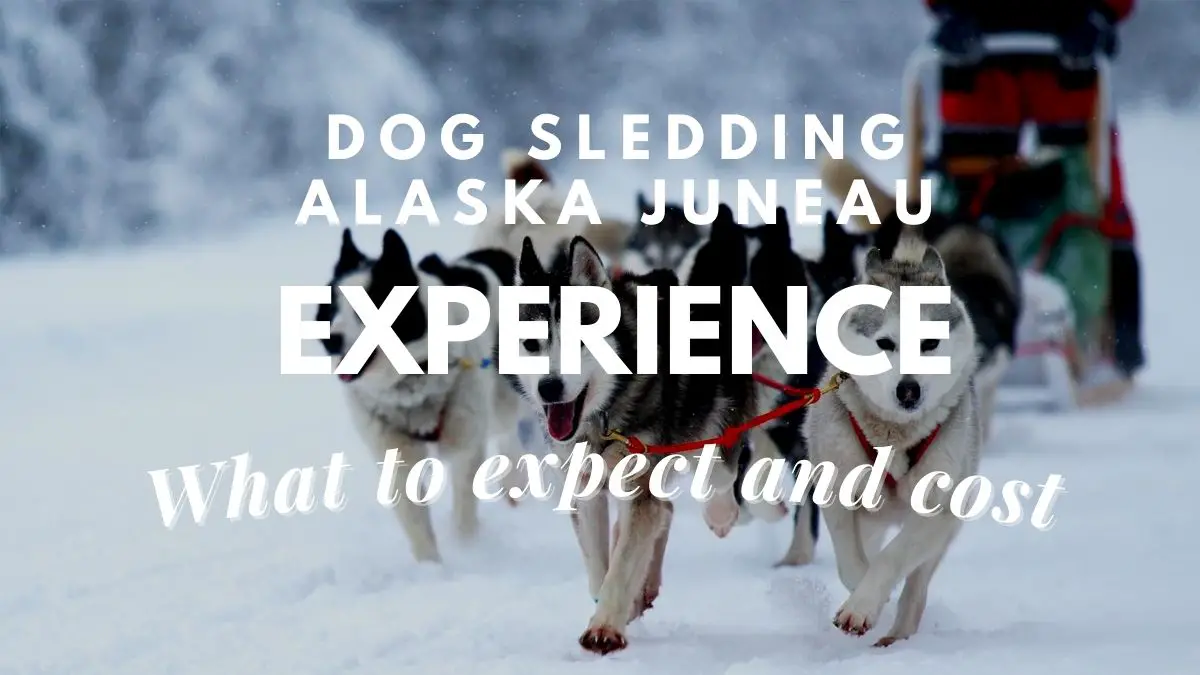 Where in Alaska Can You Go Dog Sledding?
This page has all the information you need if you're thinking about scheduling a dogsled glacier expedition but are unsure where to begin. Temsco Helicopters or Coastal Helicopters are both highly recommended.
In Juneau, you have the option of dog sledding on the Mendenhall, Herbert, or Norris glaciers. On Norris Glacier, Northstar Helicopters provides dog sledding tours. Temsco Helicopters in Skagway provides sledding excursions on Denver Glacier. Dog sledding is available on Godwin Glacier in the seaside town of Seward, and trips fly visitors to Troublesome Glacier in Anchorage.
The age range for this tour ranges from young toddlers to elderly folks. Wheelchair users may even be accommodated by certain tour providers. If you've made up your mind to take an alternate Juneau trip, think about going on a dog-sledding expedition in Ketchikan, an Anchorage dog-sledding tour, or a Skagway tour.
Read: Is Traveling A Hobby? The Ultimate Guide To An Exciting Way Of Life Learn about the Downsides Of Traveling As A Hobby

The Sledding Tour reservations
It's important to be aware that sledding trips in Alaska sell out quickly if you've chosen to reserve one. Although helicopter trips may be rather thrilling, since the helicopters are so tiny, they can only hold a limited number of passengers.
Knowing that you should make your reservations well in advance of your trip. Nothing is worse than getting on your cruise ship and learning that the husky trip you had your heart set on is sold out. The dog sledding excursions on my most recent Cunard Queen Elizabeth voyage to Alaska were booked up six months in advance.
Before making a reservation for a sledding trip in Juneau, I did a good deal of research and read a lot of tour reviews. I ultimately decided on Coastal Helicopters. They have greater expertise flying in fog or low-lying cloud cover since their pilots fly all year round.
The coastal chopper
The helicopter that took us to the glacier was a coastal one. Your tour operator may cancel your trip if the weather is unfavorable on the day, you scheduled it, and you will get a full refund. Unluckily, this occurs more often than you may imagine.
When I booked my time slot, Coaster Helicopters advised me to schedule an earlier flight in the day. They would try to reschedule our flight until later in the day if the clouds were too low to fly.
They also provide a variety of tourist excursions. In Juneau, a few additional companies conduct helicopter trips with dogsleds.
Which of Hubbard Glacier and Glacier Bay should I choose?
Dog Sledding Cost Prices for dog sledding excursions in Alaska don't vary all that much across businesses. In actuality, there are no discounts available for this excursion. So, regardless of who you choose, plan to spend between USD 575 and USD 610 per person.
These costs may appear high for a 2-1/2 to 3-hour adventure on dogsleds. To the top of a glacier, you must travel in a helicopter, and helicopter trips and pilots are not inexpensive. You can go on one of the mushers' dog sled trips on the ground if the cost of glacier sledding is out of your price range, but it won't be nearly the same adventure.
I can recall the excitement we had as our Celebrity cruise sailed into dock, and we prepared for our tour. I was worried that there wouldn't be any helicopter flights that day because of the intense cloud cover, however.
Two sled dogs on a sled dog tour in Juneau
When we got off the boat, I couldn't locate Coastal Helicopters, and since our tour wasn't due for another 90 minutes, we went exploring around downtown Juneau. We were astonished to see that our tour was still on when we got back 90 minutes later. My daughter was initially wary about riding in a helicopter, but I was confident we were in capable hands with Coastal.
Dog sledding attire in Alaska
You need to be prepared for the cold and rain in downtown Juneau no matter the weather. On a glacier, it may be quite chilly even when the sun is shining. Since you'll be walking on the ice, you'll need a warm, waterproof jacket.
Because you may utilize the separate layers on port days and throughout the cruise ship, I strongly suggest a 3-in-1 coat. To be warm on the glacier, you'll also need layers, a thick hat, scarf, and gloves. Additionally, it's a good idea to wear polarized sunglasses to shield your eyes from the wind and to lessen the glare from the glacier whether it's frigid or bright.
You'll also want a camera so you can record the thrilling experience. I advise utilizing a waterproof bag to safeguard your mobile phone if you're using one. Be careful to pack a rain sleeve if you have an expensive digital camera.
How to Reach the Glacier
The trip to the airport took 20 minutes from the cruise ship dock. We received a briefing from our tour guide on what to anticipate and some helicopter safety advice. We were given glacier boots to wear over our shoes and waterproof leggings to wear over our clothes. We were provided a locker to keep our belongings as bags are not permitted on the helicopter owing to weight and space restrictions.
It's crucial to remember that you cannot choose your seat on the helicopter. To balance the aircraft, a seat is assigned to each passenger based on their weight. A further USD 100 comfort fee is charged if you weigh 280 pounds or more.
We had the good fortune to be given front seats close to the pilot, along with my kid. The rear seat was inhabited by a young couple and two youngsters, ages 3 and 4. I'm not sure whether the grownups or the kids were more enthusiastic about this Juneau dog sled trip.
Our flight was extremely smooth and uneventful despite low-lying clouds. Our glacier flightseeing includes views of Mendenhall Glacier, Auke Bay, and Herbert Icefield from the front seat. While it was drizzling a bit, it was exhilarating and intriguing to see the colors of the glacier ice and the deep cracks inside it.
Dog Sled Camp
We quickly touched down on Herbert Glacier, where a dog handler welcomed us. In preparation for their journey, the Alaskan sled dogs were already tethered and barking. Many Alaskan sled dogs were kept at the dog sled camp, and they were all chained to their wooden cottages. The names of the dog sleds and their feeding schedule were written on the exterior of the cabins.
We discovered that the dog handlers only fly into town once every three weeks and spend their whole time living in tents up on the glacier. I must admit that living on a glacier with only a tent and with little supplies demands a unique kind of person.
It's not an option for me with no hot water and central heating! I was first astonished by the sled dog's physique. Huskies have always been pictured to me as dogs with thick coats and distinctively colored eyes. But they were rather distinct. They were lean built and had thin coats.
I discovered that they were "genuine" Alaskan huskies that compete in the punishing 1,100+ mile Iditarod dog race in bitter cold. The summer glacier sledding excursion gives the dogs exercise in the hotter months. Some of the dogs, I saw, had booties on, which helps to keep their feet from getting sores from the ice. Although the handler said the dogs liked the cold weather, I was afraid they were freezing on the snow and ice. In fact, the dogs choose to stay soaking outside on the wet snow rather than inside their shelters where it was dry.
The Best Alaskan Dog Sledding
Even though it rained while we were on our expedition, our excitement and spirits were unaffected. These huskies were obviously anxious to run, and as we got closer to the dog sleds, their eagerness increased. Up to four people may fit in the front seat of the wooden sleds. Dress in layers since you won't receive a blanket to keep you warm. Additionally, you may "mush" your dog team from a location in the rear where you can stand. I sat for the first portion of the sled trip since my kid insisted on going first.
The trip along Herbert Glacier's edge with the dogs was thrilling. We took a little rest and a look around when we reached the halfway point. How often do you get to go on an excursion away from the actual world on a glacier?
Following our little break, it was my turn to ride on the sled's back while my kid sat in the front. It would be an understatement to say that dog sledding in Alaska is an exciting activity. It was a once-in-a-lifetime experience that I won't soon forget. Anyone can think about going for this amazing Dog sledding Alaska Juneau experience.
This trip cost a lot of money, but it was definitely worth it. I'll never forget my daughter's face with the Cheshire cat smile. On a selection of the top 10 adventures in Alaska, this dog sled cruise trip comes in near the top. This trip is a must-do if you're trying to pick which Juneau excursions to go on!
Following the excursion
Before our trip home, we had a chance to interact with some of the other lovely Alaska sled dogs after we got back to the dog sledding camp. We got the opportunity to photograph young huskies, learn more about life on the glacier, and spend time with the sled dogs. Beyond words, the newborn Alaskan huskies are gorgeous.
Expect to spend roughly 60 minutes of the three hours on the glacier on this tour. Let me tell you, the other cruise ship guests who had made reservations with other tour operators and had their trips canceled were envious of us. Although it's been a while since I went on the dog sledding excursion, I can still remember how thrilling it was to sprint with the Alaskan dogs around the glacier. When deciding whether to go on this expedition, consider how often you will visit Alaska. If the answer is yes, you should cross Juneau dog sledding off your bucket list. Fortunately, I can take dog mushing out of mine.
Additional Dog Sledding Options
A glacier sledding tour could be out of your price range if you're going as a family of four or five. However, a dog sledding camp offers a comparable experience. The Skagway Sled Dog & Musher's Camp in Skagway provides an expedition on dirt for less than USD 200. There, you may interact with the gorgeous husky pups while learning more about the Iditarod race.
My daughter and I spent more over USD 1000 on the trip, but we had a great time and thought it was money well spent. Later, in Canmore in the Canadian Rockies, my husband, Brian, and I went dog sledding. Due to the lack of a helicopter, that excursion was far more engaging and cheaper.