Lake Chelan is a famous summer destination in Washington. No other county in the state receives more tourists. This is a nice weekend getaway from Seattle to wine tasting, hike, and relax by the lake. Whatever your hobbies, Lake Chelan has lots to offer. The lake is 55 miles long, making it one of a kind. It will take more than a day or two to really explore the whole lake. That's why I suggest a minimum of three to four days for your Lake Chelan excursion. Anyone who is looking for things to do in Lake Chelan in summer in summer may go through this list.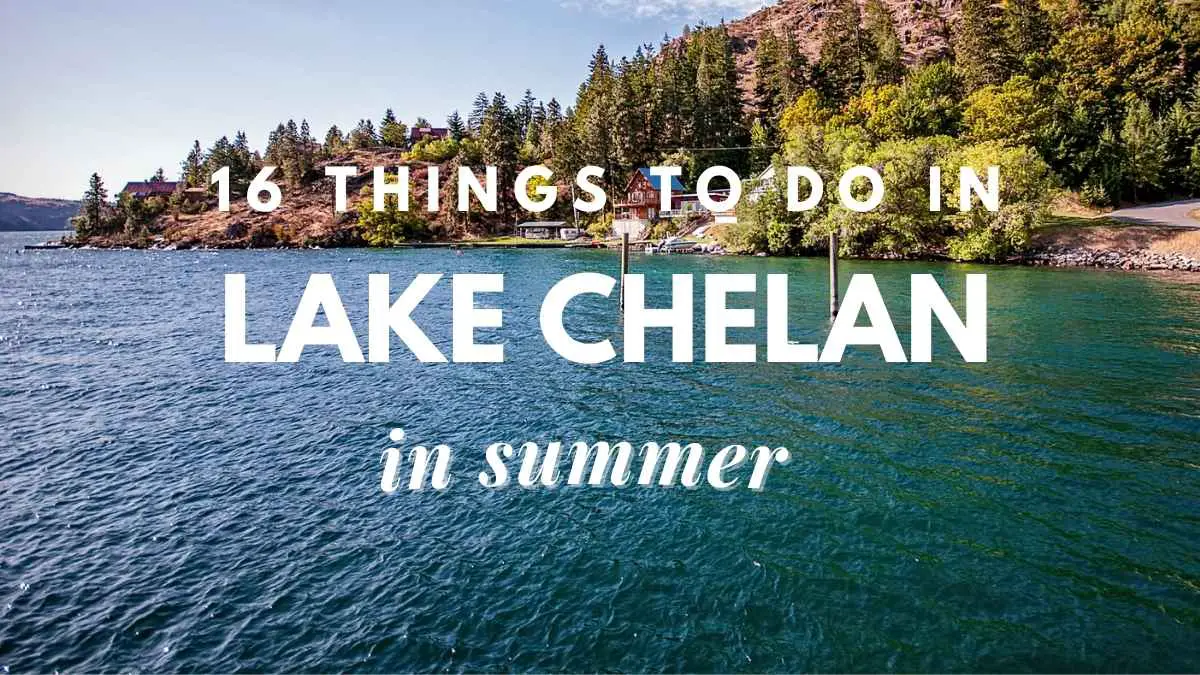 1. Visit a Winery
With over 35 wineries in the vicinity, it's no wonder that wine tasting is a popular Lake Chelan destination. Many compare this location to Sonoma Valley wines in California. Tsillan Cellars & Sorrento's Ristorante is one of Lake Chelan's greatest wineries.
Benson Vineyards Estate Winery is another wonderful Lake Chelan winery. It boasts a beautiful view of the lake from a hilltop and is one of my favorite things to do in Chelan. After your wine tasting, relax outdoors with a picnic lunch and a glass of wine. Wine tasting is a popular activity around Lake Chelan, so be sure to visit a couple of these vineyards.
Read: Is Traveling A Hobby? The Ultimate Guide To An Exciting Way Of Life Learn about the Downsides Of Traveling As A Hobby

2. Tour the Lady of the Lake
The Lady of the Lake was constructed in 1900 to convey people from the south to the north shore of the lake. There are currently many trips available to visit difficult to reach areas, such as hike-in paths. You may also get away from it all in secluded campgrounds, which is one of the unique things to do in Chelan.
3. Visit waterparks
Slide waters has consistently been ranked among the top 15 waterparks in the US. A day at this terpark is one of the best Lake Chelan activities for families.  The waterpark has several slides, a lazy river, and a kid's section. Slidewaters is open from 10 a.m. to 7 p.m. every day.
4. Discover Chelan's History the Chelan
The Lake Chelan Museum in downtown highlights the area's history. People didn't start living around the lake until the 1800s. If you are searching for unique things to do in Lake Chelan in summer, you may consider this idea.
When I travel, I want to learn about the history of the region, and the museum has historical items. This is a nice alternative for a wet day in Chelan.
5. Watch a movie
While Chelan is generally bright and pleasant, there are days when it rains or clouds. On such days, a trip to the Ruby Theatre is a must in Chelan. One of the state's oldest cinema theaters, built in 1914.
6. Skydive a Winery
This is a great Chelan adventure for the brave. You'll be picked up from a Lake Chelan winery and brought to Skydive Chelan to prepare for your flight. The only tandem winery skydiving in the nation is Skydive Chelan. Back on land, you'll enjoy a well-earned bottle of wine. This may be one of the most fun things to do in the PNW!
7. Go on golfing
Golfing is a popular group activity in Lake Chelan. You may go wine tasting and golfing. Lake Chelan Golf Course is a wonderful course located only minutes from town.
Golf is available most of the year, with costs ranging from $30 to $50 per person depending on the season (which is typically Memorial Day until the beginning of October). This is an active activity around Lake Chelan.
8. Bike Touring
Biking around the region is another option to stay active while visiting Chelan. They also offer electric bikes to make your life simpler while covering more land. Several trips are offered, including a Lake Chelan winery tour and a sunset bike tour.
9. Spend the Night Camping entire list of beginner camping guidelines
Camping is a common summer activity in Lake Chelan. I like camping for three or four days and then returning to town for activities or shopping.
Twenty-Five Mile Creek is a popular Lake Chelan campground located 30 minutes from town on the west side of the lake. A little shop sells staples like s'mores and camping materials like wood and ice. Before you go camping, review these novice camping tips.
Lake Chelan State Park is also an excellent spot to camp. This is closer to town and provides greater access to Lake Chelan. Both campgrounds include boat ramps, so you can simply launch your boat. This, like many campgrounds in Washington, fills up quickly, so reserve months in advance.
10. Lake Chelan Farmers Market
In Lake Chelan and the surrounding regions, I love stopping at fruit stalls. You'll discover the best discounts on fresh fruit that tastes better than supermarket fruit. If you're returning to Seattle, make a pit break here before leaving for Leavenworth.
You can acquire cherries, pears, and apples. They frequently offer handmade jam or confectionery as well. You'll notice these fruit stalls along the drive into Chelan, but there are additional two close town. You can get your fill of fresh fruit at Sunshine Farm Market and Chelan Evening Farmer's Market. Sunshine Farm Market is open every day from 4 p.m. to 7 p.m.
11. Helicopter Tours
While the drive around the lake is lovely, a helicopter trip offers a unique perspective. While this is one of the more costly things to do in Lake Chelan, the scenery is worth it. If you're fascinated yet apprehensive about taking your first helicopter ride, you may read reviews here. You may have a quick helicopter tour or spend a day of it and visit a few wineries. While this is a splurge, it is ideal for a date.
12. Chelan Riverwalk Park Lake Walk river stroll in Chelan
If you're feeling adventurous but still want to get some exercise, try Chelan Riverwalk Park. It's a 1-mile circle around the river for a stroll. The water is calm here, so many people kayak or SUP. During the summer, the Riverwalk Pavilion hosts live music.
13. Go Fishing
You may fish all year round on the lake and the rivers that surround it. Always check with the Department of Fish and Wildlife for limitations and licensing requirements. Trout and salmon are regular catches in the region, with a 10-pound limit. You may go fishing alone or with a guide.
Stehekin Situated near the top of the lake, barely 80 people live there. Only hikers, floatplanes, and boats can reach here. You may bring your own boat or join the Lady of the Lake trip, but it will be an all-day affair. A little convenience shop makes this one of Lake Chelan's most unusual activities. Walking and hiking are pleasant but be prepared. Food is 50 miles away, and even the mail is delivered by water.
14. Hike
Lake Chelan offers a variety of summer hiking. There are hundreds of paths to choose from in Stehekin. It's also the gateway to North Cascades National Park, one of Washington's most spectacular hikes.
But you don't have to hike that far. There are several shorter treks in Chelan, such as Little Bear Trail. This trek is 2.3 miles roundtrip with a 250 foot elevation gain and is suitable for all abilities. Lake Chelan State Park is nearby, so it's an easy Lake Chelan activity to do if you're already camping there.
15. Day boating in Lake Chelan
One of the best things to do in Lake Chelan with a group of friends or family is rent a boat for the day. You may either rent it and drive it yourself, or hire someone to do it for you.
Renting a boat is a wonderful way to explore the lake and bring food, alcohol, and other stuff. Interfusing is popular throughout the summer and is simple with a boat.
16. Visit Local Restaurants
There are many eateries in Lake Chelan, but these are my favorites.
Lake Chelan Artisan Bakery — There's often a line at this little bakery, and the cuisine is worth the wait. They prepare fresh bagels, croissants, scones, and more every day. There's also an espresso bar for a mocha, latte, or anything you want.
Lakeview Drive-In — Open since 1957, this is a great destination for lunch. They serve cheap burgers, hot dogs, and milkshakes. You'll get a beautiful view of the lake while eating outdoors. It's so popular that it's nearly an activity in and of itself at Lake Chelan.
Tin Lilly – After too much wine tasting, come here for a range of other beverages. They feature specialty drinks, local beer, and a nice terrace for happy hour in the rear.
Local Myth Pizza — After a full day of activity in Lake Chelan, come here for pizza. They provide pizza, calzones, salads, and local beer on tap. There is a tiny space outdoors to enjoy the weather.
No matter what season you come, you'll enjoy the Lake Chelan activities.
Final words
These are the best things to do in Lake Chelan in summer. You can come here with all your family members and enjoy the fascinating experiences offered.