Picture yourself riding along on a traditional schooner or a fast catamaran, drinking beverages with loved ones as you go along an endless blue highway. It certainly sounds fantastic, doesn't it? However, you must first choose the ideal Key West boat charters to bring you there.

There are several reasons why boating and sailing are essential activities while in Key West, Florida. Setting sail has never been simpler thanks to the clear blue seas, perfect sailing conditions, and a variety of tours to pick from! Key West sailing trips cater to all types of tourists, offering something for antique sailboat aficionados, wine lovers, and everyone in between!

Understanding your alternatives is crucial before selecting your Key West boat charter. The good news is that there are many alternatives accessible, and we've categorized them into three straightforward groups. From this article, we will share the best boat charters in Key West for you to consider as of now.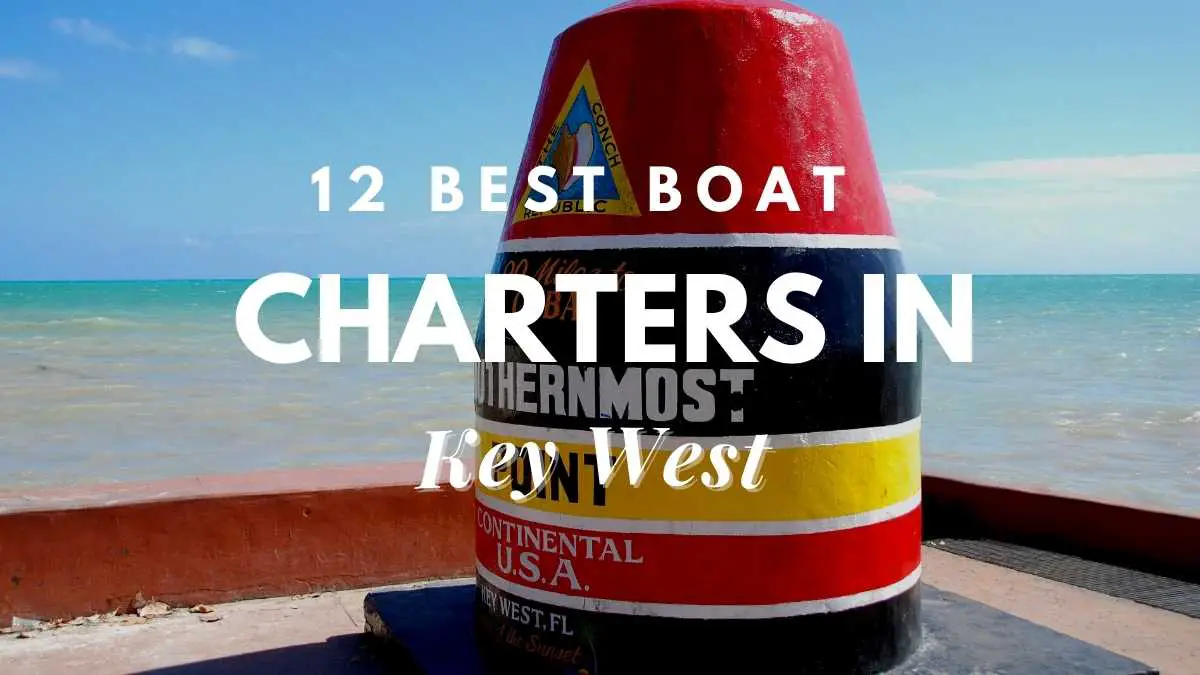 Boat charters in Key West
One of the best spots on earth for sailing and boating is Key West, Florida. You may wonder, "What is the greatest boat trip to do in order to take advantage of this?" Although there are many excellent ships, captains, and tour operators, it may sometimes be challenging to choose the one that is perfect for YOU. Check out some of the most well-liked Key West boat charters and sailing trips to choose which one is perfect for you and your party.
In addition to taking, you to magnificent sights, combined sailing day trips and excursions, like the one seen above, also include eating and dancing.
A combined sailing tour is the ideal choice if you want to sail as well as see more of Key West's amazing attractions. Combo sailing vacations often involve sailing as well as other activities like parasailing over Key West, Florida's crystal-clear seas. There are several businesses that provide day tours that incorporate sailing plus one or more of the following:
Tours of dolphins
Food and beverages
Snorkeling
Kayaking
Paddleboarding
A jet ski
Rides in banana boats
Parasailing
 
The most economical sailing vacations are those that include many activities. The majority of tours even let visitors kayak through the mangroves and stop at Key West's stunning coral reef.
Read: Is Traveling A Hobby? The Ultimate Guide To An Exciting Way Of Life Learn about the Downsides Of Traveling As A Hobby

What are Key West's Top Boat Charters?
1. Key West Sunset Sails
The finest way to see a renowned and perfect sunset, one of the many amazing things the Florida Keys are known for, is on a sunset cruise from Key West. Amazing sunsets are perhaps Key West's greatest claim to fame. An great and lasting experience is seeing one of these magnificent sunsets while sailing over the lake. You're in luck if this is something you're interested in. Sailboats provide a wide range of excursion kinds and possibilities, including several Key West sunset cruises. This implies that on a calm and beautiful sunset cruise, there is something for everyone, no matter how many interests you have to satisfy!
2. Exclusive Key West Sail
Sailing on private charters is a wonderful opportunity to get back in touch with nature and the people you care about most. A private sail is generally the finest and most affordable choice if you are going in a smaller group. Aside from that, being away from Duval Street's throng and bustle allows for a more individualized and private encounter.
Private sailing in Key West offers a wide range of choices as well. This implies that personalization and adaptability are essential, which makes a private sailing tour of Key West the ideal choice for almost any schedule! Discover what island time is all about as you sail off and take some time to relax.
3. Daytime Water Sports
Beginning with a continental breakfast aboard a 60-foot (18-meter) catamaran and snorkeling on the coral past Key West Historic Seaport, this assortment of activities continues.
While sailing to a barge packed with aquatic equipment for your three hours of free time, have a nice meal. Then, go on whatever adventure you choose. Ride a jet ski, hire a paddle board or a kayak, go parasailing up to 3,000 feet (91 m) over the ocean, or just unwind on the barge's deck with a drink and some food.
4. Disturbing the Ocean Sunset Sail
Just as the sun sets, set off on a 65-foot (19-meter) catamaran for a Caribbean-themed cruise with live entertainment, delectable cuisine, and plenty of beverages.
Take a seat, relax while the music and the sound of the waves mingle, and enjoy the magnificent sunset picture opportunity. As dusk falls, continue to eat and drink more, then go back to shore.
5. Jet Ski Tour
Start a guided jet ski excursion that covers more than 25 kilometers (45 km). Join a knowledgeable guide as you sail through Mallory Square and Key West's southernmost point on a jet ski with up to two more passengers.
Stop near a sandbar and plunge into the inviting blue water. And if you're fortunate, while swimming you could see a bottlenose dolphin or a sea turtle.
6. Island excursion Whole Day Sailing and snorkeling
Jump on a 60-foot (18-m) catamaran and set sail towards a live reef while enjoying a freshly made breakfast of fruit, quiche, and muffins. When you're ready to learn how to snorkel and discover the hundreds of different fish species, enroll in a professional instructor's beginner-friendly snorkeling course. After a brief break for a buffet-style lunch, your captain will take you to the mangroves so you can see one of Key West's most significant ecosystems.
7. Open-Bar Sunset Dinner Cruise
Join Key West's greatest sunset dinner cruise by boarding a handcrafted luxury catamaran for a night of wonderful tropical cuisine, live music, and an open bar. It is totally up to you whether you want to unwind with a drink in hand or dance the night away on the open ocean. But be sure to grab a few pictures with your crew or some new acquaintances and make sure not to miss the stunningly magnificent sunset at the conclusion of the tour.
8. Family-friendly Adventure
Enjoy a deep-sea fishing expedition in a roomy 65-foot (20 m) boat. This air-conditioned boat has all the latest features, including comfy areas to relax in between casts, GPS, radar, a VHF radio, and a fish finder. Regardless of your level of experience, the trained staff will help you choose the ideal fishing locations for the many species that inhabit the region.
9. Sunset Cruise, Reef Snorkeling, and Dolphin Watching
Spend the morning watching dolphins frolic in the wake of the boat and sometimes swim up near to it. Travel to the reef next, jump in the inviting turquoise waters, and interact with the local marine life. After you've finished snorkeling, this cruise also provides unlimited draft beer so you can relax as you return to land.
10. 9 hour sailing tour
You are transported into the ocean on a 65-foot (20-meter) catamaran, where you may spend your day with a range of water activities. After a delicious breakfast in the morning, prepare to go snorkeling with the given gear.
No need to wait for the live reef's angelfish, parrotfish, and blue tangs to arrive before jumping in the water. After a buffet-style lunch, you may spend the afternoon on a jet ski, parasailing, or kayak before returning to Key West.
11. Early morning sail
What better way to start the day than sailing a beautiful schooner out on the wide sea as a warm, tropical wind fills the sails? With a beverage in hand and all of that, start your morning.
With a drink in hand, you may relax while the boat cruises around Key West's Historic Seaport in the early morning light and sea wind. And if you've ever wished you could steer a schooner, seize the chance, or even assist with raising the sails.
12. Downtown Parasailing Locations
Embark on a cutting-edge parasail boat and prepare to fly over Key West's ports. After a leisurely takeoff, you are rewarded to an amazing perspective of downtown Key West and the surrounding, deep blue ocean. Keep a look out for any underwater creatures that may be active below and think about carrying a camera to record the thrilling experience.
Final words
These are the best boat charters in Key West. We strongly encourage anyone who is looking forward to coming to Key West to take a look at these boat charters. Since there are multiple options available to consider, there is something for everyone among boat charters. It is up to you to take a look at these different boat charters and then proceed with the best one out of them. No matter what you select, we can guarantee that you are getting an unforgettable experience in Key West. On top of that, you will need to make sure that you are getting a perfect experience out of the time and money that you are spending on the boat ride as well.