Have you ever done anything and then questioned why it took you so long to accomplish it? It's like it's been there under your nose for a long time, and you've just never done anything about it. But after you did, didn't you wish you'd done it all along? That experience for me was boating the Caddo River from Caddo Gap to Glenwood.

Until roughly 2013, I had never paddled this river. What??!!! I know, it's insane. But, oh, what a fantastic float! No, you won't see the huge cliffs and mountains that you see in Buffalo. You won't find the Mulberry's emerald, green waters here. However, this is a fantastic floating river in a lovely section of the state.

You'll witness a clean river with some amazing rock formations, exciting rapids, and some fairly decent smallmouth fishing. You'll see beautiful views as well as some extremely great residences along the river. I wouldn't call it a "party river," but it regularly attracts a lively crowd. The best part is that it is quite handy. It is conveniently located to Central and Southwest Arkansas. If you haven't gone floating on the Caddo River yet, you should add it to your bucket list.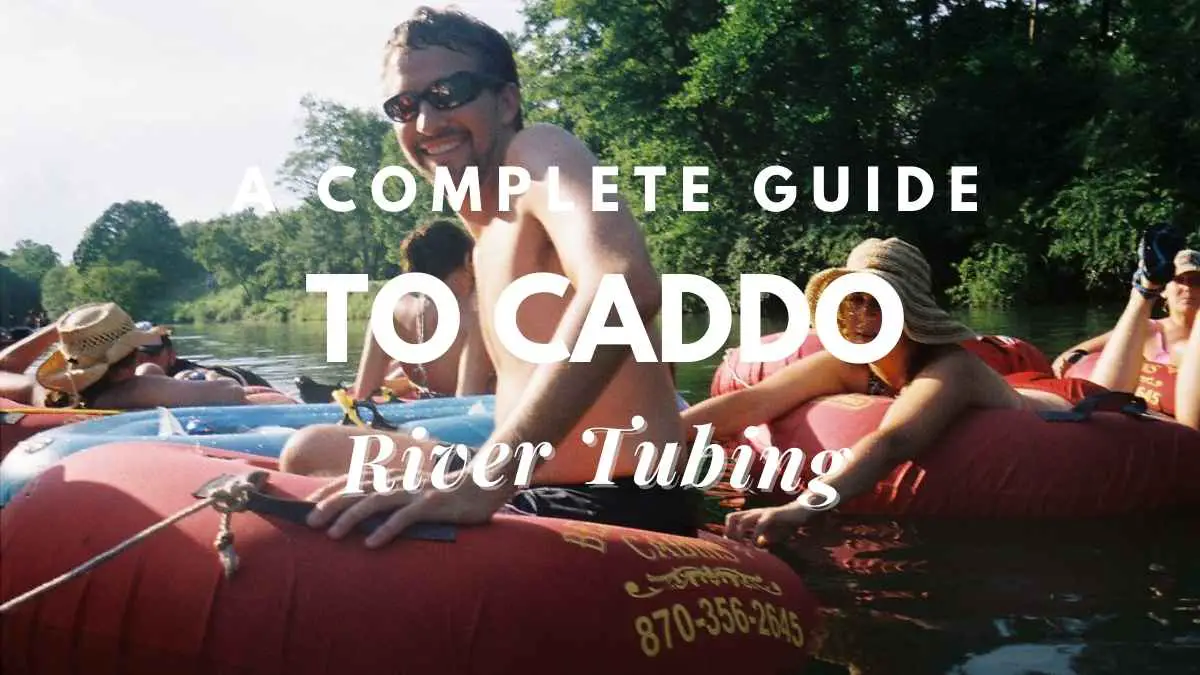 Directions
It all depends on which outfitter you go with.
Plan a trip to Glenwood if you want to rent a canoe on the Caddo River.
Take Highway 70 south and turn left shortly after the bridge, just beyond McDonalds.
(If you're coming in from the west, it's on the right before the bridge.) If you're renting from Arrowhead, Lucky's, or self-shuttling, take Hwy 8/27 north of Glenwood toward Caddo Gap.
Arrowhead will be located on AR-240, right over the river from Highway 8/27.
The Caddo River access point is roughly a quarter mile north of there (public).
Caddo River Canoe Rental also drops off its customers here.
All of these locations are shown on the Google Map below.
Read: Is Traveling A Hobby? The Ultimate Guide To An Exciting Way Of Life Learn about the Downsides Of Traveling As A Hobby

What You Can Expect
This float is 7.5 miles long.
When the water levels are high, the stream is primarily rapid, with occasional areas of deep pools and slower water.
There are a few of enjoyable, easy rapids (Class I-II).
In fact, as soon as you touch the river, you'll encounter some of the finest rapids.
The river narrows and the stream becomes quite swift when it passes under the Arrowhead Bridge.
When the water level is high, waves may be rather huge here, so be prepared.
Just following there are some enormous rock outcroppings that are equally enjoyable to paddle across.
There are many more of them along the route, as well as several shelf drop-offs to keep things interesting.
This float may be completed in 4-5 hours at a leisurely pace with few pauses.
If you want to make a whole day of it, there are lots of gravel bars and swimming holes to stop at.
This section of the river is relatively consistent in terms of having adequate water levels most of the time.
I've only used it once when it was really low.
When the water level is low, anticipate dragging quite a bit and to go slowly in the deep pools.
Expect to see a lot of other paddlers on the river on a lovely weekend with decent water.
It isn't as packed or as hectic as the Spring season (and sometimes the Buffalo).
But it's generally enough to make for a pleasant day.
Caddo River fishing
When there aren't too many paddlers on the river, the fishing is excellent.
Even on a busy day, there are still places where you can catch some fish.
Smallmouth bass, rock bass, and bream are the most common species.
If you like stream fishing, this river is a fantastic choice.
Make your travel arrangements.
The majority of this float is rather near to Glenwood.
So, with the exception of a few weak spots, you should anticipate having mobile phone coverage for the most of it.
On a busy weekend, it's recommended to contact ahead to book a canoe, kayak, or raft from one of the outfitters.
They all provide decent shuttle services if you have your own boat.
The Caddo River, like other rivers in Arkansas, is stony.
So put on your river shoes.
Glass bottles are not permitted (obviously!).
If you've never floated before and aren't sure what to bring, see the gear list on our Paddling page.
The Caddo is near enough to Central, West, and South Arkansas to visit for the day and then return home.
However, if you want to have a few drinks, you have various possibilities for staying the night.
Camping is available at both of the outfitters listed here.
Arrowhead offers cottages and bunk houses as well.
Definitely make a reservation for such items.
Glenwood is a beautiful small town with a few local lodging choices and many outstanding restaurants for post-float supper (both of the Mexican restaurants there are excellent).
There are more opportunities for floating the Caddo River upstream from Caddo Gap that I have not yet had the opportunity to explore.
You must capture these portions while the water level is high.
But I will one day, so keep an eye out for that tale next summer (hopefully).
There is a shorter stretch that begins in Glenwood as well.
For the time being, here are few photos of this stretch of the Caddo.
I hope you like these.
Where are the finest spots to go float?
From the Ozarks to the Delta, floatable rivers, streams, and water paths provide breathtaking scenery, a peek of natural species, and unplugged family bonding time.
In reality, the Arkansas Game and Fish Commission reports that the state has more than 600,000 acres of lakes and more than 90,000 miles of rivers, streams, and creeks.
"Arkansas is in the midst of the nation and has so much access to clean water, beautiful woods, and natural regions," says Debbie Doss, a lifelong member, and Conservation Chair of the Arkansas Canoe Club.
People who have lived here their whole lives and have never lived somewhere else are unaware of what we have," she adds. "There's a lot of exploring to be done."
Getting the most out of your floating experience at Colorado river
Families interested in dipping their toes in the water should begin with a critical step: research.
The most crucial aspect of floating is preparation, and you should think about where you'll place your boat and where you'll take it out.
You should also consider the water level, recent rainfall, and the length of time you'll be on the water, since these factors will influence how much drinking water, sunscreen, and food you'll need.
Many major floating rivers provide outfitter services that take a lot of the hassle out of planning a family float.
Visitors may hire boats, lifejackets, paddles, and other equipment from the outfitters.
The firms will also provide shuttle services that will transport you straight to simple entrance locations and will pick you up at the conclusion of your float.
However, families should constantly talk about paddling safety and what to do in an emergency (see safety tips below).
Doss also suggests taking a workshop or seminar before going on a float trip: "A little bit of teaching goes a long way towards keeping people safe," she adds.
The Arkansas Canoe Club hosts paddling schools twice a year, as well as group clinics.
Last but not least, while enjoying the rivers, strive to keep Arkansas beautiful.
"Pack it in, pack it out," Doss advises.
"If you notice garbage in the stream, you don't have to go crazy and conduct your own personal cleaning but picking up a little rubbish every time you go makes a difference."
We always make an effort to leave it cleaner than we found it."
What are the other best areas in the region for floating?
You can find few other great areas in the river for floating as well.
To make life easy for you, we will review some of those areas.
As you go ahead with Caddo river tubing, you may take a look at these opportunities as well to secure the best possible experiences coming on your way.
1. Pinnacle Mountain State Park's Little Maumelle Water Trail
This slow-moving stream is lined with magnificent Cypress Trees and runs all the way down to the famed Two Rivers Bridge, making it an excellent option for first-time paddlers.
In addition, family may participate in guided canoeing or kayaking trips conducted by a Pinnacle Mountain Park interpreter.
Visit ArkansasStateParks.com/PinnacleMountain for information about future floats.
2. The Buffalo River National Recreation Area
The lower stretch of the Buffalo River, one of the most popular floating rivers in the state, is easy-going and normally has water year-round.
And, since it's a "wild river," you'll be surrounded by trees and environment the whole way—bring your binoculars to see birds and animals.
Several outfitters provide a wide range of trips and rental services.
More information is available at NPS.gov/Buff.
3. The River Spring
The Spring River, near the Missouri border and fed by the Mammoth Spring, runs year round with crystal clear 58-degree water.
Avoid the weekend party throng and go for a weekday float for a quieter, more family-friendly experience.
Arkansas.com has further information and a directory of outfitters.
4. The Caddo River
The Caddo River is a popular floating river for families and regular paddlers alike, running 40 miles from the Ouachita Mountains to DeGray Lake.
The six-mile float from Caddo Gap to Glenwood, which contains a few gentle rapids, is ideal for beginners.
Alternatively, for a leisurely float, board a canoe from Glenwood and paddle to Amity.
A number of outfitters provide rental and transport services.
Arkansas.com has further information.
5. The Saline River
This is a close-to-home alternative for families in central Arkansas, running directly through Benton.
The tranquil river winds past woods, farms, and farmlands and is ideal for fishing, swimming, and seeing animals.
The Saline River Canoe provides a 4-mile trip from Peeler Bend to Lyle Park.
Visit SalineRiverCanoe.com for additional information.
6. The Ouachita River
The Ouachita is a popular destination for adventurous families.
In fact, you don't even need a canoe or kayak to float from Remmel Dam on Lake Catherine to the whitewater park in Rockport near Malvern—many people just jump in with pool rings and rafts for the leisurely trip.
Furthermore, planned Remmel Dam releases normally maintain the water levels high enough to float even during the dry summer months.
Visit Arkansas.com for further information, or RiverviewCabins-Canoes.com for rentals and shuttle services.
How to get the most out of your Caddo tubing experience?
Beginning in May, the river's class I and II rapids will easily float you down.
Depending on water levels, the tubing tour at Caddo River Camping & Canoe takes 1.5-4 hours.
The price of tubes is $18 per person, which includes parking and a shuttle.
Discounted group prices are also available.
Along the Caddo, there are two camping spots.
Watercraft renters may take use of hot water showers and power hookups at Glenwood's main campsite, which starts at $17 per site.
Another campsite is located farther down the river, in an area known as "The Narrows."
This one only offers primitive sites, but it features Arkansas' greatest swimming hole!
These inflatable rafts are also a possibility if the water level is higher than 5.5 feet.
Standard and tandem kayaks may also be rented.
Although the Buffalo National River is a beloved Arkansas resource, it is not the only area to float your boat in the Natural State.
The Caddo River is an underrated float excursion that you may have missed.
Caddo River Camping & Canoe Rental rents canoes, kayaks, tubes, and rafts and has a river camping where you can have an exciting tubing excursion.
Go ahead with Caddo River Tubing, and you will love the experience that comes on your way.