San Marcos is located halfway between Austin's music festivals and IT headquarters and San Antonio's Spanish-colonial grandeur. San Marvelous is the moniker given to a fast rising city because of its increasing appeal. Newcomers, whether new inhabitants or tourists, are learning what some people have known for tens of thousands of years about this small oasis within Guadalupe Mountains National Park, at the junction of the San Marcos and Blanco rivers. This guide on tubing San Marcos River will help you to be aware on what needs to be done before you go ahead and explore it.

San Marcos river tubing is quite popular. It's also one of the finest methods to cool down in water that's always 72 degrees. The Texas Water Safari could appeal to those seeking a challenge. It's a 262-mile canoe race from San Marcos to the Gulf of Mexico that must be completed in four days and four hours utilizing just human power and any supplies contestants carry aboard at the start. If it seems a little too much for you, river tubing is a great alternative: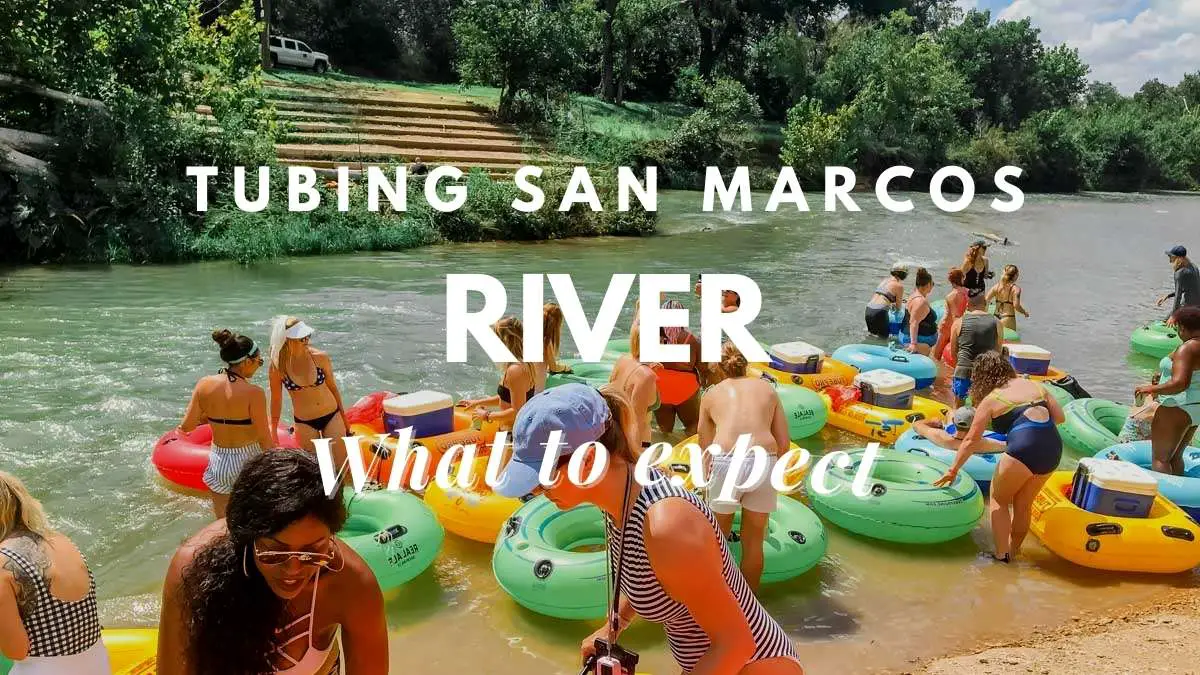 Tubing on the San Marcos River
It's simple to understand why San Marcos is one of the world's oldest continuously inhabited cities. Recent archeological discoveries show that indigenous people have lived in the San Marcos Springs region for 20,000 years. This spring, as well as the various rivers and creeks in this part of Central Texas, make San Marcos a great location for paddle sports enthusiasts.
Read: Is Traveling A Hobby? The Ultimate Guide To An Exciting Way Of Life Learn about the Downsides Of Traveling As A Hobby

San Marcos River Tubing Locations
It's nearly as simple as turning up inside the municipal boundaries to create your own San Marcos River tubing excursion. For example, San Marcos City Park is a popular and free put-in. The local Lion's Club hires tubes for a whole day of fun if you don't have your own floatie. The rates also include an unlimited shuttle ticket, allowing you to visit Rio Vista Park as much as you like.
There are also a slew of additional outfitters. Texas State Tubes, Lonestar Float House, and Great Gonzo's Tubes, for example, rent river tubing equipment in San Marcos. Several surrounding campsites provide tent sites with convenient river access if you wish to spend the night.
The average float excursion lasts roughly an hour, depending on where you start. You may anticipate a two-hour ride if you opt to float from City Park to County Road 299.
For novice tubers, floating beyond CR 299/Cape Road might be risky. If you still want to float, it's preferable to take out and ride the shuttle back. Many tube rental businesses and campers provide buses in their all-day fees. However, verify with your outfitter ahead of time to ensure you know how long you may be out on the river.
What to Bring for a Tubing Trip on the San Marcos River
Aside from the apparent inflatable gadget, you don't need much to effectively tube down a river. However, there are a few factors that make river tubing on the San Marcos more enjoyable and comfortable.
An alcoholic beverage
While tubing the San Marcos River, it's not only acceptable, but rather expected, to drink something cool and effervescent to keep a good day going. Nothing beats a game of Lone Star bottle caps with buddies while bobbling downstream. Simply carry a coozy for your cans and avoid the glass altogether— and, as usual, drink sensibly.
Sunscreen
After all, this is Texas, one of the sunniest states in the country. While you're in the water, it may feel chilly. If you don't take care of your skin, the burn will linger long after the sun has set. Even if you're miles from the beach, use a reef-safe sunscreen since the San Marcos and Guadalupe Rivers ultimately reach the Gulf of Mexico.
Good sandals include
Bring water shoes or sandals that are secure on your feet, such as Chacos. When your flip flops get lost in the stream and you get ashore, there's nothing worse than stepping on jagged, scorching river rocks.
If you decide to carry any electronics, keep them secure and dry in a Lok Sack or other specially designed drybag. Slip the smaller drybag inside your beer backpack for added piece of mind. chevalier chevalier chevalier chevalier chevalier chevalier chevalier chevalier chevalier chevalier chevalier chevalier chevalier
River tubing suggestions
The San Marcos River is the greatest river tubing experience around Austin. It not only has crystal clear spring water that is a perfect 72 degrees, but it is also a nice town that is just a 30-45 minute drive from Austin.
Did you know that San Marcos is the oldest continuously inhabited place in North America? It's quite incredible, I know. But you're not here for mind-blowing; you're here for the San Marcos River Tubing Rules & Regulations. No glass is permitted. You got it: glass is prohibited in the river. It is not only dangerous to people and animals, but it also takes up too much space and is inconvenient. Plus, while river tubing, you want to bring as little as possible.
If you float with us, you won't have to worry about lugging along any coolers or additional weight. We'll take care of all the stuff you don't want to do, including driving and bringing coolers, so you can relax and enjoy the float. Remember, this guideline does not imply that you must drink canned beer. Check out these 6 Austin beer options that will keep you company on your float.
No styrofoam on the river
No styrofoam cups, coolers, dishes, bowls, packing goods, or other strange items should be brought down the river. Don't be the person who brings a styrofoam cooler to a party. The pollutants contaminate the water, causing harm to animals and wildlife. Those aren't designed for river tubing. Visit the local Austin Yeti shop instead, or simply float with us and it'll be included.
No trash on the San Marcos River is allowed
What you bring in must be taken out. To some extent. There are trash cans along the path where you can dispose of your rubbish, but that is not the way to think about it. In fact, garbage cans that have been converted from miniature boats can be seen directly on the lake. Isn't that convenient?
Having a system is the simplest method to keep track of your rubbish. We suggest putting a tiny, empty bag in your cooler and filling it as you complete tasks. Then it's simple to discard, and there's no chance of rubbish dropping into the river.
No leaping from riverbank bridges, dams, trees, or cliffs
The river's depth is variable and frequently difficult to discern. As a result, jumping from any of the float's bridges, trees, or cliffs is prohibited. When it comes to river tubing, more people get hurt this manner than any other, so make sure you obey this guideline – even if a couple of drinks makes you want to do it anyhow.
Non-swimmers and children under the age of eight should wear life jackets
Although the San Marcos River is not very dangerous, it is nonetheless suggested that those who cannot swim and children under the age of eight use a life jacket. Several places along the San Marcos River where you cannot touch the earth are prohibited. When you consider that there may be some drinking involved (for adults, not kids), it's clear that it's not something worth trying.
Obey all Texas laws
Whatever the legislation is at the state level, it is also the law in the city. As a result, it's critical that all state laws be observed. We didn't want you to believe you could legally smoke pot while floating the San Marcos since there was no law on this list that said you couldn't.
Coolers must be able to close securely
You must be able to securely attach your cooler using velcro, a bungee cord, a latch, or a zipper. Many coolers have toppled into the river, forcing Austin residents to watch their favorite Texas beers for floating vanish into the distance. But, if we're being honest, they are typically retrieved – the actual issue is garbage. This regulation is in place to address this issue.
Where to Camp for Tubing on the San Marcos River
The Guadalupe River and other rivers surrounding San Marcos provide excellent camping opportunities. However, camping close on the river for your San Marcos River tubing excursion is especially great. Here are four places where you can do exactly that and make the most of your San Marcos River tubing experience.
Final words
Now you know the basics on tubing San Marcos River. Don's Fish Camp is the place to go if you want a more celebratory environment. It's been characterized as a relaxing spot with a hint of the seashore. Not only are their campsites directly on the river, but they also include an Instagram-worthy rope swing. Don's also organizes DJ nights every weekend, in case you had any doubts that this is a terrific area to go camping for spring break or have an outdoorsy bachelorette party.