Looking for a family-friendly holiday destination that is stunning, reasonably priced, and accessible within a day? Get the kids away from the screens and take them to Red River Gorge, a haven for rock climbers and a haven of beauty and outdoor recreation. The "Red" is a special geological location in eastern Kentucky that is a part of the Daniel Boone National Forest. It is rich of sandstone cliffs, waterfalls, and more than 100 naturally occurring arches. On this Via Ferrata Red River Gorge visitor guide, we are looking forward to sharing more details with you on what you should do.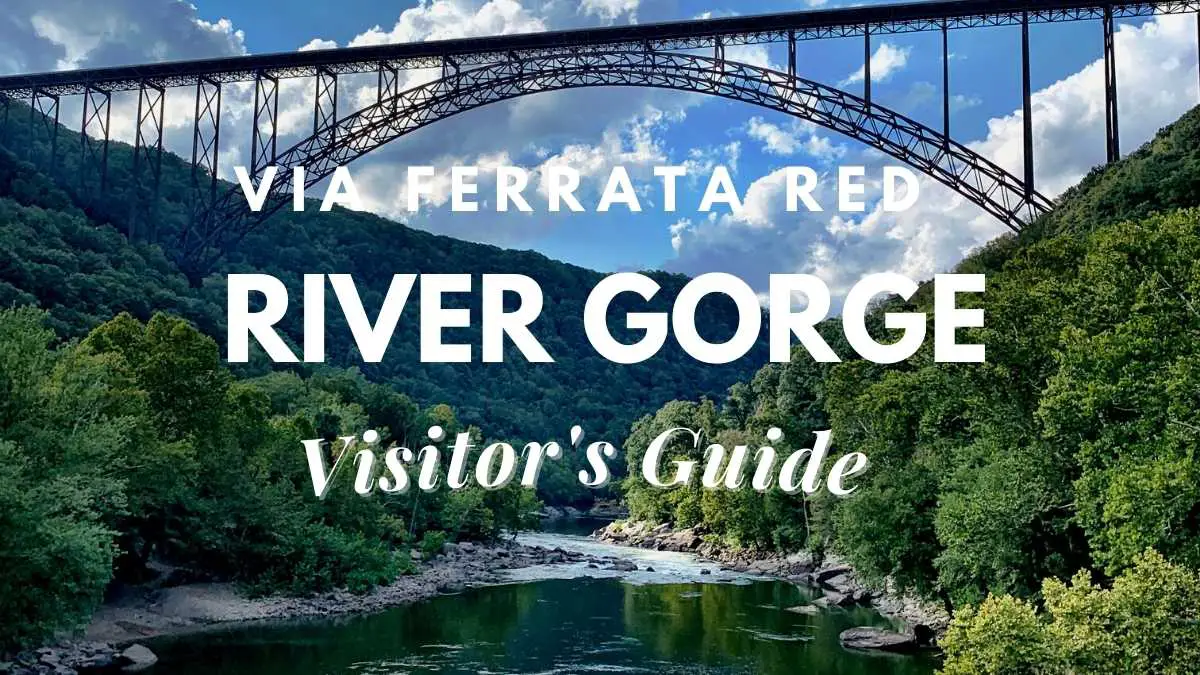 Via ferrata climb
A way ferrata, which translates to "iron road" in Italian, is a set of metal rungs screwed into a steep rock cliff. Italian soldiers first utilized via ferratas to traverse the Dolomite Alps during World War I, giving rise to the phrase. There are already a few recreational via ferratas spread out over North America; Torrent Falls Climbing Adventure in Red River Gorge was the first one constructed here.
The Torrent Falls via ferrata, constructed in 2001 by Mark and Kathy Meyer, consists of six parts that go over a vertical horseshoe-shaped cliff: two simple, one intermediate, two difficult, and one "black diamond."
You can do it, just as my mother can: via ferrata climbing at Torrent Falls Climbing Adventure in the Red River Gorge of Kentucky.
You will be held in place as you ascend by two cables that attach you to a metal cable fastened to the rock face. As you make your way over the cliff, you'll move one cable at a time, ensuring sure the other is constantly attached. Although it is unlikely that you will fall, if you do, one of the cables and the shock absorber linked to your harness will catch you.
A tight crawl on your hands and knees, two wooden bridges, a "tight-rope" made of two metal cables strung across a gap in the cliff, and a few overhanging sections that demand considerable strength and endurance are all part of the route. It also includes tricky maneuvers around sharp corners and sheer drop-offs.
Read: Is Traveling A Hobby? The Ultimate Guide To An Exciting Way Of Life Learn about the Downsides Of Traveling As A Hobby

Try rock climbing
The activity of rock climbing is what elevated Red River Gorge to a premier travel destination. There are sport climbing routes with bolts already fastened to the rock as well as classic climbing routes requiring your own anchors and protection.
There isn't much top-roping, when the rope is anchored off the top of the route, for climbers from the middle of Michigan who are used to the Ledges in Grand Ledge. In general, a climbing path at the gorge can only be reached from the top by climbing it.
The difficulty of the routes ranges from 5.5 on the Yosemite scale to 5.15 for experts only. Invest in a decent guide book to help you locate what you're searching for. Red River Gorge South has a strong selection of sport climbs, whereas Red River Gorge North's guidebook focuses largely on classic routes. Do you like to use a guide? In the region, Torrent Falls Climbing Adventure provides instruction and escorted rock climbing expeditions.
Getting the most out of rock climbing
No equipment or prior expertise is necessary to climb the via ferrata in Kentucky. The Red River Gorge Geological Area in Kentucky may be unknown to you, yet it is renowned across the globe as a premier rock climbing location. Within Kentucky! Although people have traveled from all over the globe to climb here, it is mostly unknown in America. Almost 30,000 acres of steep gorges, cliffs, waterfalls, more than 100 natural bridges & arches (State Park), 70 miles of trails, and those recognizable rock faces make up the Red River Gorge (RRG), which is tucked away in the Daniel Boone National Forest. Both a National Historic Place and a National Natural Landmark have been bestowed upon it.
The majority of the folks we met here are immigrants from different parts of the nation and perhaps the globe. They basically left their lives and families behind to come here to pursue their passion after falling in love with the RRG and rock climbing. Here, it is a daily priority. Friends often get together after work to climb since they work and live for it. It's a cute small town that made us think of Colorado because of how active, healthy, and outdoorsy everyone there is. There are many of campsites where many people reside, as well as organic and healthy food alternatives. a youthful neighborhood living simply and concentrating on what they love
Important things to keep in mind
The Southeast Mountain Guides' via ferrata was the first of its type in the country. As far as I'm aware, there are no longer more than 10. In Italian, a via ferrata is a "Iron Road or Path" carved out of a mountain for climbers. A steel cable system runs along a set of iron rungs and ladders that are fastened to a steep rock face. Two carabiner clips are used to secure your safety belt harness to the wire. Like rock climbers, you don't need to pack and carry a lot of equipment. Instead, with little to no talent or expertise, you may safely ascend cliffs and mountains. Otherwise, even experienced rock climbers would find many Via Ferrata spots to be exceedingly challenging or even impossible to traverse. For over 20 years, the Southeast Mountain Guide business has operated securely.
In the late 1800s, early via ferratas were created in the Alps to traverse vertical slopes. They were utilized in Italy during World War I to hold the front lines and move soldiers and supplies across the Alps. They are currently widely used for sports in Europe but are still seldom recognized in the US.
What should you take along with you?
Climbing gloves are a lifeline for your hands; be sure to bring some. Without them, holding and pulling your body weight would rapidly become challenging and perhaps uncomfortable on the re-bar. Ours is also used for recreational activities like mountain riding.
Carabiner clips are essential for holding each climber's water bottle. With all of that full-body work, you'll need to drink a lot of fluids, whether it's cold or hot. It is simple to hang from your harness. These also go nicely with looping sunblock bottles and car keys.
Caller ID Lanyard Bring your phone for amazing selfies, videos, and pictures. These lanyard holders for your neck are ideal since your harness prevents you from keeping or accessing it in a pocket.
Water should be kept cold in an insulated metal bottle with a loop, and the steel will prevent the bottle from shattering when it thumps and falls onto the rock. To hang from your Carabiner clips, it must have a loop at the lid.
Pack a lunch. Reward yourself with an outdoor meal with a stunning view of the canyon you have conquered after a challenging, tiring exercise!
If you go on a chilly day, layers of clothes to take off and wear around your waist. Dress in loose, flexible clothes that you can stretch and move in.
In the summertime, carry insect spray. Bugs and trees around.
Put on your hiking boots or tennis shoes.
Sunglasses, sunscreen, and, if you choose a bandana or sweat cloth
Final words
This Via Ferrata Red River Gorge explained how you can get an unforgettable experience out of your journey. Keep these tips in mind and make sure that you end up with securing an unforgettable experience in Via Ferrata Red River Gorge.